By Robert Tate, Automotive Historian and Researcher
Images courtesy of the National Automotive History Collection
Posted: 09.26.2016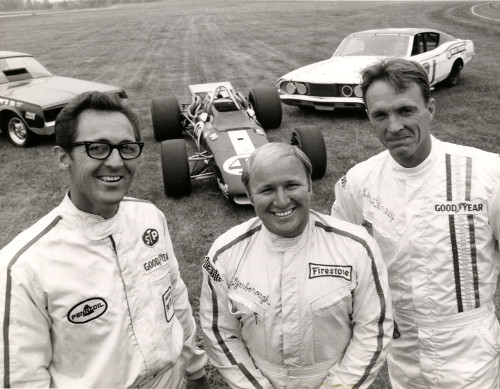 The 1960s were a great time in automotive racing history for Ford. Some of Ford's great racing leaders during that golden era included (left to right) "Dyno" Don Nicholson, Cale Yarborough and Dan Gurney posing here with their special racing vehicles.

Don Nicholson was number one on the nation's drag strips at the time with his special lightweight fiberglass Cougar which was thoroughly enjoyed by many fans. Yarborough and his popular Mercury Cyclone were also big winners during the major stock car races on NASCAR's super-speedways for many years. Yarborough had often dazzled racing fans with his quick and deft driving skills.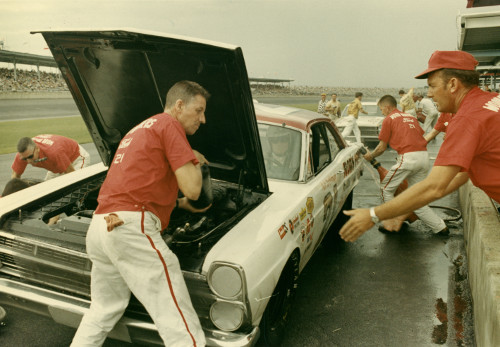 Gurney, who was one of the most versatile American drivers in history, would become very popular at the Indianapolis 500 racing events, he was also a member of the Lincoln-Mercury Division's Sports Panel for Ford Motor Company. These three men have become a part of our great racing heritage, and have driven themselves into the history books because of their accomplishments.

Two other names that were also associated with Ford's automotive racing history was Joe Miller, who was in charge of Ford's Indy engine development and A.J. Gus Scussel, who was the manager of Ford's special engine department during the 1960s.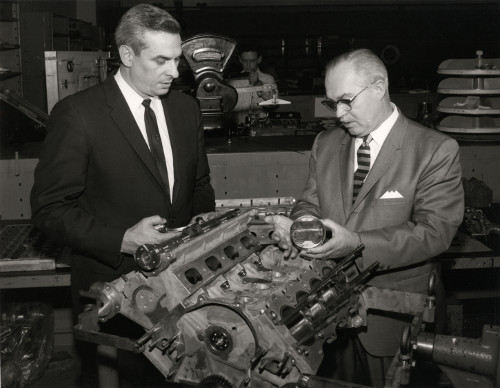 In 1965, Ford Motor Company offered the Ford Double Overhead Cam Competition Engine. This technologically advanced engine was lightweight, high-speed, and featured water-cooled power units which could be operated on a variety of fuels. The Ford double-overhead cam V-8 engine powered the winning cars in the 1965 and 1966 Indianapolis 500 mile races.
The "breaker-less ignition system" was another Ford innovation used for the 1963 Ford Indianapolis engines. The higher speeds of 1964 also resulted in the satisfactory operation of this unique system.

That decade represented a very special time in Ford racing history with many special racing events that offered great competition for drivers and their vehicle's.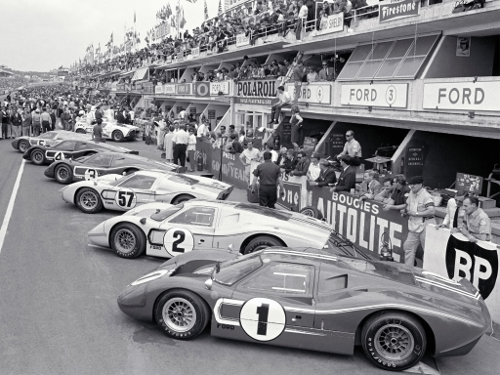 According to a quote, "Ford also was active during the 1960's on the European racing circuit led by Sir Walter Hayes, who would become vice Chairman of Ford of Europe, the company scored victory in the 1966 Le Mans race in a GT40 driven by Bruce McLaren."

One of the most talked about and admired models in Ford's racing history was the GT40 models. The car became very popular on the race tracks and was followed by many racing fans and automotive enthusiasts from all over the world.

The car was built by the Ford advanced vehicles team in England. It was 40 inches high and the car was built to race at Le Mans. The 1965/66 racing season had begun with two versions of GT40 models ready to take on the competition.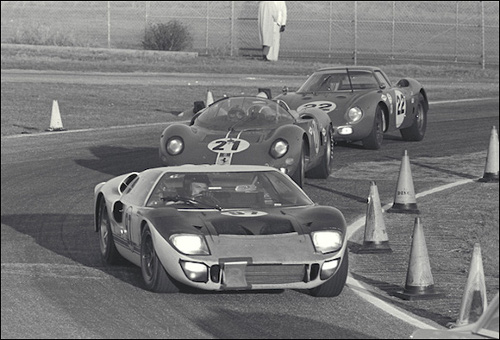 This was also the beginning of the Mark II version of the Ford GT which made its American debut in the 24-Hour Daytona Continental race on February 5-6 at Daytona Florida International Speedway.

The vehicle offered a 427 cubic-inch wedge engine with a four-speed gear box. It was also a high-performance, two passenger sports car with an engine output of more than 475hp at 6,200 rpm. It was undoubtedly a leading and fast sports car that most people liked. The GT40 models were driven by Dan Gurney and Jerry Grant, Ken Miles and Lloyd Ruby and Chris Amon and Bruce McLaren.

In Conclusion, Ford racing cars were fast and the men who drove them were very skilled race car drivers. The GT40 models made competition history with many wins and major victories in Ford's racing history and will always be remembered by many as a great automobile.

In 1970, Henry Ford II pulled Ford out of all forms of car racing because of the economic recession, however Ford would later re-enter the field of auto racing that would once again become a popular auto sport for many.

A special thanks to Robert Tate, Automotive Historian and Researcher, for contributing this story to the MotorCities Story of the Week Program.

For further information on photos please visit http://www.detroitpubliclibrary.org/ or email This email address is being protected from spambots. You need JavaScript enabled to view it. Please do not republish the story and/or photographs without permission of MotorCities National Heritage Area. (Bibliography: Irvin Robert. "Ford eases way back into stock car racing" The Detroit News Saturday August 20, 1966; Banham Russ/ Newman Paul. "The Ford Century Ford Motor Company and the innovations that shaped the world" 2002 by Ford Motor Company.)