By: Robert Tate, Automotive Historian/Researcher
Images: Courtesy of the National Automotive Collection
Posted: 03.17.2015
In its early days, the Sears retail chain first sold vehicles to the American market under the name "Sears Motor Buggy" between 1908 and 1912. These were horseless carriages models offered to consumers. The Sears models were designed by Alvaro S. Kortz. Previously, Kortz built an electric car under his own name in his native state of Ohio in 1903.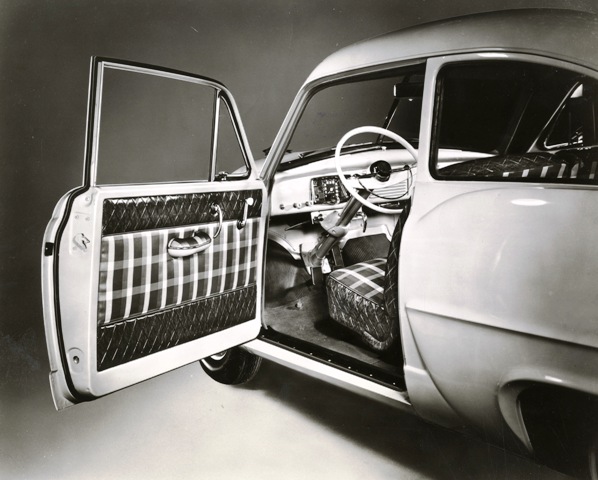 Allstate ModelSears made automotive history once again in the early 1950's. On November 20, 1951, Sears Merchandising Company's Vice President Theodore V. Houser and Kaiser-Frazer Vice President Eugene Trefethen negotiated a partnership agreement to sale and merchandise the Allstate automobile. On Tuesday, November 20, 1951 Willow Run confirmed that the company would manufacture a new low-priced passenger automobile to be named the "Allstate" for Sears Roebuck and Co.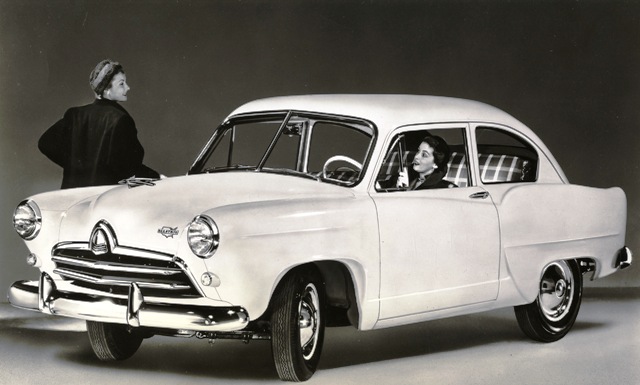 Allstate Model
Edgar F. Kaiser stated that explorations of the possibility of merchandising automobiles through the facilities of Sears began as early as 1948. Kaiser said, "Our prime consideration in more than two years of negotiations with Sears has been to reach an agreement that will prove to be highly beneficial to our dealers, distributors, and the corporation." The Allstate model sales were confined to a few test market Sears stores in the south and southwest where the Kaiser- Frazer dealer network was weak. The car was sold with Sears Allstate tires and batteries. The car was marketed with the company's overall satisfaction guarantee and separate specific warranties covering tires and batteries.
Allstate Model
The Allstate offered gracefully-designed style in the 1952-1953 models. The Allstate's front end design was styled by the late designer Alex Tremulis who also designed the Tucker automobile. The 1952-53 models were introduced by Sears, Roebuck and Co. and available in both four and six cylinder models. The Allstate models offered the consumers a low initial cost, along with a high fuel economy. Other features included exceptional maneuverability and a high horsepower-to-weight ratio which provided acceleration and over-the-road performance. The Allstate models also offered exceptional road visibility which was provided by the sightseeing safety windshield and the low sloping hood design. The parking lights were located in the fenders and the interior could accommodate a driver and five other passengers for traveling. The horizontal bar grille distinguished the Allstate models from the Kaiser Henry J vehicles. The colorful upholstery of vinyl and Saran plastic were the features for the interior of the new Allstate automobiles.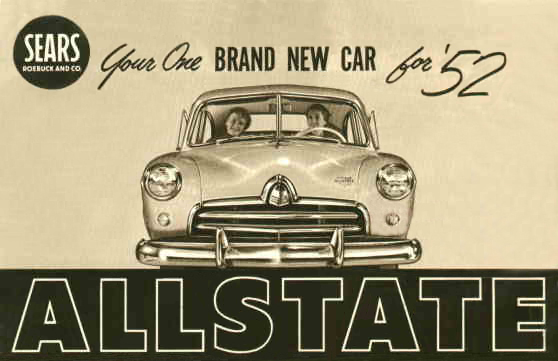 1952 Sears Allstate
As a convenience for customers, some could order vehicles through a mail order process or they could make a purchase inside the Sears store. Allstate models were mechanically similar to the Henry J, though they had different badging and superior upholstery. Factory delivered prices, less state taxes, were $ 1,395 for the standard model and $ 1,796 for the deluxe version.
Unfortunately, the agreement did not satisfy many dealers at the time because of direct competition and the Henry J cost more and had less standard equipment. As the journey continued for the Allstate models, the vehicles were not very successful in the automotive market because of its limited marketing approach in addition to the fact that only 2363 vehicles were manufactured. The Allstate was Sears' second venture in automotive sales, however, it was ultimately an agreement that did not work out for either Sears or Kaiser-Frazer. The Allstate demise killed Sears' plans for future automobiles. Among them were two proposals for a two-door station wagon that was designed by industrial designer Brooks Stevens; the other by Gordon Tercey of Kaiser-Frazier. Today Allstate models are extremely rare and collectible, if you can even find one for sale. Because of this, Allstate models will always be a part of automotive history.

A special thanks to Robert Tate, Automotive Historian and Researcher, for donating the story to the MotorCities Story of the Week program. Photographs are courtesy of the National Automotive History Collection. (Bibliography: "Sears Roebuck Ready to Sell Low Priced Cars". Chicago Sunday Times 11/20/51. "1953 Allstate "Special Interest Autos #155, September/October 1996.)
For further information on photos please visit http://www.detroitpubliclibrary.org/ or email This email address is being protected from spambots. You need JavaScript enabled to view it.. Please do not republish the story and/or photographs without permission of MotorCities National Heritage Area.
If you would like to contribute an article for the MotorCities newsletter, email This email address is being protected from spambots. You need JavaScript enabled to view it. or call 313-259-3425.