By: Robert Tate, Automotive Historian/Researcher
Images: Courtesy of Robert Tate's Collection
Posted: 07.15.2015
During the 1970s, American car buyers showed an ever-increasing appetite for a variety of premium quality vehicles. In response to that demand, Mercury introduced three new youth-oriented models into the consumer market: The Cyclone, Cyclone GT and the popular Cyclone Spoiler gave the Mercury division a broader coverage in the intermediate market.
All of the Cyclone models were two-door hardtops with a rakish roof-line design that accentuated their top performance capability. The popular Cyclone spoiler models offered the consumer a front and rear end air spoiler that was standard equipment on all models sold. The Cyclone Spoiler included a full complement of both functional and appearance sports features. The base engine offered with the Spoiler models was a 429-4v CJ with ram air, backed up by the four speeds Hurst shifter which many young adults thoroughly enjoyed.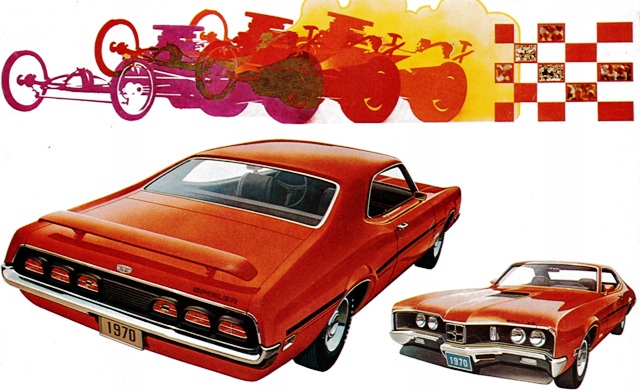 Mercury Cyclone SpoilerAdditionally, the black front spoiler, located beneath the front bumper, helped to support front end aerodynamics for drivers. The interior trim package included a fully instrument panel with a functional recessed gauges that was set in the instrument panel pad.

Another popular Mercury model that was introduced from Mercury's 1970 line was the Mercury Marauder and Marauder X-100 models. These models offered the consumer a great looking packaged roof designed with an option of a two-tone rear deck treatment. The Marauder models were also produced in attractive colors. As an example, dark-ivy Green met or dark aqua met were just a few colors Marauder models were available in for the consumer market.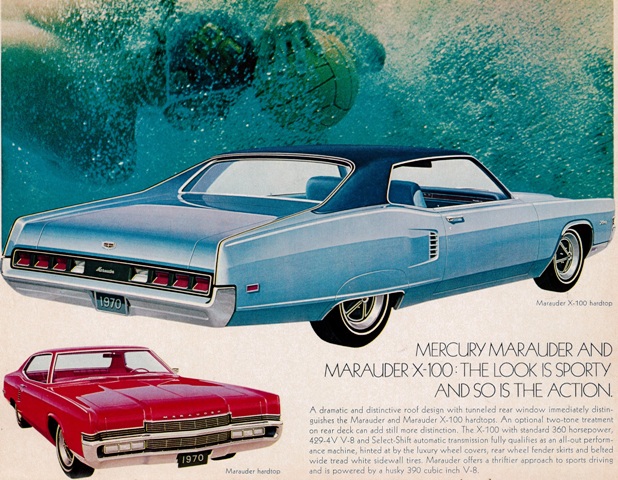 Mecury MarauderIntroduced in 1969 as completely new models, Marquis, Mercury Monterey and Marauder received engineering and design refinements during the same year. All three car lines had their own distinctive design features that were shared in the classic design heritage of the Lincoln Continental. New front and rear end design treatments gave the vehicles a clean crisp appearance. The Marquis, Marquis Brougham, Marauder and Marauder X-100 offered a new die-cast grille with a horizontal pattern and concealed headlamps.

On the Marquis Brougham models, the interior and exterior design refinements offered several new comfort and mechanical improvements and a host of other new options. The Marquis Brougham models had retained the Continental design look with minimal usage of bright trim. A new grille and tail lamp treatment also sold very well within the consumer market in 1970.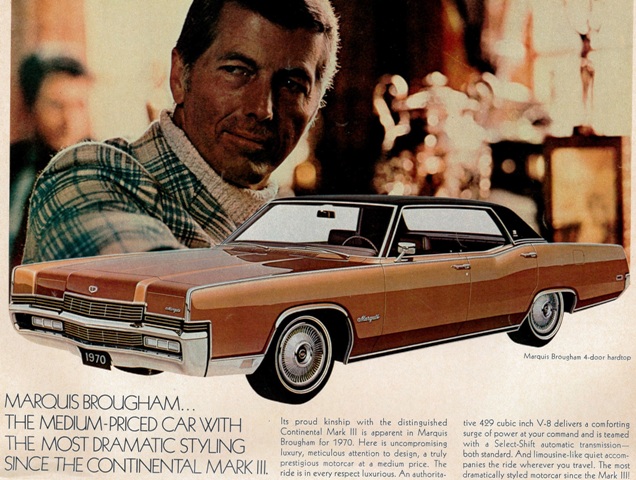 Marquis BroughamIn 1970, Cougar offered an all-new horizontal grille, new rear-end treatment and a longer overall length enhanced the sporty European road car flair of the Mercury Cougar XR-7. On the inside, high-back bucket seats were standard for the consumer along with a new contemporary trim pattern. The Cougar designs were refined modestly with a new vertical grille and a forward thrusting front end that attracted many consumers. Also in this year Cougar was available in five models, a hardtop and convertible in both the base series and the attractive XR-7 line along with the high-performance Eliminator featuring front and rear air spoilers. The Eliminator models represented the Cougar line well with a unique body exterior appearance which included an all black grill and a black hood scoop, which was also functional on the Boss 302 and 428-4V CJ engines.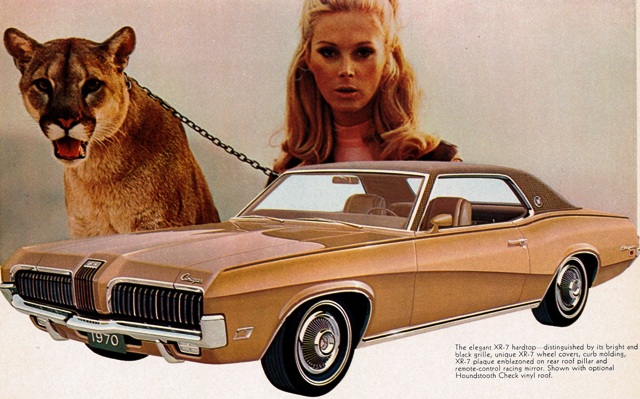 Mercury Cougar XR7The model also offered body-side black tape stripes with the "Eliminator" logo identified on the quarter panel, body-color dual racing mirrors, black wheels with hubcaps, and great looking trim rings. Six special exterior colors were available for the special edition Mercury Eliminator models which were Grabber Blue, Orange, Yellow and Green along with Calypso Coral and Platinum.

The Cougar Eliminator was a great success story for the Mercury line in 1970; it was designed for those who wanted high performance in an eye-catching compact vehicle. In conclusion, the Mercury products for 1970 were great looking vehicles that will always be a part of automotive history. For further information on 1970 Mercury line products, please contact the Mercury (Quicksilver) club at- www.mercuryclub.com.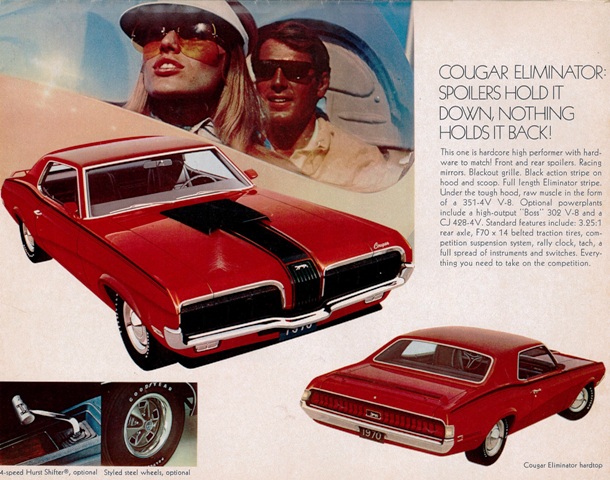 Cougar Eliminator

A special thanks to Robert Tate, Automotive Historian and Researcher, for donating the story to the MotorCities Story of the Week program. Photographs are courtesy of Bob Tate's Collection. (Bibliography: Dammann H. George. "50 Years of Lincoln -Mercury" Crestline Publishing 1971.)

Please do not republish the story and/or photographs without permission of MotorCities National Heritage Area. If you would like to contribute an article for the MotorCities newsletter, email This email address is being protected from spambots. You need JavaScript enabled to view it. or call 313-259-3425.