By Robert Tate, Automotive Historian and Researcher
Images Courtesy of Chrysler Historical Archives, Studebaker Museum, Ford Motor Company Archives, Classic Mini Archives, and Walter Chrysler Museum
Published 3.22.2023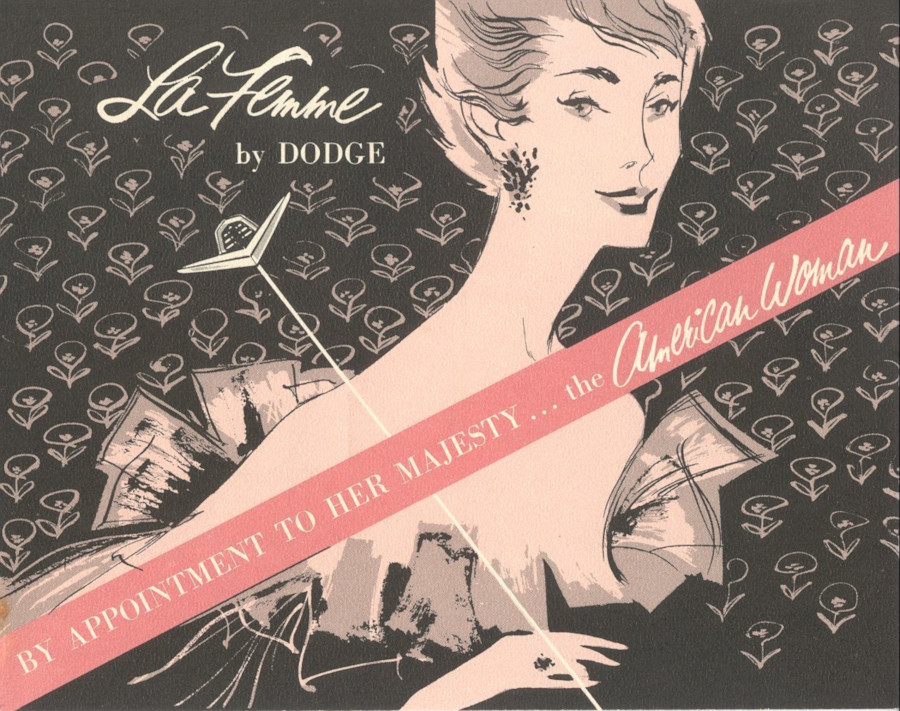 As Women's History Month continues, this is a story about the automotive industry and how women consumers influenced product design and advertising.
During the 1950s, women were beginning to invest more in the purchasing of a second vehicle for the family. Automakers observed that fashionable colors and accessories were bringing more women into dealerships.
For example, in 1955, Dodge introduced the La Femme, based on their Custom Royal model, with color options Heather Rose and Sapphire White. The model also came with accessories that would appeal to women, including a raincoat, umbrella, a tube of lipstick and more. Dodge's advertising team titled their brochure for the car "By Appointment to Her Majesty, the American Woman" (pictured above).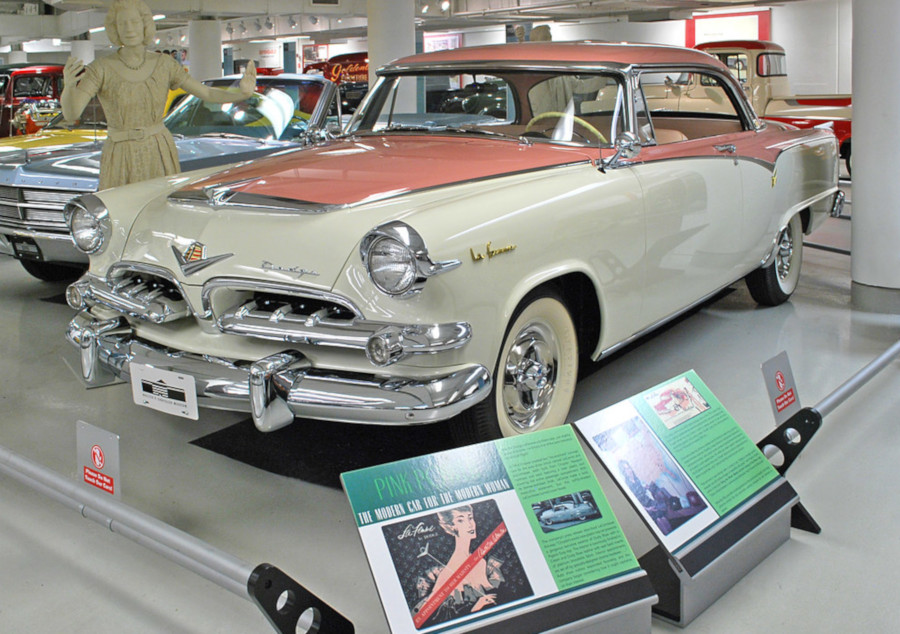 1955 Dodge La Femme at the Walter Chrysler Museum (Steve Brown)
The 1956 Dodge La Femme model was introduced with new colors Misty Orchid and Regal Orchid. Only about 1,500 units were manufactured for the 1956 model year, which was not a great success and led to Chrysler discontinuing the car. Today, Dodge La Femmes are very scarce, and their brochures are also hard to find.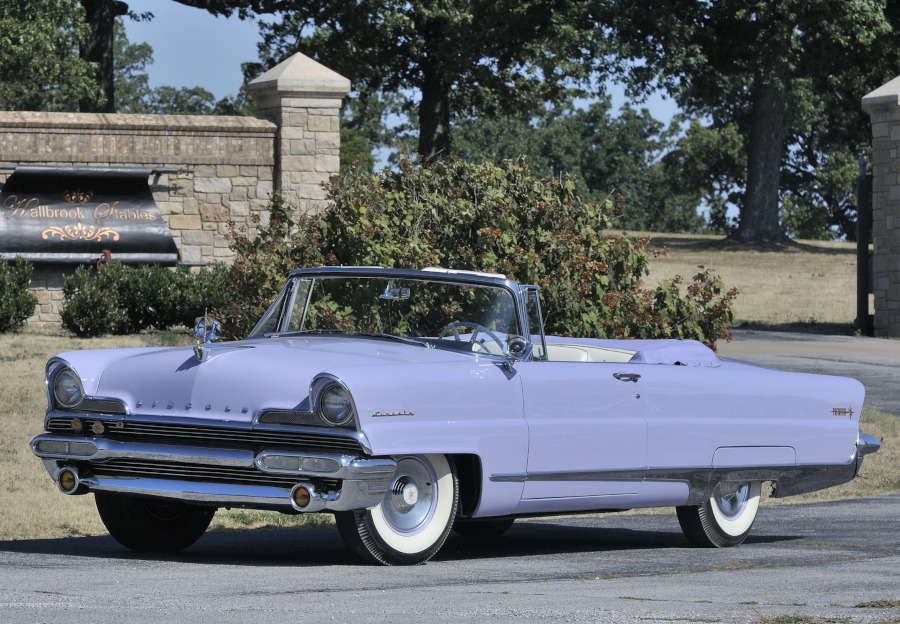 1956 Lincoln Premiere convertible in Westeria color (Mecum Auctions)
After 1954, automotive paint colors were evolving as more fashionable colors were being introduced by many automakers. For example, DeSoto introduced colors called Shell Pink, Iridescent Plum and Iridescent Lavender in 1956. That same year, Ford introduced colors called Amethyst and Wisteria, which became a very popular color for the Lincoln Premiere models. Also in 1956, Pontiac offered two colors called Camellia and Amethyst that proved popular with women drivers.
The 1960s and 1970s brought changes in the fashion world that was reflected in automotive advertising and photography. Many of the images used in automotive advertising of that era was produced by a company called Boulevard Photographic in Detroit. In the 1950s, photographers Jimmy Northmore and Mickey McGuire launched Boulevard Photographic to create the best automotive images in the world. The work they created helped the automakers sell their new products.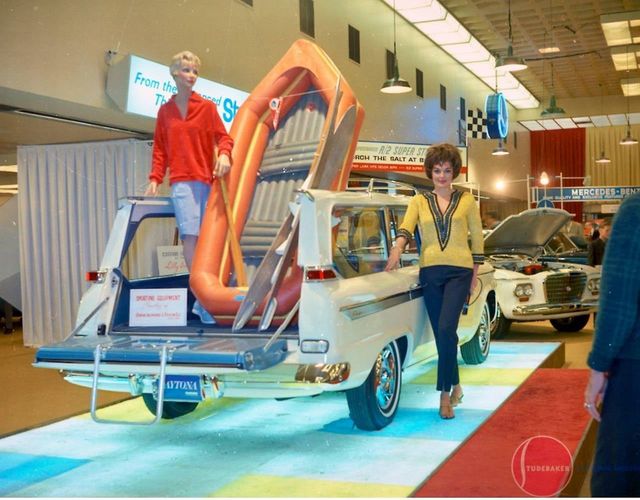 1963 Studebaker Wagonaire at an auto show (Studebaker Museum)
When Studebaker introduced the 1963 Wagonaire at auto shows, the models were stylishly dressed in the latest attire bring attention to the vehicles. During the early 1960s, First Lady Jacqueline Kennedy became a global fashion icon and style leader. Her style was reflected in Ford Motor Company advertising in 1962 and 1963 in an attempt to influence women consumers.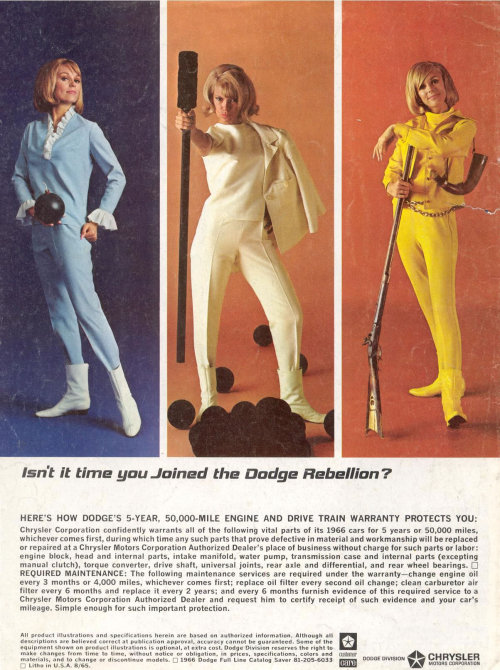 1966 "Dodge Rebellion" advertising (Chrysler Archives)
Style trends in the 1960s and 1970s influenced automotive advertising targeted to women. The modern fashion styles included miniskirts with a freedom of expression, along with the flower power movement and bell bottom pants. In 1966, singer Nancy Sinatra released a single titled "These Boots are Made for Walking," which included a current fashion trend -- go-go boots. The song became a huge hit, and led to Dodge building an advertising campaign called the "Dodge Rebellion" with Jo Ann Parker and Pamela Austin wearing go-go boots.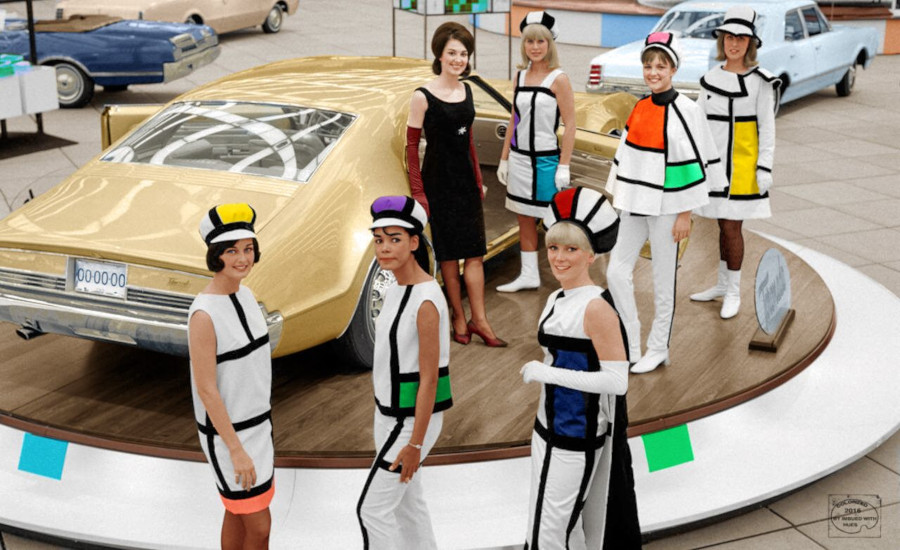 1966 Oldsmobile Toronado auto show display (GM Heritage Archives)
In 1966, when General Motors introduced the new Oldsmobile Toronado, they featured a great looking auto show display that included all of the new Oldsmobile vehicles with models clad in "blocked" dresses & clothing. The display created a fashion trend among women in 1966. The 1966 Oldsmobile Toronado was big news that year with its front wheel drive, and it was named Motor Trend's Car of the Year.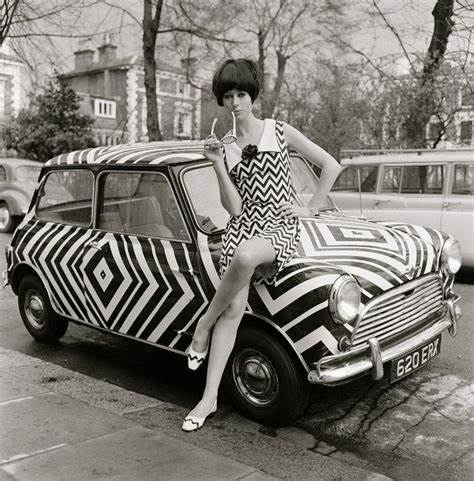 1960s Mini Cooper advertising (Mini Corporation Archives)
In Europe, the Mini Cooper also marketed to women and kept up with fashion trends in the 1960s and 1970s.
1970 Ford Mustang sales catalog (Ford Motor Company Archives)
In conclusion, women consumers influenced the auto companies to tailor products around their unique style during the 1950s, 1960s, and 1970s.
Bibliography
Black, Jim. "A Once-in-a-Lifetime Opportunity to Buy and Restore a 1956 Dodge La Femme Repeats Itself." Hemmings, November 22, 2022.
Williams, Jim. "Boulevard Photographic: The Art of Automobile Advertising." MBI Publishing Company, 1997.
McPherson, Thomas A. "The Dodge Story." Motorbooks International, Crestline Publishing, 1975.