By Robert Tate, Automotive Historian and Researcher
Images Courtesy of the Chrysler Archives
Published 2.22.2023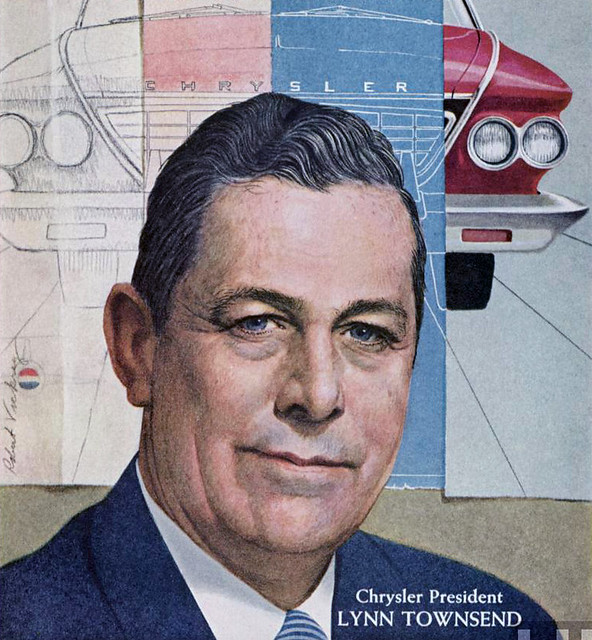 Lynn Townsend illustration from the cover of Time Magazine, 1960s

Lynn A. Townsend (May 12, 1919 - August 17, 2000) was born in Flint, Michigan and graduated from the University of Michigan in 1941. He received a master's degree in business administration during World War II and then served as a disbursing officer on the aircraft carrier USS Hornet in the Pacific.
Townsend was hired by Tex Colbert at the Chrysler Corporation in 1957 as a controller and began to rise through the ranks. In 1958, he became a group vice president in charge of international operations. By 1961, he became president at Chrysler with the responsibility of handling the company's day to day activities and manufacturing.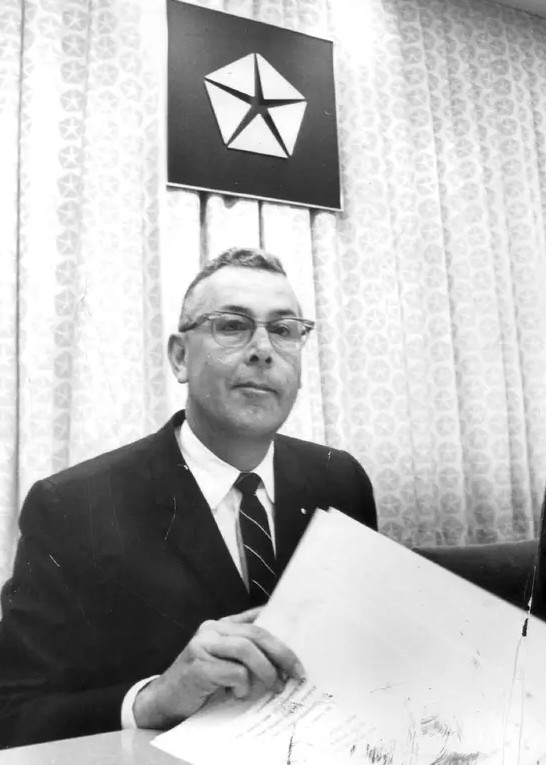 Lynn Townsend with the new Chrysler logo (Chrysler Archives)
During the 1960s, Townsend guided Chrysler to great success and stability as the company's automotive designs were changing. Some automotive historians have called him a trailblazing automotive executive. He was a part of the auto industry first to implement an extensive warranty, which had allowed five years or 50,000-mile warranties as part of a customer service program. Townsend also had a role in reconstructing Chrysler's auto dealer network as well.
One of the most important automotive decisions that Townsend made was to change the styling of Chrysler products starting with the logo. In 1962, he decided that the company needed a new symbol to represent all of Chrysler's products, so the familiar blue and white pentastar logo was adopted.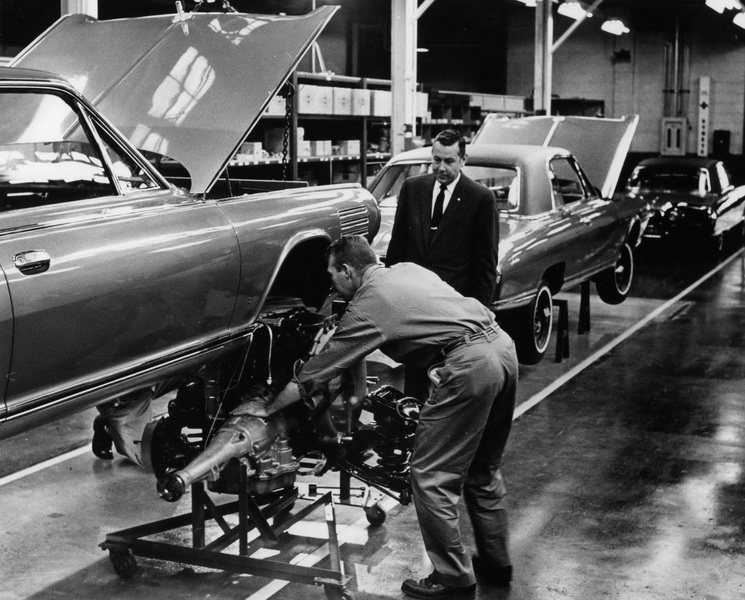 Lynn Townsend with the Chrysler Turbine assembly line (Chrysler Archives)
Some automotive historians referred to Townsend as a smart, facile and abrasive executive who laid off 25 percent of Chrysler's white-collar employees, who nicknamed him "The Brute." He closed some obsolete plants, shut down many office buildings, and sold off company aircraft.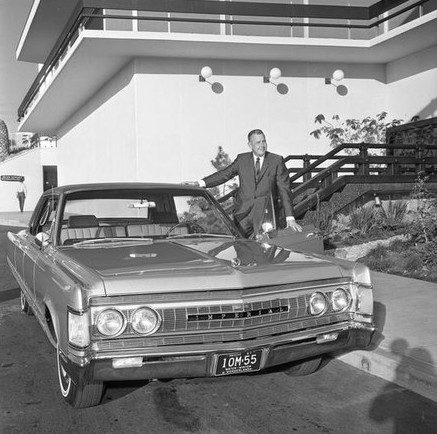 Lynn Townsend with the 1967 Chrysler Imperial (Chrysler Archives)
Townsend was also involved in restyling of new Chrysler products and improving automotive quality with improved extended warranty plans to help the consumer and community. Under Townsend's leadership from 1961 to 1964, Chrysler's annual sales rose about 100 percent. By 1965, Chrysler's net income had risen almost 2,000 percent.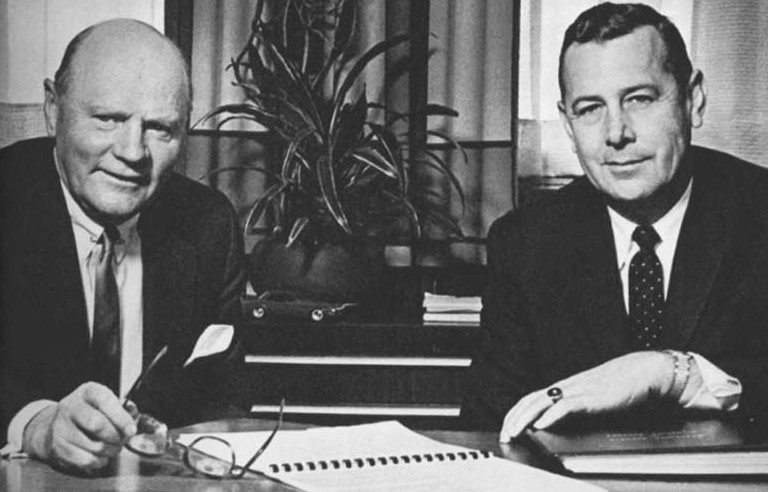 George H Love and Lynn Townsend (Chrysler Archives)
In 1967, Townsend was chairman, and V. E. Boyd was president of Chrysler. The Annual Report for the Chrysler Corporation in 1967 said "Sales of Chrysler Corporation and consolidated subsidiaries totaled $6.2 billion in 1967, compared with $5.6 billion in 1966. This was the fourth consecutive year that a new sales record was set. Net earnings were $200.4 million for the year."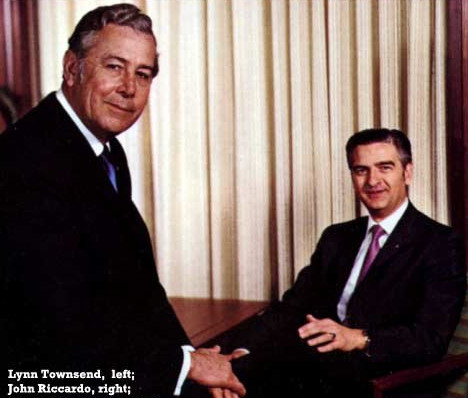 Lynn Townsend and John Riccardo (Chrysler Archives)
In 1968, under the direction of Townsend and Elwood Engel, who was Chrysler's design chief from 1961 until 1974, made many automotive styling changes. Chrysler's 1968 passenger cars and trucks were introduced in mid-September of 1967. These new products represented a considerable expenditure for styling that the public thoroughly enjoyed. A hallmark of 1960s styling was the muscle car era, which was embraced many young adults of that time.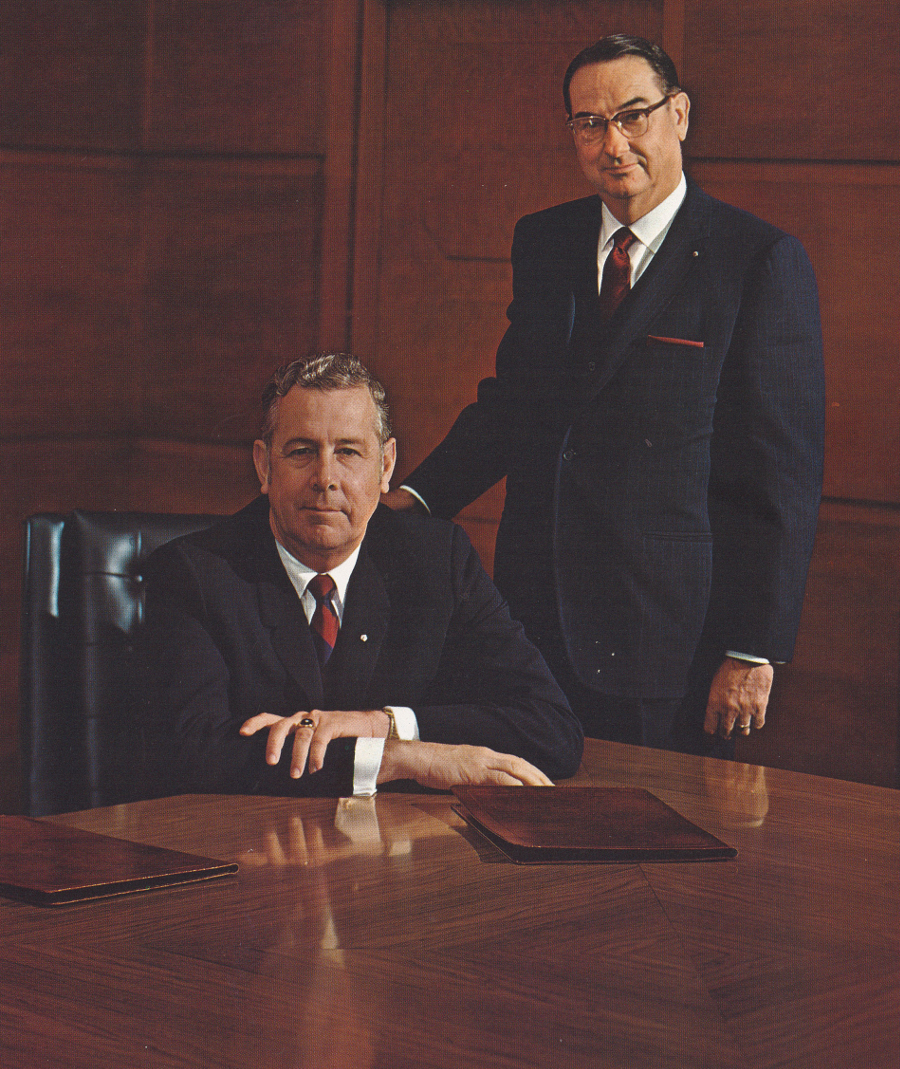 Lynn Townsend with V.E. Boyd (Chrysler Archives)
Chrysler's worldwide sales increased in 1968 for the seventh consecutive year, with both sales and earnings setting new records. In short, 1968 was Chrysler's most successful year ever from both an earnings standpoint and worldwide market share.
By 1974, Townsend's management decisions were leading the company in a less profitable direction, and a recession in the United States hit the auto industry very hard with declining sales of new vehicles. In April 1975 at Chrysler's annual meeting, investors and laid-off employees expressed their displeasure with the direction of the company and called for Townsend's resignation. Townsend believed that the company's investors would be best served by an early and orderly transition of leadership to younger executives, retiring in 1975 at the age of 56.
Lynn Townsend on the covers of Time and Forbes
In conclusion, some automotive historians have said that Lynn A. Townsend, president of Chrysler, made the company profitable and international, only to lose it all.
Bibliography
Parkhurst, Terry. "Lynn A. Townsend, President of Chrysler Corporation in the 1960s and 1970s." Allpar Forums, November 16, 2020.
Encyclopedia.com. "Lynn Alfred Townsend."
Chrysler Corporation 44th Annual Report. December 31, 1968.