By Robert Tate, Automotive Historian and Researcher
Images Courtesy of GM Media Archives
Published 7.5.2023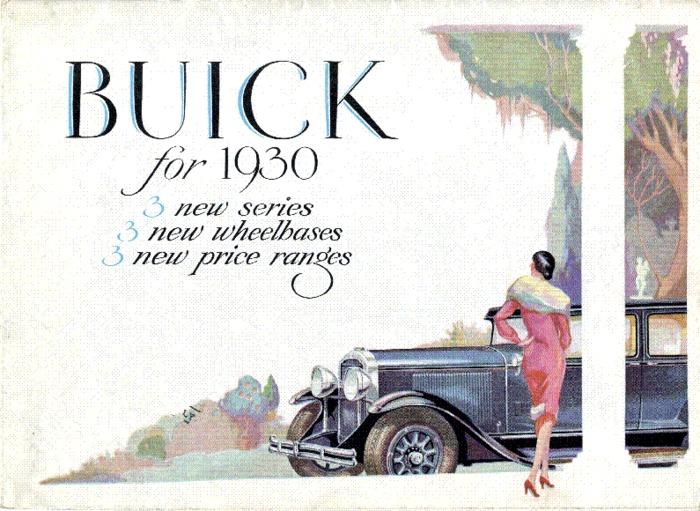 A 1930 Buick announcement ad (GM Media Archives)
The 1930s dawned with America under the grip of the Great Depression, and many automakers were facing difficult times as well. For 1930, Buick had changed its entire line, and the brand was ranked number three in domestic sales during the early part of the 1930s.
In 1931, Buick's big news was the introduction of the new overhead valve 8-cylinder engines, which became very popular. Throughout the early 1930s, Buick's advertising theme was "Buick Gives More and Better Miles," which was a great campaign. The ad campaign also utilized great automotive illustrations that became famous works of art. While the early 1930s Buick models were beautiful automobiles with great appeal, the spotlight was on engineering and customer satisfaction.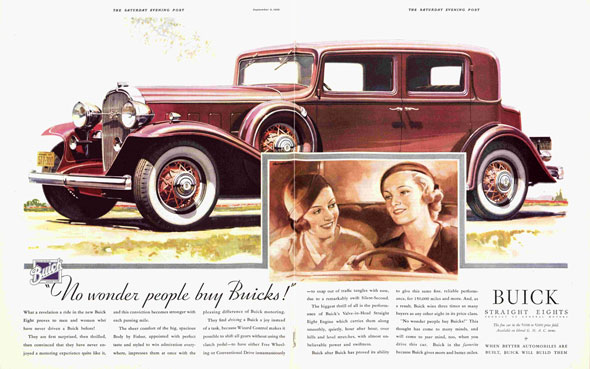 A 1932 Buick ad (GM Media Archives)
In 1932, the Great Depression continued to impact the auto industry, and Buick's manufacturing was cut by more than 50 percent, with only 41,522 units built during the calendar year. The advertising theme, however, was still going very strong. The Buick automotive illustrations used in their advertising were typical of a style that lasted throughout the 1930s in America, and to some extent has influenced nearly all post-World War II auto advertising.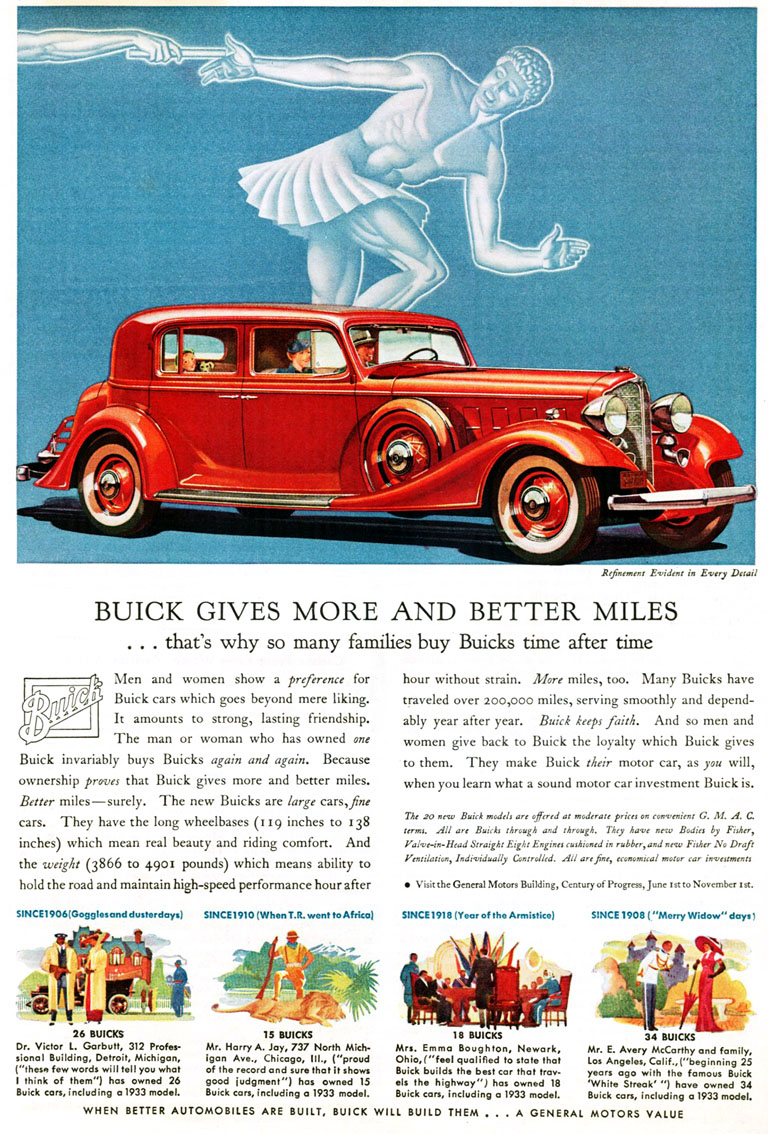 1933 Buick advertising (GM Media Archives)
This story features a variety of examples demonstrating the Art Deco style of American automotive advertising from the 1930s, truly a challenging time for advertising agencies to sell cars during the Great Depression. Campaigns of this era focused on engineering and performance, with color illustrations assuming an important role. During this time, the American consumer wanted more horsepower and additional features, but the economic reality made affordability a problem for many.
Between 1933 and 1935, Buick styling was greatly modified, but sales remained poor at their dealerships. Their advertising was highlighting driveability and comfort, while telling stories of Buick drivers keeping their cars for 200,000 miles or more. Another Buick advertising slogan in 1935 was "When Better Automobiles Are Built, Buick will Build Them."
A 1933 Buick Convertible Coupe ad (GM Media Archives)
After 1935 and the ensuing years, Buick advertising continued to evolve. General Motors had hired Harlow Curtice to help put Buick back on its feet after the toll the Great Depression had taken on the brand. Curtice hired Art Kudner to give Buick a new advertising direction for 1936. Kudner and Curtice had worked together before on other GM projects. Kudner was a talented ad man, and he had started his agency, with Buick as one of his first accounts.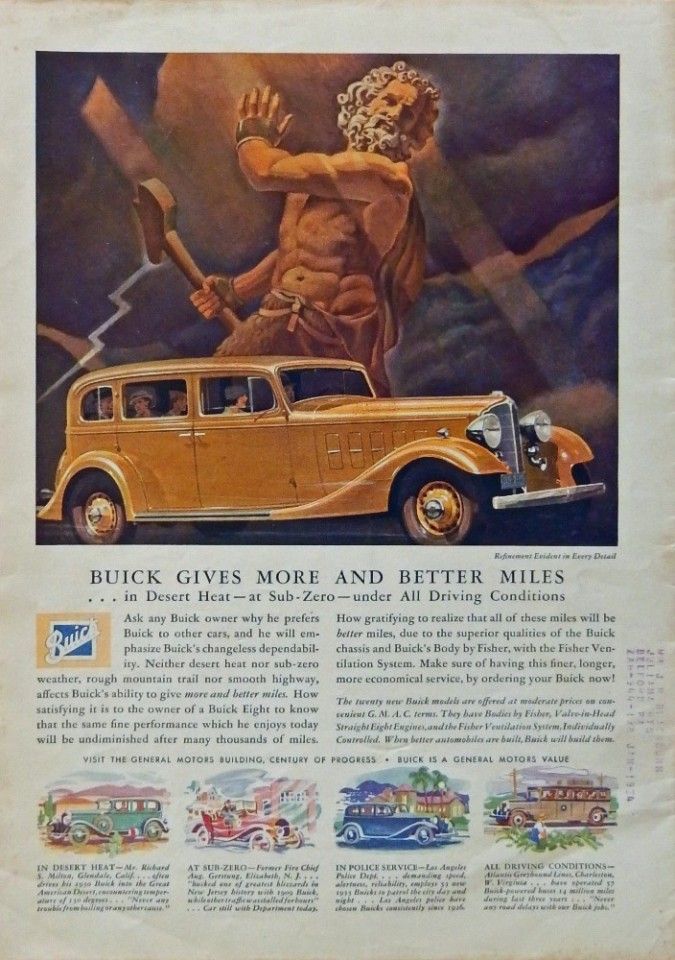 A 1933 Buick ad (GM Media Archives)
In 1935, Buick production was up to 53,249 units. Changes for that year included the addition of automatic chokes on all models and the placing of an armrest in the back seats of the Series 60 closed cars. 1935 also saw the introduction of some new model series, including the Special, Super, Century and Limited models -- which the public thoroughly enjoyed. A 1935 Buick model had a price tag of $795.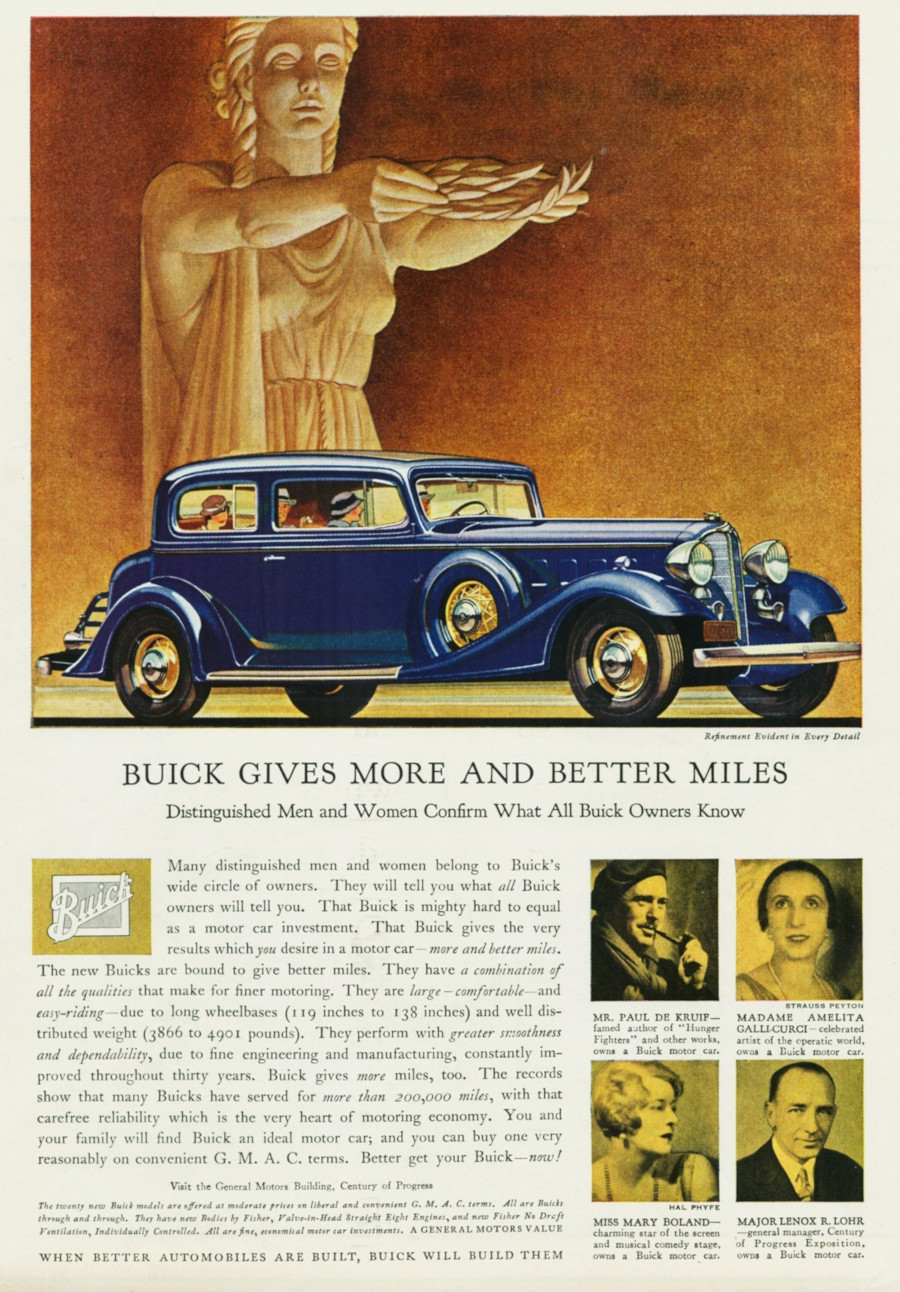 Another 1933 Buick ad (GM Media Archives)
Buick advertising created some positive attention in 1935 by introducing top boxing contender Joe Louis as an endorser; he later became heavyweight champion in 1937. The advertisement highlighted the Fraser Motor Company located in Detroit. This endorsement would create a positive relationship for Buick with the African American community from 1935 to 1956. Buick models became a popular choice for African American drivers.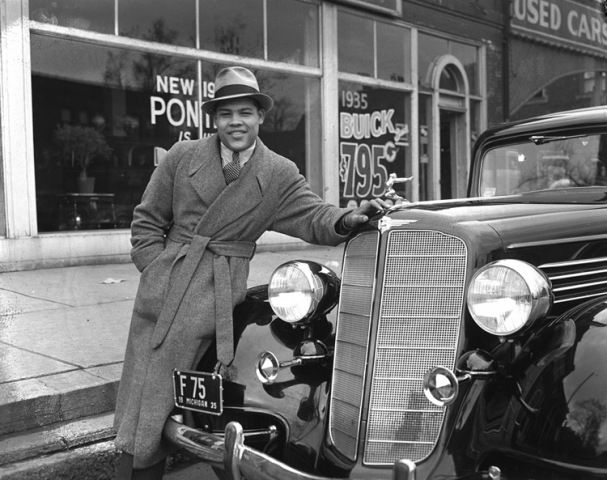 A 1935 Buick ad with Joe Louis (GM Media Archives)
Another popular Buick ad created for 1935 was "Hollywood-creator of style chooses Buick for its own." This ad highlighted Warner Brothers film studio, along with actor Dick Powell and other actors.
Many automotive historians have said that 1936 was the year that put Buick back on the great American road to recovery. The new designs of the 1936 Buick models designed by Harley Earl, head of General Motors styling, and the great advertising campaign created by Kudner led to improved sales.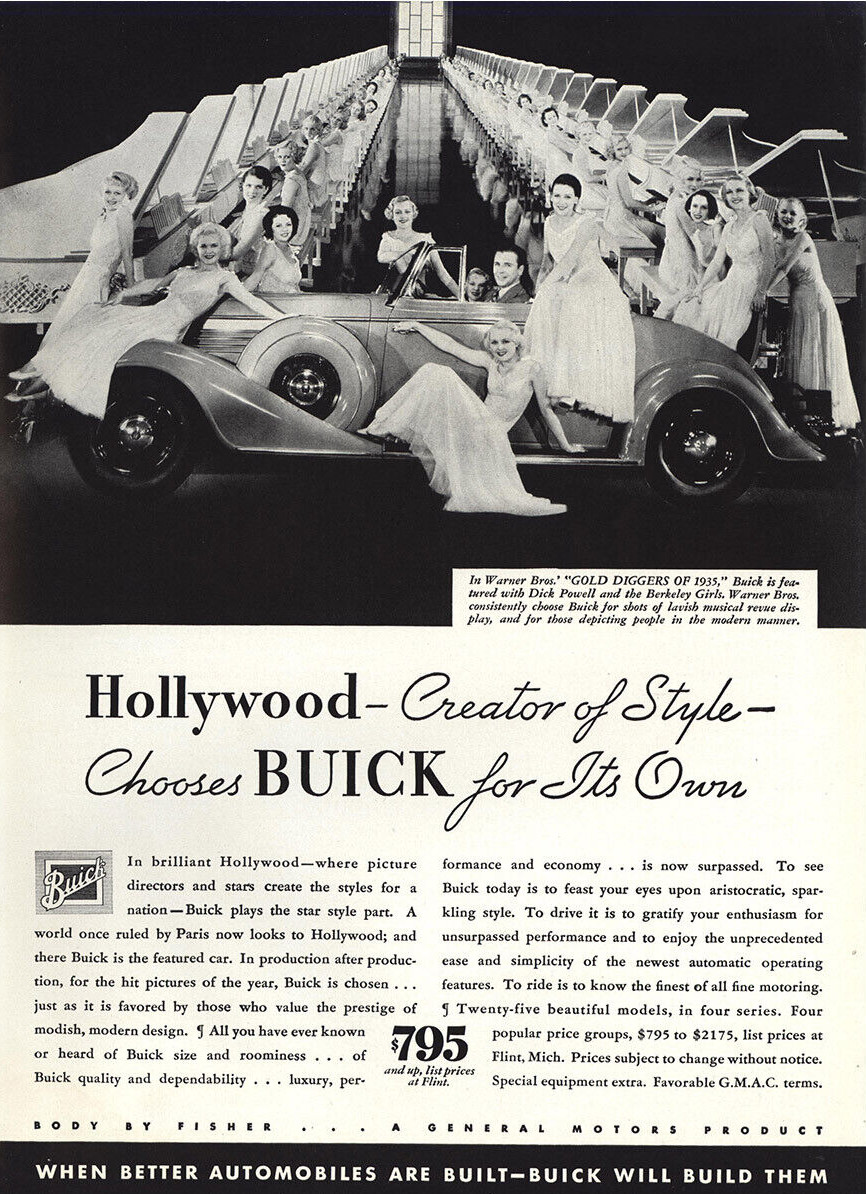 A 1935 Buick ad with actor Dick Powell (GM Media Archives)
In conclusion, the 1930s was a time of great despair, however, Buick created great works of automotive art and introduced Joe Louis in their advertising, which will be remembered by many generations to come.
Bibliography
Dunham,Terry B. and Lawrence, Gustin R. "The Buick: A Complete History." Automobile Quarterly Publications, 2002.
Dammann, George H. "Seventy Years of Buick." Crestline Publishing, 1973.
Frostick, Michael. "Advertising and the Motorcar." Lund Humphries-London, 1970.