By Robert Tate, Automotive Historian and Researcher
Images Courtesy of Ford Motor Company Archives and Tom Maruska
Published 8.3.2022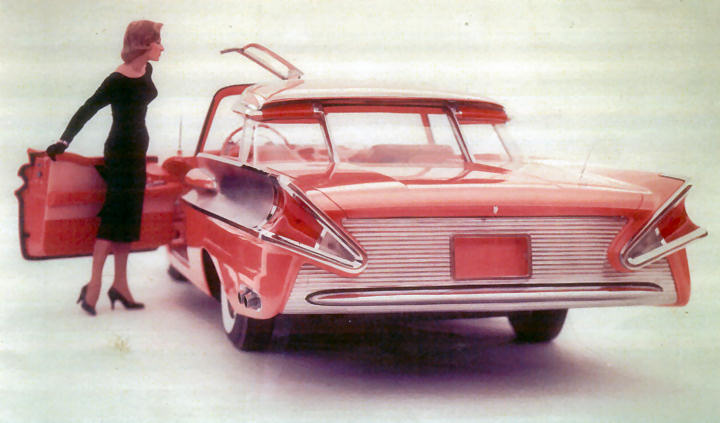 1956 Mercury XM Turnpike Cruiser rear view (Ford Motor Company Archives)
One of the most iconic automotive show cars of the 1950s was the 1956 Mercury XM-Turnpike Cruiser, an innovatively styled vehicle created by the Ford Motor Company design team. This Mercury was unlike any other show car, and its design elements and innovations were polarizing to American car enthusiasts of the era.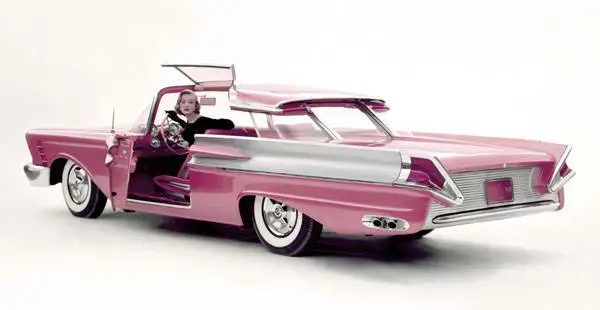 The 1956 Mercury XM Turnpike Cruiser side view
During the 1950s, auto design ideas were inspired by science fiction television shows like "Buck Rogers" and others that speculated on the future of America and the American dream. A Ford designer that was very involved in the creation of the 1956 Mercury XM-Turnpike Cruiser was John Najjar, who was in charge of the Lincoln pre-production studios at the time. In the beginning, the model was called the Mandalay and was originally conceived by Najjar in 1954. The Mandalay caught the eye of Ford executive Jack Reith, one of the original "whiz kids," who enjoyed its overall styling and advocated for its further development. Elwood Engel, Gene Bordinat, Don DeLaRossa and Larry Shinoda joined Najjar on the model's design team.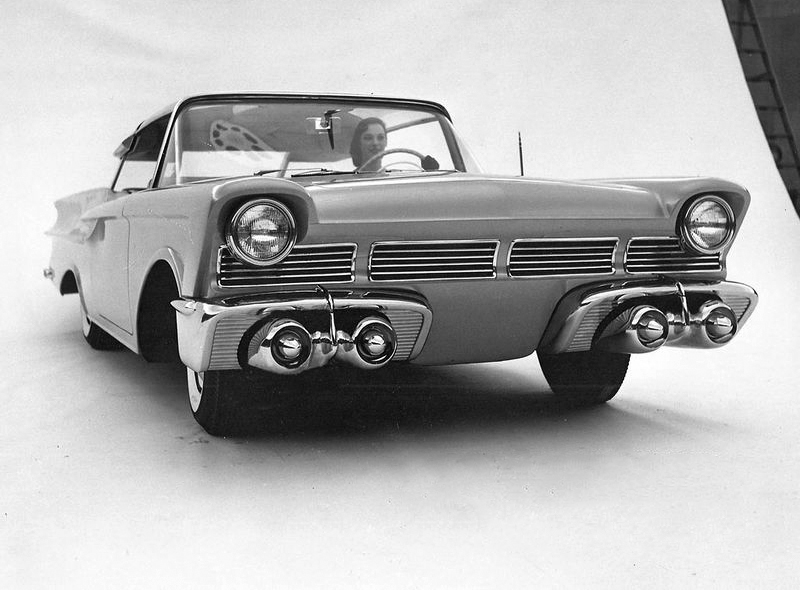 A black and white view
The model was constructed by Ghia of Italy at a cost of $80,000, which was a large amount of money for an automotive project. The show car styling became the driving force for the all-new 1957 Mercury line.
Ford Motor Company called the show car, "an experimental car that anticipates future motoring needs." Unfortunately, the 1957 Mercurys proved not to be good sellers for Ford Motor Company. Model year production was down to 286,163 units, while calendar year production slumped to 274,820.
1956 Mercury XM Turnpike Cruiser show car promotional brochure
For the production vehicle in 1957, the Turnpike Cruiser nameplate was continued. The model was manufactured in two or four door hardtop models which were totally different than the previous 1955-1956 popular Mercury models and many automotive historians have said that 1957 was a very disappointing year for Mercury.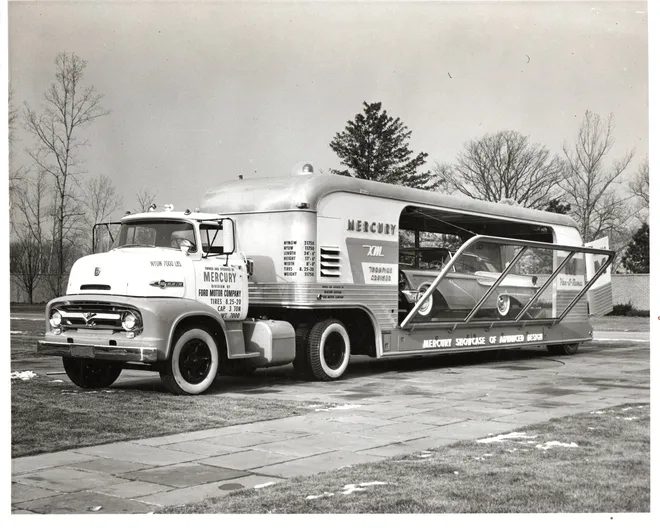 1956 Mercury XM Turnpike Cruiser show car advertising trailer truck
The 1956 Mercury XM-Turnpike Cruiser featured great looking transparent roof panels that could be raised or lowered for the drivers as well as the passengers. It also offered a unique new plastic "butterfly" top that some consumers liked, and some did not. The front-end design was also different, featuring sculpted grille work with twin jet pods on each side designed in a chrome plated nacelle. Another futuristic design was the V-shaped taillight, along with the side channel design, which was developed by Larry Shinoda.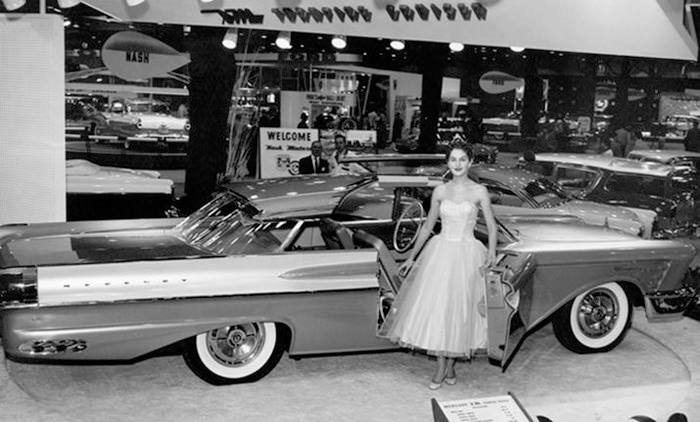 1956 Mercury XM Turnpike Cruiser show car at the 1956 Cleveland Auto Show
Regarding the interior, the show car offered four bucket seats with two-tone leather seat upholstery. The power plant featured a 312 CID Y Block V8 engine with four-barrel carburetors and a Merc-O-Matic transmission.
The 1956 Mercury XM Turnpike show car also came with its own trailer, featuring big picture windows on either side to highlight the model. Both the transport and the show car made their debuts at the 1956 Chicago Auto Show, where the car was referred to as a "preview of the future."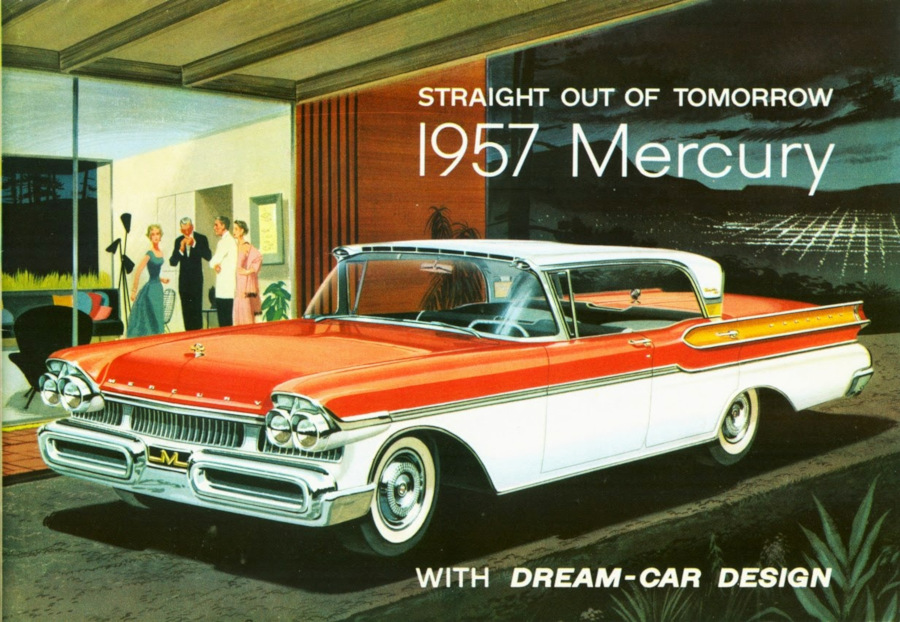 1957 Mercury Turnpike Cruiser production model brochure
In 1971, the show car, which had been in storage for many years, had become damaged. It was sold for $500 dollars to a man by the name of Baker, who in turn sold the car to Ray Sabo for $3,000 in 1979. Later after more years had passed, and unfortunately more deterioration, the show car was sold to Tom Maruska in 2017. Maruska has since invested a great deal of money to restore the car to its original condition, saying "finding one of these show cars and restoring it is pretty unique."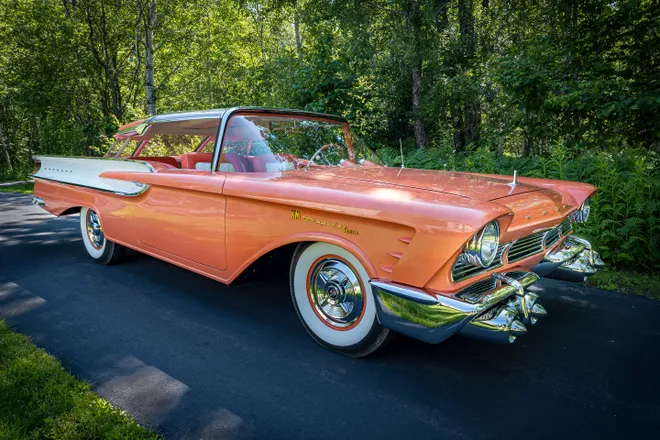 1956 Mercury Turnpike Cruiser show car restored by Tom Maruska
In conclusion, the 1956 Mercury XM Turnpike Cruiser will always be a part of automotive design history that many will appreciate and admire for years to come.
Bibliography
Kustomrama. "1956 Mercury XM Turnpike Cruiser." A Traditional Rod Kustom Encyclopedia Newsletter.
Phalen, Mark. "1956 Mercury Show-Car Was Abandoned for Decades. Now It Sparkles Like New." Detroit Free Press, July 23, 2022.
Mac's Motor City Garage. "Mercury Fabulous Failure: The 1956 XM-Turnpike Cruiser." March 7, 2018.