By Robert Tate, Automotive Historian and Researcher
Images Courtesy of the Ford Motor Company Archives
Published 5.18.2022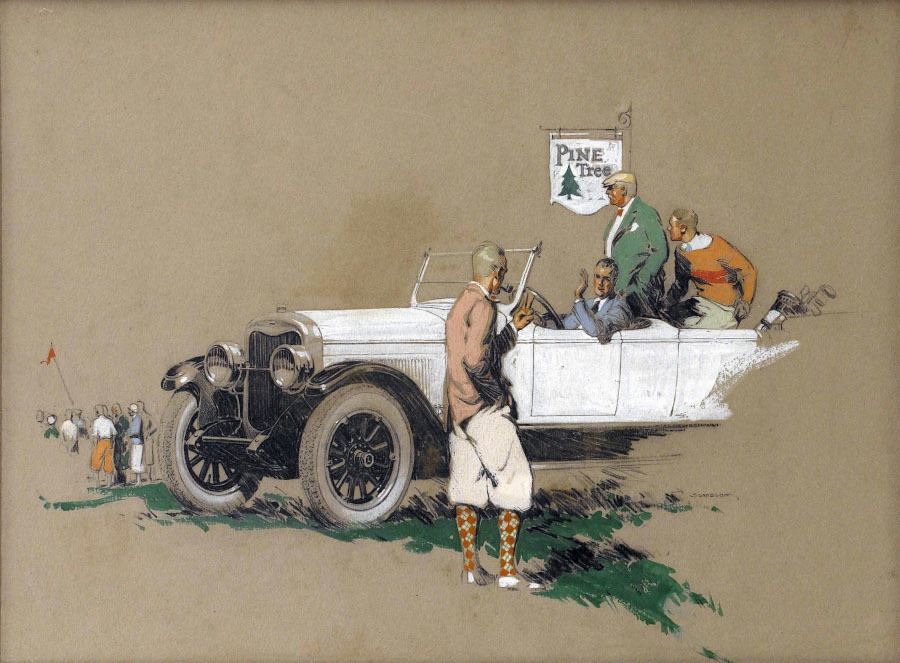 1924 Lincoln advertising art (Ford Motor Company Archives)
During the early days of the automobile when traveling across our country was beginning to take place, the Lincoln Motor car started to make its mark on our automotive culture.
At the behest of son Edsel, Henry Ford and Ford Motor Company purchased the Lincoln Motor Company for $8 million on February 4, 1922 from Henry Leland. In June 1922, both Henry Leland and his son Wilfred left Lincoln, and Edsel Ford became the company's president. The new company was now called the "Lincoln Motor Company Division of Ford Motor Company." The Lincoln Motor Company became an independent operation whose stock was 100 percent owned by the Ford Motor Company. Henry and Edsel Ford, the father and son combination, then guided Lincoln from near financial ruin to a strong luxury brand featuring some of the greatest automotive design of the era.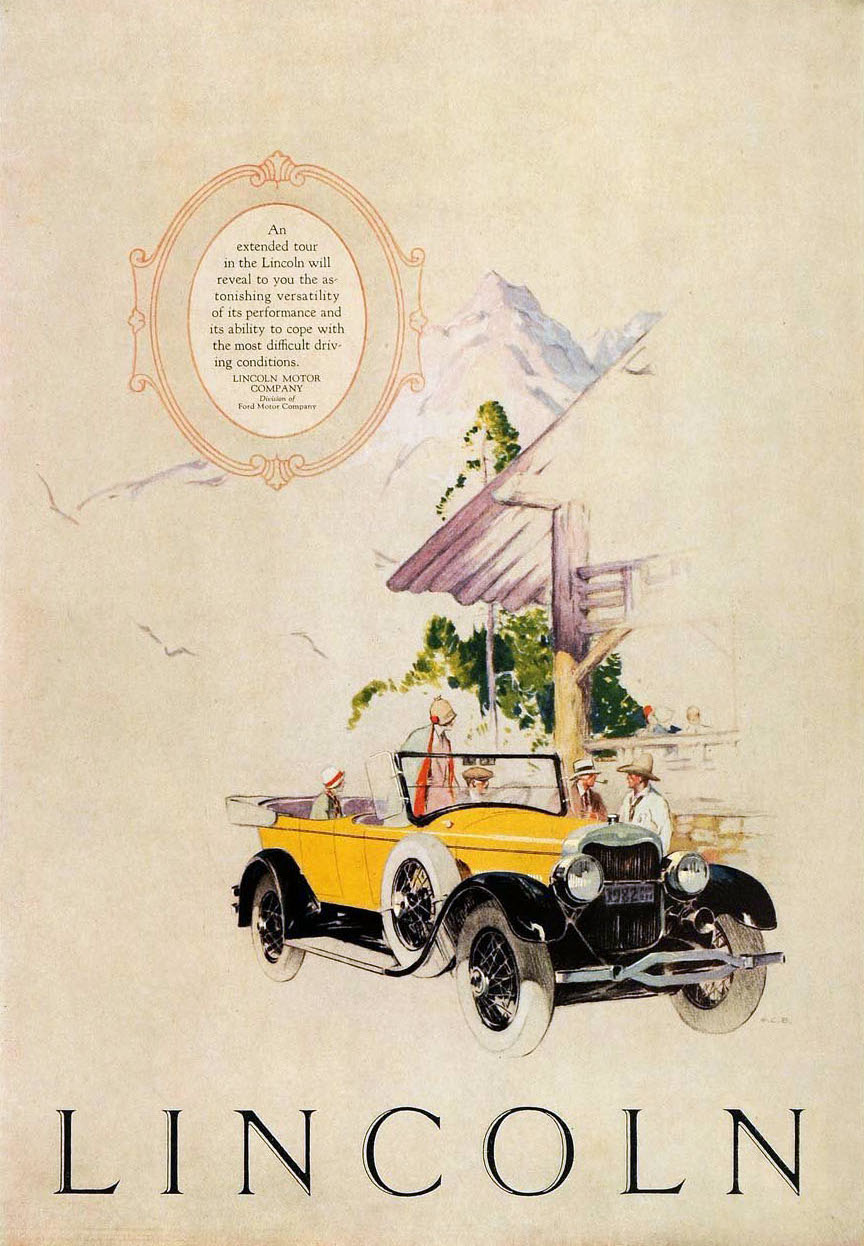 1925 Lincoln Touring ad (Ford Motor Company Archives)
The 1922 Lincoln models offered minor changes reflective of Ford's recent purchase of the brand. For example, the Lincoln badge featured the Ford name and the "Leland Built" logos were removed. The models also offered improved cylinder heads for better engine cooling on automobiles with serial numbers after 7820.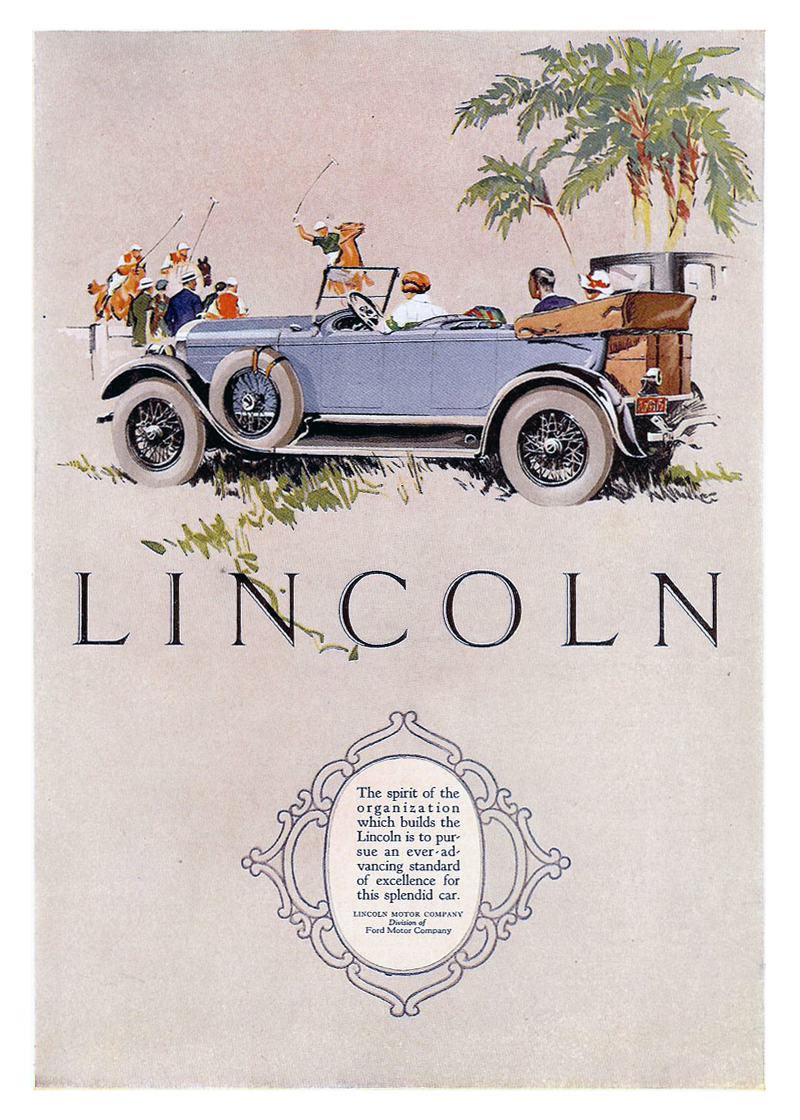 1925 Lincoln ad (Ford Motor Company Archives)
In 1924, as the Lincoln line was becoming increasing popular, it was necessary to expand their factory by an additional 311,000 square feet to facilitate higher production output. Ray Dietrich left Le Baron and set up Dietrich Inc in Detroit, Michigan as a custom body division of the Murray Body Company. This firm would in latter years produce many great looking custom and semi-custom bodies for Lincoln automobiles.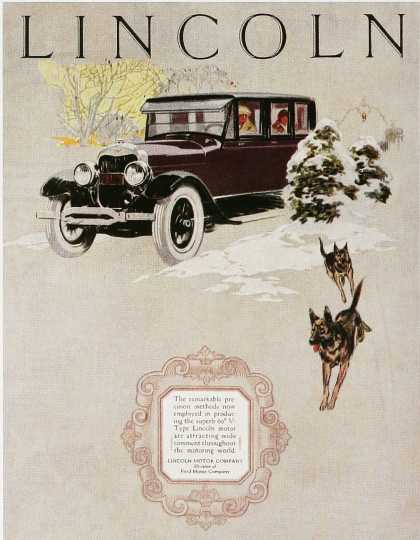 Another 1925 Lincoln ad (Ford Motor Company Archives)
In 1925, Silversmith Gorham was retained at Ford Motor Company to create and design a new emblem for Lincoln automobile. Because of its speed and fleetness, the greyhound symbol was chosen, and the famous Lincoln greyhound radiator ornament was planned for late in the model year. The greyhound radiator ornament remained the great symbol for Lincoln vehicles from 1927 until the final series K shipped from the factory in 1941.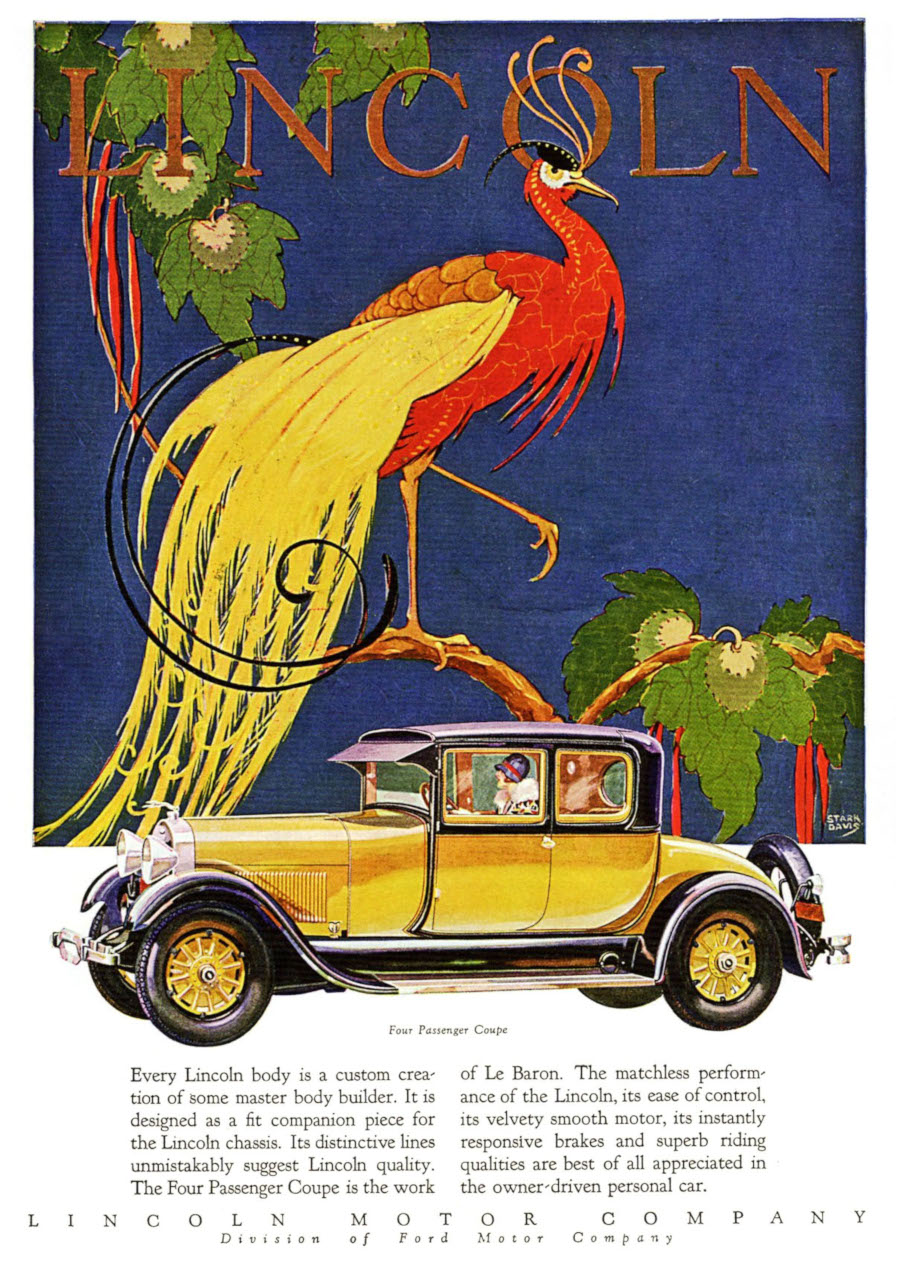 1928 Lincoln Four- Passenger Coupe ad (Ford Motor Company Archives)
As the 1920s Lincoln models continued their strong sales, the Detroit Police Department conducted extensive tests on their vehicles, placing their stamp of approval on Lincoln as the best in automotive performance.
1927 was the year that body builder Locke introduced its Dual Cowl Phaeton automobile design to the public. It was a vehicle widely considered to be one of Lincoln's most attractive automotive designs.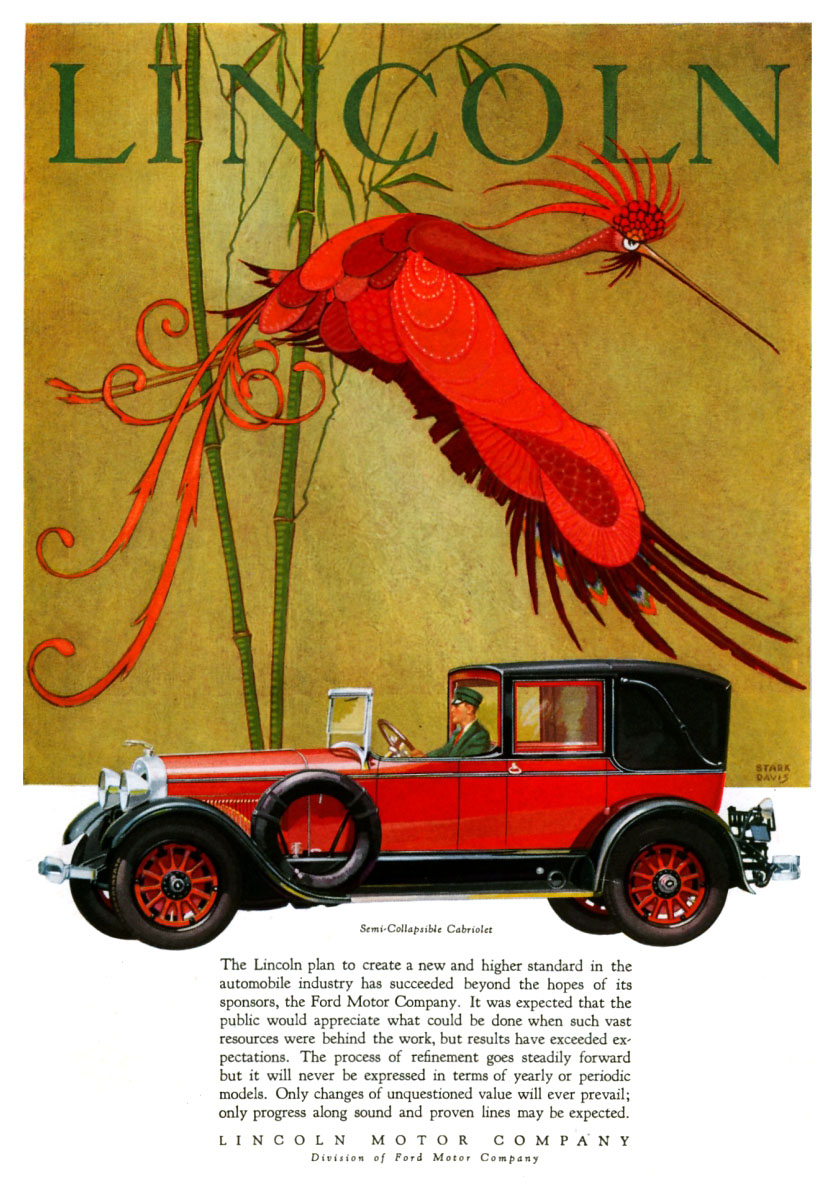 1928 Lincoln Semi Collapsible Cabriolet ad (Ford Motor Company Archives)
There is no question that Edsel Ford brought a level of class to the Lincoln brand. The 1920s Lincoln models reflected that in their designs and custom bodies that so many consumers thoroughly enjoyed.
In 1929, Lincoln offered a new body style, including the side-mounted spare tires on the majority of its models.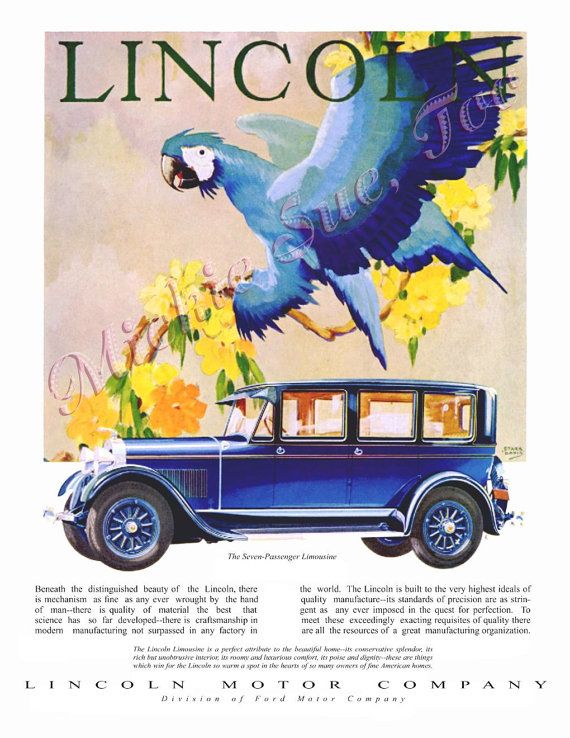 1928 Lincoln ad (Ford Motor Company Archives)
From 1923 to 1929, Lincoln offered some of the most beautifully illustrated automotive advertising ever. Some of the illustrations were developed by artist Haddon Hubbard Sundblom (1899-1976) and automotive illustrator Fred Cole (1893-1983). Sundblom became one of the most prominent American illustrators of the early 20th century and dominated the field from Chicago. Cole's work from the Grauman studios in Chicago was featured by many automotive companies in their advertising as well.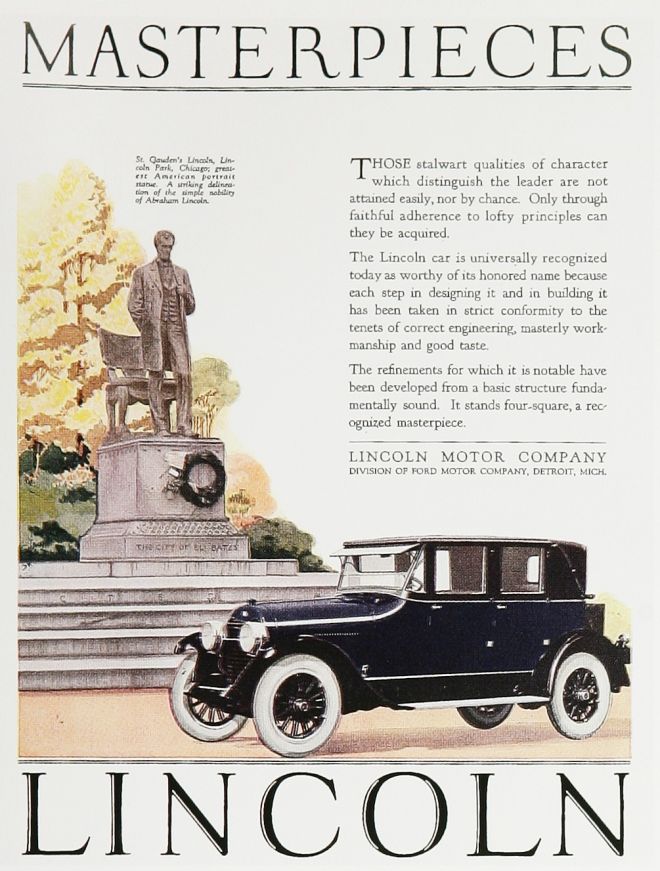 Another 1928 Lincoln ad (Ford Motor Company Archives)
In conclusion, the 1920s Lincoln models left their design and engineering mark on the automotive world, and their advertising by great illustrators like Cole and Sundblom also made an impact for many generations to see for many years to come.
Bibliography
Dammann, George H. "Fifty Years of Lincoln Mercury." Crestline Publishing, 1971.
Kimes, Beverly Rae & Clark, Henry Austin. "Standard Catalog of American Cars, 1808-1942." Krause Publications, 1991.