By Robert Tate, Automotive Historian and Researcher
Images Courtesy of Nellie Goins, Ebony magazine, NHRA
Published 3.16.2022
"Nitro" Nellie Goins
As we celebrate Women's History Month, I am reminded of a real trailblazer in the world of drag racing.
During the late 1960s and early 1970s, Nellie Goins was the first African American woman driver in the funny car racing category. I first found out about her when I was doing research on women race car drivers. Auto racing has traditionally been a sport dominated by men, but women have also made great strides in the field.
Mustang funny car with Nellie Goins (NHRA)
People called Goins "Nitro Nellie", and her car was known as the Goins and Goins "Conqueror." Originally, the car was a 1968 Plymouth Barracuda. Nellie drove the funny cars, and her husband Otis led her racing team.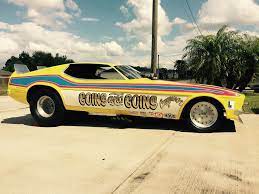 Side view of Nellie Goins' Mustang funny car (NHRA)
Some readers may ask the question, what is a "funny car"? It is a specific racing class in organized drag racing. Funny cars are characterized by having tilt-up fiberglass or carbon fiber automotive bodies over a custom-fabricated chassis. They also use a parachute at the end of the short drag strip to bring the vehicle to a safe and complete stop.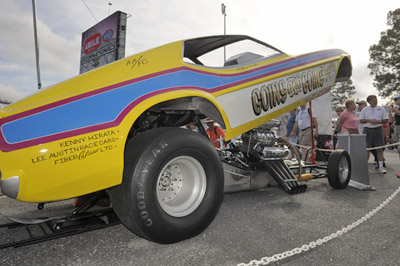 Nellie Goins' Mustang funny car recently restored (NHRA)
Nellie Goins and her late husband Otis hailed from Gary, Indiana. She was a teenager when she first met her future husband. He was very passionate about Nellie's career and auto racing. Nellie once said that drag racing was not her first passion, but she did it for her husband and family.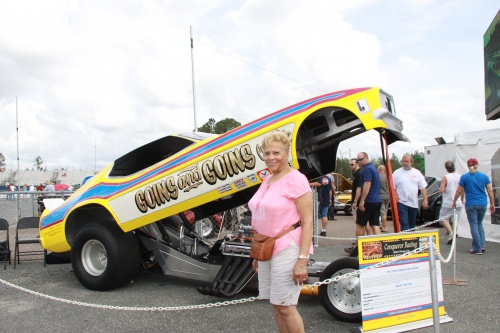 Nellie Goins in 2015 with the restored Mustang (NHRA)
Nellie started out driving great looking funny cars from the 1968 Plymouth Barracuda to the 1970 Dodge Challenger. Nellie and Otis had to save much of their hard earned money to be able to afford the cost of racing. The Goins children helped out by joining her drag racing crew whenever they were needed.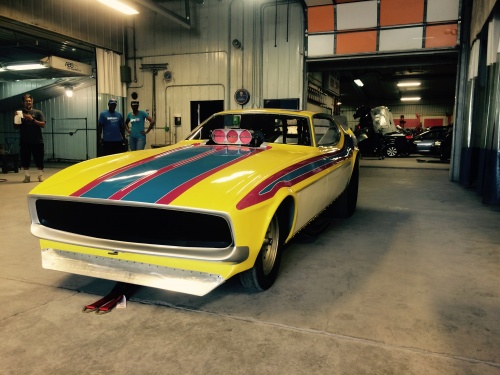 Another view of the restored Mustang funny car
As Goins' career progressed, she wanted to become more competitive, so she and Otis purchased a Mustang Mach I model in 1971. With limited cash, she and her husband commissioned chassis builder Lee Austin to build them a new car which was a fiberglass Ltd 1971 Mustang body. The car debuted on August 29, 1971. The Mustang ran very well on the track until an unfortunate accident that took place at Bristol Dragway when the chassis and body became damaged.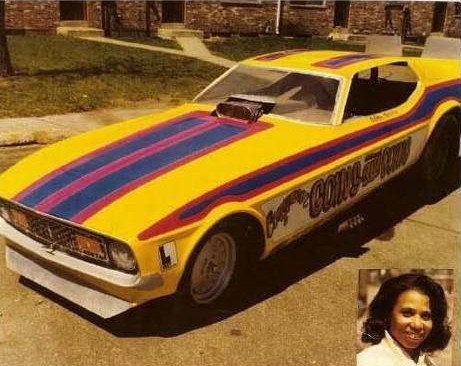 "Nitro" Nellie Goins with her car (NHRA)
Goins said at the time she could not afford to repair the damaged car due to lack of funds. Nellie also said, "We never were able to get a sponsor of any kind."
Despite financial challenges, she would go on to compete at many other racing events at tracks like the well-known U.S. 30 Drag strip near Gary, Indiana and other places as well.
In 2014, "Nitro Nellie" Goins was inducted into the Drag Times Hall of Fame. She said in her acceptance speech: "Remember it is not just your ability to do something but your availability to get out there and try. Live your dreams."
In conclusion, Nellie Goins made history by being the first African American woman to race in the funny car drag racing category.
Bibliography
"Nitro Nellie: Lady Drag Racer Pits Persistence and Guts against Racing's Best." Ebony Magazine. November 1971, pg. 63-68.
Taylor, Chris. "New life for a Nostalgic Mach 1 Funny Car." Dragzine.com. May 21, 2010.