by Robert Tate, Automotive Historian & Researcher
Images courtesy of the Reggie Jackson Collection
Published 5.12.2021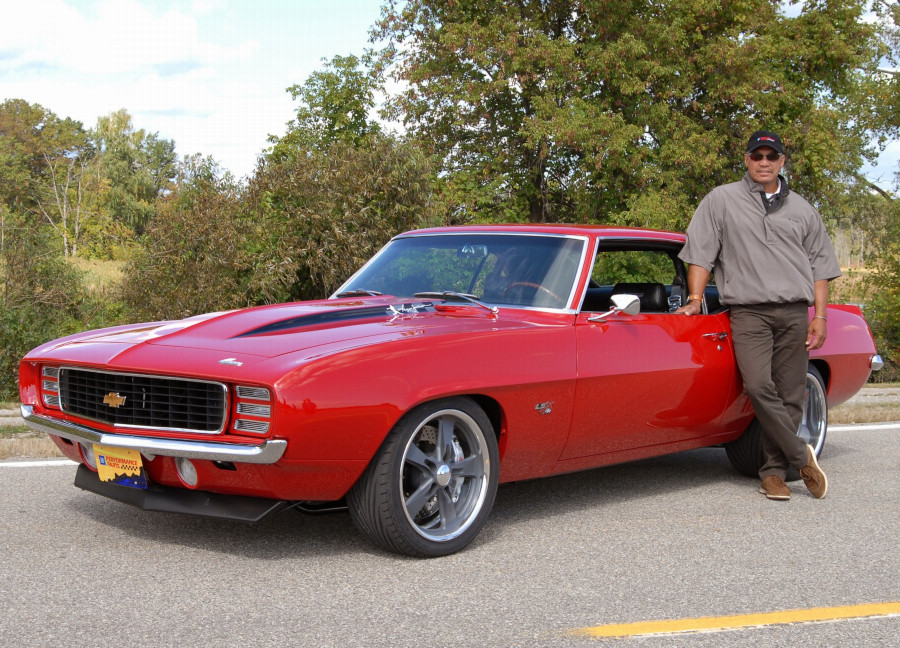 Reggie Jackson poses with his 1969 Chevy Camaro
One of baseball's all-time greats, Reggie Jackson is also one of America's greatest classic and muscle car collectors. He is the owner of the popular Reggie Jackson Collection, which has attracted automotive enthusiasts from around the world. The five-time World Series winner and Hall of Famer knows his automotive history and has a very impressive collection of vehicles on display, including Corvettes, Mustangs, and many Camaro models.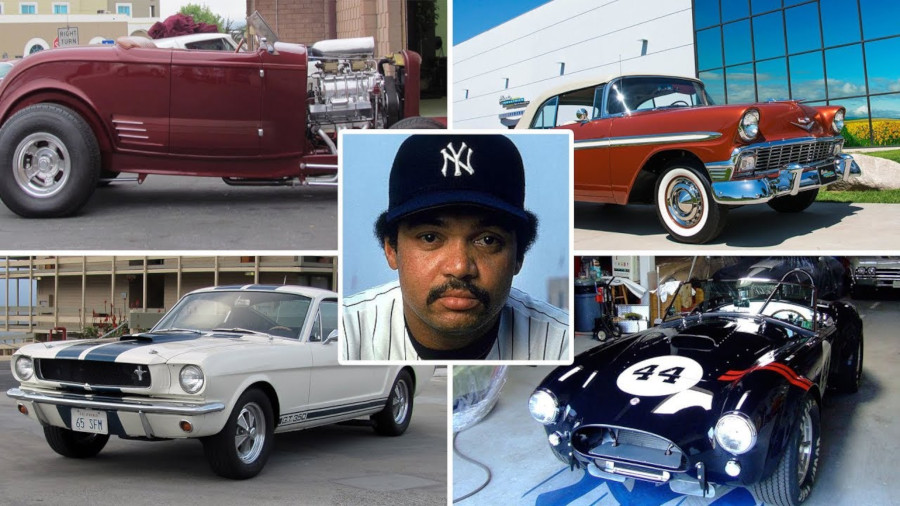 Reggie Jackson pictured with four of his prized vehicles
After his retirement in 1987 with a total of 2,548 hits, Jackson has become more focused on his passion of preserving automotive history. The collection spans from the 1930s to the 1980s and even includes many exotic models like Ferrari.
Jackson's love of automobiles started when he was a child identifying the make and year of vehicles people were driving down the street. Today, many of those vehicles are now considered classics and are prized by collectors.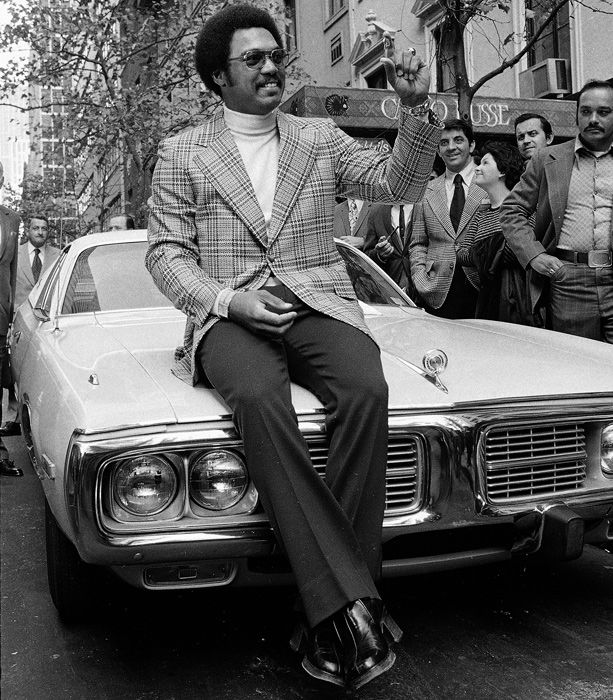 Reggie Jackson with a 1970s Dodge Charger
I remember wondering when I was in high school during the 1970s whether muscle cars like the Plymouth Barracuda, Dodge Charger, Dodge Challenger and Ford Mustang Cobra would remain popular enough to become collector cars in the future. In the 1960s, the most powerful muscle cars ever made hit the streets, raceways and superhighways of America, and today, many of them are now part of our auto heritage chronicled in museum displays across the country.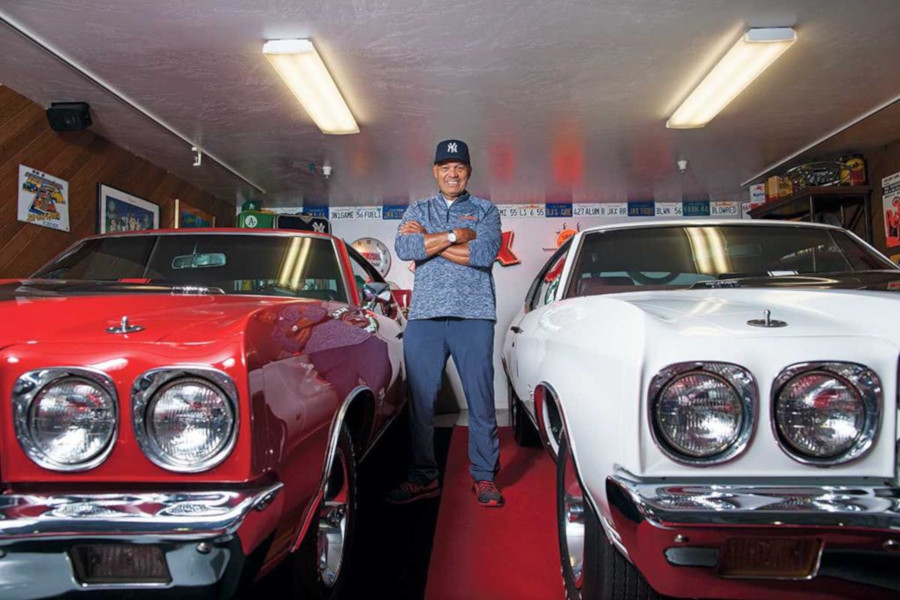 Reggie Jackson stands between two Chevy Chevelles
Jackson's collection consists of around 100 vehicles. In 1988, he had around 97 automobiles, but 35 were unfortunately destroyed in a fire. Many of those vehicles were later replaced. Jackson once said this about the history of automobile collecting: "I think it has to do with cars being the American way of showing our success."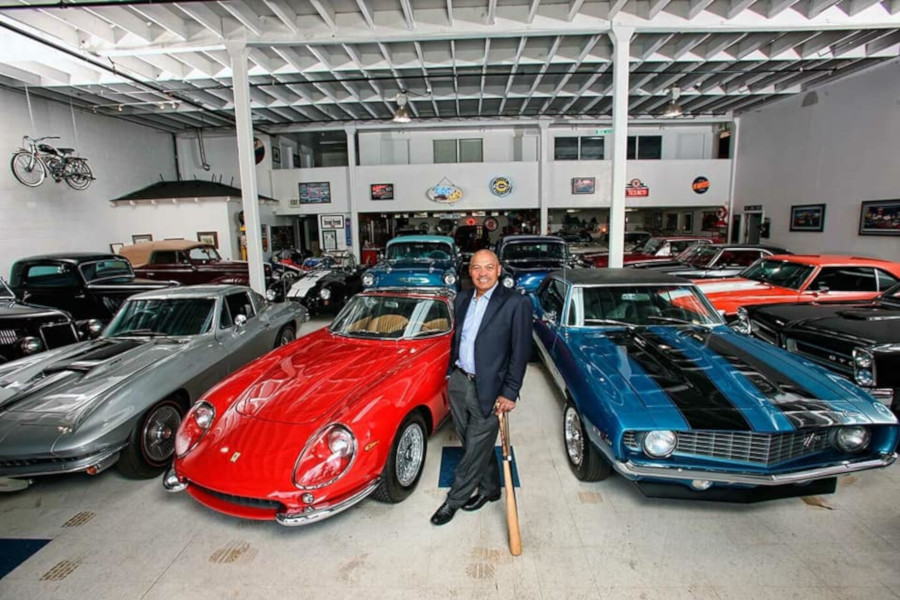 Reggie Jackson stands with his automotive collection
It was Jackson's father, Martinez Jackson, who instilled in him at an early age the importance of automobile heritage and how to repair vehicles. As a teenager, Jackson's first automobile that he owned was a used 1951 Chevrolet, which he purchased from his brother for $5. Later he bought a 1951 Ford and then a 1955 Chevrolet.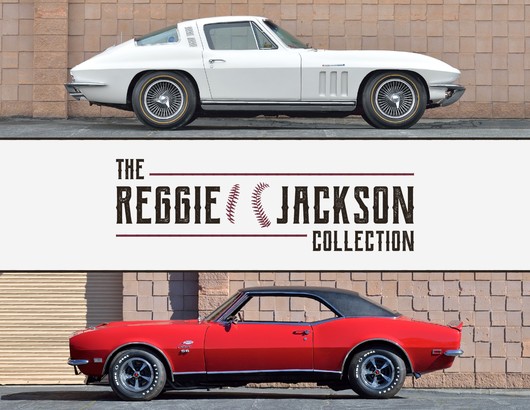 Reggie Jackson Collection logo
Jackson started his career in professional baseball in 1967 and now owns an impressive automotive collection worth around $8 million. Many fans of "Mr. October," as he became known, have clamored for him to create a museum to house his great collection of automobiles.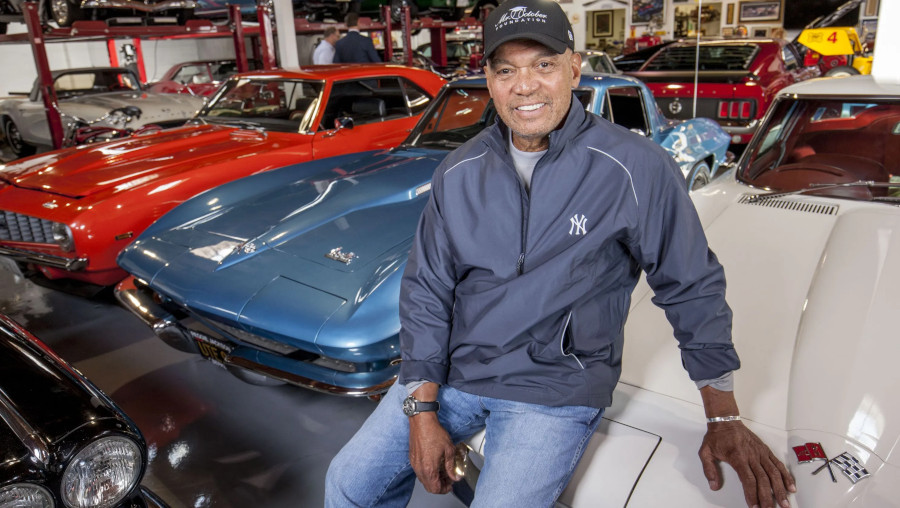 Reggie Jackson seated inside his car museum
Over the years, Jackson has sold some of his cars to other collectors. In May 2018, a Mecum auction presented 18 great looking vehicles from his private collection. It was a great and unique opportunity for automotive enthusiasts from around the world to purchase one of Jackson's treasures.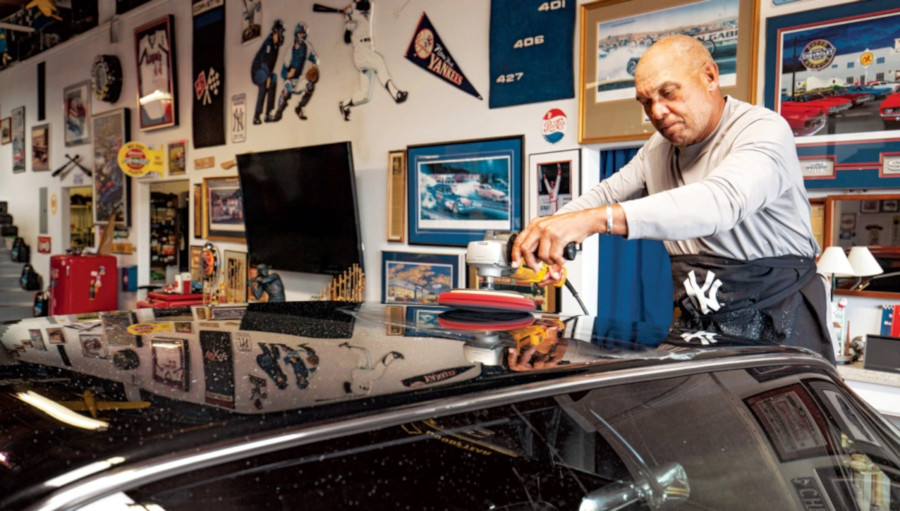 Reggie Jackson stands with one of his muscle cars.
In conclusion, Jackson has retired from baseball, however, his passion for classic and muscle car collecting is still extraordinarily strong. Jackson once said his early love of cars was strengthened as he helped his father keep the truck needed to operate the family's dry cleaning and tailoring business going. Jackson will be remembered for his baseball career, along with his amazing collection of cars.
Bibliography
Mack, Justin L. "'Reggie Jackson is Auctioning Off Part of His Car Collection." USA Today, May 12,2018.
Mecum Auctions. "The Reggie Jackson Collection." Indy 2018/May 15-20.
Miler, Johnny. "Fire Guts Reggie Jackson's Car Collection." SF Gate, August 1, 2013.