by Bob Sadler, MotorCities Communications Manager
Images Courtesy of BradRacing.com and the Associated Press
Published 10.20.2021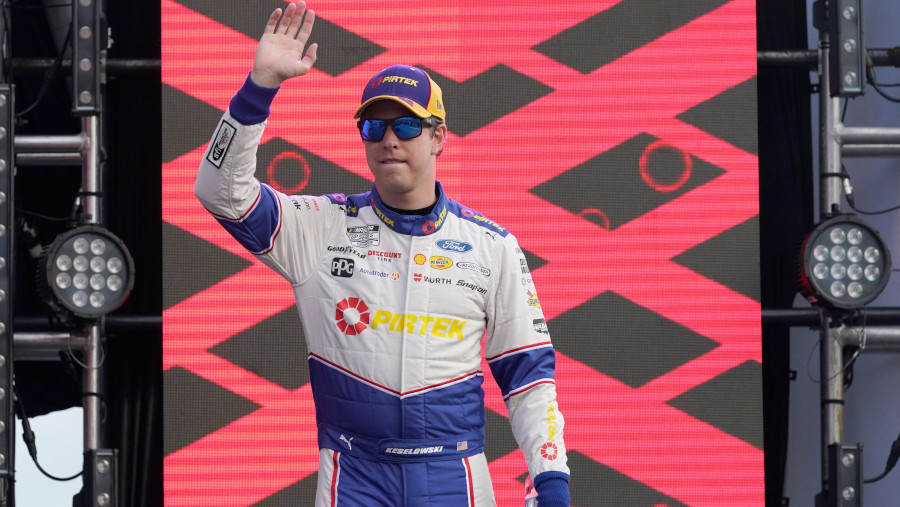 Brad Keselowski (AP Photo)
EDITOR'S NOTE: As part of Polish American Heritage Month, we present the story of Brad Keselowski, a NASCAR champion driver who hails from our National Heritage Area.
Currently ranked sixth in the NASCAR Cup standings, Brad Keselowski is enjoying another season of success as a race car driver for Team Penske in the popular number two car.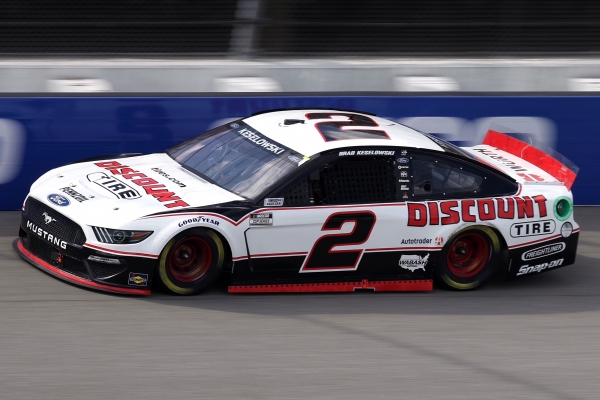 Brad Keselowski at Michigan International Speedway, August 2021 (BradRacing.com)
Born in 1984 in Rochester Hills, Michigan, Keselowski grew up in a racing family. His father, Bob, was a successful driver, winning a race in 1997 while competing in the NASCAR Camping World Truck Series (NCWTS). His uncle, Ron, also competed in the early 1970s. His family also owned a racing team called K Automotive Motorsports.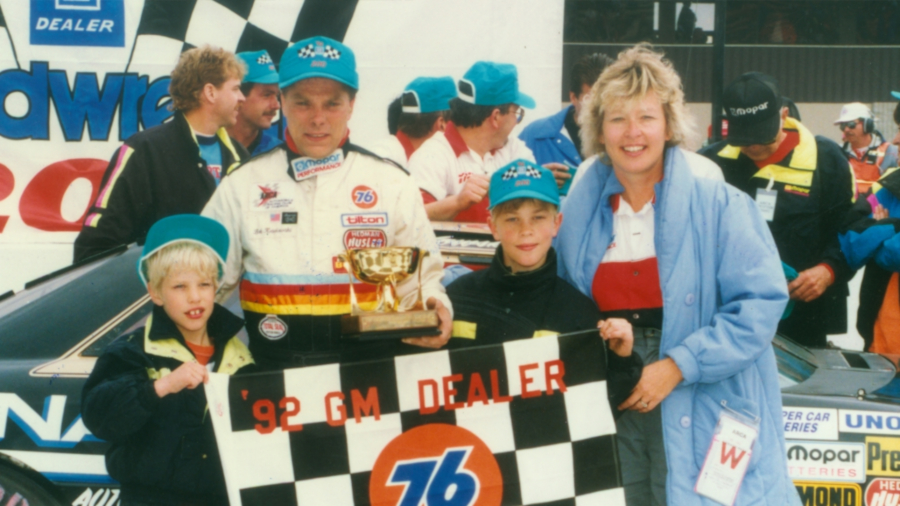 Brad as a kid with his Dad, Mom and older brother Brian (BradRacing.com)
Brad continued his family's racing tradition, starting to compete in the midget division at the age of 14. By 2000, he moved up to the stock car level, winning nine races and collecting Rookie of the Year honors at two Michigan tracks.
His rise through the ranks continued in 2004, when Keselowski began racing in the NCWTS series. By 2006, his racing schedule included both the NCWTS and the NASCAR Xfinity Series.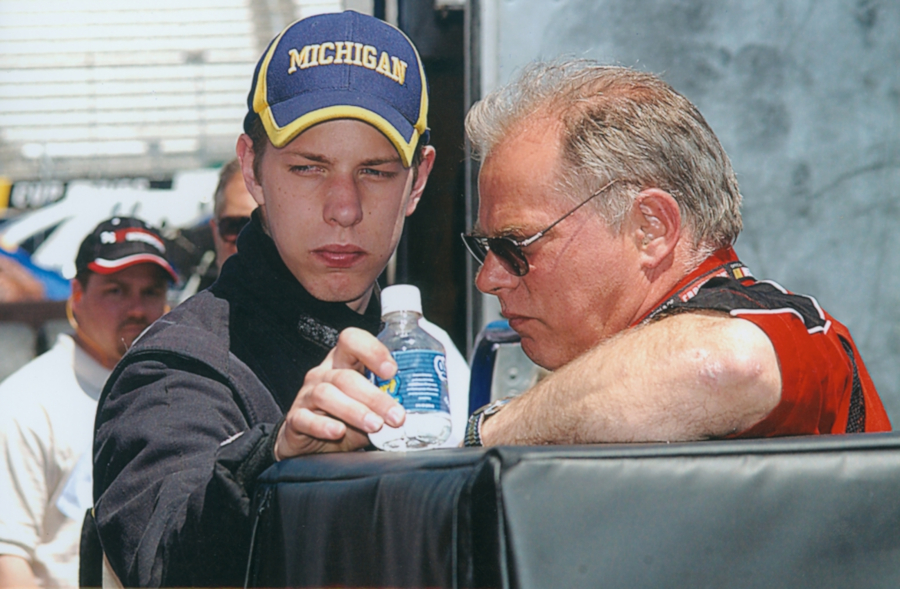 Brad and his father (BradRacing.com)
It was while competing in the Xfinity Series that Keselowski's career experienced a key breakthrough moment. While competing for Germain Racing in June 2007 in Memphis, Keselowski's talent and determination caught the attention of Dale Earnhardt Jr., who signed him to join his JR Motorsports team and drive their number 88 car in the Xfinity Series. In 2008, he finished third overall in the Xfinity Series, winning twice and earning one pole position, 11 top-five and 20 top-10 finishes.
In November 2008, Keselowski made his first two starts in the Monster Energy NASCAR Cup Series (MENCS), driving the number 25 car for Hendrick Motorsports, finishing 19th (after starting in the 37th position) and 23rd. His progress up the NASCAR ladder was poised to continue in 2009.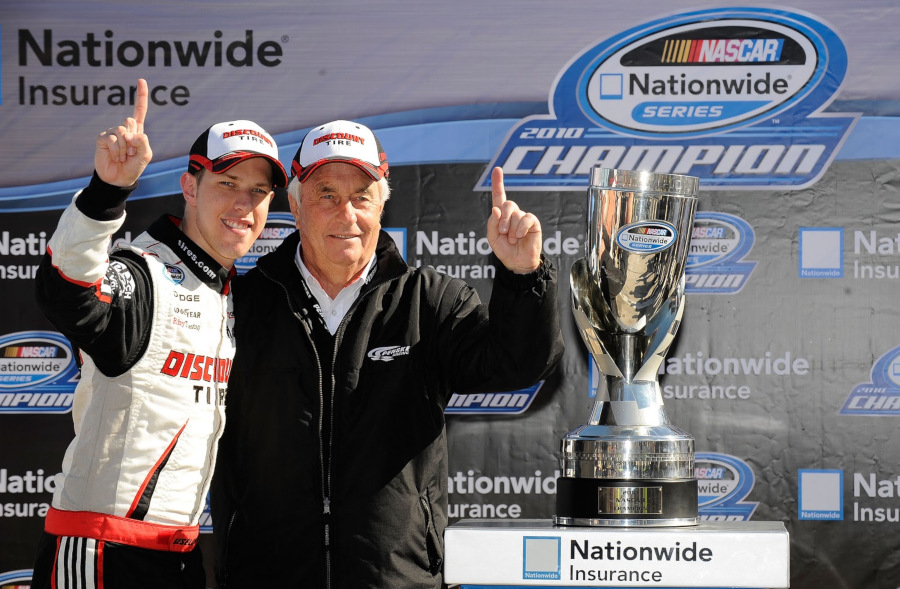 2011 Xfinity Series Champion with Team Owner Roger Penske (BradRacing.com)
While Keselowski won four races and captured two poles in the Xfinity Series in 2009, his biggest win to date came in April when he captured the checkered flag at Talladega for his first-ever MENCS victory. He went to finish third again overall in the Xfinity Series for the second consecutive year and make 15 starts in the MENCS as well. His final three starts in the MENCS in 2009 were in the number 12 car for Team Penske, the Michigan-based team operated by racing legend Roger Penske.
In his first full season with Team Penske, Keselowski brought home the 2010 Xfinity Series championship, the team's first NASCAR title. He also captured his first pole in the MENCS and earned a promotion to Penske's number two car, known on the circuit as the "Blue Deuce."
In 2011, the upward spiral of Keselowski's career continued with his first MENCS victory for Team Penske at Kansas Speedway in June. He qualified for The Chase for the first time and wrapped up the season in the top five of the championship standings.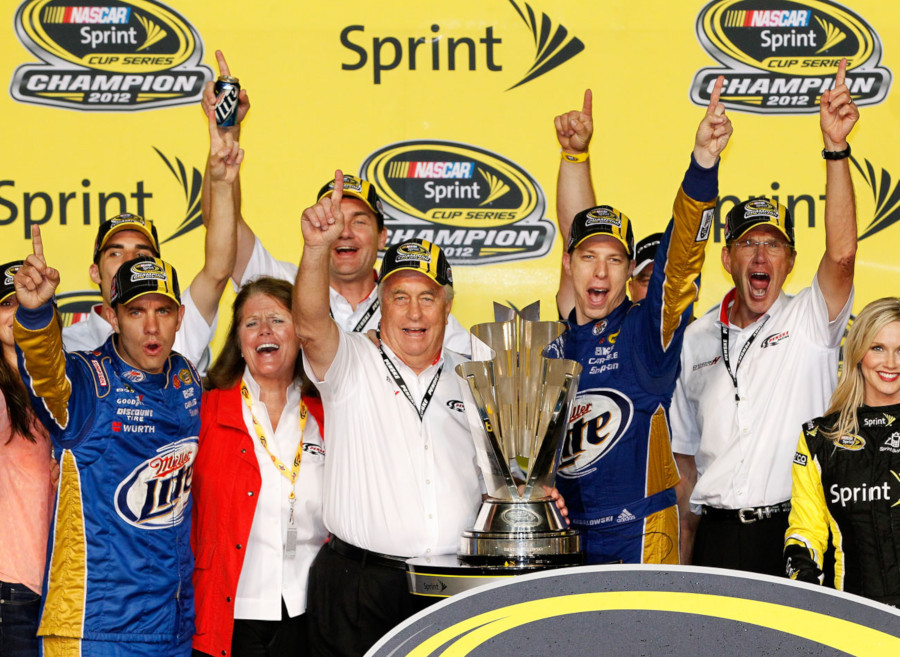 Keselowski wins the 2012 Sprint Cup Championship (BradRacing.com)
2012 proved to be the year that everything came together, as Keselowski and the Blue Deuce captured the MENCS championship, the first in Team Penske history. His magic season included five wins, 13 top-fives, 23 top-10s and 735 laps led.
For his career, Keselowski has a total of 35 MENCS wins and 39 total Xfinity Series wins. His 2021 MENCS win at Talladega marked his sixth victory at the track, tying him with Jeff Gordon and Dale Earnardt Jr. for second most all time.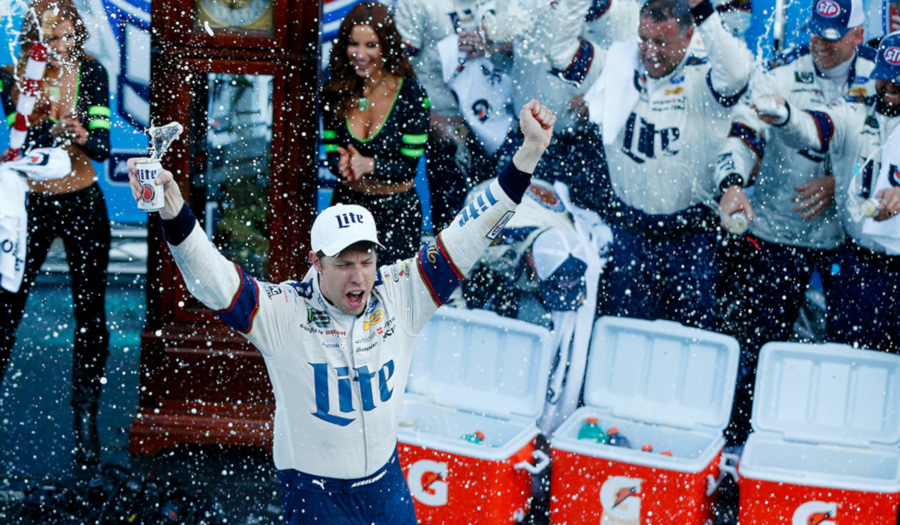 Brad wins at Martinsville in 2017 (BradRacing.com)
In addition to his racing accomplishments, Keselowski and his wife Paige are also active with his Checkered Flag Foundation, which was founded in 2010 and has supported more than 50 organizations and individuals helping veterans and first responders on their road to recovery.
Finally, Keselowski plans to start a new chapter in his career in 2022, announcing in July that he is joining Roush Fenway Racing as a driver and co-owner.
Bibiography
NASCAR.com. Brad Keselowski driver page.
TeamPenske.com. Brad Keselowski biography.
BradRacing.com. Biography.
Fryer, Jenna. "NASCAR star, Michigan native Brad Keselowski leaving Team Penske after this season." Associated Press. July 15, 2021.