By Robert Tate, Automotive Historian and Researcher
Images Courtesy of the General Motors Media Archives and Motor Trend magazine
Published 7.28.2021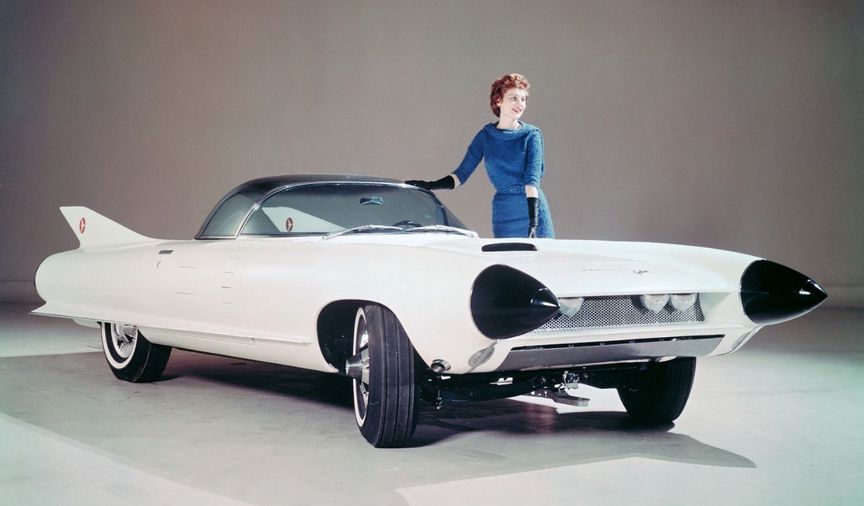 1959 Cadillac Cyclone show car (GM Media Archives)
One of the most popular and influential show cars designed under the direction of Harley Earl was the great looking 1959 Cadillac Cyclone. The model offered futuristic styling that inspired many auto show goers that year, including an eight-year-old boy named Ed Welburn.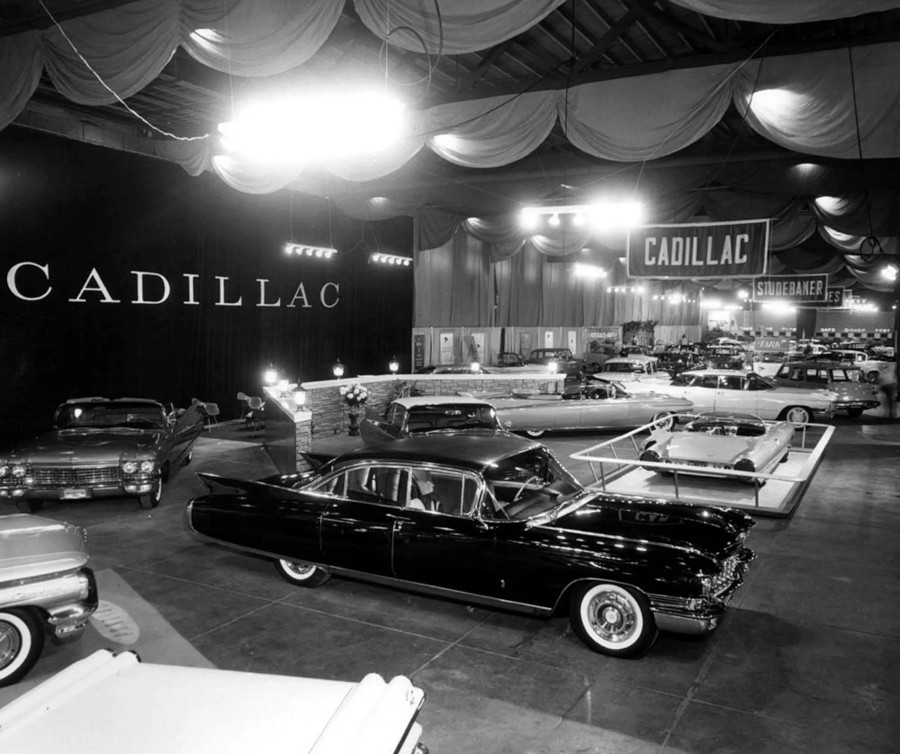 1959 Philadelphia Auto Show (GM Media Archives)
This is a story about how a show car at the Philadelphia Auto Show in 1959 influenced the career of one of General Motors' most gifted designers. It was a dream come true for Welburn, who was visiting the auto show in Philadelphia with his parents. The new 1960 models were being introduced to the public, and the Cadillac Cyclone show car concept model was on display with its rocket-like fins. Welburn immediately took an interest in automotive design. "It was an emotional connection," he said.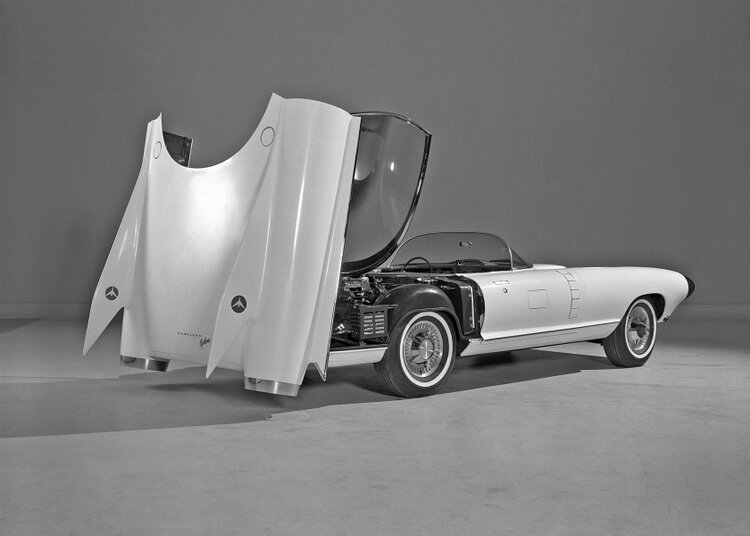 1959 Cadillac Cyclone show car with raised rear (GM Media Archives)
Throughout automotive history, GM has had a track record of hiring great design talent, and Welburn has been recognized as one of the best. After seeing the Cyclone at the show, he wrote a letter to GM design asking what he should do as a young man and what courses he should take to become an automotive designer. GM's design public relations staff wrote back and sent recommendations outlining various art institutions in the country that he should look into as an aspiring automotive designer.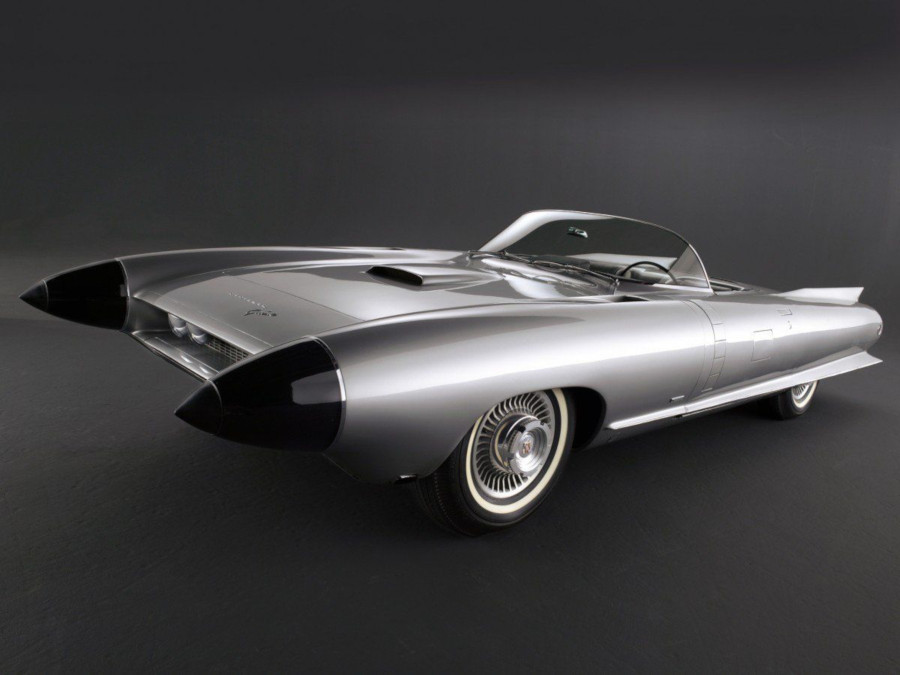 Front end view of the 1959 Cadillac Cyclone show car (GM Media Archives)
After the completion of his bachelor's degree in Fine Arts from Howard University, Welburn began his career with GM's Design staff in 1972. The next year, he was appointed to the Buick exterior design studio, where he worked on the Riviera and Park Avenue models.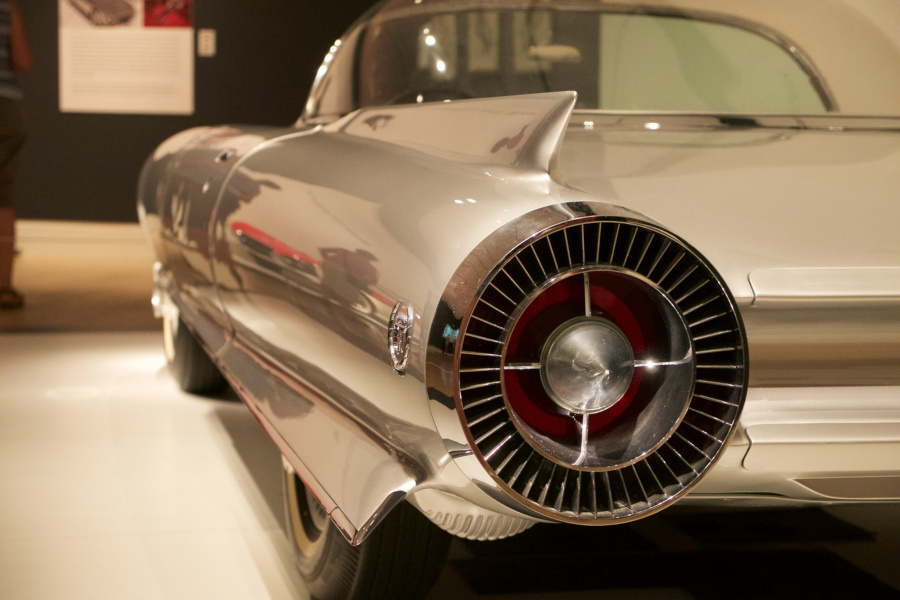 Cadillac Cyclone show car parked inside GM styling dome (Motor Trend)
In 1975, Welburn would create one of the most talked about design models of the 1970s, the Oldsmobile Aerotech. This became one of his signature designs from his portfolio, and many people admired and enjoyed his work. The Aerotech set two world speed records of more than 257 miles per hour in 1987.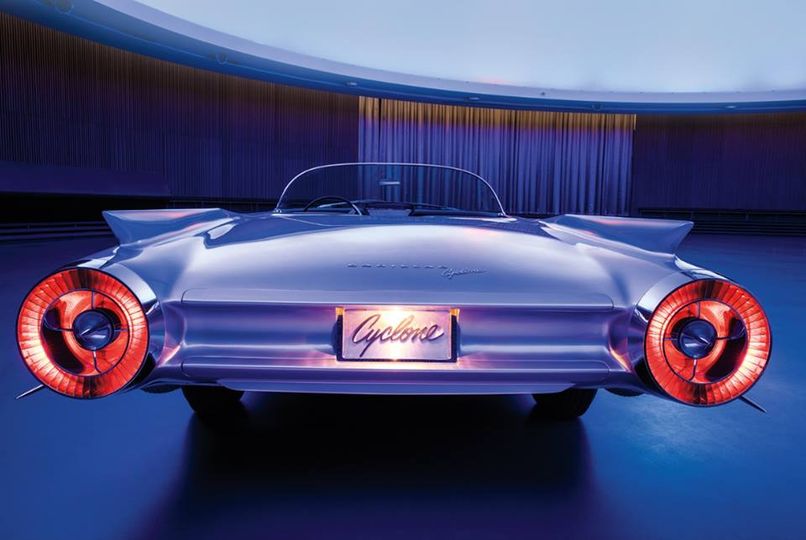 Cadillac Cyclone rear tail light design (GM Media Archives)
In 1989, Welburn was named chief designer of the Oldsmobile studio. Then, in 2003, he was promoted to the newly created position of Vice President of GM Global Design. He was the first African American to achieve this significant leadership role in the American auto industry.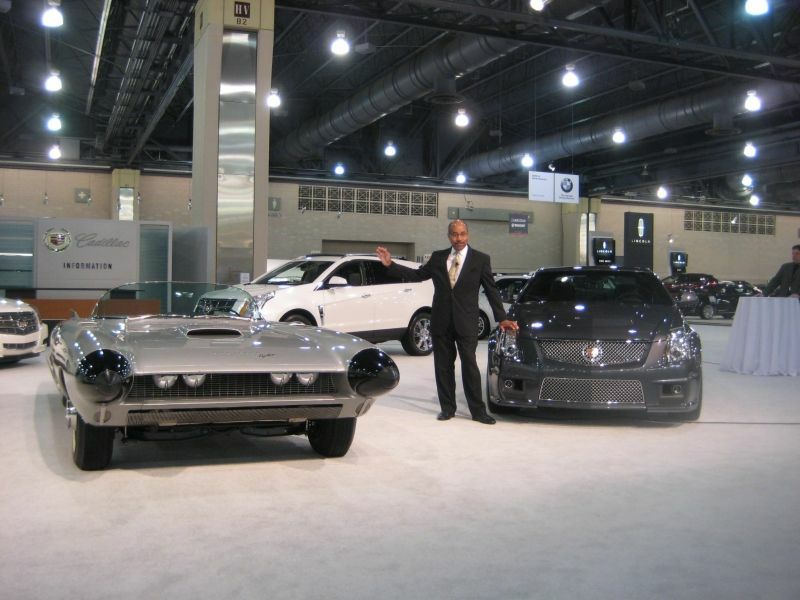 Ed Welburn pictured with 1959 Cadillac Cyclone and Cadillac CTS V coupe (GM Media Archives)
The 1959 Cadillac Cyclone show car looked like it was right out of a Buck Rogers science fiction movie. GM called it the XP-74 Cadillac Cyclone. The model was built on a 104-inch wheelbase. The front-end styling, which featured that large nose cone design, was very different in comparison with other show cars introduced in 1959. During its run on the auto show circuit in 1959, many consumers also enjoyed the Cyclone's clear canopy top that was hinged at the rear and operated by the driver. The Cyclone also was equipped with a radar that could alert the driver of any objects or debris in the way while driving. The doors could extend out three inches at the push of a button.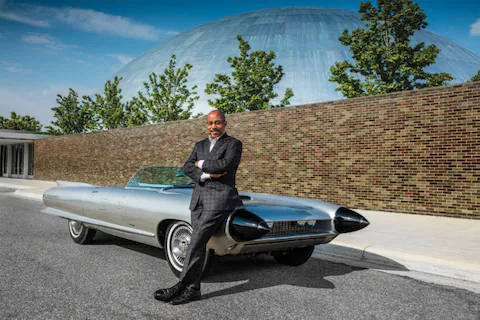 Ed Welburn with 1959 Cadillac Cyclone at GM Tech Center (Motor Trend)
Automotive historians have noted that the 1959 Cadillac Cyclone show car was designed by Earl with Bill Mitchell. The Cyclone was also a part of the popular GM Motorama shows which continued through 1961. The Cyclone turned out to be Harley Earl's last show car, displayed just after the founder of GM's styling division had retired.
In conclusion, Ed Welburn admired the Cadillac Cyclone show car at the Philadelphia Auto Show in 1959. This planted a seed in his mind about wanting to design vehicles for future products at General Motors. For many years, he led a creative team that designed great looking automobiles. Welburn retired from GM on July 1, 2016 as Vice President of Global Design.
Bibliography
Commerro, Tom. "From the Archives: 1959 Cadillac Cyclone." Hemmings Motor News. November 13, 2014.
Szymkowski, Sean. "Former GM Design Chief Ed Welburn Discusses What Inspired Him to Become an Automotive Designer." January 2, 2017.
McCall, Walter. "80 Years of Cadillac La Salle." Crestline Publishing, 1988.