By Robert Tate, Automotive Historian and Researcher
Images Courtesy of the GM Media Archives
Published 9.1.2021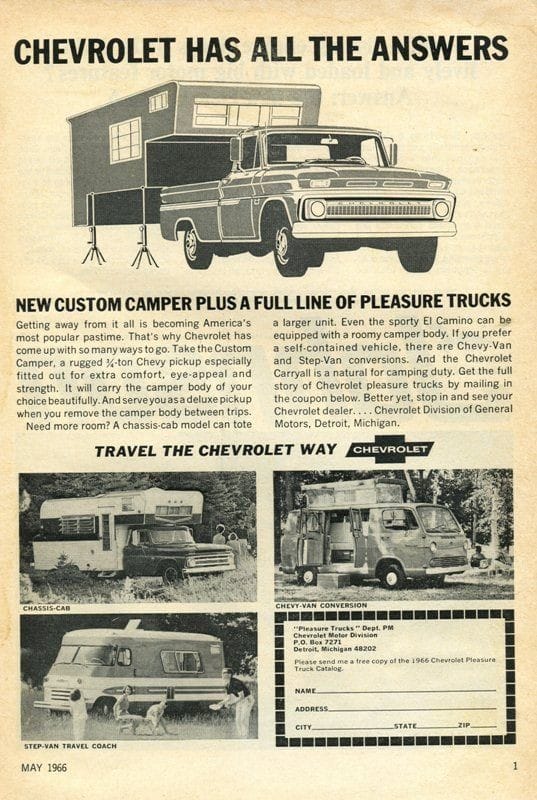 1960s Chevrolet Camper advertising order form (GM Media Archives)
During the 1960s, the camping movement was really getting into high gear in this country, as more Americans were visiting national parks and other landmarks across our country. Great accommodations were available for those who wanted to travel around the USA.
Chevrolet was very much a part of this great travel movement taking place at that time. In the early 1960s, a consumer could mail in a coupon (above) for more information on Chevrolet camping trucks, or Chevrolet pleasure trucks as they were called. The huge over-cab camper design was supported by the Series 20 Fleetside pickup trucks, which because of its wide cargo area, provided extra floor space for camper bodies.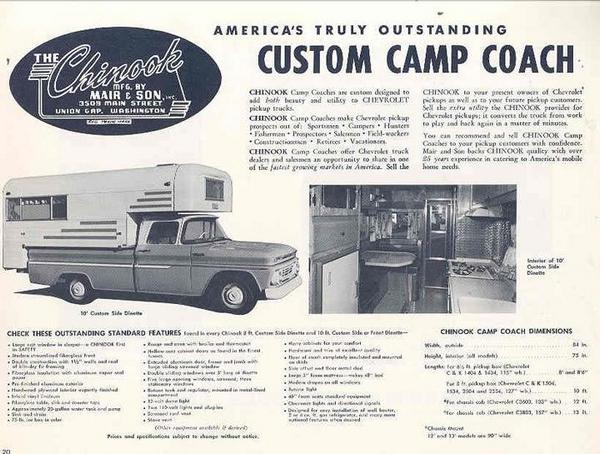 1960s Chevrolet Custom Camp Coach (GM Media Archives)
As Dinah Shore said, "See the USA in your Chevrolet." This popular ad slogan symbolized America's most popular new way of traveling. In 1971, General Motors partnered with the Eagle Custom Coach & Trailer Co. of Denver to manufacture camper bodies for wide-bed pickup trucks, such as the new Fleetside ½ ton truck which was built on a 115-inch wheelbase. The truck models looked great, and Americans were ready to travel.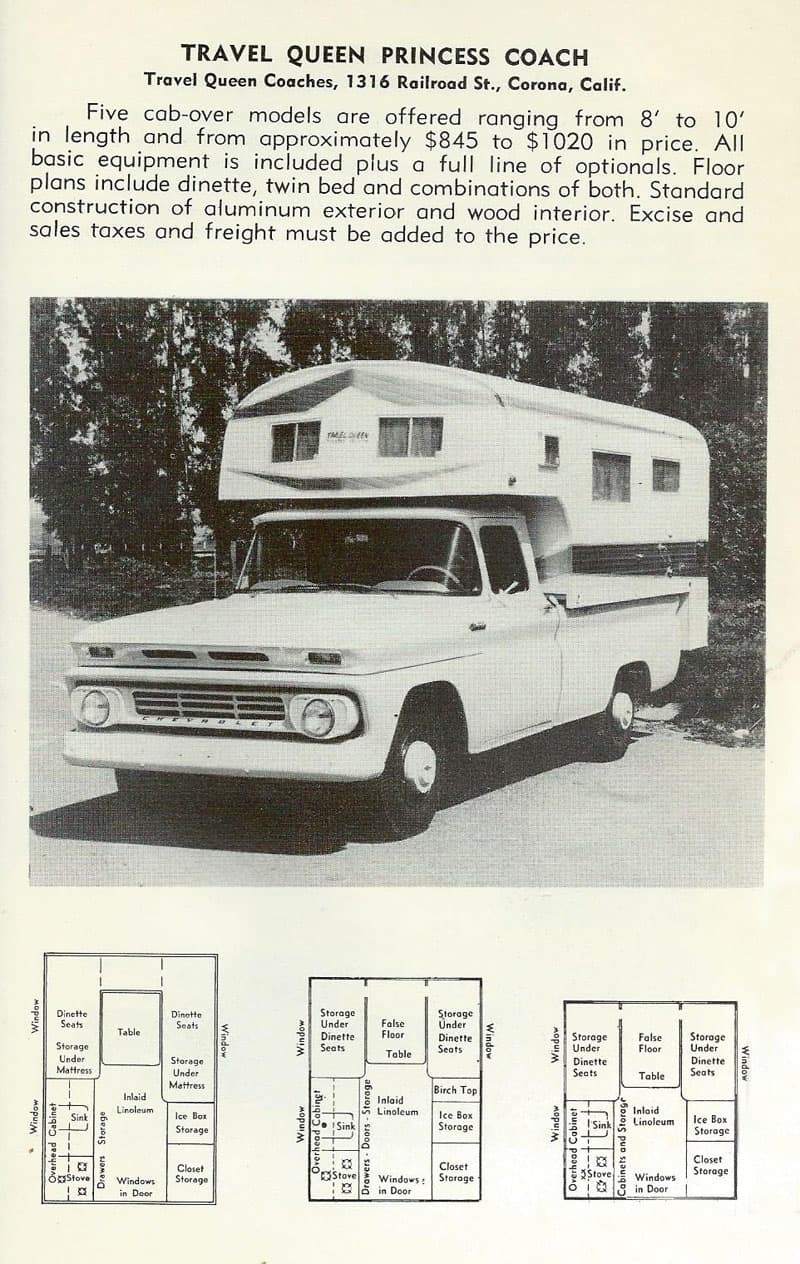 1960s Chevy Camper Travel Queen princess coach (GM Media Archives)
Another popular company involved with GM and its camping truck projects was El Dorado, which designed the EL Dorado frame-mounted camper offering a 1-ton dual wheel chassis that proved very popular. In 1972, David Rowe created a lift system that expanded the top of truck campers. Mike Scarpignato, author of "The Complete History of RVs, Motorhomes and Campers," wrote, "The concept of a compact camper that fits camping a possibility in rougher terrains."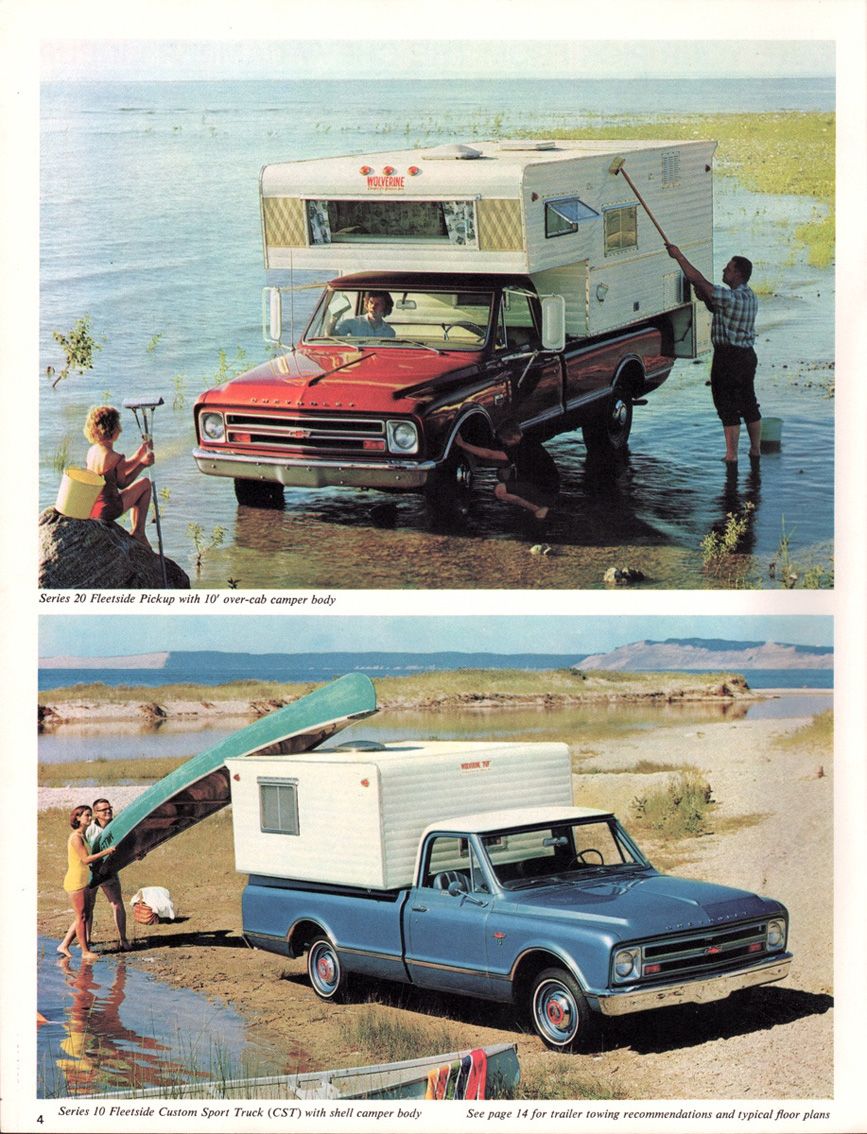 1967 Chevy Truck Campers (GM Media Archives)
The Chevrolet camping trucks sold very well for GM during the 1960s and 1970s. Many historians said that truck campers are considered the most versatile form of recreational vehicles, and many consumers really enjoyed them for traveling. During the early 1960s, Chevrolet advertised their camping trucks as recreational vehicles; this was before the more modern designs of RVs and motorhomes you now see on our highways today. These class C camping motorhomes were actually constructed on a truck chassis. A company known as Chinook worked with GM on bringing the exciting Chevrolet camping truck models to the market. The models offered most of the amenities found in larger RVs, including refrigerators, stoves, furnaces, ovens, showers and many more features needed for traveling.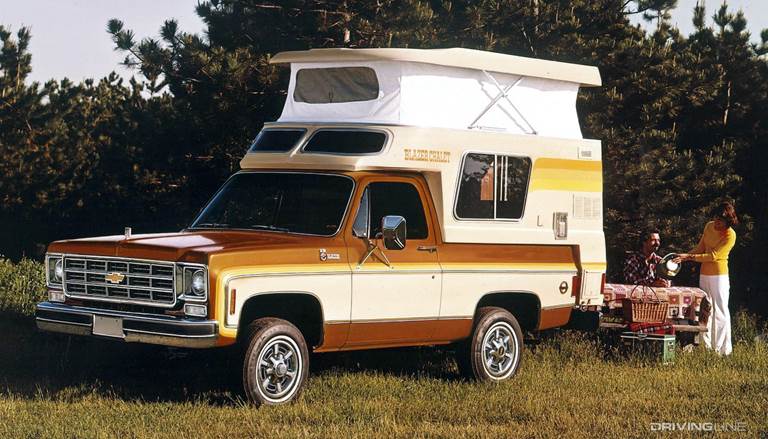 1970s Chevy Blazer camper
Many historians have said that the larger North American trucks from Chevrolet, Ford and Dodge were generally the best models for carrying camping equipment. Since the camping movement became so popular in the 1960s and 1970s, GM was involved from the beginning helping consumers find the right camping trucks.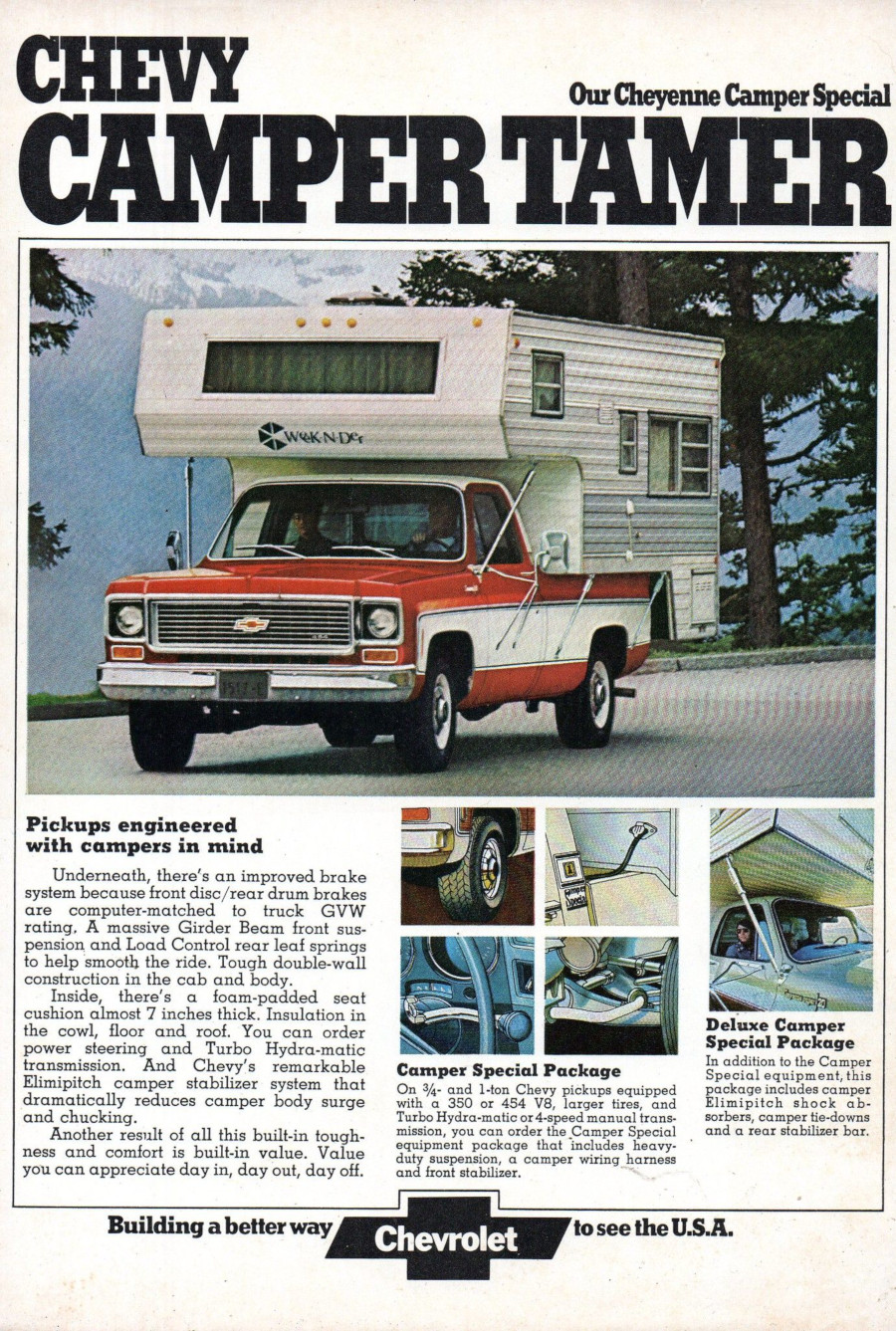 1970s Chevy Camper Tamer (GM Media Archives)
From the 1990s to today, Americans are still involved in camping and traveling. There are several camping shows each year featuring truck campers and RVs. Also, the North American Truck Camper Owners Association is a non-profit organization representing manufacturers and drivers of truck campers.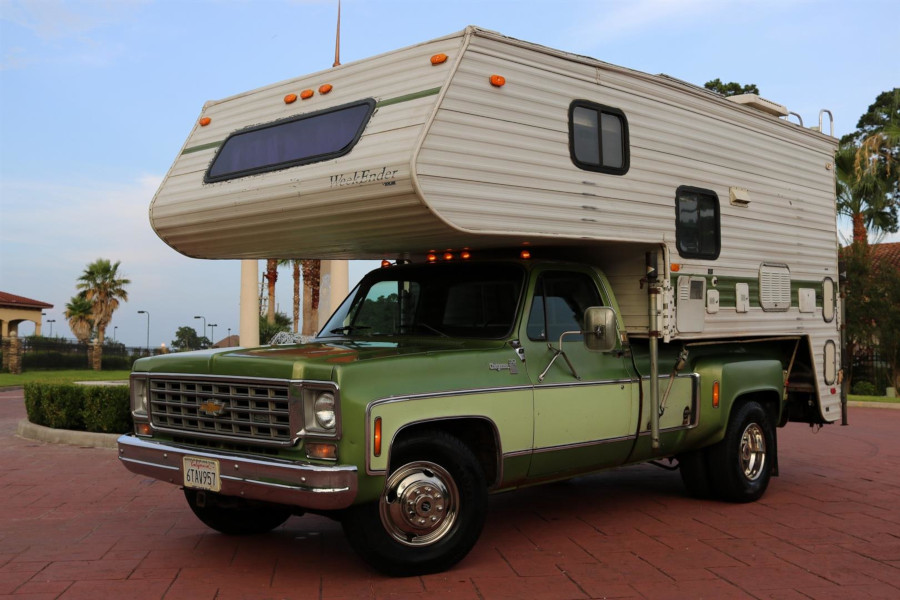 1976 Chevy C30 Truck Camper Cheyenne Special
In conclusion, Chevrolet has a history of manufacturing great trucks. By 1967, GM said, "The Federal Interstate Highway system was giving Americans unprecedented access to the nation's natural wonders and recreational areas." Families who enjoyed such pursuits appreciated the small-block and big-block V-8 power choice that gave Chevrolet trucks the torque needed to pull trailer upgrades and the horsepower to cruise comfortably with a camper at interstate speeds.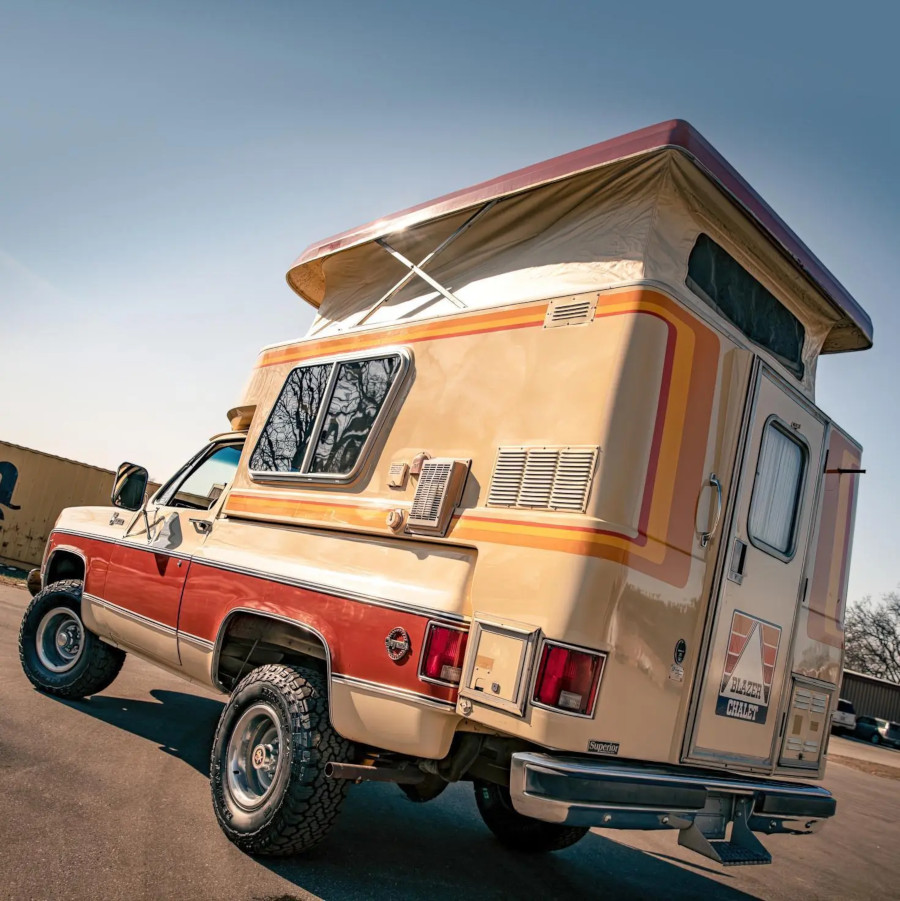 1976 Chevrolet Blazer rear view
Today, consumers are still traveling and using the camper truck as a good way to see the USA.
Bibliography
Dammann, George H. "Sixty Years of Chevrolet." Crestline Publishing, 1972.
Scarpignato, Mike. "The Complete History of RV's, Motorhomes and Campers." November 18, 2020.
General Motors Media Archive, Chevrolet Press Room. "Chevrolet Trucks: Building America for 95 Years." September 27, 2012.