by A. Wayne Ferens
Images Courtesy of the Wayne Ferens Collection
Published 9.29.2021
Hudson Super Wasp (Ferens Collection)

With the advent of the "Jet Age' in the 1950s, automobile manufacturers were in an all-out product war to satisfy the growing demand for new and exciting vehicles. The economy in the United States was growing rapidly; people had jobs and were making good wages, especially in the manufacturing sector. To satisfy this pent-up demand for anything new and exciting, Detroit offered products that many called "irrational excess." They had flashy designs, offered a variety of premium options, and featured tons of chrome, wild looking tail fins and powerful engines. From the styling studios of General Motors, Ford, Chrysler, Hudson, Studebaker-Packard and others came technological and design breakthroughs to satisfy a new segment of the buying public called the "Jetsetter."
For some, the 1950s was a decade of struggle and merger, and the days of the independent car manufacturer soon would be over. In 1954, Hudson Motor Cars merged with Nash Motors to form American Motors, but not before Hudson produced the Wasp (Series 58) for the 1952 model year. The Wasp was available in two- and four-door sedans, and a convertible and two-door hardtop designated the Hollywood. Built on a 119-inch wheelbase, using the companies unitized, "Monobilt" step-down chassis design, the perimeter frame provided a rigid, low center of gravity and good side impact protection. The Super Wasp was powered by Hudson's 262 cu.in. L-head six also offered with an aluminum "twin-H" manifold and twin two-barrel carburetors. Super Wasp performance matched that of the Hudson Hornet that dominated NASCAR from 1952 to 1954.
Wasp model year production saw 21,876 units in 1953. Standard equipment on the Super Wasp included a combination fuel and vacuum pump, deluxe steering wheel, foam rubber seat cushions, front fender top ornaments, center rear bumper guards and full-size wheel covers. The twin-H was advertised at 127 horsepower.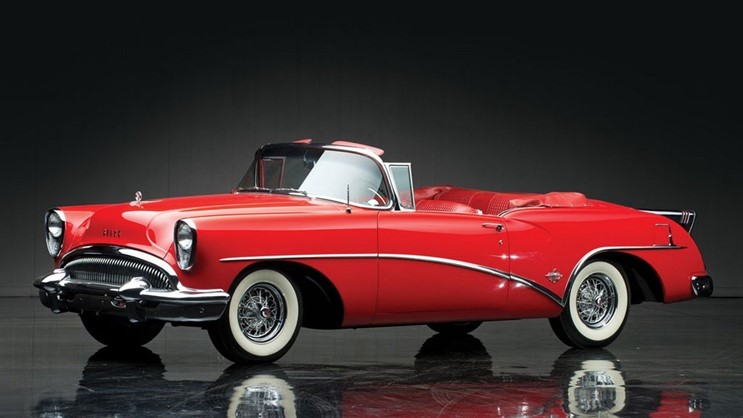 Buick Skylark

Buick's Skylark remained on the market for two years (1953-1954). The original Skylark was based on a Roadmaster convertible and featured various custom touches, including a lowered beltline and fully radiused wheel openings. Gleaming six-inch Kelsey-Hayes wire wheels complemented the "chopped" body and were set off by red inner fender liners. The 1954 Skylark Model 100 2-door convertible was full of Jet Age appointments and featured a 322 CID 200 horsepower 4-bbl V-8 engine. In 1953, a total of 1,690 were produced and 836 in 1954.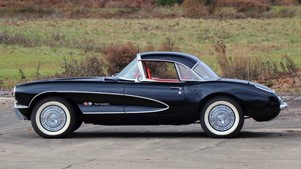 Chevrolet Corvette

Two new "sports type" models were offered by GM and Ford to the buying public and a generation of young people who came of automotive age after the war. The 1953 Corvette, a beautiful fiberglass-bodied sports car that only came with a six-cylinder engine and automatic transmission, attracted few buyers. Ford's Thunderbird, introduced as a V-8 two-seater for 1955 was much better received. It wasn't until the 1957 Corvette models were introduced, offering more luxury and performance features, that sales started to take off.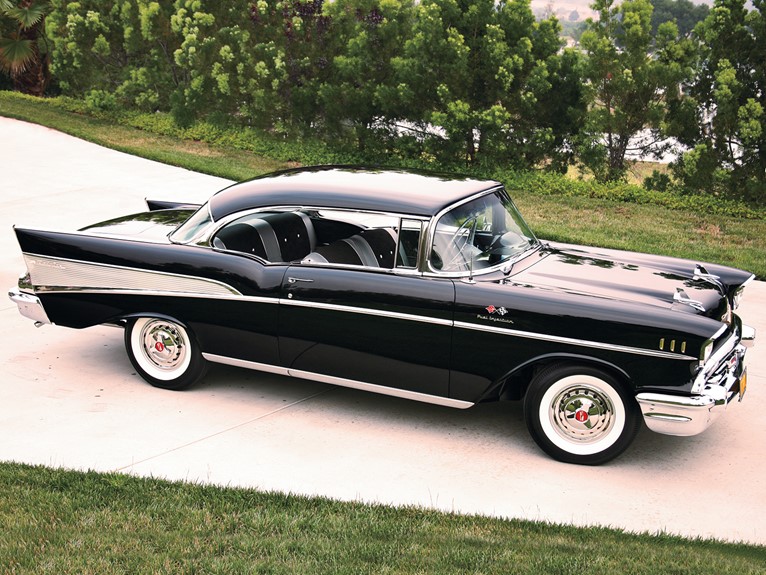 Ford Thunderbird
In 1957, Chevrolet offered a 283 cu.in V-8 with optional Rochester Fuel Injection and four-speed transmission in both the Corvette and full size Chevrolet. These cars really appealed to the youth market and the Jetsetter alike. Many luxury and premium features were available, especially performance options that many young buyers wanted.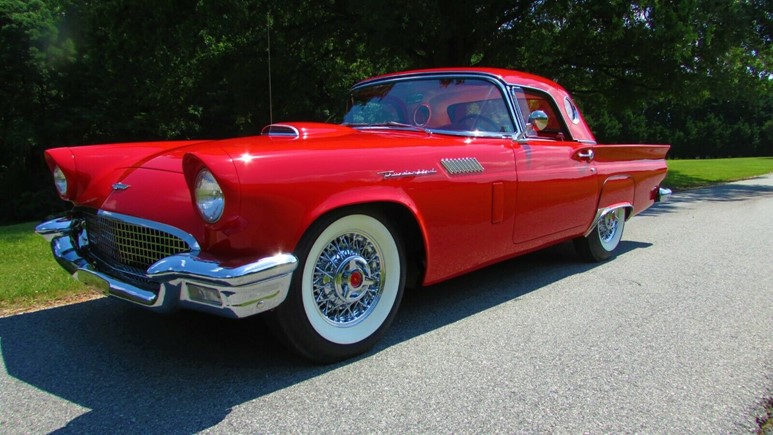 1957 Chevy Corvette
Most auto enthusiasts and Jetsetters are aware of the handful of 1957 Thunderbirds that were equipped with the McCulloch supercharger on the 312 cu.in. four-barrel V-8 engines because only 196 were built in the latter part of 1957 production. The elite Jetsetter buyer not only wanted luxury and performance -- they wanted bragging rights by owning a low volume production model.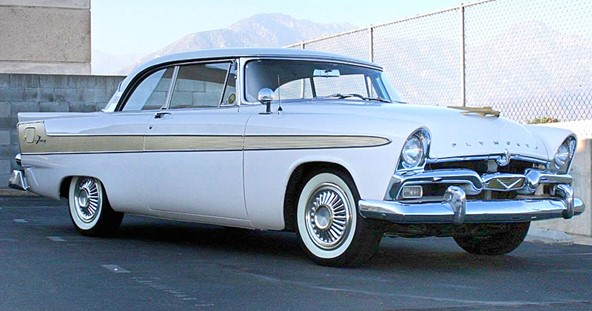 Plymouth Fury
The Fury was a sub-series of the Plymouth Belvedere from 1956 through 1958. The Fury was introduced by Chrysler's Plymouth Division as a sporty, premium-priced model designed to showcase the line and emphasize performance and style. Introduced in 1956, it was only available in an off-white two-door hardtop coupe' with gold anodized aluminum side trim. The Fury had a special interior, bumper wing-guards, sharply peaked tail fins and was powered by a high-performance 303 cu.in. V-8 with twin four-barrel carburetors.
The 1956 Fury was an instant success and increased showroom traffic within days after smashing two U.S. stock car records at Daytona Beach, Florida on June 10, 1956. Model year 1956 deliveries totaled 4,485 units and had a sticker price of $2,866.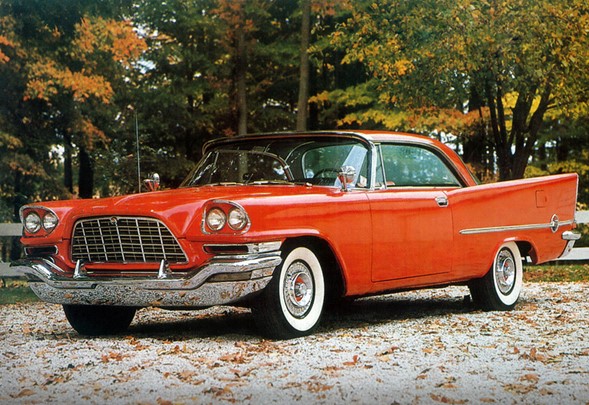 1957 Chrysler 300C
The 1957 Chrysler 300C series epitomized the pinnacle of the famous 300 letter-series cars. For the Jetsetter that wanted style and performance, these 375 horsepower, 392 CID dual-quad HEMI powered V-8 300s set the bar at Daytona for speed records that included an unofficial Stock Car record at 145.7 mph, and set an average speed of 134 mph at the Daytona Flying Mile. This luxury Jet Age hot rod came with options like power steering, brakes, windows, Solex safety glass, six-way power front seat, air-conditioning, all leather interior, rear defroster, upgraded lighting package, AM Electro-Touch radio and pushbutton 3-speed TorqueFlite automatic transmission.
To appreciate a car like the 300, the owner was all smiles when the hood opened to show off the massive Hemi. This early muscle car and favorite of the Jetsetter crowd added style to its overwhelming power with 420-lbs./ft. of torque and, of course, was built in limited numbers with 484 convertibles and 1,918 300C coupes produced in 1957.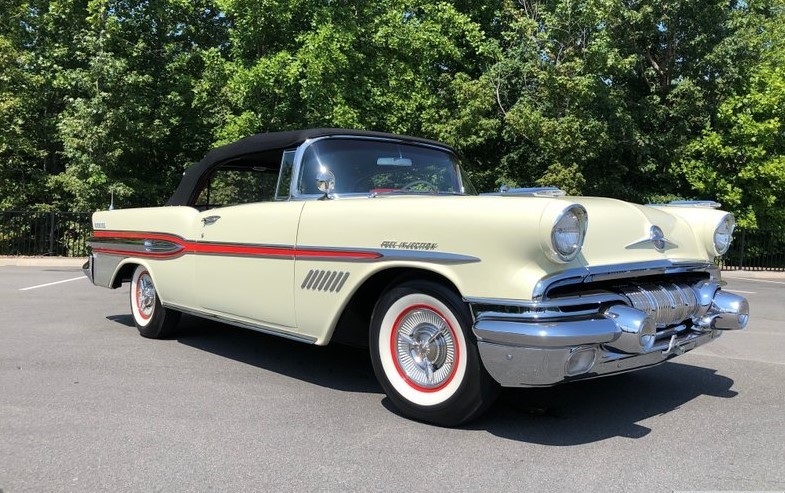 Pontiac Bonneville
Pontiac became known as a performance car in 1957, when a Bonneville broke the land speed record and also won many NASCAR races. In 1957, Pontiac decided to "Bring to market a car of the future today!" The Pontiac Bonneville Convertible had style, performance and all of the modern technology, including Hydramatic transmission, Wonder-bar radio, tinted glass, power windows, seats, brakes, steering, convertible top and antennae. The power came from the legendary 347 cu.in. Rochester Fuel Injected V-8 producing 317 horsepower. Pontiac made this a limited production vehicle and produced 630 of them, or one for each dealer. It was also expensive with a price of $5,875 including floor mats.

1958 Olds 98 (Hemmings)
Oldsmobile showed a real propensity for style and power in the 1950s, and for the Jetsetter that wanted that extra kick in performance, you could order the J2 option (code W). 1958 was truly the year of flash and chrome as seen on this 1958 Olds 98 J2 Golden Rocket Holiday Coupe. The J2 option ran three two-barrel carburetors linked together via a progressive throttle linkage. The extra carburetion on the 371 cu.in. V-8 and compression bumped to 10.0:1 produced 312 horsepower at 4,600 RPM and 415-lbs./ft. of torque. Weighing in at over 4,500 pounds, it has a relatively firm ride, sits on a 126.5-inch wheelbase and can cruise effortlessly at 85 mph in quiet comfort. With color-keyed hub caps with faux spinners, Jetaway four-speed Hydramatic transmission, optional "transportable" AM radio, tri-tone trimmed interior, optional air-ride, 11-inch drum brakes and swaths of chrome, this Olds 98 makes a statement: "When too much was not enough."
Studebaker Golden Hawk
The Studebaker Golden Hawk SC was produced from 1956 through 1958. It was only available in a two-door pillarless hardtop coupe. Later in the 1957 model year, a luxury 400 model was introduced featuring a leather interior, a fully upholstered trunk and special trim. Only 41 were made. What made this Studebaker special is the 289 cu.in. V-8 with the addition of a McCulloch supercharger producing 275 HP. In 1958, the Hawk switched to 14-inch wheels from 15-inch, making the car ride a little lower. The interior had a padded dash, a vacuum gauge on the instrument panel and rear seating for three. With excellent power-to-weight ratio, the jetsetter had bragging rights on performance that was faster than the Corvette, T-Bird and second only to the Chrysler 300B. A fiberglass overlay on the hood was needed to clear the supercharger which was mounted high on the front of the engine. Golden Hawk sales took a hit due to the recession in the late 1950s recession. Only 878 were sold in 1958.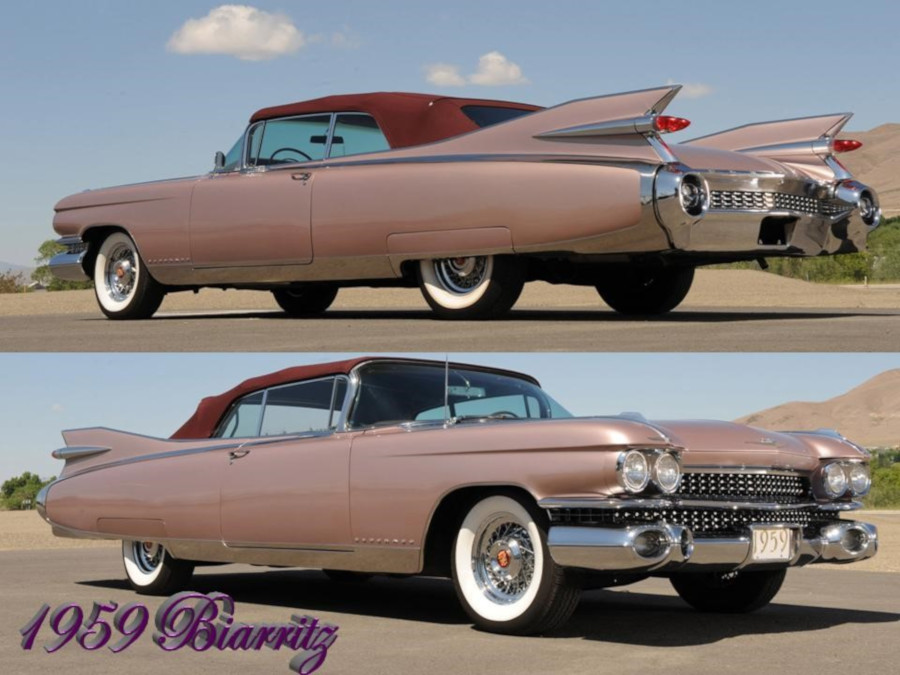 Cadillac Eldorado Biarritz
Named after the French resort town of El Dorado on the Bay of Biscay, the Harley Earl/Dave Holls-designed 1959 Cadillac Eldorado Biarritz convertible was influenced by jet planes and rockets, boasting the tallest tail fins ever seen on a production vehicle, standing 45 inches tall. The Biarritz was powered by a modified version (Q code) of the 390 CID V-8 found in all Cadillacs at the time. It got a boost in power from three two-barrel carburetors and was rated at 345 horsepower. With a top speed of 130 mph, these fully equipped 5,000 pound "land cruisers" needed lots of room on the road with a turning radius of 24 feet. With a staggering sticker price of $7,401, the high cost led to low sales numbers -- only 1,320 were produced. No single automotive design better characterizes the Fabulous Fifties Jet Age than the flamboyant Cadillac Eldorado Biarritz convertible.
So, who are those Jetsetters? Well, by definition, they are the wealthy and fashionable people who traveled widely and frequently in style for pleasure ... the only way to fly!!
Bibliography:
Hemmings Motor News
Walter P. Chrysler Club News
American Cars of the 1950s. Consumer Guide, 2005.
Chevrolet & Ford Sales Brochures
Great Cars of the 1950s. Random House Publishing, 1986.