By Robert Tate, Automotive Historian and Reacher
Images courtesy of the Don Nicholson Archives
Published 9.16.2020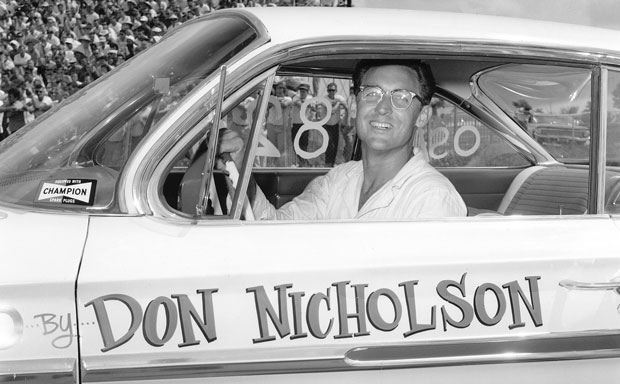 Don Nicholson behind the wheel of his 1961 Chevrolet National Dragster
During the 1960s and 1970s, Don Nicholson (May 28, 1927 - January 24, 2006) was well known to racing fans all over the world. He was a pioneer drag racer whose career spanned six decades, becoming an icon in both funny cars and pro stock racing. He was a skilled and fast driver who earned many championship titles. Many fans admired his drag racing style.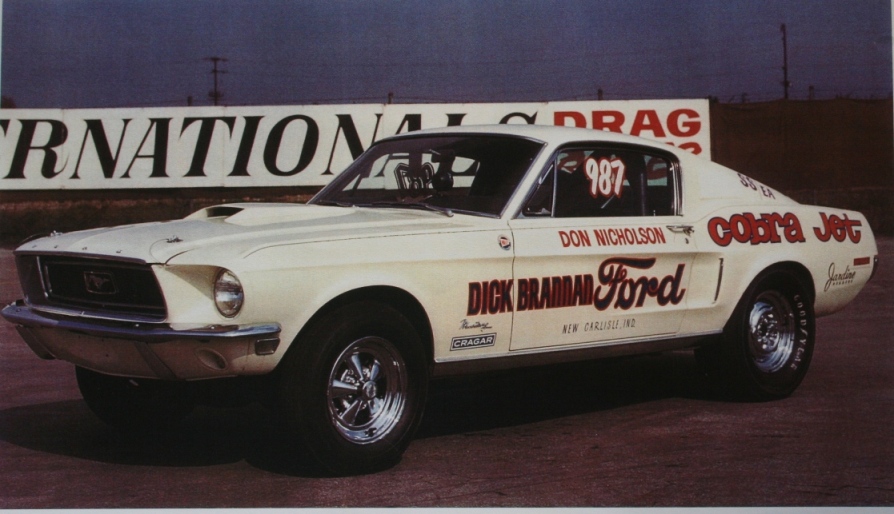 Don Nicholson's white Ford Mustang Cobra Jet (Don Nicholson Collection)
Nicholson got his start racing during the late 1940s at the El Mirago in California. Later, he would move to Atlanta to be closer to the racing community, while developing his skills.
In the beginning, he built several A/FX cars that led to his "Eliminator" Mercury Comet, one of the most popular funny cars and a great symbol of the early days of drag racing. However, he started with Chevrolet, driving a Biscayne 409 sedan that was popular among racing fans in the 1960s.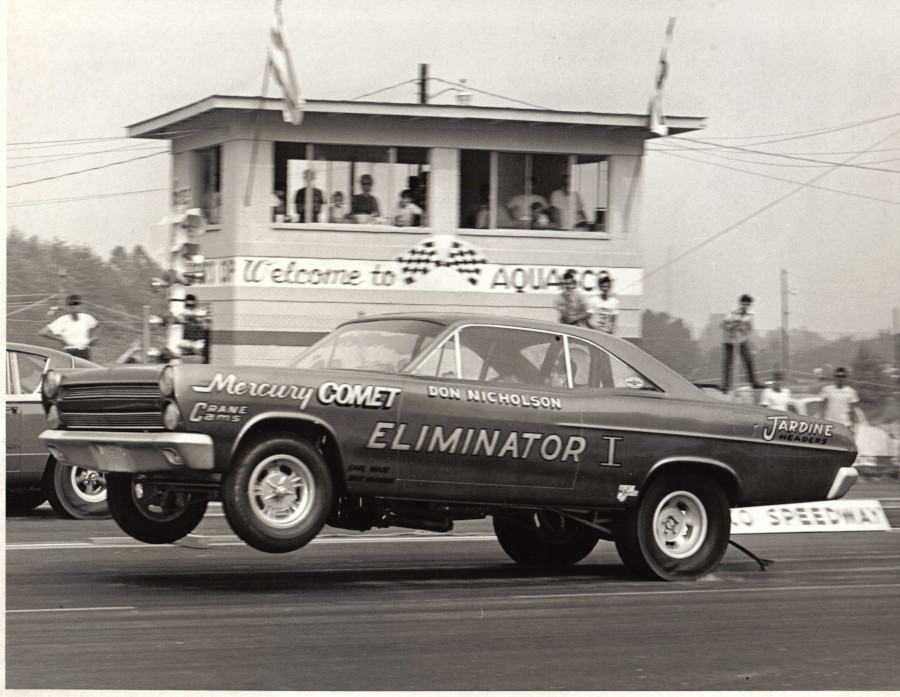 Don Nicholson's Mercury Comet Eliminator (Don Nicholson Collection)
Later, Nicholson would partner with Ford Motor Company and join the Mercury motor sports program with the "Eliminator" funny car powered by a Ford 427 SOHC cammer engine, one of the hottest engines Ford had to offer at the time.
Nicholson received his nickname while working for Chevrolet service operations in Pasadena, California. He used a dynamometer as he was excavating customers vehicles and was dubbed "Dyno Don."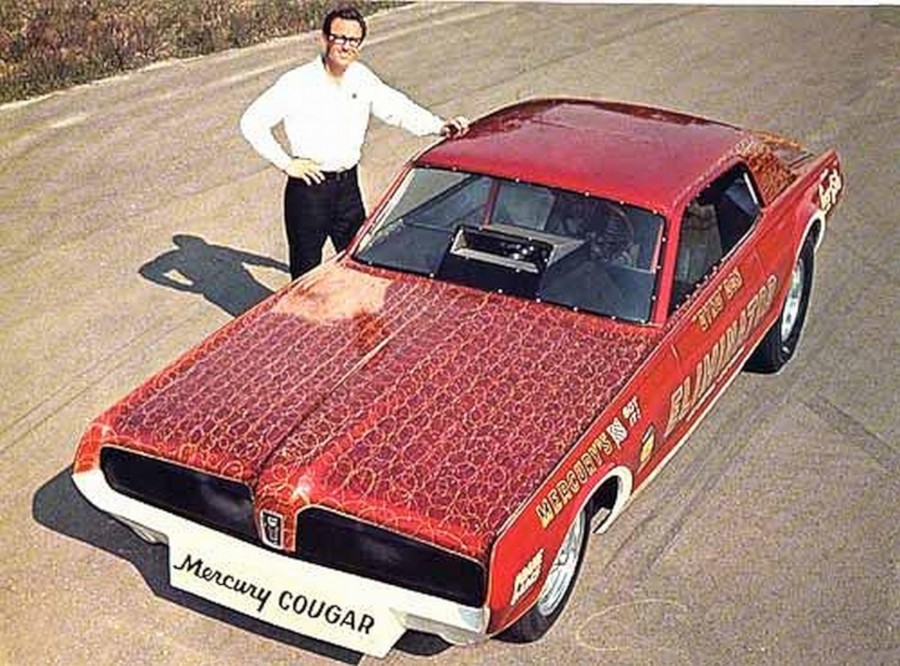 Don Nicholson with the Mercury Cougar Eliminator (Don Nicholson Collection)
Nicholson created a style of drag racing that laid out the substance for today's racing cars and pro stock racing as well. Some race fans have said "Dyno Don" represented the drag racing's "Golden Age" as a part of the NHRA's pro stock. In addition, racing historians noted that Nicholson was one of drag racing's biggest names during the 1960s and 1970s by shutting down competitors far and wide and driving everything from super stockers to popular nitro burning funny cars. He was a match racer extraordinaire.
Nicholson standing under his 1966 Mercury Comet Eliminator (Don Nicholson Collection)
After the 1968 season, Nicholson continued competing with other popular drivers, but some of the car designs were evolving. He began to feel that the cars were not representing the automotive manufacturers as well as before.
"The funny cars had just gotten too out of hand," Nicholson said. "They no longer resembled what Detroit was trying to sell. Chrysler already had backed out of funny car racing in 1967 when they had Sox & Martin and Landy start their super stock clinics. We just wanted to get our original fans back."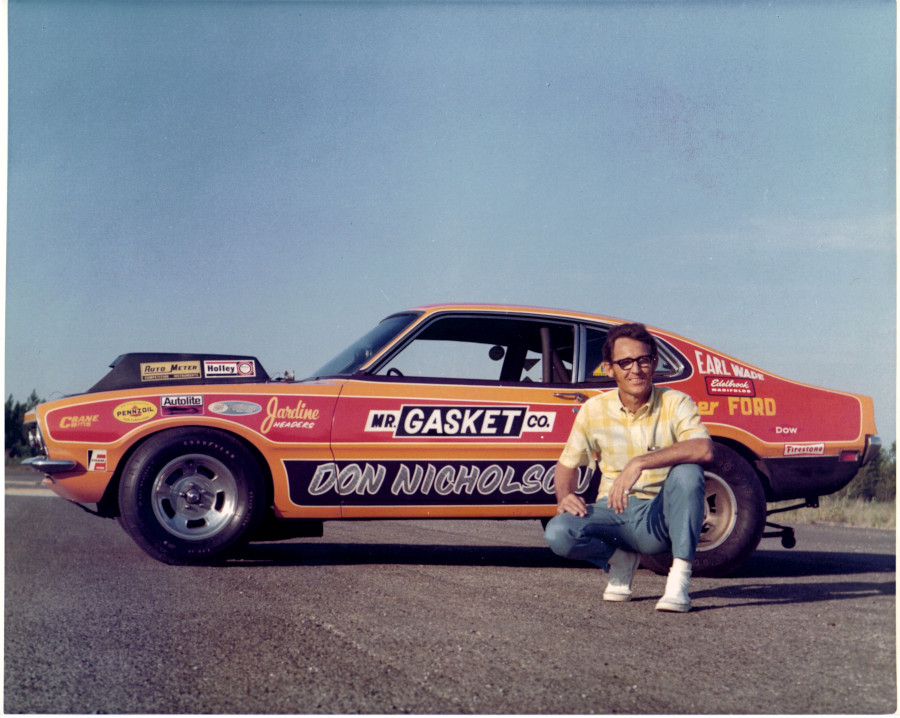 Nicholson in front of front of his Ford Maverick (Don Nicholson Collection)
In 1977, Don won the Gatornationals, an annual National Hot Rod Association (NHRA) drag racing event held each March since 1970 at Gainesville Raceway in Florida.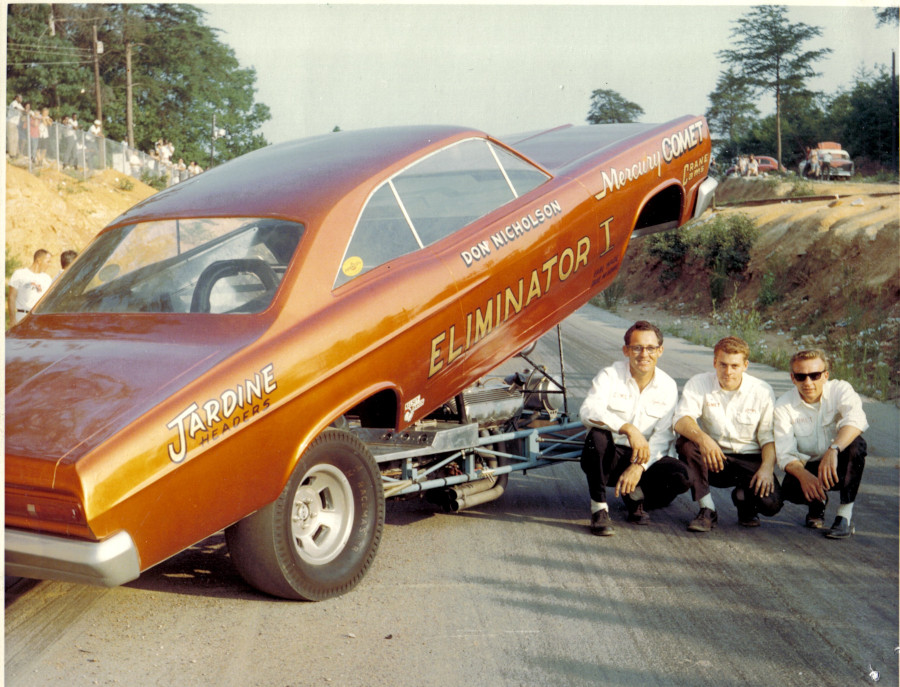 Nicholson seated with two others with the Mercury Comet Eliminator (Don Nicholson Collection)
In conclusion, Don Nicholson was a racing legend, and his career will be remembered by generations to come. Over the years, Nicholson received awards like the Funny Car Driver of the Year in 1967 and the Car Craft All-Star Drag Racing Team Ollie Award in 1977. In 1997, he was honored as the grand marshal of the California Hot Rod Reunion. On January 24, 2006, Don Nicholson died from Alzheimer's in Southern California at the age of 78. However, his legend lives on.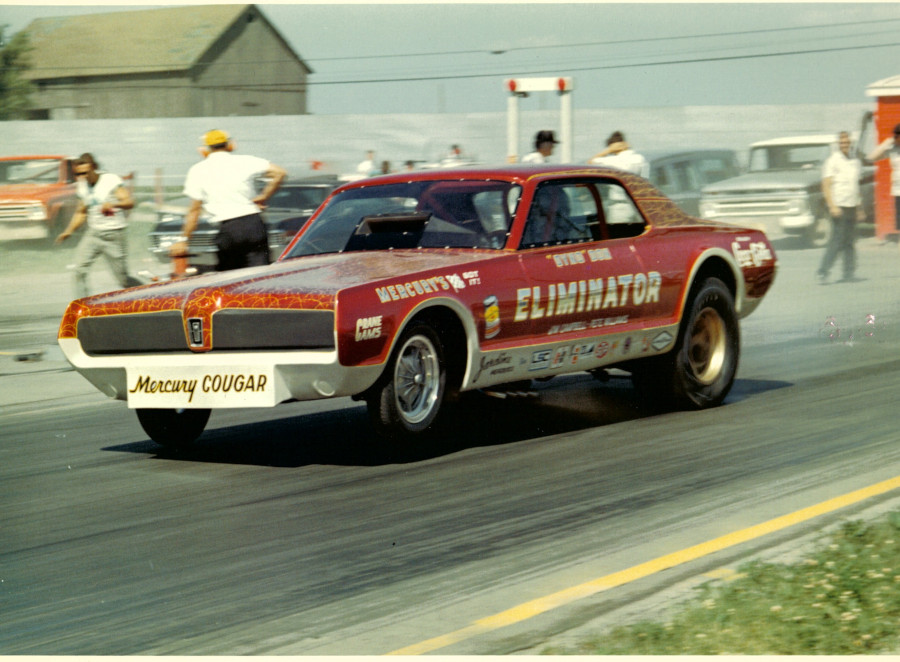 Nicholson drives the Eliminator in a race (GeorgiaDragRacing.com)
Bibliography
Boyce, Doug. "Dyno Don: The cars and Career of Dyno Don Nicholson." 2018.
Sheu, Terry. Hemmings Feature "Dyno Don Nicholson." Muscle Machines. September, 2012.
Stephens, Bill. "Dyno Don dies at age 78." ESPN.