By Robert Tate, Automotive Historian and Researcher
Images Courtesy of the General Motors Archives
Published 8.12.2020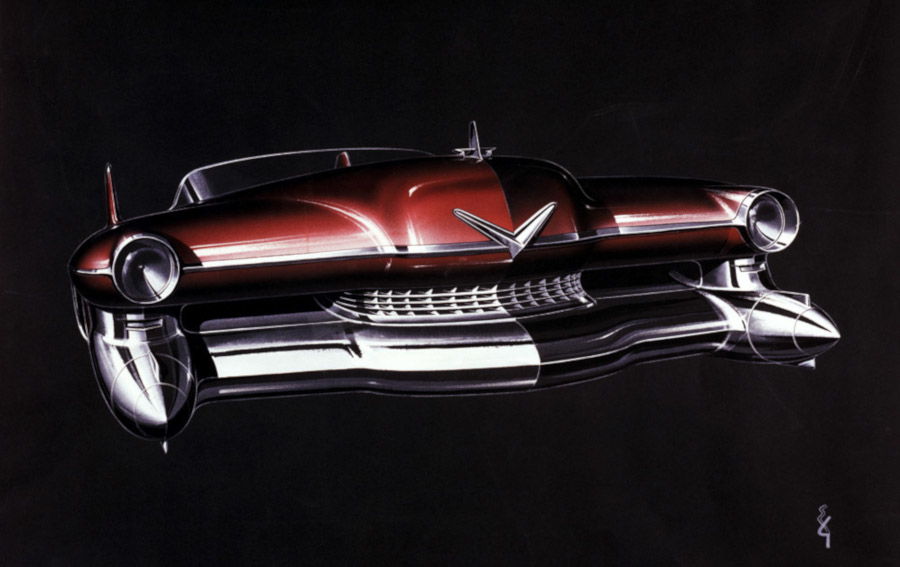 1948 Cadillac front end artist rendering by Ed Glowacke (GM Media Archives)
Looking back at the talented automotive designers that should be recognized in our auto history books, they should include Ed Glowacke, chief of the Cadillac design studio during the 1950s. His peers referred to him as the man with impeccable taste and immaculate attire at General Motors. One of his most important attributes was a great talent for designing automobiles. It was his passion.
On May 19, 1947, Harley Earl appointed Glowacke to supervise a newly formed studio called "Special Automobile Design," which started work on what became the 1951 LeSabre show car. An early example of his work was this early proposal rendering (above) of a Cadillac front end that he designed in 1948. In September of that year, Earl decided to make Glowacke head of the Chevrolet studio, where he was responsible for the design of 1953 Chevrolet models.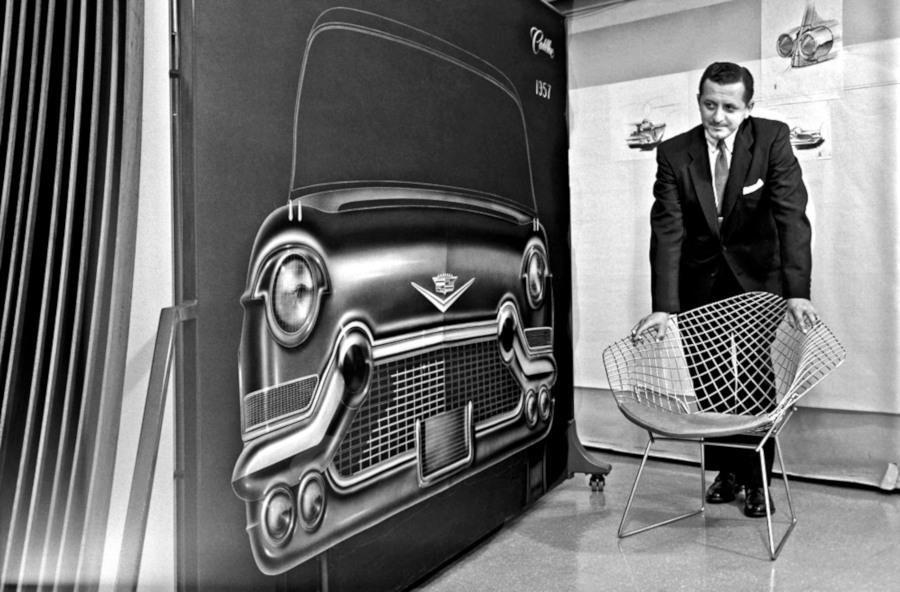 Ed Glowacke with 1957 Cadillac front end design (GM Media Archives)
In June 1, 1951, Glowacke became Cadillac studio design chief. Later, he expanded the idea from a Bertoia Diamond Chair design to influence the front end of the 1957 Cadillac grille, which became extremely popular. The 1957 Cadillacs were restyled for the first time in three years and introduced at the New York Automobile show, where they became a huge hit. However, prior to the 1957 Cadillacs' debut, Glowacke was involved with two great looking Cadillac show cars in 1954, the Cadillac El Camino and the La Espada models. The models were both two-seater designs, one a coupe and the other a convertible. They were the first Cadillac models that introduced quad headlights. Later, quad headlights would appear on the 1957 Cadillac Eldorado Brougham models.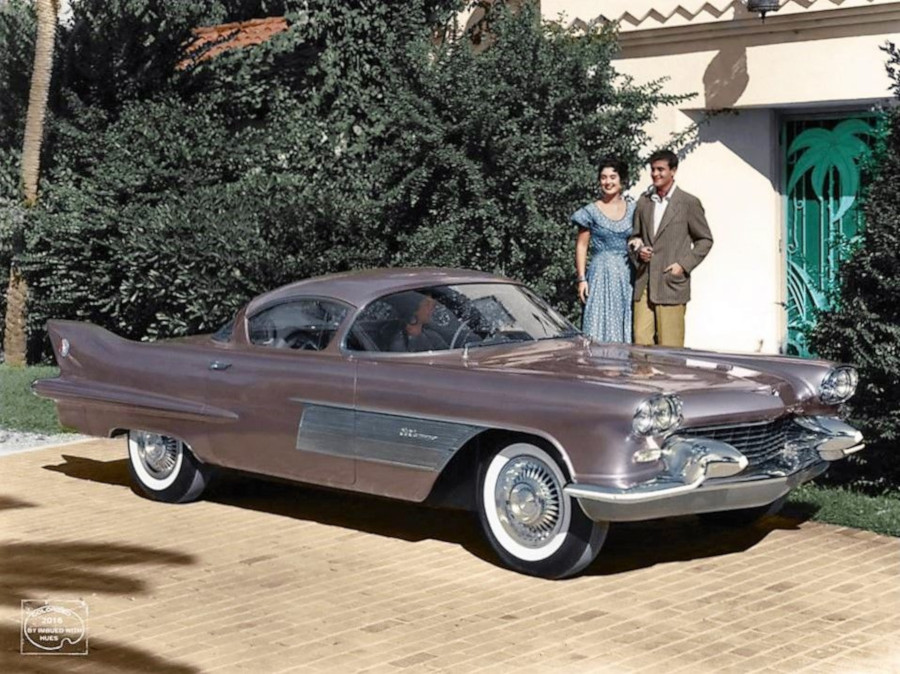 1954 Cadillac El Camino show car (GM Media Archives)
The 1954 Cadillac El Camino show car was a drivable two-seater model that was introduced at the 1954 GM Motorama show. The model offered a fiberglass body and a brushed stainless-steel top. The model also offered a passenger compartment with curved glass and an aircraft type canopy that was unique.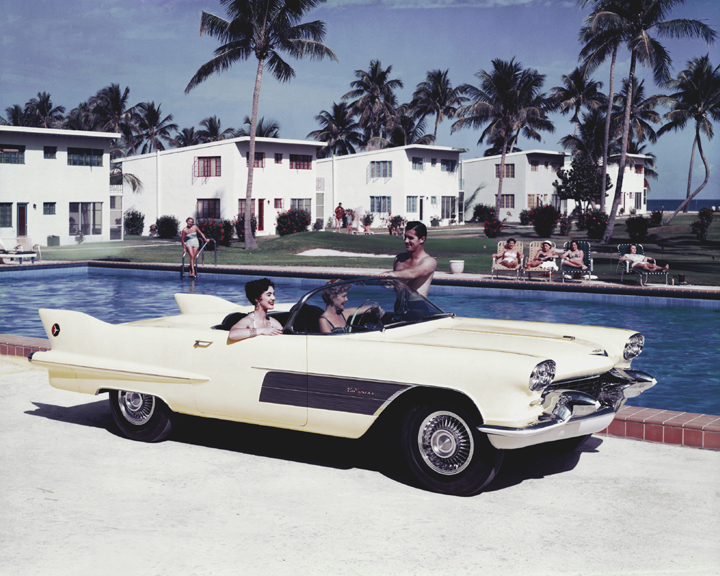 1954 Cadillac La Espada show car (GM Media Archives)
The 1954 Cadillac La Espada show car was also a drivable model introduced at the 1954 GM Motorama show. Its fiberglass convertible body featured a great design that the public really admired.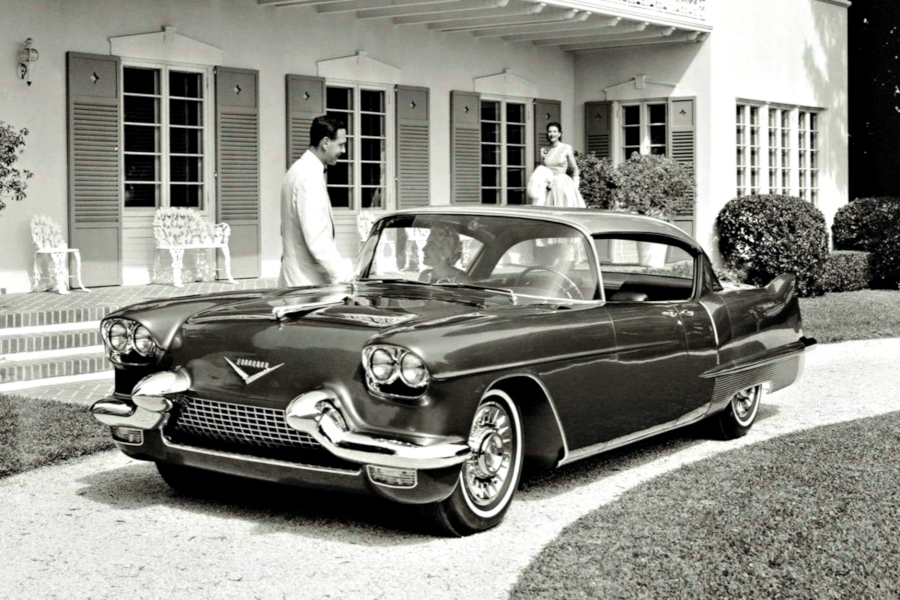 1955 Cadillac Eldorado Brougham (GM Media Archives)
Another classic show car that came out of Glowacke's studio was the first Cadillac Eldorado Brougham that made its debut at the 1955 GM Motorama show. It was a great looking pillarless four-door hardtop and was on of the most admired cars at the show. The model sported a brushed stainless-steel roof and quad headlights.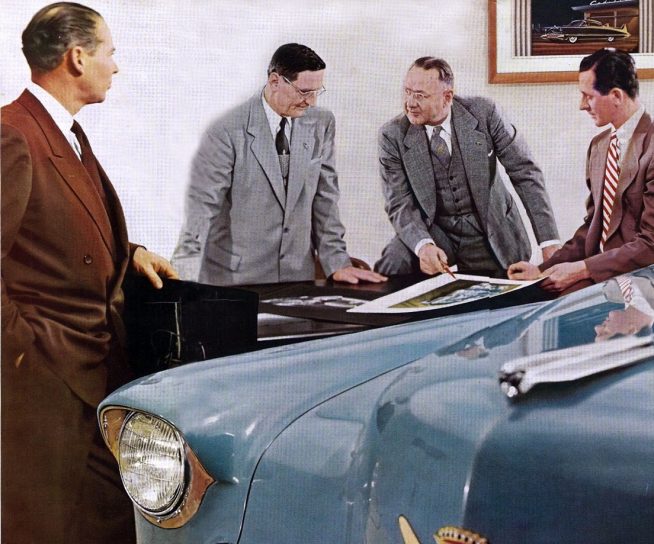 1950s Cadillac Design Studio with Ed Glowacke on the far right (GM Media Archives)
The 1956 Cadillac models proved to be very popular with the buying public. Model year production surpassed over 150,000 units. Walter McCall, author of "80 Years of Cadillac LaSalle," said, "Tail fins on the 1956 cars were squared off and capped with a fine chrome bead that extended the full length of the rear fenders."
1956 Cadillac parked inside the GM Tech Center lobby (GM Media Archives)
The final photograph of this story (below, above the bibiography) represents more Cadillac models completed under the direction of Glowacke, including the Cadillac Eldorado Brougham Town car, which was part of the 1956 Motorama circuit.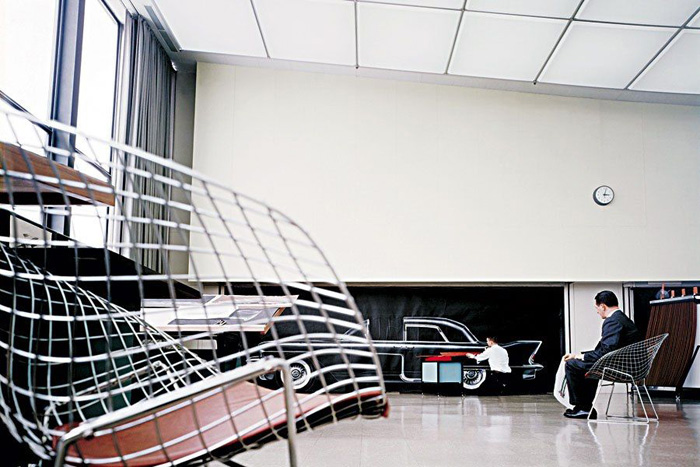 Ed Glowacke at the GM Tech Center Cadillac Studio 1956 (GM Media Archives)
In conclusion, Ed Glowacke was Cadillac studio's chief designer from June 1, 1951 to August 1, 1957. He gave the brand a new look during the 1950s and was known for his high standard for design. Sadly, Glowacke died of leukemia in 1962 at the age of 41. He left an incredible legacy in Cadillac designs that both historians and enthusiasts will admire for many years to come.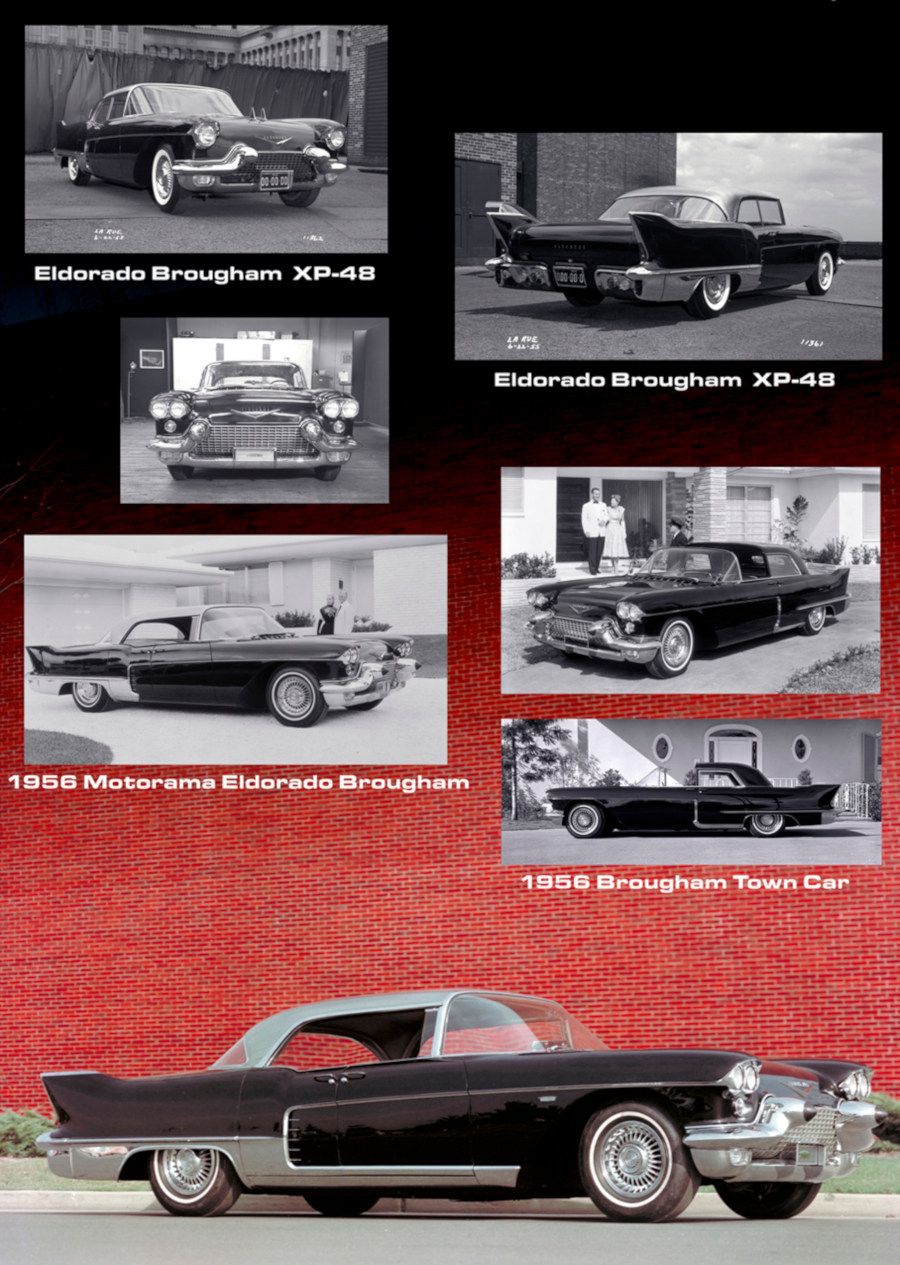 1956 and 1957 Cadillac models
Bibliography
McCall, Walter M.P. "80 Years of Cadillac LaSalle." Crestline Publishing, 1988.
Hendry, Maurice D. "Cadillac Standard of the World: The Complete History." Automobile Quarterly, 1979.
Lamm, Michael & Holls, Dave. "A Century of Automotive Style 100 years of American Car Design."
Twenty Mod. "The Mysterious Link Between the 1957 Cadillac Grille and a Chair." By Jwide.