After the initial launch of the Guide, we hope to interest volunteers as well as supporters from community businesses and civic organizations to help highlight more auto firms and explore other aspects of the neighborhood's auto legacy. In the meantime, visit these websites to learn more about firms and plants not yet included in the Guide.
A Very Belated Obituary for DeSoto, Mike Davis' article from TheDetroitBureau.com website traces the early years of the DeSoto production at Wyoming and McGraw and its subsequent demolition.
Chrysler's Long Lost Wyoming and McGraw Glass Plants – Bill Watson's article on the website of Allpar, a supplier of replacement parts for Chrysler products, highlights the operations in the era immediately prior to the closing of the plant and its demolition at Wyoming and McGraw.
Encyclopedia of American Coachbuilders & Coachbuilding Kelsey Wheel Company, a profile that explores the early roots of the firm that operated two plants in the neighborhood, the Kelsey – Hayes facility that has been cleared at Livernois & McGraw and one just below Michigan Avenue, east of Livernois.
1923 Rickenbacker Factory Tour, a 22-image slide show posted on the Rickenbacker Club of America website dates from 1923 and highlights production at its original plant at 4815 Cabot Avenue.
Mill Workers at Zug Island Steel themselves for the End, Neal Rubin's April 2020 Detroit News feature, chronicles the closure of the landmark steelworks after 118 years of operation.
SITES WE HOPE TO DEVELOP
Email This email address is being protected from spambots. You need JavaScript enabled to view it. to tell us how you can help generate new content and which of the following is of most interest to you.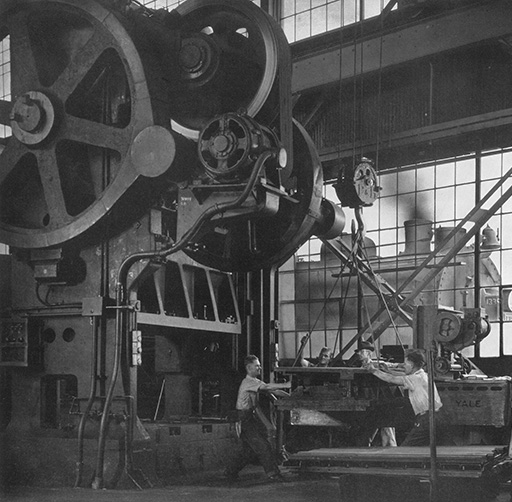 American Metal Products Stamping Press (Circa World War II)
Auto Firms
AMERICAN METAL PRODUCTS *** BRIDGEWATER INTERIORS - JOHNSON CONTROLS*** CHRYSLER MCGRAW (FORMER SITE OF SAXON MOTORS / DESOTO)*** CHRYSLER MCKINSTRY*** GUARDIAN INDUSTRIES***HYUNDAI MOBIS (FORMER SITE OF ARVIN MERITOR)*** IDEAL GROUP*** NORTHWAY MOTOR AND MANUFACTURING*** PISTON AUTOMOTIVE*** A-K (FORMERLY ROUGE / SEVERSTAL) STEEL*** KAUTEX – DETROIT (FORMERLY VITEC).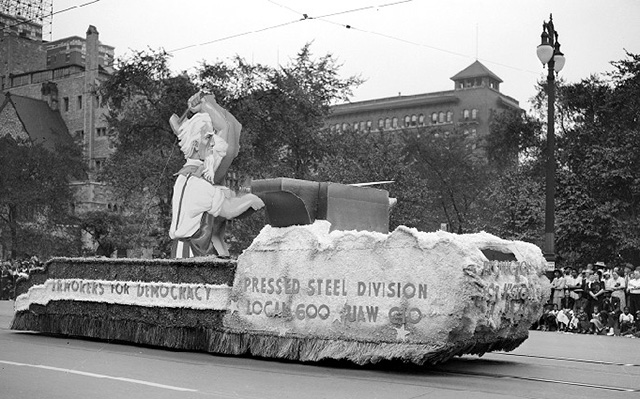 Detroit Labor Day Parade Float (1942)
Local Unions
UNITED AUTO WORKERS: LOCALS 15, 22, 78, 157, 174, & 600
TEAMSTERS LOCAL 299
UNITED STEEL WORKERS OF AMERICA LOCAL 1299
Community Sites
ODD FELLOWS HALL, CLARK ST. YMCA, ETHNIC HALLS & CLUBS