April 20, 2017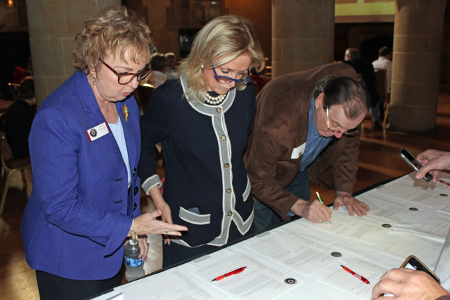 Shawn Pomaville-Size, executive director of MotorCities National Heritage Area, stands with U.S. Rep. Deborah Dingell at the MotorCities' 2017 Annual Meeting held on April 19.ROCHESTER – On Wed., April 19, the MotorCities National Heritage Area held its annual meeting at Meadow Brook Hall with special guests, members and other supporters to review the past year and preview 2017 projects.
U.S. Rep. Deborah Dingell kicked off the event by urging citizens to support MotorCities' funding, which is proposed to be cut in the Administration's 2018 budget.

"The complete elimination of the heritage area would impact all kinds of sites from Meadow Brook Hall to the Edsel & Eleanor Ford House in Gross Pointe Shores to the Automotive Hall of Fame," said Dingell. "We are going to fight to preserve the funding and resources MotorCities needs to keep our automotive and labor history alive for all of us to experience."

[ Related: See our 2016 Annual Report ]

The Congresswoman encouraged guests to contact their legislative representatives in Washington, D.C. to support the MotorCities National Heritage Area.

Dingell's husband, The Hon. John Dingell, was a co-founder of the MotorCities National Heritage Area along with U.S. Sen. Carl Levin when it was approved as the Automobile National Heritage Area Act in 1998.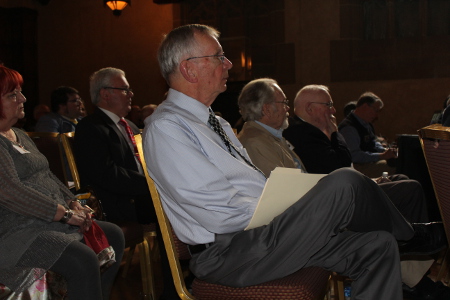 New MotorCities Board Member Bill Nickels sits in the crowd at the MotorCities' 2017 Annual Meeting.MotorCities also welcomed some new faces to its Board of Directors while saying goodbye to outgoing members. The following individuals will serve on the Board for two-year terms:
• Chris Shires, Gilmore Car Museum
• Bill Nickels, Ypsilanti Stewardship Community
• John Dau, DTE Energy, Detroit

Outgoing members include: Michael Spezia, former director of the Gilmore Car Museum who served on the Board of Directors for eight years; Charles Burns, Uber; Brian Rice, DTE Energy and David White.

Another highlight of the annual meeting was a presentation from author Robert Tate, a local automotive historian and researcher, whom has produced MotorCities' Story of the Week for the past 10 years. Tate "pulled back the curtain," and talked about his longtime relationship and passion for all things automotive. He spoke to the audience about finding inspiration for his weekly articles, and bragged about his model car collection which has now reached nearly 10,000 pieces!

Looking ahead to future projects, the audience was given a preview of the MotorCities National Heritage Area's 2017 Passport Program. The guide will lead adventurers around more than 20 destination sites dedicated to southeast Michigan's rich automotive and industrial legacy. Stay tuned in the coming months for updates.
---