November 2, 2017
Media Release

Best in automotive heritage honored at Michigan Auto Heritage Day, Nov. 1

Nov. 2, 2017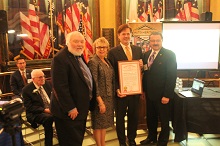 Bob Kreipke and Shawn Pomaville-Size of MotorCities NHA, Senator Steve Bieda, Senator Mike KowallThe MotorCities National Heritage Area Partnership, together with the Michigan Legislative Auto Caucus and as Proclaimed by Governor Rick Snyder, honored the best in automotive heritage projects at the fourth annual Michigan Auto Heritage Day on Nov. 1, 2017.
Awards of Excellence were bestowed in three programmatic categories: Auto Preservation; Auto Heritage Tourism, and Auto Heritage Education/Interpretation. The 2017 Recipients of the Awards are: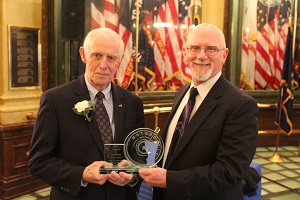 Ray Hunter and Dave Callanan from Yankee Air MuseumPreservation:

- Yankee Air Museum - Save the Willow Run Bomber Plant

for their efforts to save the Willow Run Bomber Plant and preserve an integral historic structure that tells the story of the region's automotive and labor heritage as well as its role in the Arsenal of Democracy. Yankee Air Museum is an aerospace museum located on the property of the historic Willow Run Airport in Ypsilanti. The Museum recently saved a portion of the historic Willow Run Bomber Plant from demolition, with the intent of moving the Museum into the facility and becoming the National Museum of Aviation and Technology at Historic Willow Run.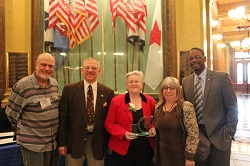 Thad Sienkiewicz, Richard Russell, Marge Sawruk, Pam Sienkiewicz from Friends of Highland Recreation Area and Brian Yopp of MotorCities NHATourism:

- Haven Hill/Marge Sawruk

For keeping alive the preservation efforts at the former estate of automotive pioneer Edsel B. Ford, including the Wayside Sign program for which she helped gather historical information. Haven Hill is a unique summer estate of the Edsel B. Ford family that sheds great light on the creative side of Mr. Ford who had a barn so large on the property that one can imagine his tinkering with his father, Henry, on a Model T there! Marge Sawruk has been a vital mover and shaker of the efforts to keep alive the former estate and increase tourism.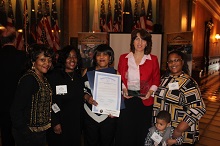 Members of "Uncle Jessie White's family join Anne Marie Graham-Hudak"Education/Interpretation:

- Uncle Jessie white - Portrait of a Delta Blues Man in Detroit

a film by the Detroit Blues Society that chronicles the life of Detroit blues musician Jessie White (1920-2008) who came up from the south during the Great Migration to work in the auto plants. These workers are a large part of those who made the auto and labor industry substantial from the 1940's through present day. Their culture came with them and was acted out at Uncle Jessie White's home for a decade.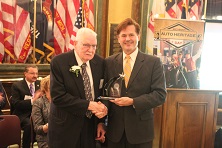 Charles Blackman the Milestone recipient along with Senator Steve BiedaIn addition, the Milestone Award is given each year to commemorate founding partners and important anniversaries in the history of MotorCities National Heritage Area. This year's Milestone recipient is Mr. Charles Blackman, Professor Emeritus of Michigan State University, and a "Packard Guy", who was a founding signer of the Articles of Incorporation in 1998 that established the MotorCities National Heritage Area Partnership. For over 19 years Charles has remained steadfastly involved with the Lansing Stewardship Community, an advisory component of the heritage area. Charles is a legend among enthusiasts of old cars, especially Packards; after 50 years of researching his passion Charles can account for almost 97% of all Packard cars ever produced.





"We're so impressed by this year's honorees," said Shawn Pomaville-Size, Executive Director of the MotorCities National Heritage Area. "Michigan's history is rich with people and places that helped our region 'Put the World on Wheels'. We're happy to partner with them as we inspire residents and visitors alike with how the automobile changed Michigan, the nation and the world."

The MotorCities National Heritage Area is one of 48 National Heritage Areas in the U.S. and the only one in Michigan. Through programming and outreach, the MotorCities preserves, interprets and promotes the region's rich automotive and labor story. For more visit www.motorcities.org.

****END****