by A. Wayne Ferens
Images Courtesy of The Henry Ford, Ferens Collection
Published 5.31.2023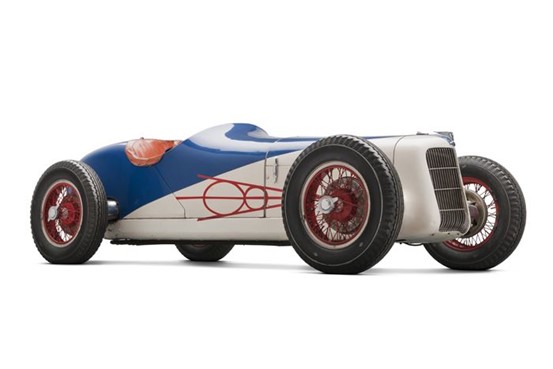 A Miller-Ford Race Car (The Henry Ford)
In the 1920s, Harry A. Miller gained a reputation as a builder of race cars that dominated American motor racing, winning 72 of the 92 major U.S. races including the Indianapolis 500. During the Great Depression, Miller's business in Los Angeles, California fell on hard times and declared bankruptcy in 1933. Harry Miller then teamed up with Indianapolis 500 enthusiast Preston Tucker (who later created his own 1948 Tucker automobile), and in 1935, they formed Miller and Tucker, Inc., whose first contract job was to build ten modified stock block V8 racers for Ford Motor Company. The streamlined 150 horsepower, front wheel drive Miller-Fords were designed and built to race in the 1935 Indy 500. When completed, they were arguably the most beautiful and advanced racing cars of the day -- built at a cost of $7,500 each. However, the deal with Henry and Edsel Ford wasn't finalized until February of 1935, just three months before the race.
In the early 1930s, Ford Motor Company was pushing a performance image for their car line with the newly introduced side-valve V8, and several cars were already competing at Indy using this new engine. Ford was already familiar with the Bohn Aluminum and Brass Corporation in Detroit, who supplied both high quality aluminum and brass specialty castings to many car and truck manufacturers in the area. In 1934, Bohn sponsored the Bohnalite Indy Special that was entered in the 500 using a modified version of the Ford V8. The Indy racer was built on a 1932 Ford chassis using stock suspension components featuring split front wishbones (later used by hot rodders for decades). The Indy racer also featured Bohn's own Bohnalite aluminum racing cylinder heads and .030" over pistons giving a 8.5:1 compression ratio. A specially designed intake manifold was installed using two Stromberg 97 carburetors mounted sideways. The two-man car qualified with a speed of 109.252 mph driven by Chet Miller and his mechanic Eddie Tynan.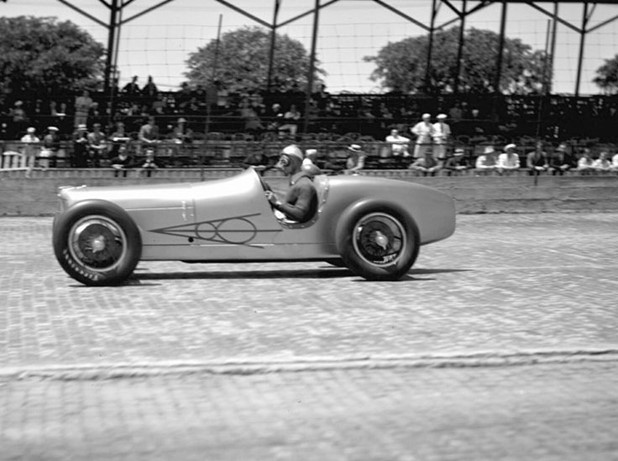 Bob Stall drives a Miller-Ford racer during Indy 500 qualifying in May 1935. It hits speeds as high as 130 mph. (Ferens Collection)
After the deal was struck on January 28,1935 with Henry and Edsel Ford, parts and needed equipment did not arrive at the Miller-Tucker shop in Dearborn until March, giving Miller and his team the near-impossible task of building and testing the 10 race cars in less than 60 days. The genius of Miller's design included a chassis with front wheel drive, based upon a car he designed and raced at Indy in 1922. He would also debut four-wheel independent suspension, and to reduce weight and drag would use wing-shaped cast aluminum suspension pieces and a body that ended in a tapered boat tail rear. The cars would be lower to the ground (lower center of gravity) due to the lack of a drive shaft that would enhance stability in the fast corners at Indy.
Miller used the "21-stud" cast iron Ford 221 cu. in. V8 stock block with Bohn aluminum high compression (9.5:1) non-standard 4-ring pistons. A special racing cam and a pair of Bohn aluminum "Bohnalite" cylinder heads were also installed. Feeding the air-fuel mixture was an aluminum intake manifold with four Stromberg 97 carburetors mounted sideways, lining up the fuel bowls with the centrifugal force on the turns. The engine and two-speed transmission assembly was mounted 180 degrees (back to front) that moved weight rearward to create a better balanced car. In racing form, the engine produced 150 bhp at 5000 rpm compared to the standard 1935-48 production engine rated at 85 bhp. Pressed for time, only five Miller-Fords were race ready in time to qualify for the 500.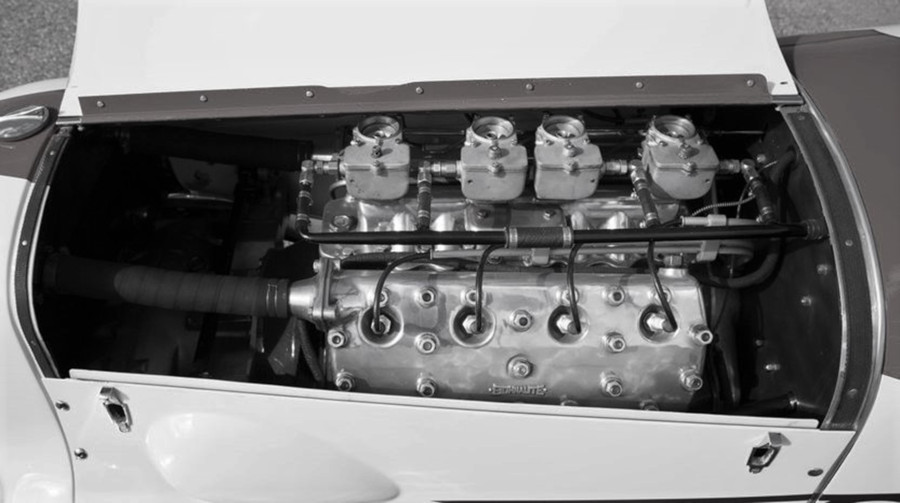 A Ford flathead V8 engine, equipped with aluminum Bohnalite cylinder heads, aluminum intake and four Stromberg 97 cards mounted sideways. (Ferens Collection)
On paper, the Miller-Ford Indy cars looked like winners, but the short development time would prove costly. The cars were slower than the competition, and just four of the five completed racers qualified. Henry and Edsel were not happy, and the pressure was on Miller and Tucker, especially when the qualifying cars started the 23rd running of the event in 26th, 27th, 29th and 33rd place while being paced by a Ford Model 48 convertible.
Three of the four Miller-Fords were out before the first 250 miles were completed. The last car, #43 driven by Ted Horn, dropped out on lap 145, but did manage to place 16th due to attrition. All the cars shared a common problem that could have been remedied with some extra test time -- the steering box that was located too close to the engine heated to the point where the grease melted and the gears expanded, locking the steering wheel in the driver's hands.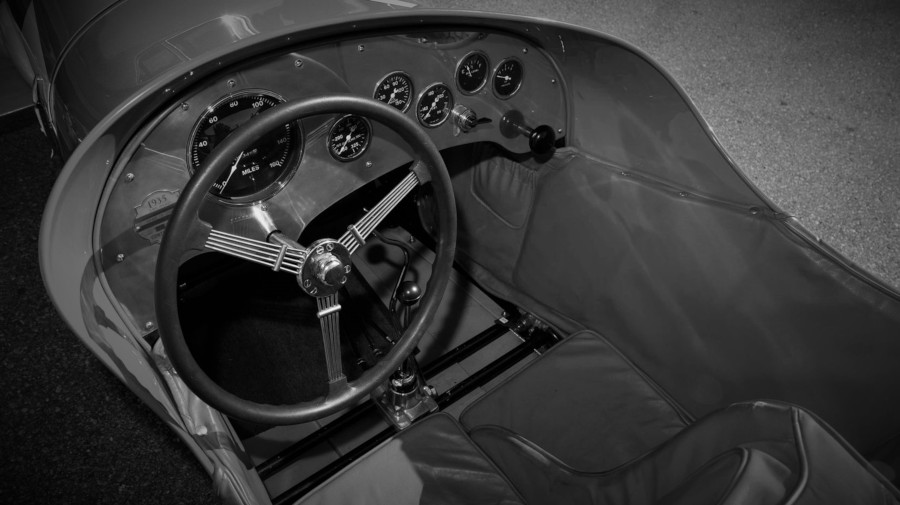 The cockpit of the Miller Ford race car was designed for two and had a well-laid out dash that featured a large speedometer, water and oil temp and pressure gauges with the fuel gauge at the far right. (Ferens Collection)
Henry and Edsel Ford, expecting better results, ordered all 10 race cars sent back to Detroit and secured in a warehouse, where they remained for several years until being sold off to privateer teams. Not only were Henry and Edsel Ford upset and embarrassed by the poor showing at Indy, they were outraged with the $117,000 bill sent by Miller-Tucker for developing the racers.
The following Miller-Fords as they placed in the 1935 Indy 500:
Miller-Ford #43 driven by Ted Horn, 16th - on display at the Indianapolis Motor Speedway Museum;
Miller-Ford #42 driven by Johnny Seymour, 24th;
Miller-Ford #35 driven by George Bailey, 26th;
Miller-Ford #46 driven by Bob Stall, 29th.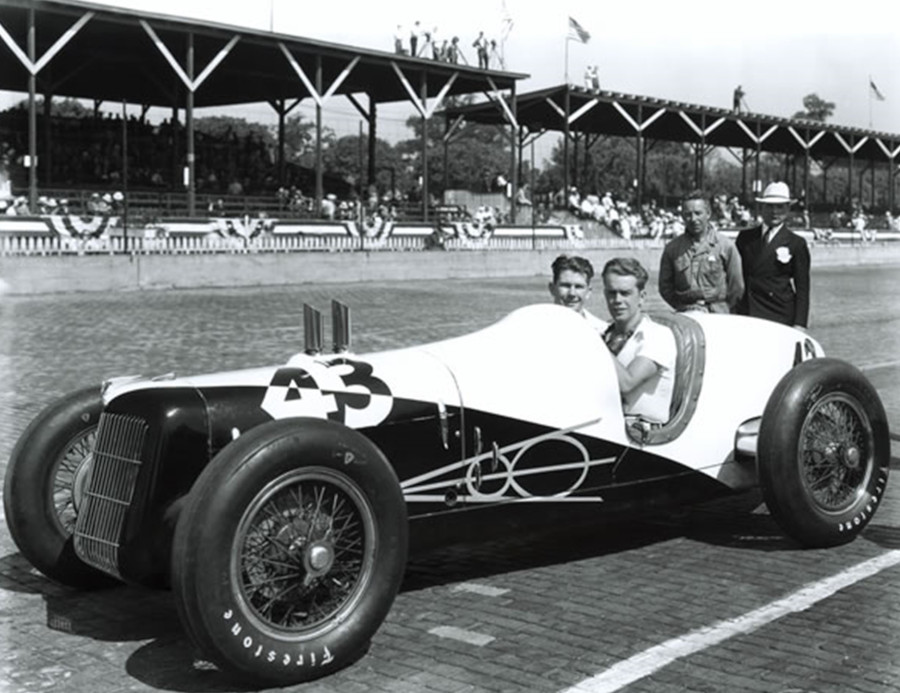 Driver Ted Horn at right behind the wheel with racing mechanic Bo Huckman in the #43 car, which dropped out of the 1935 Indy 500 in lap 145 but still finished 16th. (Ferens Collection)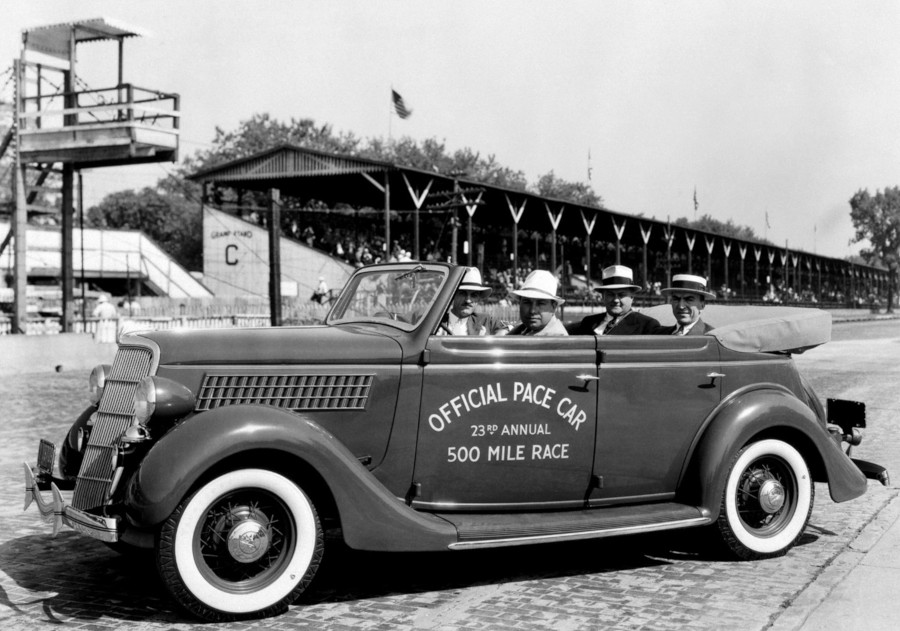 The Speedway wanted to highlight a more affordable pace car for the 135,000 spectators attending the event. Ford was invited to provide the car for the 1935 race and came in with their most expensive Ford Model 48 convertible (pictured above). With a wheelbase of 112 inches, it was powered by the same 221 cu.in. 90-degree L-head, cast iron V-8 that basically powered all ten Miller-Ford Indy specials. It produced 85 horsepower at 3800 rpm as compared to 150 bhp at 5000 rpm for the Indy engine. The Model 48 was driven by race driver Harry Mack and the Honorary Referee was Amelia Earhart.
Finally, the 1935 Indy 500 proved to be one of the worst regarding fatalities, despite attempts to improve participant safety. Helmets were made mandatory in 1935 and green & yellow lights were installed around the track. Two drivers and a mechanic were killed in practice sessions. In addition, driver Clay Weatherly lost his life during the race. Philadelphia native Kelly Petillo won the 1935 Indy 500 in his Offy-powered Gilmore Speedway Special averaging 106.240 mph and received $33,000 in winnings.
Bibliography:
Fox, Jack. "The Illustrated History of the Indy 500." 1994.
Ferens, A. Wayne. "Ford Indy Pace Cars." 2018.
Indy 500 Memorial homepage: Indianapolis Motor Speedway History.
Blazier, John E, and Rollings, Tom. "Forgotten Heroes of the Speedways: The Riding Mechanics." 1994.