By Robert Tate, Automotive Historian and Researcher
Images Courtesy of Packard Archives, Moment Auctions, Hershey Auctions, the Robert Tate Collection
Published 7.19.2023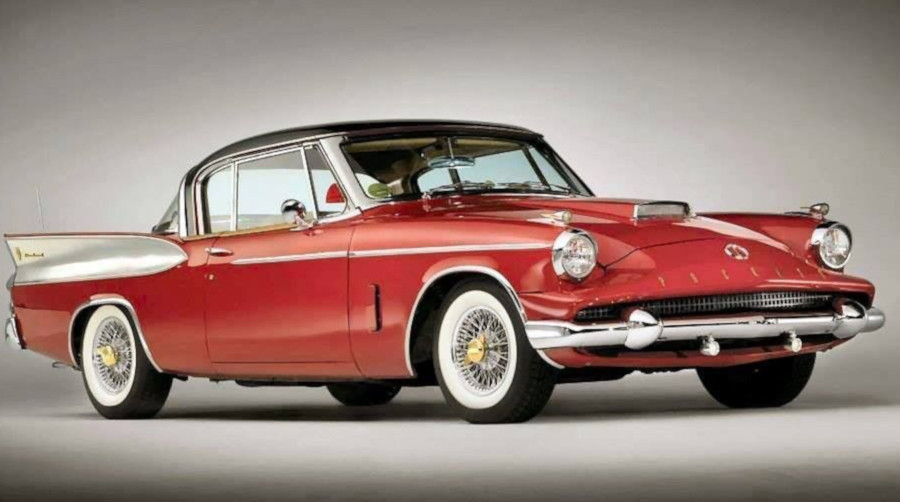 A 1958 Packard Hawk (Moment Car Auction)
Packard Motor Car Company and Studebaker Corporation joined forces in the fall of 1954. The newly formed Studebaker-Packard Corporation had aspired to become America's fourth full-line automotive manufacturer. But it was not to be.
Some automotive historians have said that the Packard nameplate should have ceased with the 1956 Packard models, which were the last actually made in Detroit, and sales had been much better in 1955 and 1956.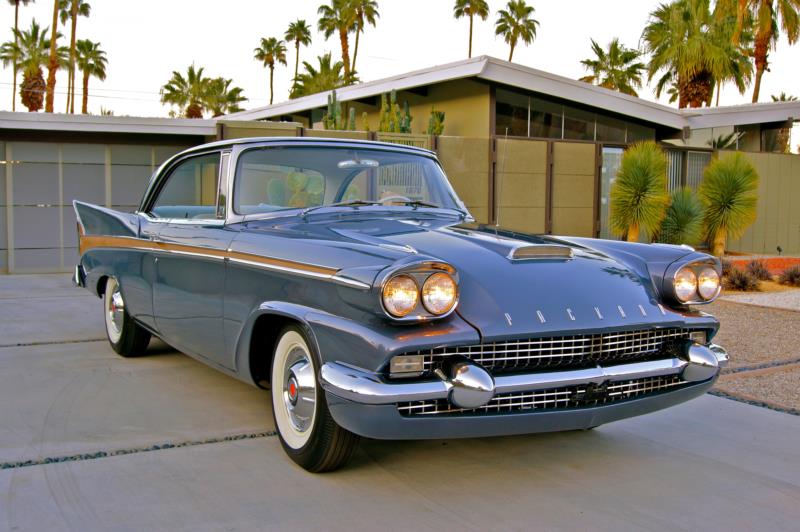 A 1958 Packard 2 door coupe (Hershey Auctions)
For many years, Packard had been experiencing difficult times and funding for new products was scarce. The 1958 Packard automotive designs were among the most disliked of the 1950s. In January 1958, Packard launched its final model year, which the company had called a mid-year series. 1958 was not a good sales year overall for the auto industry, due to a economic downturn that year which was dubbed "the Eisenhower Recession."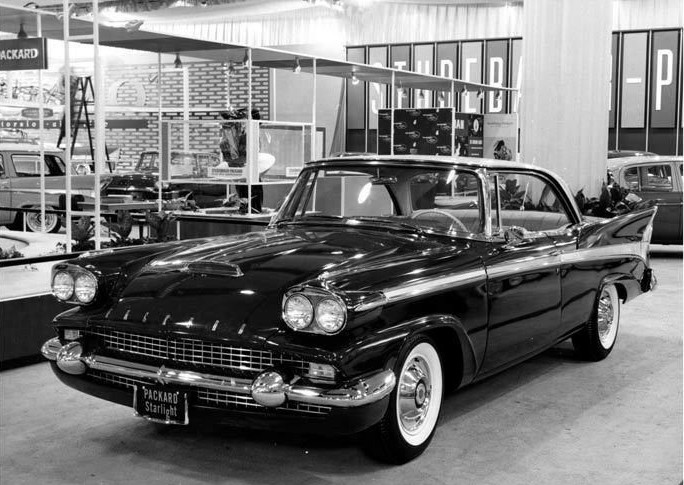 A 1958 Packard coupe featured at an auto show (Packard Archives)
One of the most interesting and talked about cars for 1958 was the Packard Hawk model. Many consumers, unfortunately, did not like the front end of the model, which contributed to its poor sales. The facelift design was created by Studebaker designer Duncan McCrae and featured a low, jutting mouth grille and tailfins. Another design feature that consumers complained about was the rear end design and tail lights. A total of only 588 units were produced for the 1958 model year.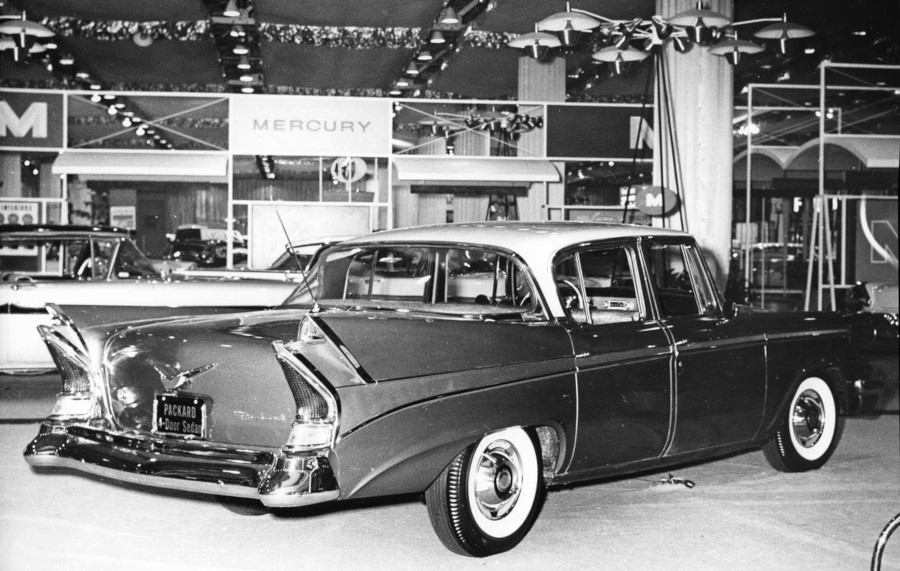 A 1958 Packard sedan at an auto show (Packard Archives)
The 1958 Hawk was the only Packard model that year with a name, as the other three models were branded as just plain Packards. During the 1958 model year, only 2,622 Studebaker-produced units bore the Packard nameplate, and most consumers stayed away.
In early January of 1958, Packard automobiles were still being manufactured at Studebaker's facilities in South Bend, Indiana. For example, the Packard hardtop coupe which was body No. 58L-Y8 was part of the new series 58-L that sold for price tag of $3,262, which drew only 675 orders from dealers.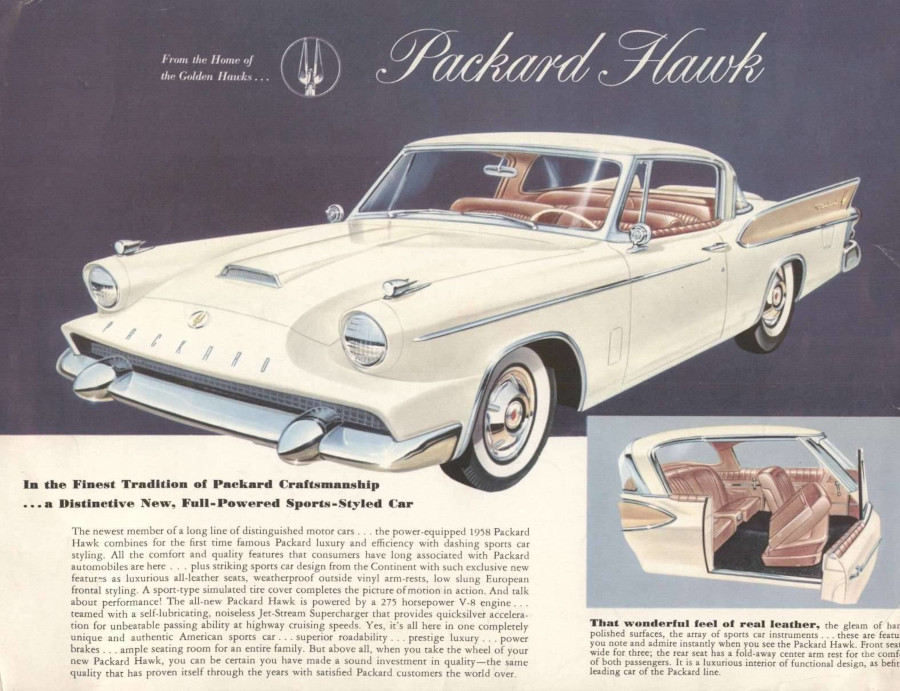 1958 Packard Hawk sales material (Robert Tate Collection)
Many automotive historians also said that the designs of the phony spare tire cover featured on the trunk deck fostered a lot of the dislike for its rear end styling. However, in 1960, Chrysler's Plymouth brand added this same design theme to the popular Valiant model which was well-liked under the direction of styling chief Virgil Exner.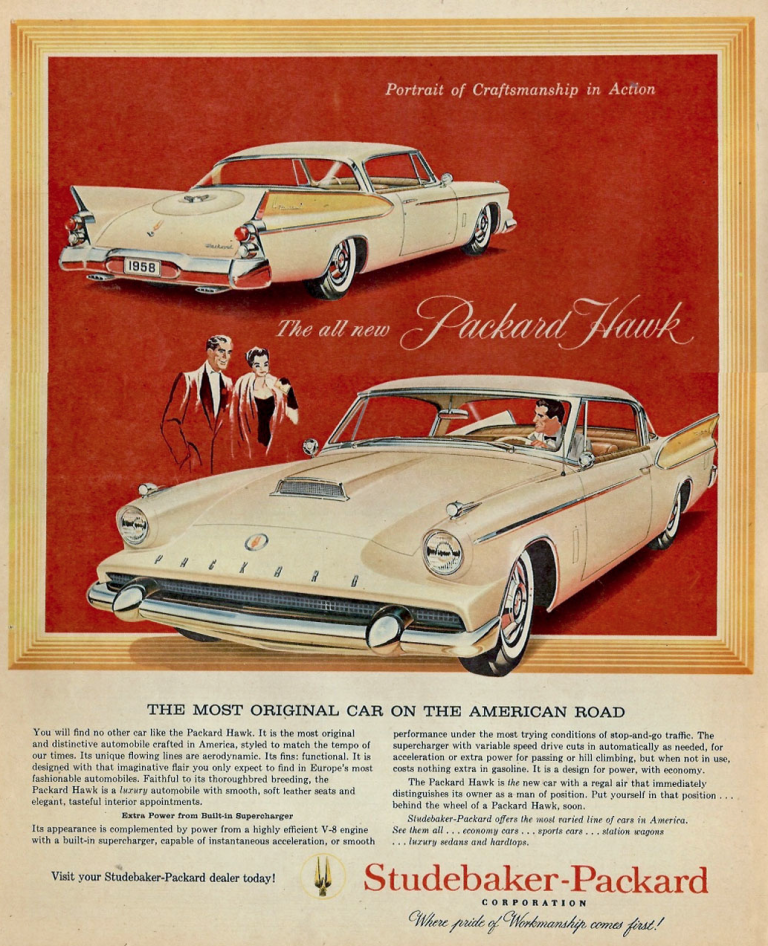 A 1958 Packard Hawk ad (Robert Tate Collection)
The new Packard Hawk designs for 1958 were the subject of a number of great-looking advertisements. For example, "Completely new for 1958 Studebaker-Packard Hardtops" was highlighted in This Week magazine on January 17,1958. Another interesting ad was the 1958 Packard Hawk illustration with the line: "In the finest tradition of Packard craftsmanship a distinctive new full powered sports-styled car."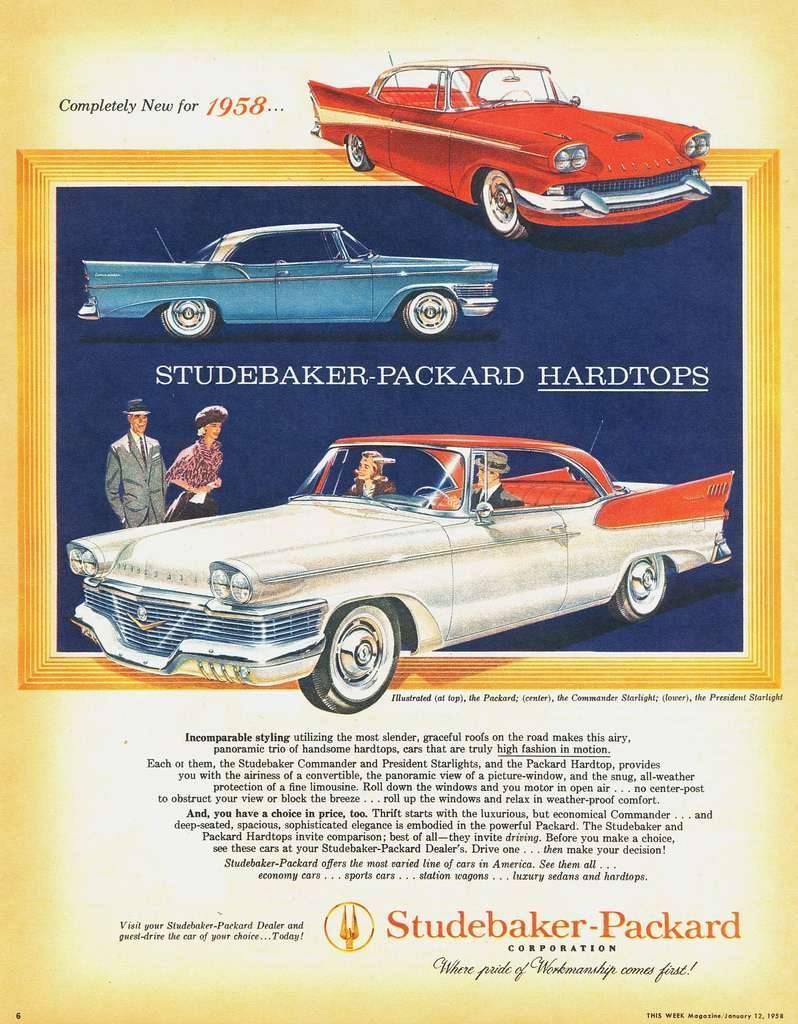 A 1958 Packard ad (Robert Tate Collection)
Packard did its best to advertise its cars with the small budget that was available. The campaign was introduced in full-color supplements, placed in newspapers with a combined circulation of 16 million readers across the country. Studebaker also used black-and-white advertising in 1958 as well.
For many years, automotive historians have said that the 1958 Packard line was offered mainly to satisfy the few remaining dealer contracts still in place around the country. Historians have also noted that the 1958 Packard Hawk wasn't truly a Packard automobile. For 1958, the Studebaker design team had introduced a new hardtop body style for the President and Commander series. This body style was also shared with the 1958 Packard hardtop. The Packard Hawk, along with the rest of the Packard line, were produced in South Bend using the carryover Studebaker body designs. The Packard station wagon body was number 58L-P8, which was a six-passenger model with only 159 units completed and a base price of $3,385.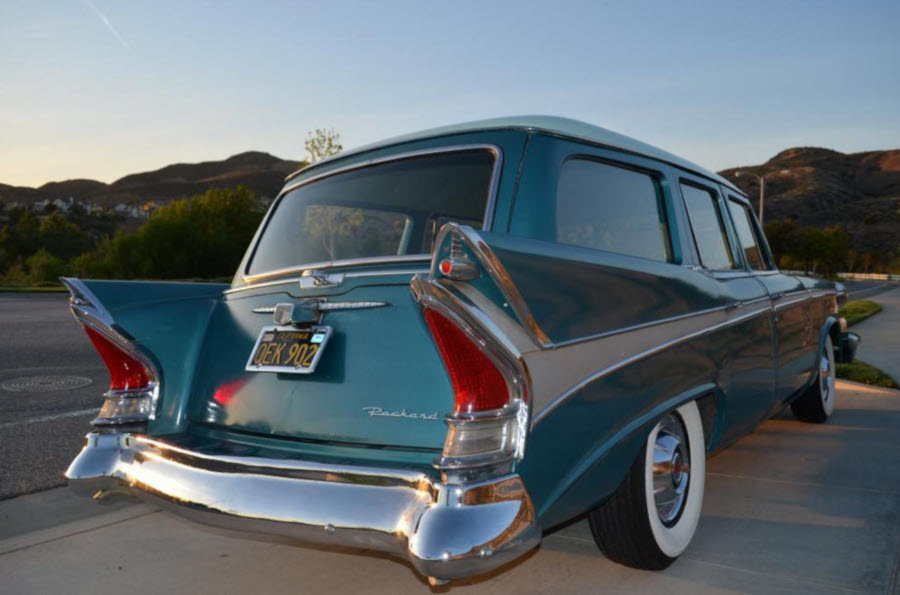 A 1958 Packard station wagon (Ebay Motors Blog)
In conclusion, the 1958 Packards were the last models to be produced in the United States. Packard manufacturing ended in July 1958. Today, many have fond memories of Packard, and their history and vehicles will be remembered by generations to come.
Bibliography
Dammann, George H., and Wren, James A. "Packard." Motorbooks International, 1996.
Langworth, Richard M., and Robson, Graham. "New Complete Book of Collectible Cars, 1930-1980." Beekman House, 1987.
Foster, Patrick. "Studebaker: The Complete History." Motorbooks, 2008.