By Robert Tate, Automotive Historian and Researcher
Images Courtesy Studebaker Museum Archives, Mecum Auctions, the Robert Tate Collection
Published 6.21.2023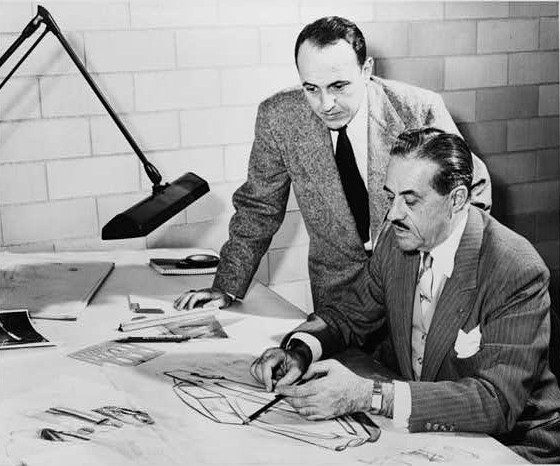 Raymond Loewy, right, with Robert Bourke, standing (Studebaker National Museum)
Robert E. Bourke was born in Chicago on June 15, 1916. From an early age, Bourke had a passion for airplane designs and would occasionally build airplane models as a hobby. Later, that pastime led to his passion for drawing, where he would come up with creative ideas for sketching in lead pencil. His teachers at the time noted his talent.
Bourke became very good friends with E.M. Laird, who would later teach him about the importance of airplane design and how airplanes were constructed and engineered. He enrolled at the Chicago Art Institute, where he took oil painting and design courses to further his education. Bourke would later develop a skill for mechanical objects and how they would function together. Also, Bourke's father owned and operated an architectural firm, and Robert would work there during the summer. He also worked for Sears and Roebuck in the merchandise development division.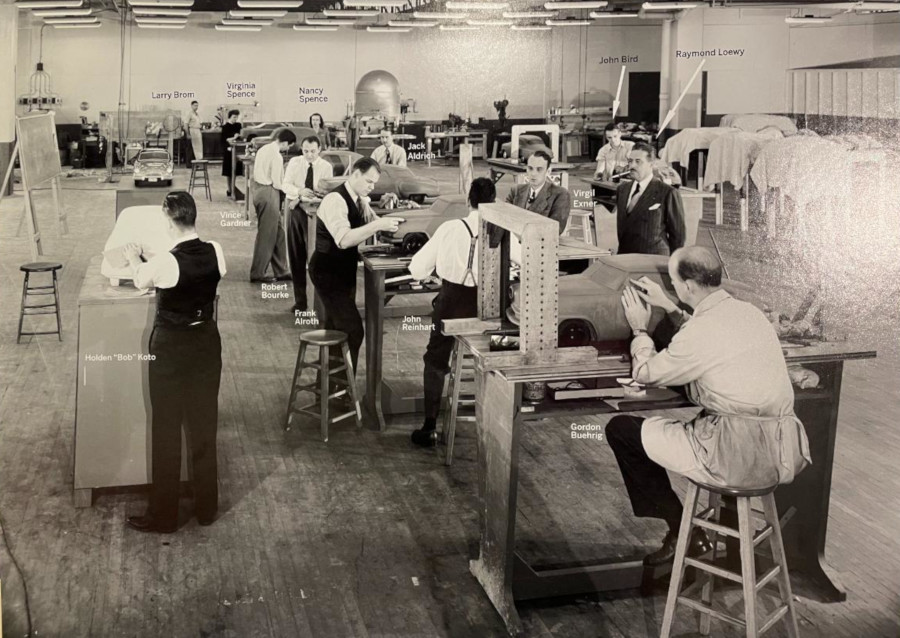 The Raymond Loewy design studio (Studebaker National Museum Archives)
During the 1930s, the Great Depression brought many changes to American lives, including Bourke, who dealt with layoffs and cutbacks. After years of working in the industrial design industry, he started working with Perry Sullivan, who would introduce him to designer Virgil Exner. After reviewing Bourke's drawings, Exner asked, "How would you like to work here?" Bourke responded, "I would be very much interested."
Bourke was offered $75 a week in 1940 to work for Studebaker design, a great deal of money for that time. Studebaker's design studio was led by Raymond Loewy. Around this time, Bourke was introduced to a talented modeling sculptor named Frank Alhroth, who was an automotive modeler. During the 1940s, Loewy had a talented team working on Studebaker, including Bourke, Gordon Buehrig (who was responsible for the great-looking Cord models), Virgil Exner, Vince Gardner and others.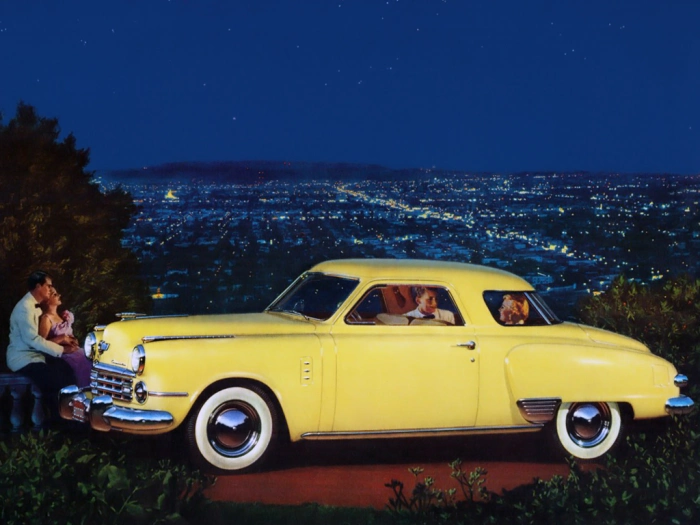 1948 Studebaker sales material (Robert Tate Collection)
After World War II ended, Studebaker began to create and sell many great-looking models. Some models that changed the course of automotive styling were the new 1947 Studebakers from the Loewy design studio. Automotive historians have said it was Bourke, along with Virgil Exner, who were responsible for the styling for the 1947 Studebakers. They were a radical departure from anything previously seen on American roads, introducing the first of the post-war slab-sided bodies. Kaiser- Frazer also created great-looking post-war designs as well. Historians have noted that the new Studebaker designs in 1947 received a mixed reception from the public.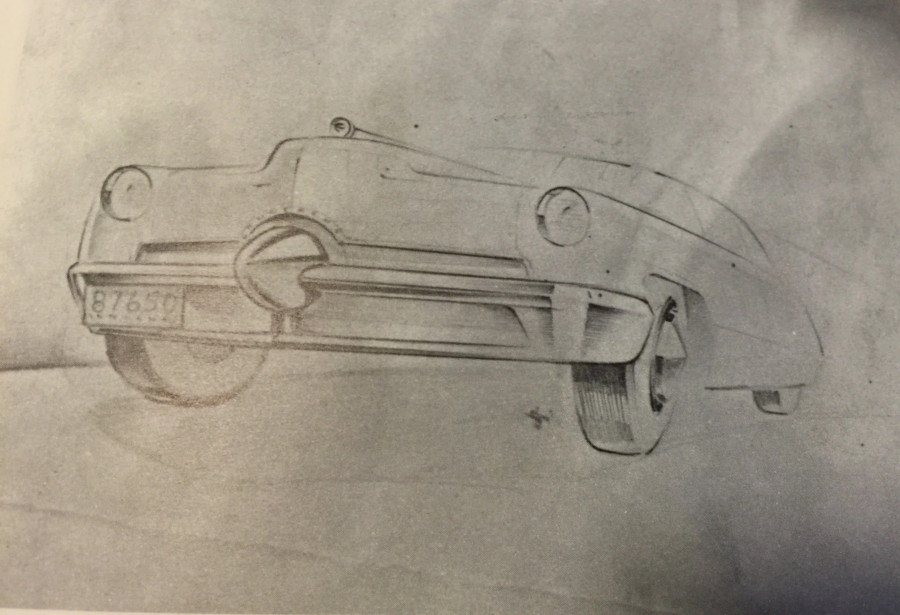 Pencil drawing of the front end of a 1950 Studebaker by Robert Bourke (Studebaker National Museum Archives)
For 1950, there were also a lot of media and consumer concerns about the new Studebaker's front -end styling. As noted in the book, A Century of Automotive Style: "At Loewy's suggestion, Bob Bourke patterned Studebaker's 1950 front-end facelift after the P-38 fighter plane." It was a simple front-end pencil sketch by Bourke that helped create and design the 1950 Studebaker front end design and put it into production.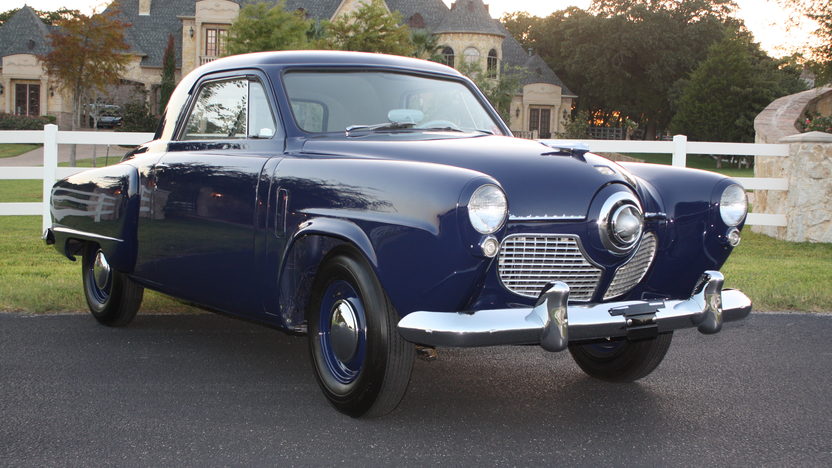 A 1950 Studebaker front end (Mecum Auctions)
In contrast, the 1953 Studebaker models were introduced to great enthusiasm by the public. The styling on these cars is among my favorites of 1950s design. Bourke's sketch was one of the original concepts for the car that became the great-looking 1953 hardtop model. The 1953 Studebakers were on display at the beautiful Grand Ballroom of the Waldorf-Astoria Hotel in New York City, and the January 31,1953 edition of Business Week magazine featured a cover story on the new Studebaker model.
1953 Studebaker pencil sketch by Robert Bourke (Studebaker National Museum Archives)
Bourke hit several home runs over his career as a Studebaker designer working for Loewy. Bourke was head of Studebaker design at Raymond Loewy Associates Studebaker operations from 1949 to 1955. Bourke worked on and helped with the 1947 post-war Studebaker styling, the 1950 bullet-nose and the popular 1953 Studebaker Starliner hardtop models, which will be remembered by automotive enthusiasts for years to come.
A 1953 Studebaker on display at the Studebaker National Museum
For more information on the history of Robert E. Bourke and the complete history of Studebaker, visit the Studebaker National Museum, which is located at 201 Chapin Street in South Bend, Indiana. You can also call 574-235-9714 or click www.studebakermuseum.org.
Bibliography
Automotive Design Oral History Project: 1985 interview with Robert E. Bourke. Benson Ford Research Center, The Henry Ford.
Bridges, John. "Bob Bourke Designs for Studebaker." Published by J.B. Enterprises, 1984.
Moloney, James H. "Studebaker Cars." Motorbooks International, 1994.
Lamm, Michael & Holls, Dave. "A Century of Automotive Style: 100 Years of American Car Design." Lamm-Morada Publishing Co. Inc., 1996-1997.