by A. Wayne Ferens
Images Courtesy of the Ferens Collection
Published 6.28.2023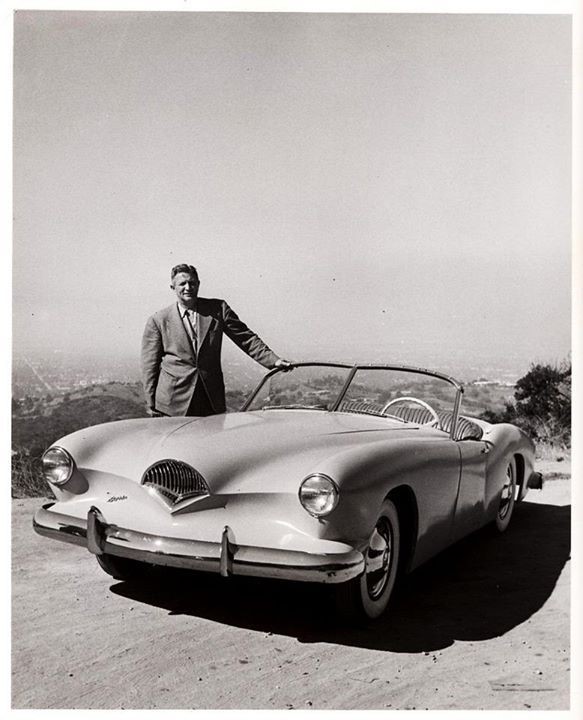 Howard "Dutch" Darrin with the Kaiser prototype in 1952 (Ferens Collection)
The Kaiser-Frazer Corporation was created in 1945 as a joint venture between the Henry J. Kaiser Corporation and Graham-Paige Motors, whose CEO, Joseph W. Frazer, also became president of Kaiser-Frazer. Industrialist Henry J. Kaiser built an empire in cement, steel and shipbuilding by building large numbers of them during World War II for the U. S. Government.
Joseph W. Frazer worked for Packard, General Motors and then Chrysler Corporation, where he set up the sales program for DeSoto and coined the "Plymouth" name for the company's new base line model that was introduced in 1928. Frazer left Chrysler in 1938 to become president of Willys-Overland until 1943. In 1945, Frazer and his associates ended up in control of Graham-Paige.
Joining forces, Kaiser and Frazer were able to lease Ford's Willow Run plant from the War Assets Administration (WAA) soon after the war and began producing cars in early 1946 getting a jump on the other Detroit automakers. By 1948, the company had 5.4 percent of the U.S. market and declared a $19 million profit.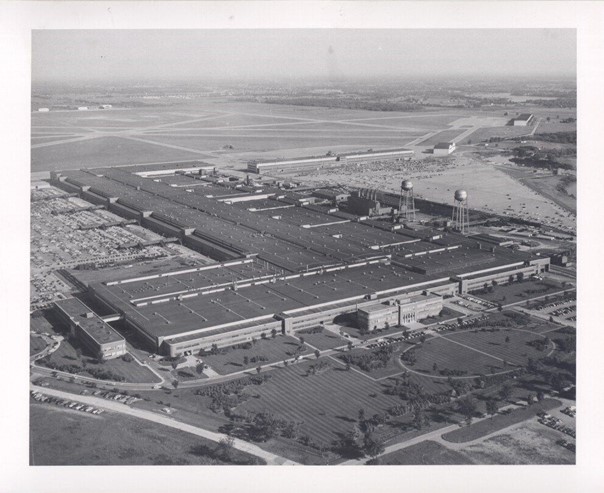 The Ford Willow Run Assembly Plant, which became the home of Kaiser-Frazer.
From 1949 to 1953, Kaiser-Frazer faced multiple challenges that included expansion, increased competition, the cost of introducing new models, production and inventory issues -- not to mention the Korean conflict. In 1952, the company decided it needed an image change. The potential market and the company's business plan supported the design and development of a limited production sports car K-F called the Kaiser Darrin-161, an attempt to convert to a sportier image.
Named for its designer Howard "Dutch" Darrin, who had been contracted as a K-F consultant, the prototypes he built had a beautifully proportioned handcrafted fiberglass body with sliding pocket doors built on a 100-inch wheelbase Henry J chassis with an 80-horsepower L-head engine. It weighed only 2,175 pounds and was designed to compete with roadsters being imported from Europe in the post-war period. While a good performer overall, the production two-door roadster with a three-position convertible top was powered by a 161-cu. in. F-head six-cylinder engine. The engine was rated at 90 hp, had a floor mounted three-speed manual with overdrive transmission, and featured the lowest center of gravity of any American car at the time that provided excellent stability on turns.
Darrin, a New Jersey native, was a design consultant to nearly every major automaker working from his shop and design studio on Hollywood's Sunset Strip in Los Angeles, California. His trademark style had the body beltline "dip," where the front fenders met the rear fenders at the door edges. Darrin invited Kaiser, his wife and son to look at the prototype in late 1952, when it was nearly ready for display at the Los Angeles auto show. Upon approval, Kaiser himself named the car the Kaiser-Darrin. K-F stylists made some slight modifications to the original design to meet 48-state regulations. The front fenders were mildly redone to put headlights at state regulation height, and a one-piece windshield was used to replace the original split windshield design. Separate lids for the trunk and top replaced the prototype's single rear-hinged cover, and the gauges were placed directly in front of the driver, instead of placing them across the dashboard. The fiberglass body came from Glasspar, a pioneer in the use of fiberglass for specialized cars (G2) and boats. Four paint colors available were Champagne (off-white), Pine Tint (light green), Red Sail and Yellow Satin.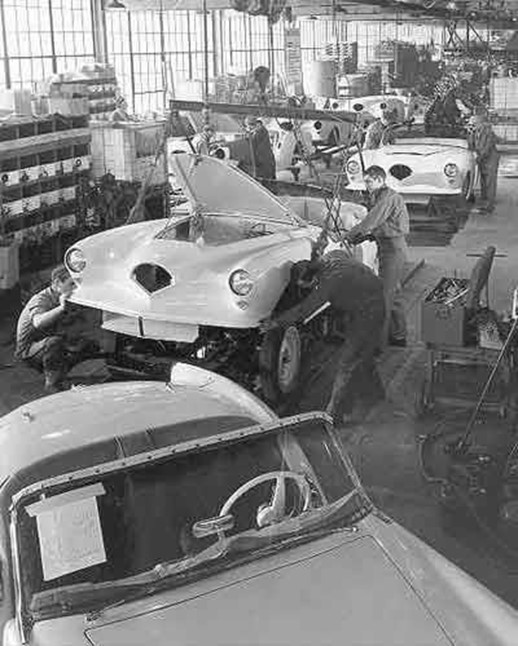 Darrin production started in late 1953. (Ferens Collection)
In 1953, Henry J. Kaiser purchased Willys-Overland to help save the recently renamed Kaiser Motors (Joseph Frazer had left in 1951 after repeated disagreements). That same year, production of the Kaiser car was moved from Willow Run to the Willys plant in Toledo, Ohio. The Darrin-161 used the Willy's inline six, had bucket seats, full sports car instrumentation, padded dash and was only the second U.S. car (Nash was the first) to have seat belts. The Kaiser Darrin-161 looked fabulous and had a sticker price of $3,668. Operational issues delayed the car's arrival into dealer showrooms until early 1954.
By 1954, many car buyers weren't sure Henry Kaiser could keep his automobile company going. There was increased competition from euro imports. Chevrolet had the fiberglass Corvette in production. Ford was about to introduce the new Thunderbird. The Darrin's price (about the same as a base Cadillac Series 62 sedan) discouraged some potential buyers. Kaiser Darrin-161 production ended in mid-1954. Darrin himself purchased 50+ leftover completed cars after finding more than 100 laying around the factory in various stages of completion. The cars were shipped to his Hollywood studio/showroom, where he equipped a few with a sleek removable fiberglass hardtop that he designed. Others were fitted with multiple carburetion, superchargers to boost power to 135 horsepower and six were available with a 304-horsepower Cadillac V8 that sold for $4,350. Darrin became the largest Kaiser-Darrin dealer, and it took him until mid-1957 to sell them all. A total of 435 Kaiser Darrin-161s were built.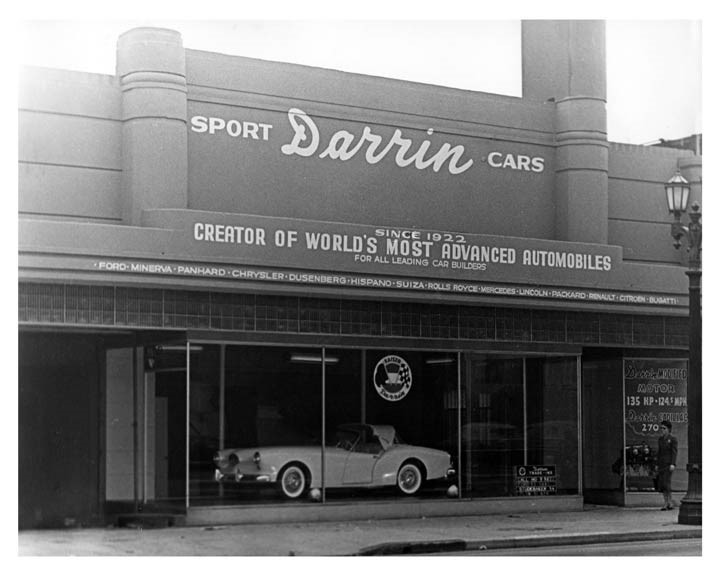 Darrin's Hollywood dealer and design studio in California (Ferens Collection)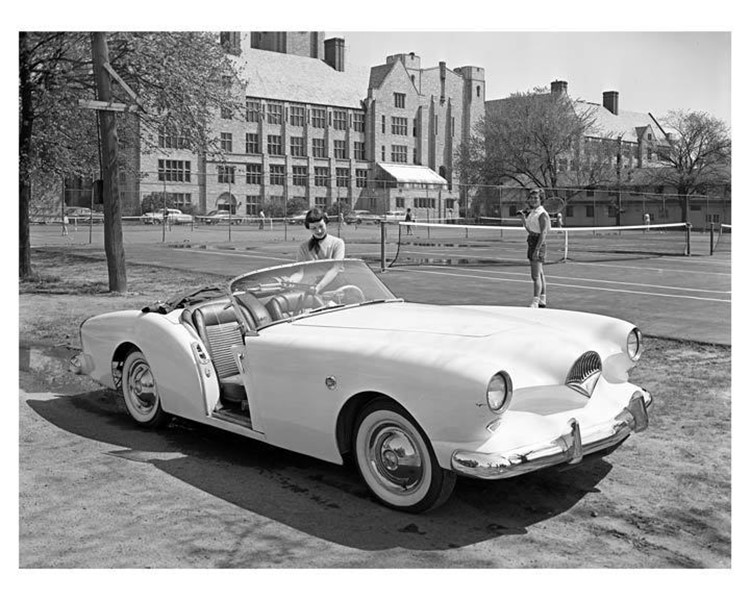 A Kaiser Darrin promotional photo (Ferens Collection)
A completed production Kaiser Darrin-161 with its beautiful handcrafted Glasspar fiberglass body, one-piece windshield, sliding pocket doors, Willy's 161 cubic-inch inline six cylinder 90 hp engine and three-speed overdrive transmission on a Henry J chassis had a price of $3,668. It was called the "Sports Car the World Has Been Waiting For" and was one of Dutch Darrin's final achievements.
Bibliography
Flory, J. "Kelly." American Cars, 1946-1959.
Consumer Guide. Kaiser Darrin.
Roth, F.J. Kaiser Darrin News.
Zenlea, David. Auto Magazine, Collectable Classics.