By Robert Tate, Automotive Historian and Researcher
Images courtesy of General Motors Media Archives, Richard Quinn Collection, Mechanix Illustrated
Published 3.23.2022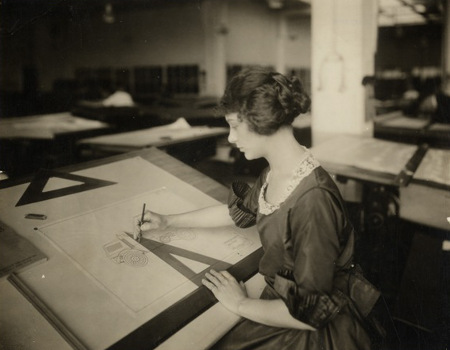 Marie Luhring in the 1920s
As we continue to celebrate Women's History Month this March, I wanted to highlight the role that women played in automotive design starting during the 1920s. These early designers made their mark in the field and served as positive role models for the women who followed in their footsteps in the 1950s and beyond.
Let's start with Marie Luhring. She made history by becoming the first woman truck designer during the early 1920s. After graduating from high school, she studied interior decorating and later would study architectural drawing, which would become her passion. Luhring went on to study animation and cartoon illustrations with the International Film Company. She was one of the first female designers recognized as being the number one student, topping all the others who were all men. Later, Luhring also became a member of the prestigious Society of Automotive Engineers and was offered a position with the Mack Truck Company as an engineering designer. While Luhring was met with a great deal of opposition, she would continue to make her way in a very male-dominated field. Most of the men at Mack Truck felt at the time that trucks should be designed by men only.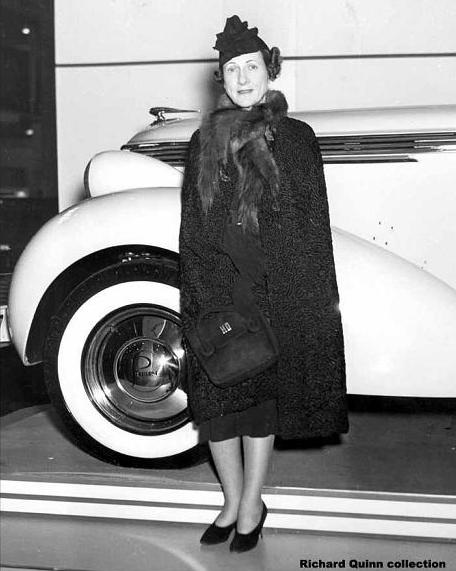 Helen Dryden (Richard Quinn Collection)
Another early woman designer was Helen Dryden, a designer for Studebaker from 1934 to 1937. Born in Baltimore, Maryland, she was hired by Raymond Loewy to help with styling Studebaker interiors.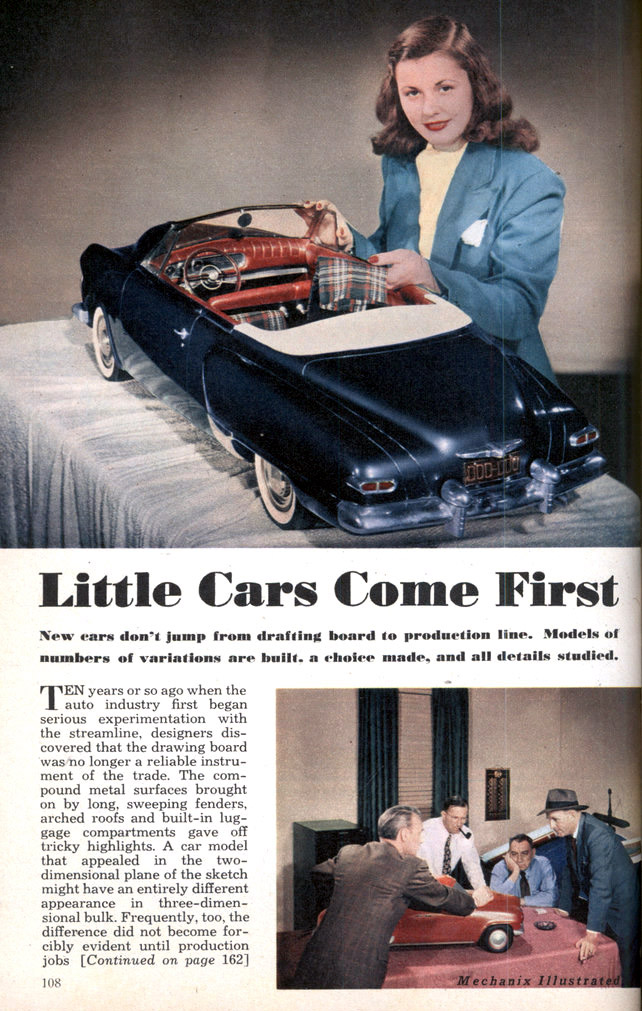 Audrey Moor Hodges in 1947 (Mechanic Illustrated)
Hailing from Plymouth, Michigan, Audrey Moore Hodges studied fashion design at Detroit's Art Academy in 1936. In 1943, she graduated from the University of Michigan's industrial design program. In 1944, Virgil Exner hired her as a designer in Raymond Loewy's Studebaker design studio located in South Bend, Indiana; she designed the 1950s Studebaker hood ornament. Later, Alex Tremulis hired her to contribute interior designs to the historic and ahead of its time Tucker Torpedo automobile of which about 50 were made.
Betty Thatcher Oros was with Hudson from 1939 to 1941. She contributed to the great looking 1941 Hudson exterior design trim, along with the interior instrument panel and trim fabrics as well.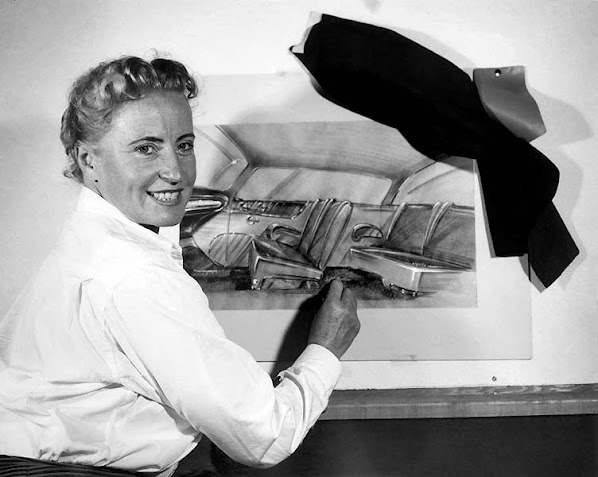 Helene Rother, late 1940s (American Motors)
Helene Rother was a great and talented automotive designer. During the 1940s when automobile designs were evolving, Harley Earl offered her a position at General Motors. Rother became a part of the interior styling department, and her passion was upholstery design. While she created great looking designs for other GM brands, she was also part of the popular GM Electro-Motive Division's "Train of Tomorrow" project, which made industrial design history and was led by the talented Chuck Jordan. In 1947, Rother established her own design studio located in the Fisher Building in Detroit. She also became involved with Nash-Kelvinator, where she helped to create and design Nash cars from 1948 to 1956.
Mary Ellen Green Dohrs was a great automotive designer also hired by Harley Earl at General Motors in 1950. I told you more about her in a Story of the Week last month – see "Mary Ellen Green Dohrs was a Pioneer in Automotive Design" from February 2, 2022.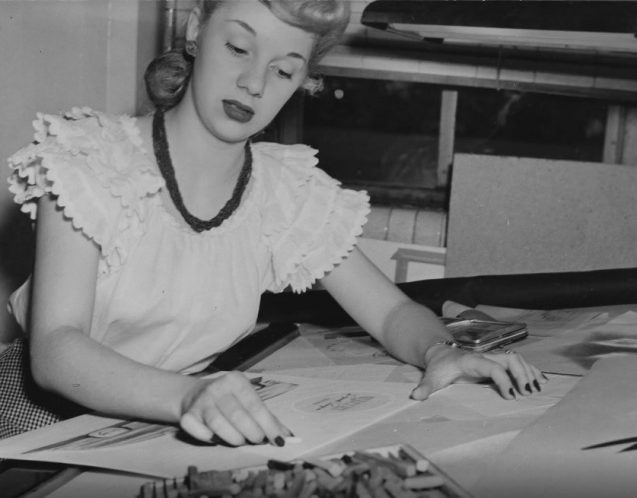 Leota Carroll, 1945 (Ford Motor Company Archives)
In June 1945, Ford Motor Company hired its first female designer, Leota Carroll. Virgil Exner at Chrysler also began to hire women in the 1950s to join his design studio team.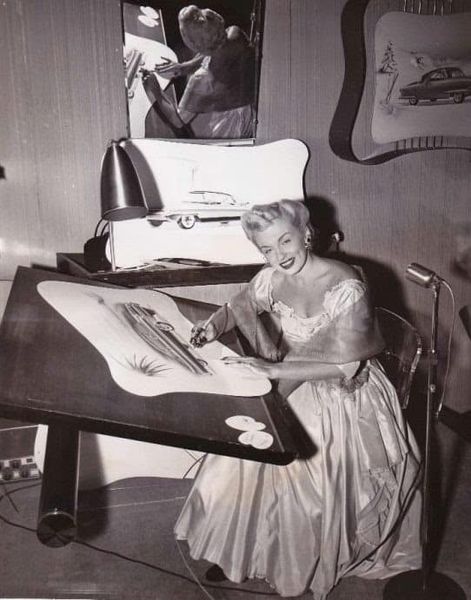 An unidentified woman designer at Chrysler in the 1950s (Chrysler Archives)
During the early 1950s, Harley Earl hired a group of great and talented young women who would later be referred to as the "Damsels of Design." They included Gere Kavanaugh, Ruth Glennie, Marjorie Ford Pohlman, Sandra Longyear, Suzanne Vanderbilt, Peggy Sauer, Jeanette Linder, Jayne Van Alstyne, Helene Pollins, and Dagmar Arnold. In 1958, GM presented the Cinderella show at the Technical Center Dome featuring their divisions' products including many updated design changes made by the women designers. The show was covered by many major newspapers at the time and was a huge success.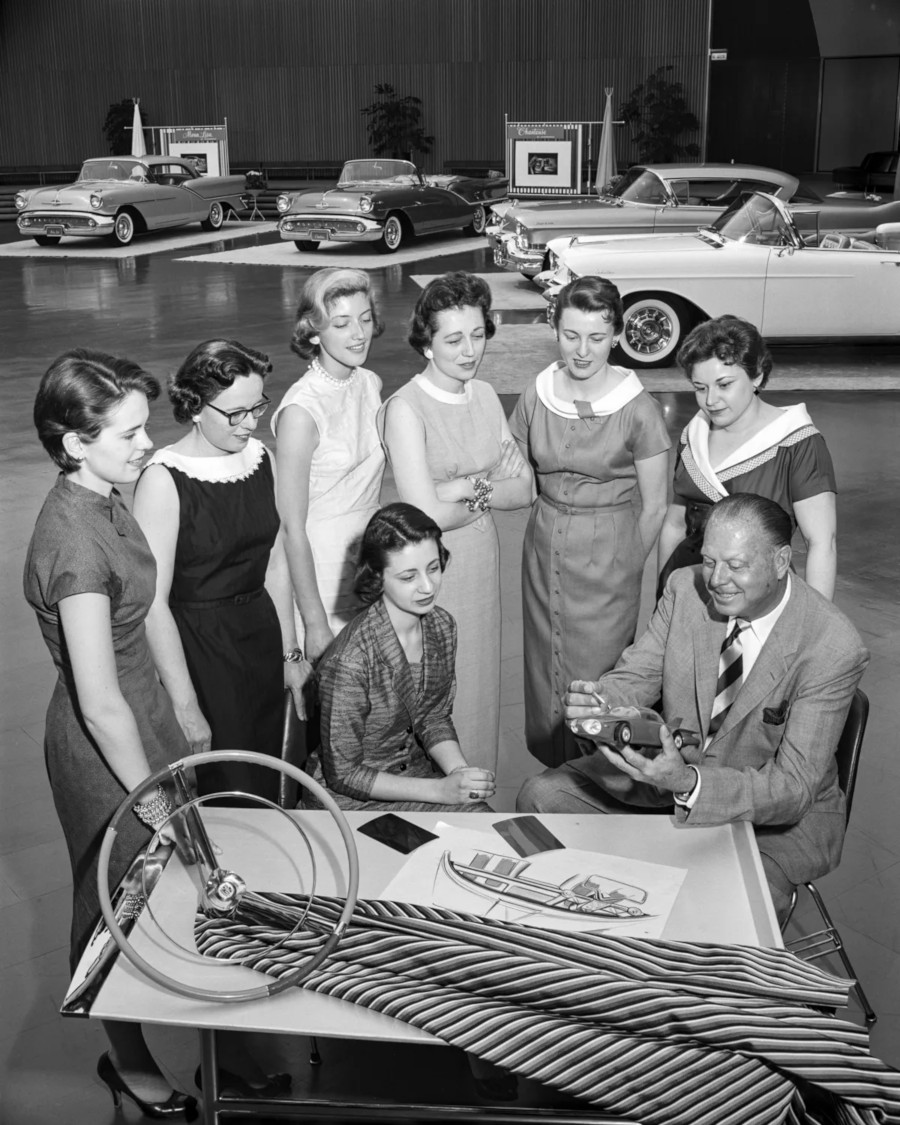 "The Damsels of Design" with Harley Earl (GM Media Archives)
I remember working on a project at the GM Tech Center many years ago that was going to include the Damsels of Design. I spoke to Jeanette Linder about her involvement with that group of talented designing women, and it was one of the most memorable stories I ever put together.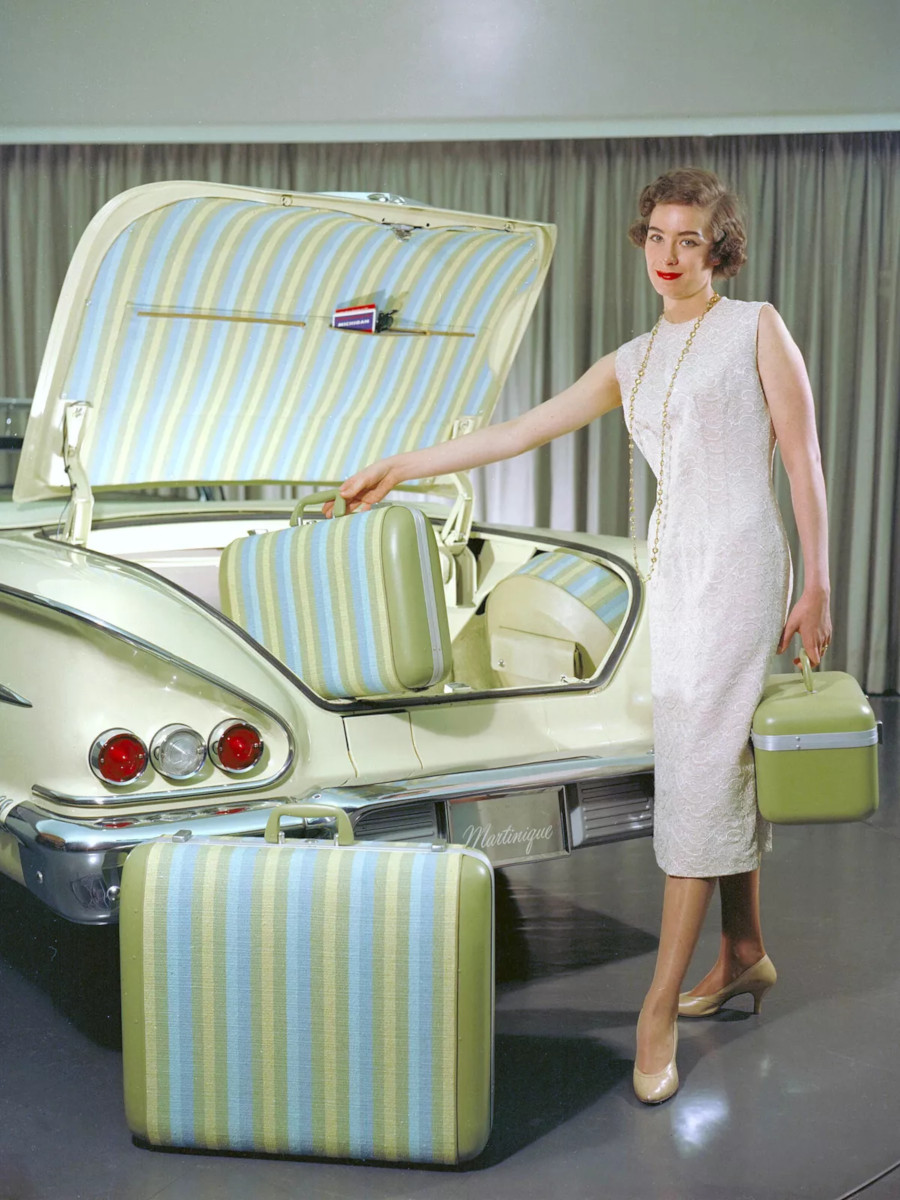 Jeanette Linder, one of the Damsels of Design (GM Media Archives)
In conclusion, women have made a difference in automotive design that will be part of our heritage for generations to come.
Bibliography
Frankman, Ellen & Raphael, T.J. "The Damsels of Design: The Women Who Changed Automotive History." WNYC, New York Public Radio's "The Takeaway." April 11, 2016.
Daniel, Tunde. "First Women in Car Design." Girls Loves Cars blog. January 3, 2016.