By Robert Tate, Automotive Historian and Researcher
Images Courtesy of GM Heritage Archives
Published 9.21.2022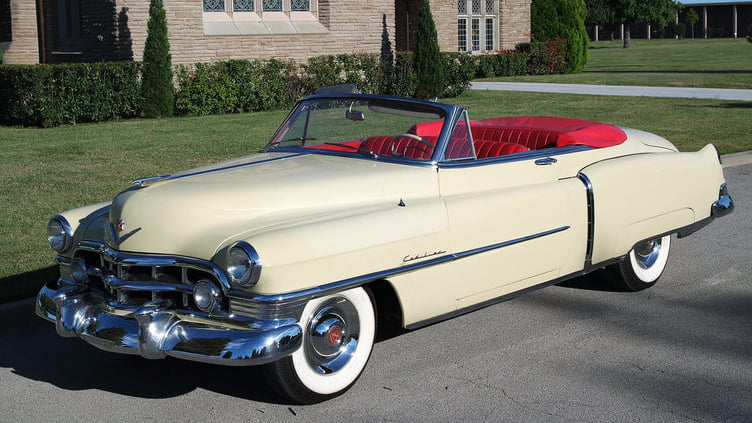 Throughout its history, the Cadillac brand has always maintained the tradition of being the standard of the world for automobiles. Their redesigned 1950 models were introduced in late 1949 and priced at $3,149. 1950 turned out to be a great year for Cadillac sales, since they offered great looking vehicles that the public really enjoyed and admired. In addition, Cadillac assembled its 100,000th vehicle of the year in Detroit at the Clark Avenue assembly plant on November 16, 1950, a milestone in the brand's history.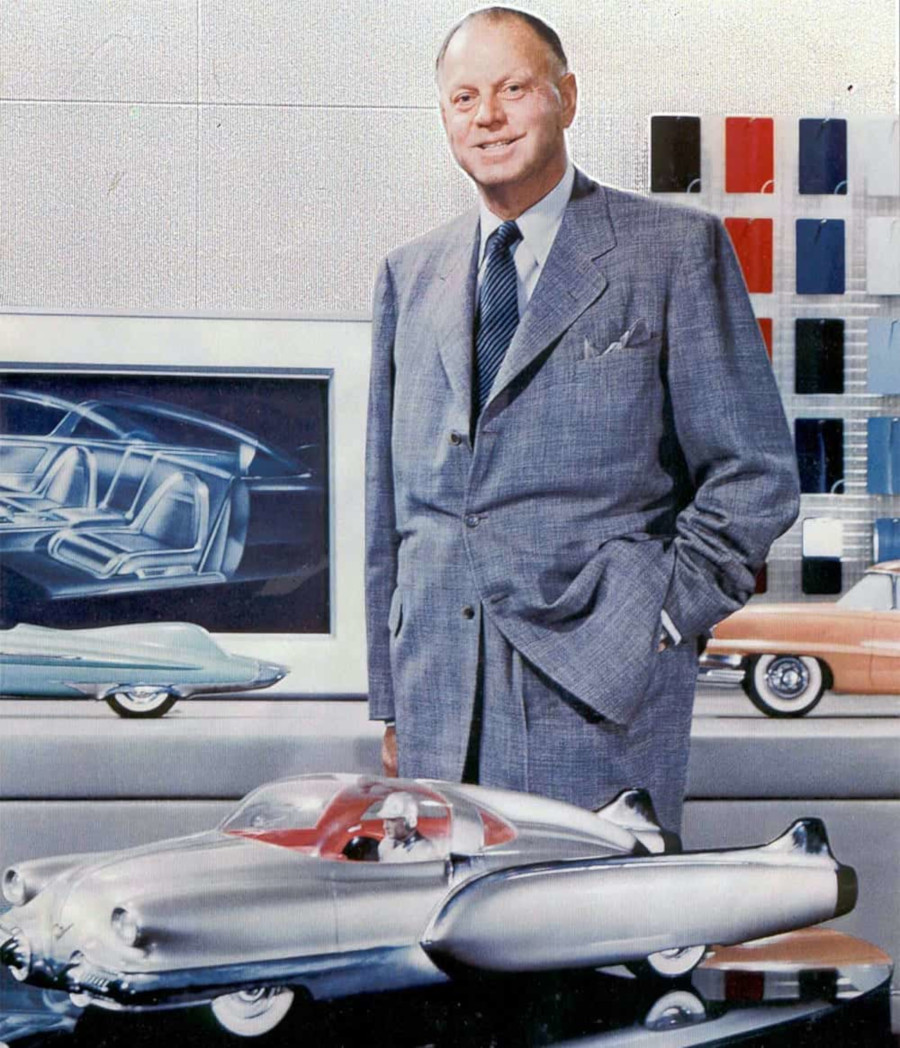 Harley Earl, first GM head of design (GM Heritage Archives)
The 1950 Cadillac models were styled under the direction of General Motors design chief Harley Earl and offered a look influenced by the Lockheed P-38 Lightning fighter plane design, which many drivers thoroughly enjoyed during the post-World War II era. For 1950, the models were much heavier in appearance, and the fastback design from the previous year's models was discontinued.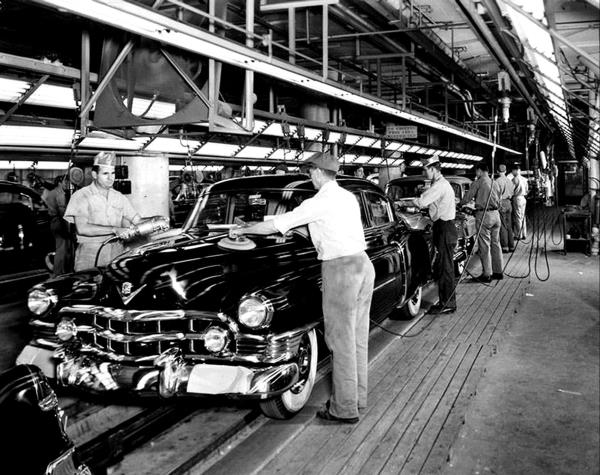 1950 Cadillac factory assembly (GM Heritage Archives)
Cadillac introduced nine models in four series on four wheelbases for 1950. The most popular 1950 Cadillac model was the Utilitarian Series 62 Four-Door Sedan, which also offered a completely restyled Series 62 convertible. It also featured a curved one-piece windshield and a massive front grille.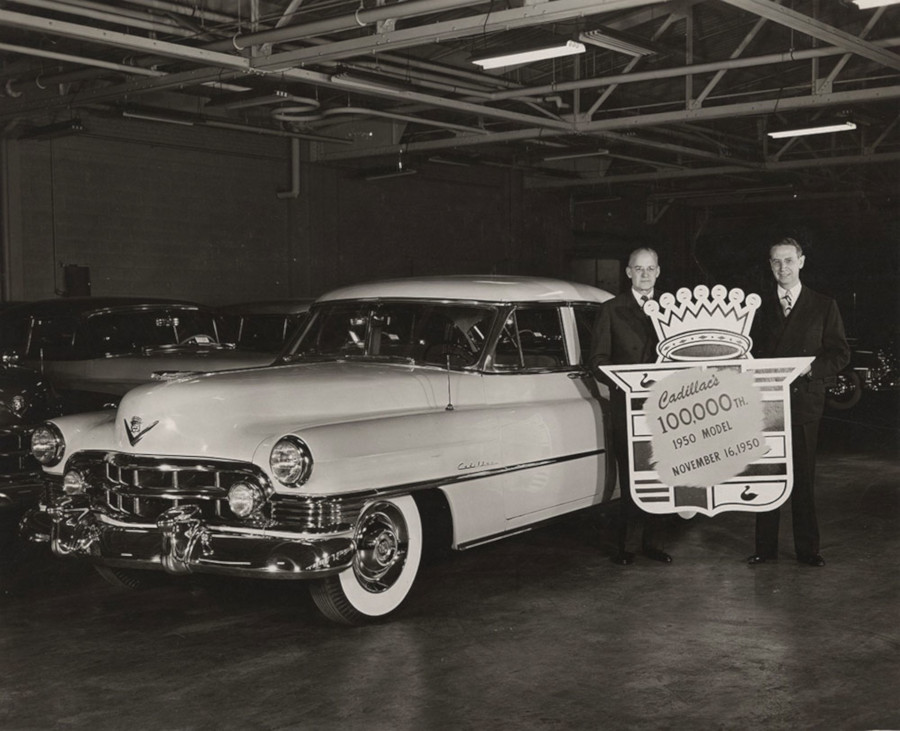 The 100,000th 1950 Cadillac on the assembly line
In 1950, Cadillac surpassed Packard in sales because of its style and quality. The design of the early 1950s Cadillac models was inspired by space age futuristic designs and Buck Rogers and were powered by a 160-horsepower engine. The models also featured a redesigned front suspension which included direct-action shock absorbers mounted inside the coil springs, providing a very comfortable ride. 1950 was also the year that Cadillac introduced its popular hardtop, which was available throughout the model year.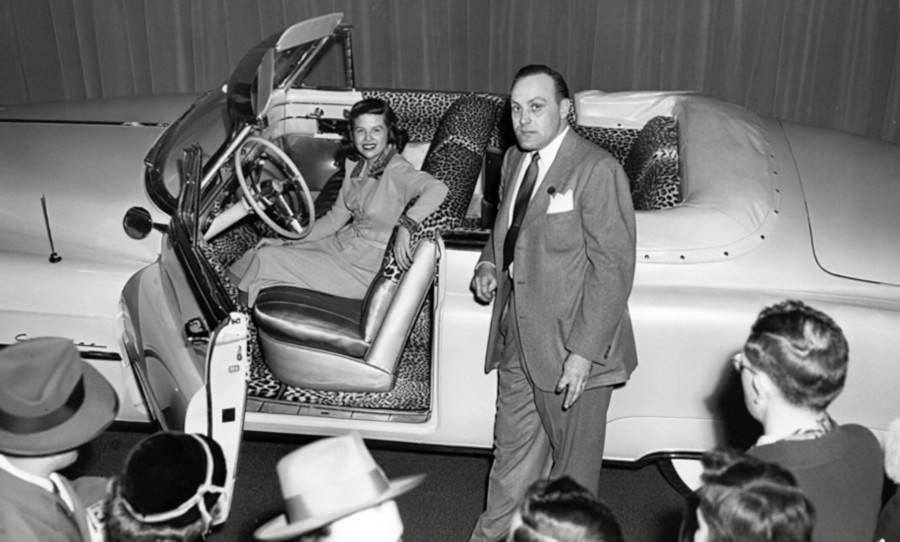 1950 Cadillac Debutante show car at the Waldorf Astoria (GM Heritage Archives)
The annual Motorama show at the Waldorf-Astoria Hotel in New York featured all the 1950 General Motors vehicles and a special model that represented Cadillac called the "Debutante." The Debutante was a Series 62 convertible trimmed in yellow.
In June 1950, more than 5,000 Fortune magazine readers voted Cadillac "best looking" and "best value," a great honor for GM. In addition, Cadillac entered several races in 1950, including the 24 Hours of LeMans, where they finished in 10th place.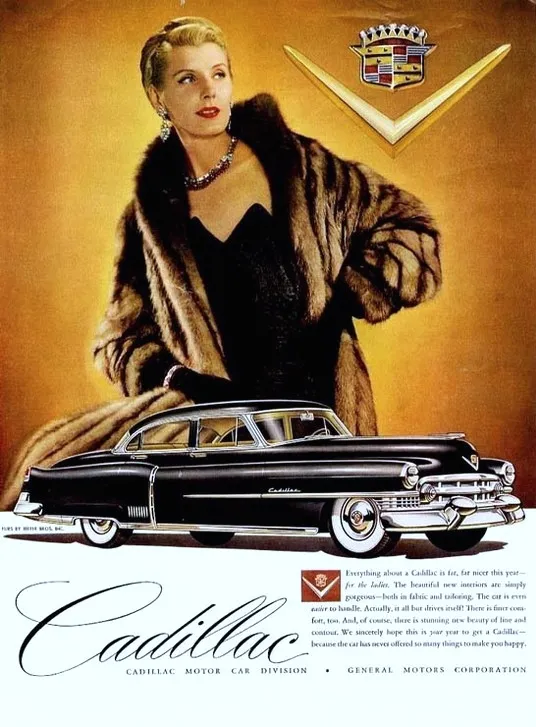 1950 Cadillac ad
The Cadillac Series 86 models for 1950 were designed for commercial business use. Some automotive historians have said that over 2,000 Series 86 commercial units were delivered to funeral homes and hospitals across the country. The Superior Coach Corp of Lima, Ohio was involved in the process of creating and manufacturing funeral cars using the Series 86 chassis, along with 1950 Cadillac ambulance models. The Cadillac Series 86 commercial vehicles offered a new 157-inch wheelbase, which became very popular.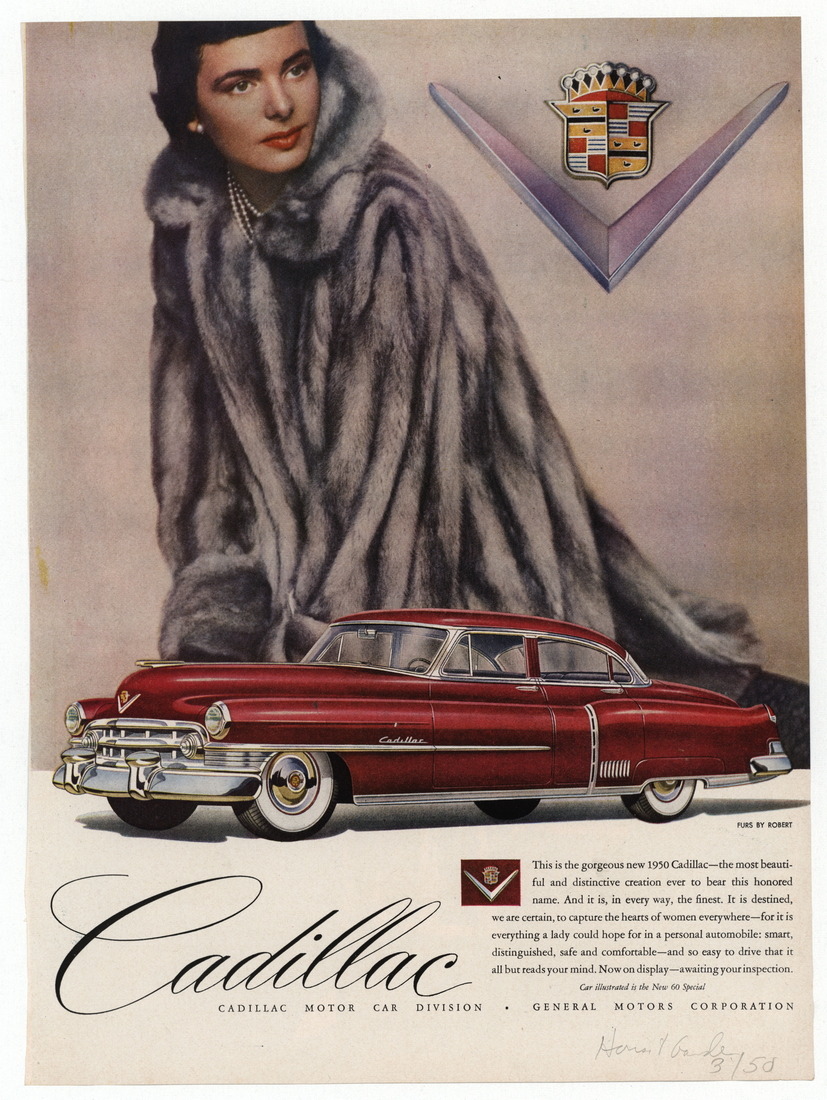 Another 1950 Cadillac ad
For many decades, Cadillac advertising focused on family valves and good mileage, safety and economy. In 1950, the brand's advertising made a concerted effort to appeal to luxury car buyers and promote Cadillac's tradition as the standard of the world. As part of this campaign, Cadillac often used women wearing furs to promote the newly designed Cadillac luxury models. Features like the restyled body, the one-piece windshield and round park-directional lights were also included in Cadillac's advertising in 1950.
1950 Cadillac 61 Coupe Model that raced at LeMans (Wallpaper.com)
In conclusion, the 1950 Cadillacs were a huge success. Today, these models are a part of Cadillac's history of excellence to be enjoyed by many generations to come.
Bibliography
McCall, Walter M.P. "80 Years of Cadillac LaSalle." Crestline Publishing, 1988.
Hendry, Maurice D. "Cadillac, Standard of the World: The Complete History." The Editors of Automobile Quarterly, 1979.
The Editors of Consumer Guide. "Cadillac Standard of Excellence, 1903-1980." Consumer Guide Magazine, July 1980.