By Jeffrey D. Brasie
Images Courtesy of Ralph Morey of Restorations Unlimited 2, Inc.
Published 9.14.2022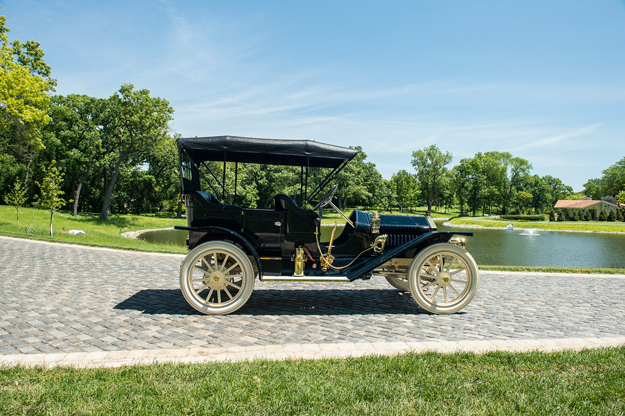 During the first two decades of the 1900s, vehicle manufacturers grew across the United States like an August corn field.
In Minneapolis, there was the Brasie Motor Truck Company; Buffalo offered the Thomas Flyer; Indianapolis developed the Cole Motor Car Company; in Wisconsin was the Milwaukee Automobile Company; and in Kansas City, there was Beggs Motor Car Company.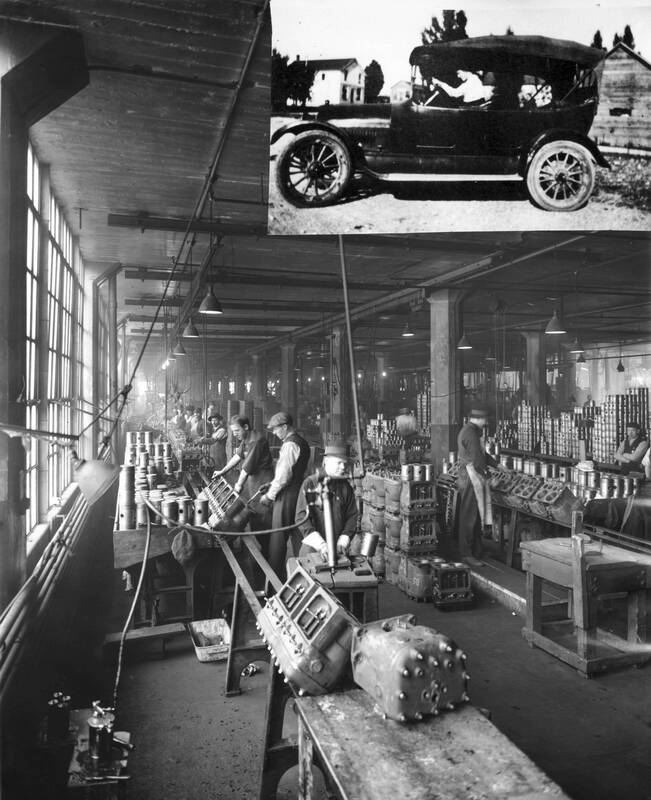 In almost all instances, these car and truck manufacturers' (along with hundreds of others) existence was short lived.
In Michigan's northeastern lower peninsula, an automobile manufacturing glimmer became a reality in 1910 with the Alpena Motor Car Company (AMCC). The company produced the Alpena Flyer.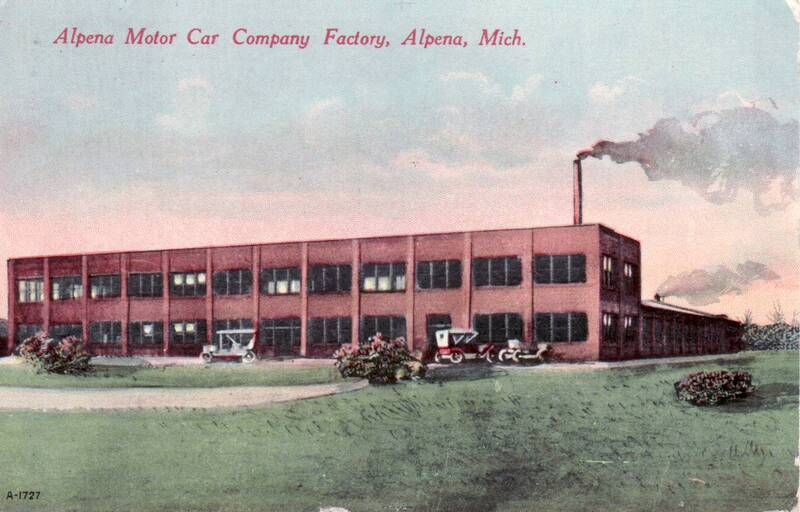 Alpena Flyer plant exterior
AMCC's articles of incorporation were filed on June 15, 2010. On July 11, ground was broken at 150 Elm Street for the manufacturing complex adjacent to the current Besser Concrete Manufacturing World Headquarters campus. Daniel Hanover was appointed AMCC president with a board of directors comprised of Alpena residents.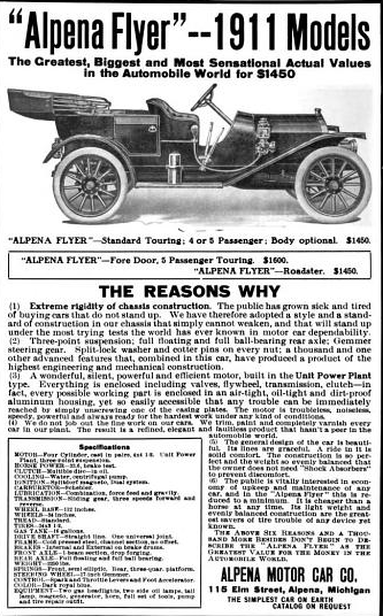 An advertisement for the Alpena Flyer
Later in 1910, the company acquired manufacturing and related equipment from the defunct Mt. Clemens, Michigan based Wolverine Motor Car Company. Research indicated before the factory was finished, a prototype Alpena Flyer was built at the machine shop of William C. French. When the manufacturing complex opened, AMCC projected annual production of 2,500 vehicles and employing up to 250.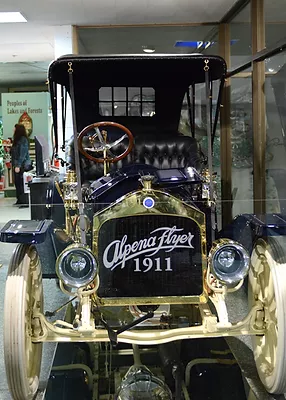 AMCC leadership manufactured various models of automobiles. By 1912, the vehicle lineup would include the Model J, a four-door touring vehicle which could accommodate four passengers; the Model F, a touring car offering seating for five; and the Model G, a roadster seating two. The Model F included a wider rear seat. Prices ranged from $1,450 to $1,600.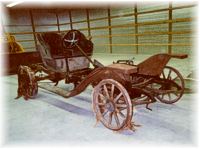 The Alpena Flyer at the start of restoration
Each automobile only appeared in a dark royal blue color and was powered by a four-cylinder Northway engine producing between 35 and 40 horsepower. A sales brochure stated the Alpena Flyer could reach a speed up to 60 mph. The transmission offered three forward gears and a reverse. The curb weight for the largest automobile was 2,250 pounds. Finally, the vehicles featured right hand steering, which was common at the time, and included electric lights, three oil body side lamps, two gas headlamps, and self-starting capability.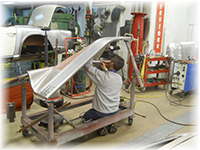 The restoration is underway.
AMCC leadership spent a considerable effort on advertising. According to a 1983 article in the Historical Society of Michigan's Chronicle magazine, the company used slogans including "Greatest Value for the Price," "The Highest Point of Mechanical Construction," and "So simple a child can operate it."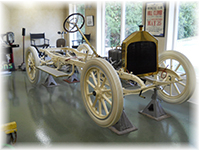 To appeal to the rural auto buying audience, AMCC stated, "It is cheaper than a horse at any time" and "It is the Simplest Car on Earth."
News articles from the Besser Museum of Northeast Michigan noted the Alpena Flyer appeared at numerous automobile shows, which included New York City and Winnipeg, Manitoba in Canada. The New York show profiled the Alpena Flyer as one of the ten best in the world.
By 1912, AMCC faced a significant lawsuit for patent infringement brought by the North American Vehicle Company alleging illegal use of a three–point suspension design. News accounts indicated AMCC offered a $450,000 settlement for not getting the rights to utilize the design.
The settlement caused a massive cash flow challenge for the company, and by February 1914, AMCC declared bankruptcy. According to news accounts, manufacturing equipment and assets were auctioned off to a Canadian company.
Subsequent revelations indicated AMCC had a difficult challenge in producing vehicles to meet consumer demand. Records showed only 450 to 500 vehicles were produced between 1910 and 1914, and AMCC employees only numbered 75.
A sole Alpena Flyer was located in the state of Washington by Alpena resident Ron Winter, former chief executive officer of Omni Metalcraft.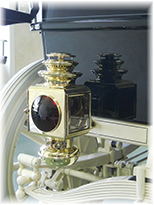 An Alpena Flyer tail light
In a 2014 story in the Alpena News, Winter said, "I took possession of the badly deteriorated car. I disassembled everything, cleaned each part and made sketches of all." Winter added it was a bare bones car with bushel baskets full of various parts. The Flyer's multiyear refurbishment was conducted by Restorations Unlimited 2, Inc. of Cary, Illinois.
The sole surviving Alpena Flyer was subsequently donated by Winter and is now on display at the Besser Museum of Northeast Michigan in Alpena.
"It is such an honor to be able to exhibit this part of Alpena's unique history," said museum executive director Chris Witulski to the Alpena News. "We would never been able to do this without the generosity of Ron Winter."
Jeffrey D. Brasie is a retired health care CEO who now writes historic feature stories and op-eds. He is a former Alpena resident and resides in suburban Detroit.
The Besser Museum for Northeast Michigan
Since 1966, the Besser Museum for Northeast Michigan has offered unique educational experiences within art, history, and science.
The multi-level museum offers fine art galleries, a historic village exhibit, the Great Lakes Fisheries Heritage exhibit, the First Peoples of Lakes and Forest exhibit, a state-of-the-art planetarium, the Foucault swinging pendulum, the Devonian fossil park, and an extensive wildlife exhibit.
The museum is located on Johnson Street adjacent to the Alpena Community College campus. Additional information can be found at www.bessermuseum.org or by calling 989.356.2202.