By Robert Tate, Automotive Historian and Researcher
Images courtesy of Ford Archives, GM Archives, Studebaker Museum and Chrysler Archives
Published 8.10.2022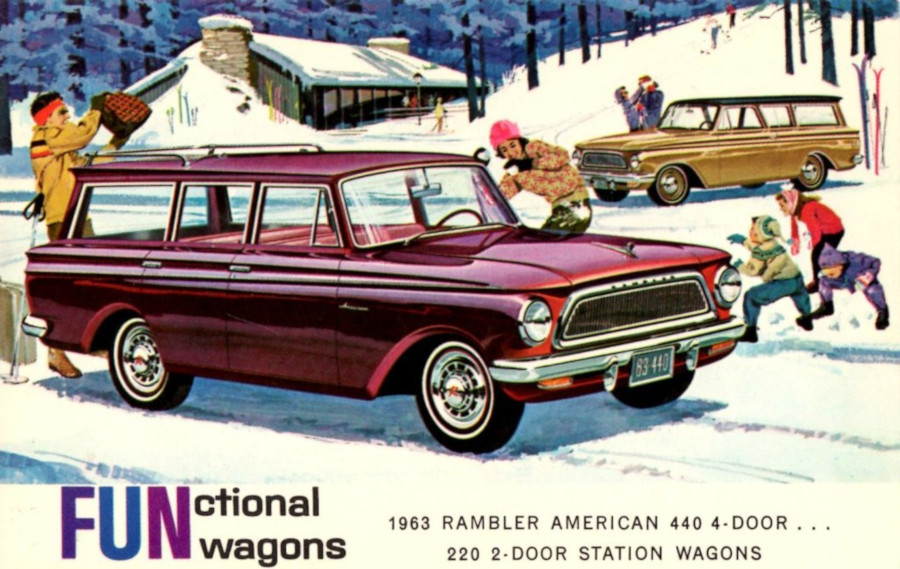 The other day, I heard a song I haven't heard in many years by the British musical duo Chad & Jeremy entitled "Yesterday's Gone." I remember as a kid, walking to my elementary school looking at all of the great shiny new automobiles parked on the Detroit city streets. As I continued walking, I heard a driver listening on his car radio to "Yesterdays Gone" by Chad & Jeremy. The driver patiently waited for me to cross the street in his 1963 Rambler American station wagon.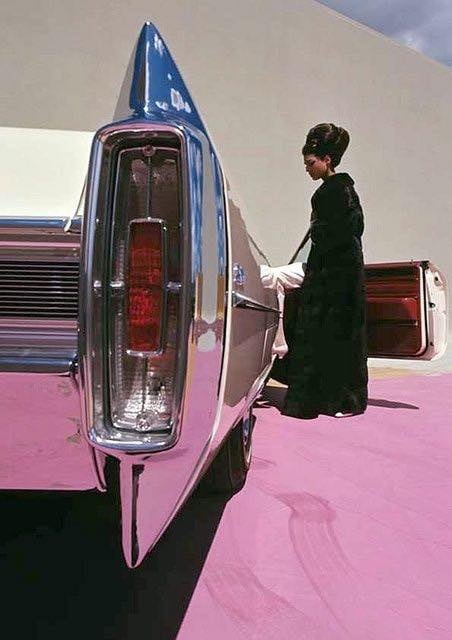 Rear end of a late 1960s Cadillac (GM Media Archives)
This was an era in our automotive history when the occasion of a family purchasing a new vehicle was able to bring all the neighbors outside to make favorable comments about the new family car. It was the best of times for the automakers and the community. During the 1950s and 1960s, thousands of automobiles were manufactured for the consumer market.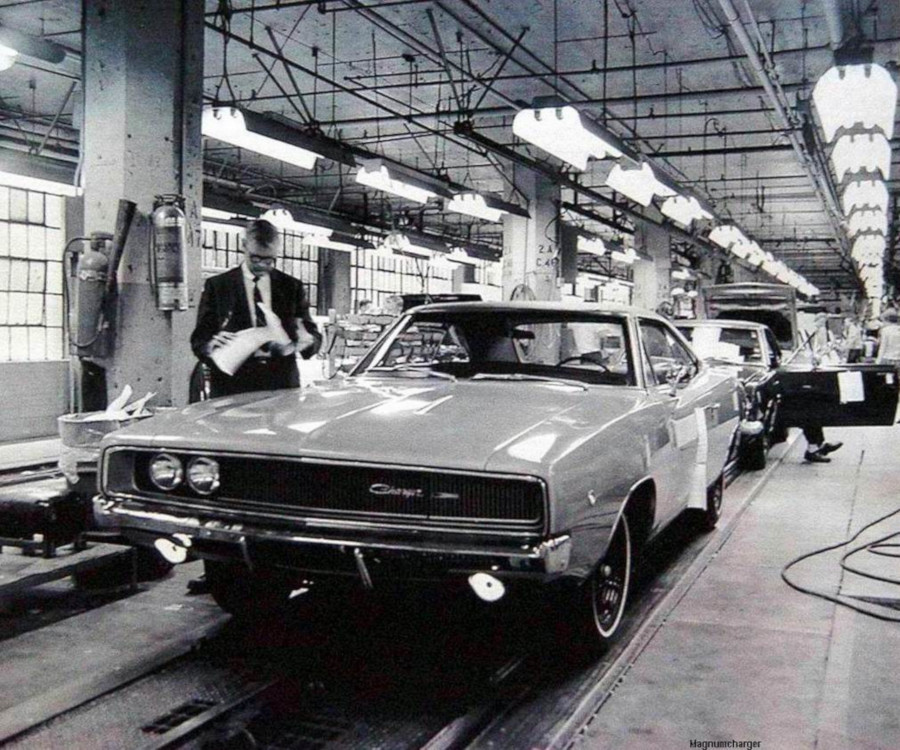 A 1968 Dodge Charger at Hamtramck Assembly (Chrysler Archives)
Many historians have said that the automobile helped create a convenient way to move transportation forward. From the huge fins of the 1950s to early 1960s muscle cars, the post-World War II auto industry created and provided many jobs for hundreds of thousands of men and women who helped shape the American Dream and lived it.
1962 Final Studebaker Factory Assembly (Studebaker Museum)
The automotive manufacturing process for many years included many steps for building and selling great products. From designing a vehicle to the tooling up process with stamping dies, these were all part of the process for making a great new automobile. During the 1950s and 1960s, assembly lines did not have automation or computer systems, as American labor was used to do the many jobs. Various components were manufactured in different places and then brought together for final assembly by the men and women along the production line. These factory workers helped put America on wheels and moved this country forward.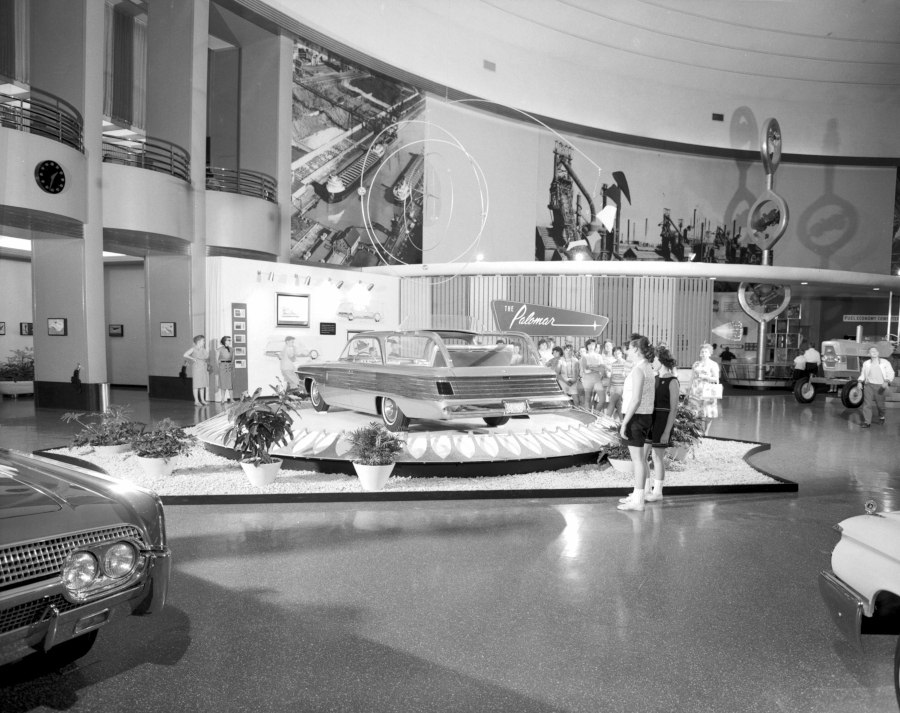 Ford Rotunda interior, circa 1961 (Ford Motor Company Archives)
During the 1950s and 1960s, Detroit had many great automotive dealerships like Stark Hickey Ford. I remember when the new 1964 Ford models were introduced to the public, and my mother was thinking about purchasing a new Ford. The first model the salesman showed her was a new 1964 Ford Galaxie 500. I remember sitting in the back seat of the Galaxie 500 hardtop automobile as my mother test drove it around the city. I was hoping my mother would buy the Galaxie 500, however, she purchased a Ford Falcon instead.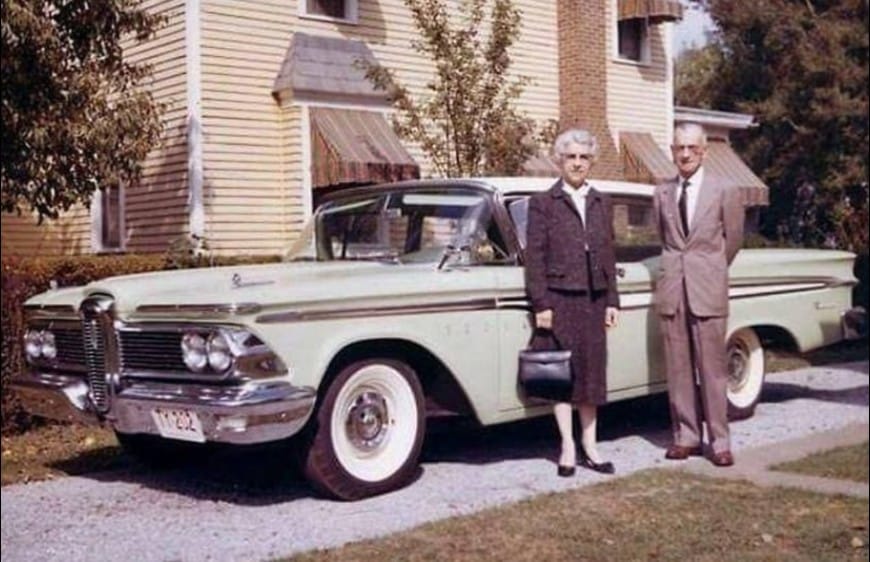 Couple standing with their 1959 Edsel
One of the most spectacular automotive places in the world to visit in Dearborn, Michigan was the Ford Rotunda. It was a place where the Ford family could show off and introduce their great looking new models. Between 1936 and 1962, the Ford Rotunda was the place to go and see the new, exciting vehicles. It was also Ford Motor Company's major tourist attraction, and many people still have fond memories of visiting there.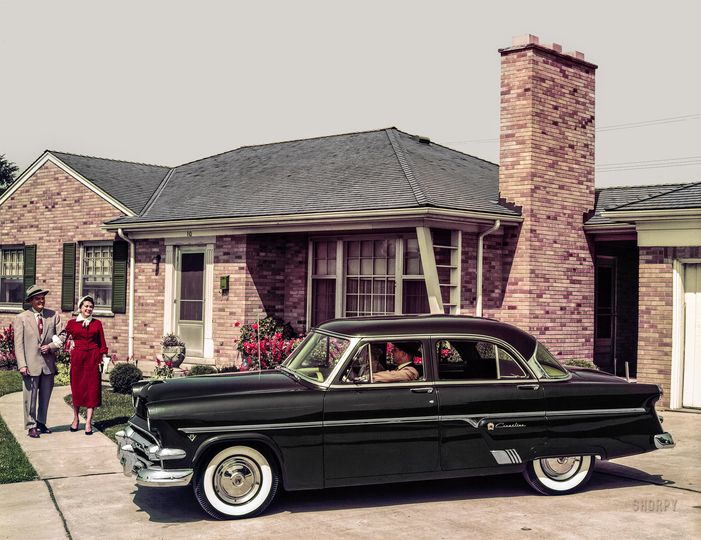 A family with their 1954 Ford (Ford Motor Company Archives)
Often when you look at old family albums, you will see many older family members standing next to their automobiles. In the good old days, that was a proud moment for a person to stand next to their new car. For example, that favorite grandparent standing next to their Edsel or everyone taking a family picture at a gas station was sometimes a most memorable time in our family. I remember my mother telling me stories about when she first drove her 1952 Hudson on the Edsel Ford Freeway (I-94) during the early days of her traveling.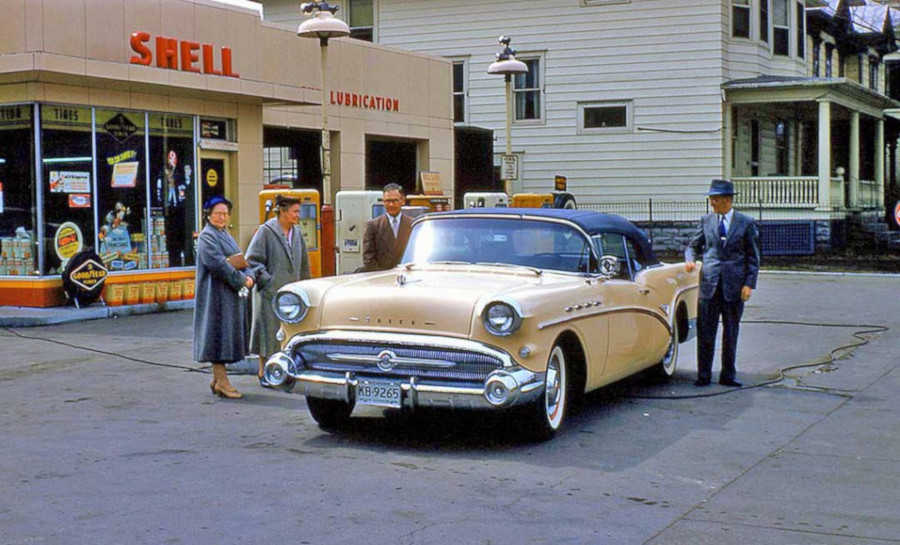 A 1957 Buick Convertible at a Shell station
In conclusion, you don't see many family members today standing next to their new automobiles to take photographs, or all the neighbors coming out to see your new purchase. Computers and robots have replaced many of assembly line workers, and some automobile assembly requires a chip as part of its construction. However, I still have fond memories of the past and remember the lyrics from Chad & Jeremy's song that can perhaps relate to this story: "We had such happiness together. I can't believe it's gone forever."
Bibliography
Sorensen, Lorin. "Ford's Golden Fifties." Silverado Publishing, 1997.
Hebb, David. "Visual Industry Series Cars in Pictures." Sterling Publishing Company, Inc., New York, 1965.
The Auto Editors of Consumer Guide. "Automobiles of the 60's." Publications International Ltd.