by A. Wayne Ferens
Images from the Indianapolis Motor Speedway, Wayne Ferens Collection
Published 4.27.2022
The Indianapolis 500 auto race has used a pace car every year since 1911. Carl G. Fisher, the founder of the Indianapolis Motor Speedway, is credited with the concept of the "rolling start" led by a pace car in the interest of safety. Nearly all races at the time, including Formula One, utilized a standing start.
The pace car is used primarily to lead the assembled starting grid around the track and later for "warm up" laps until the officials release the field to start the race. Secondly, during yellow flag caution periods, the pace car re-enters the track and picks up the leader, bunching the field up at a reduced speed until the race is resumed. Pace laps and caution period rules were modified over the years to include the use of the pace car.
Since the opening of the track, auto manufacturers have been invited by the Indianapolis Motor Speedway to provide a pace car. It is a great marketing opportunity to showcase a company's latest creation in front of thousands of spectators. The official "on-track" pace cars were generally modified from their street legal counterparts, and as race car speeds increased so did the modifications, which came to include safety and performance items like strobe lights, multi-point harnesses, and roll bars -- as well as engine, suspension and tire modifications.
Ford Motor Company was first invited to provide a pace car for the 20th running of the race in 1932. Invitations were also extended to notable figures in the automobile industry, auto racing and former winners of the race. Ford provided a Lincoln KB Murphy Model 248 (pictured above) two-door Convertible Roadster powered by a V12, 448 cu.in. 150 horsepower engine that was destined to power all Lincolns from 1933 to 1948. This powerful luxury car was driven by Edsel Ford (pacemaker) to start the race.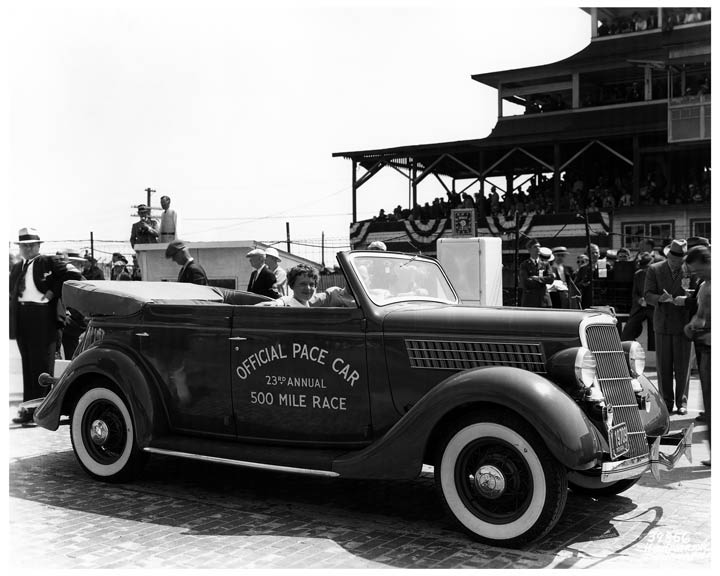 The 1935 Ford Pace Car
Ford was invited back in 1935 and provided a full-size Ford Model 48 Phaeton Convertible Sedan with a 221 cu.in. flat-head V8 rated at 85 horsepower at 3800 rpm. It had a three-speed transmission with a Columbia two-speed rear axle. It was one of the most expensive Ford models you could buy that year. The Ford pace car was driven by race driver Harry Mack and the honorary referee that year -- aviator Amelia Earhart. Ford also had four Miller-Ford V8 Indy Specials entered in the 1935 race.
The Speedway was closed in late 1941 by then owner and president Eddie Rickenbacker when the United States entered World War II. The race would not be held from 1942 to 1945. Wilbur Shaw, testing tires for Firestone in 1944, was shocked at the Speedway's deterioration: grandstands were falling down and weeds had sprouted between the track's bricks.
Eddie Rickenbacker lost interest and sold the track to Tony Hulman in November 1945, and, after renovations, the Indy 500 was back in business for the 1946 Memorial Day race to record crowds. Due to post war shortages in material and manpower, it was decided to keep the rules the same as most, if not all, cars would be reused from before the war. Few if any new cars would be built and made available for the race on such short notice.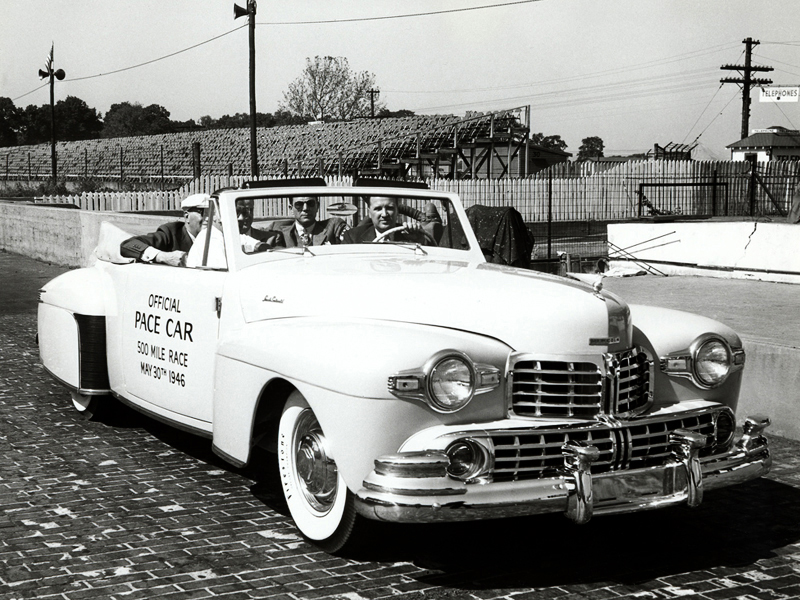 The 1946 Lincoln Continental Cabriolet Pace Car, driven by Henry Ford II
Ford, back to producing cars like most manufacturers, was offering warmed over 1942 models, and was again invited to participate with a pace car, providing a first generation 1946 Lincoln Continental Cabriolet Model H painted in a cream-color with maroon leather interior powered by a 292 cu.in. L-head, 125 horsepower V12 with overdrive. The pacemaker (driver) of the pace car was the company's new president, Henry Ford II. It was the last Indy pace car powered by more than eight cylinders.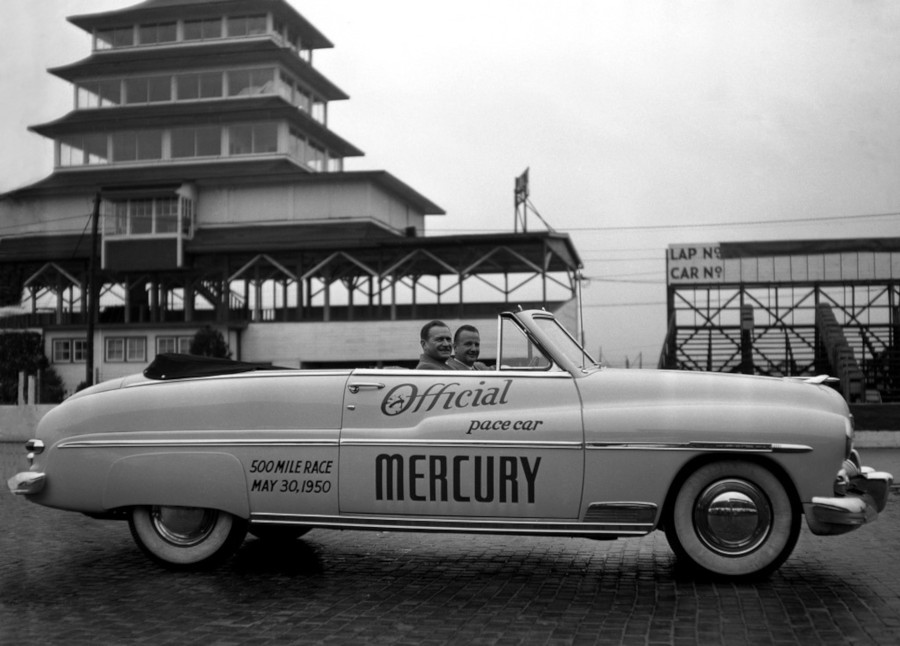 The 34th edition of the race took place at the Speedway on Tuesday, May 30, 1950. Ford was again represented by a 1950 Mercury Monterey pace car (pictured above) powered by its hot 255 cu.in. flat-head V8 rated at 110 horsepower with a three-speed manual transmission. The pacemaker driving the light PC yellow Mercury convertible was Benson Ford. In 1950, Mercury had a milestone year celebrating its one millionth car produced and sold about 300,000 units.
Over the years, Ford would be represented at the Speedway with eight more pace cars that included both Ford and Mercury popular models. The following is a list of those pace cars, the pacemakers that opened the race and the assigned driver during caution periods: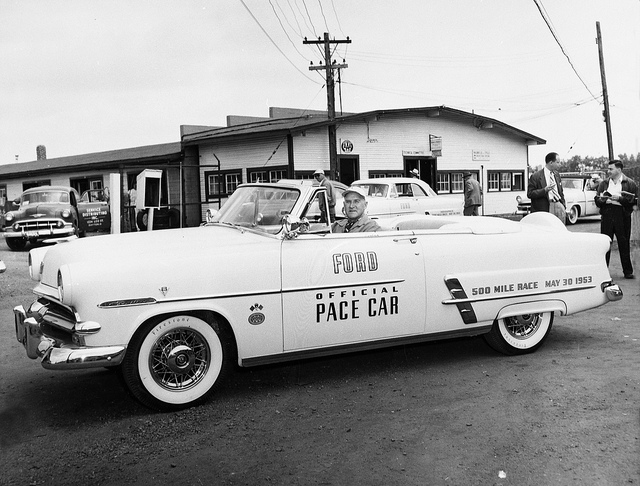 A 1953 Ford Crestline Sunliner
· 1953 Ford Crestline Sunliner, driven by William Clay Ford Sr. Ford Motor Company celebrated its 50th anniversary with this special edition pace car with a PC white and gold color scheme and special graphics. It featured the venerable 239 cu. in. flathead eight fitted with a 2v Holley Model 2100 carburetor and two-speed Ford-O-Matic transmission. This was the first Indy 500 pace car to be replicated by a manufacturer. Henry Ford II had a limited edition of 2000 replicas built with a two-speed automatic transmission for sale to the public.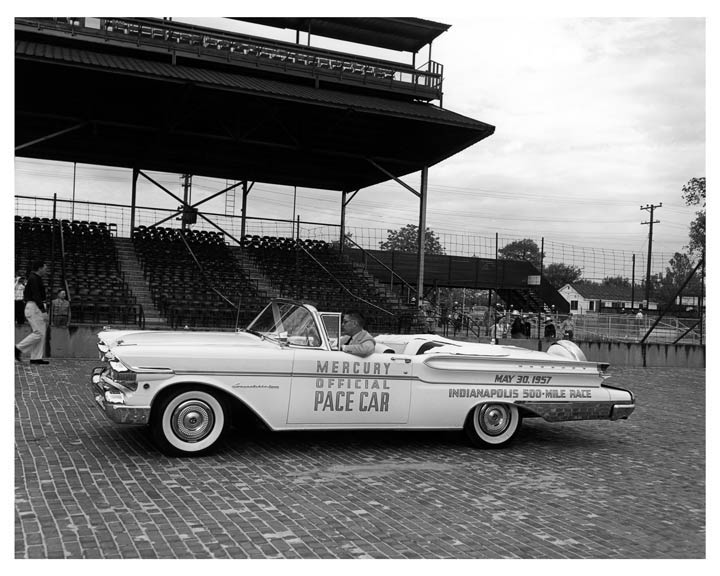 The 1957 Mercury Turnpike Cruiser
· 1957 Mercury Turnpike Cruiser, driven by Francis C. "Jack" Reith, General Manager of the Mercury Division. Two PC yellow track cars made powered by a 368 cu. in. OHV V8 rated at 290 hp with 2-speed automatic. The 4125-pound ragtop was the rarest Mercury - with just 1265 built -- and the most expensive at $4103.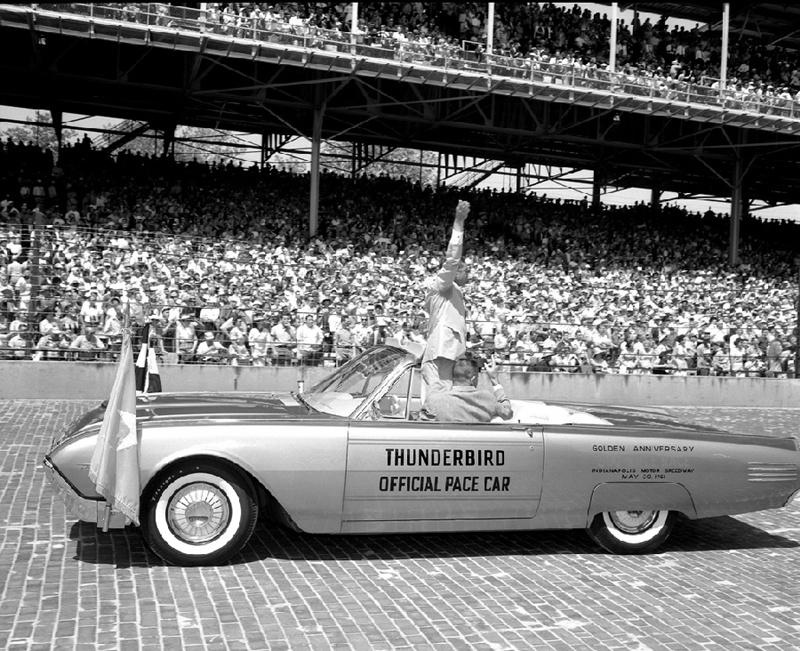 The 1961 Ford Thunderbird Pace Car
· 1961 Ford Thunderbird, driven by Sam Hanks. Two track cars and 32 festival cars made. The cars were powered by a 390 cu.in. 300 Horsepower OHV V8 engine with a Holley 4-bbl carburetor and a three-speed Ford-O-Matic transmission.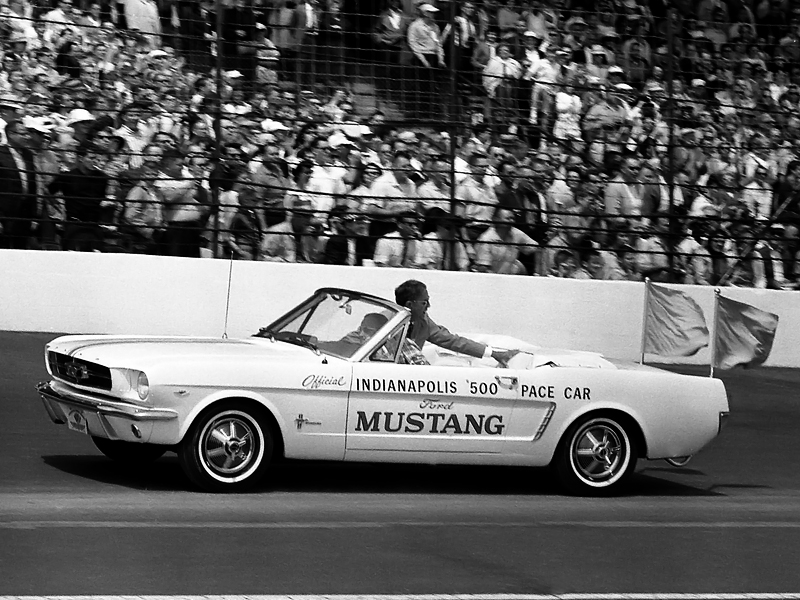 The 1964 Ford Mustang Pace Car
· 1964 Ford Mustang, driven by Benson Ford. Three pearl white convertible track cars, 33 Wimbledon white festival convertible cars and 200 hardtop promo cars were made. The track cars had an E&F specially prepared 'K'-code 289 cu. in. OHV V8 engine with a Toploader four-speed manual transmission. At the rear was a limited slip differential. The interior had white front bucket seats with blue carpet & trim and red seat belts. The Mustang was capable of speeds of over 140 mph.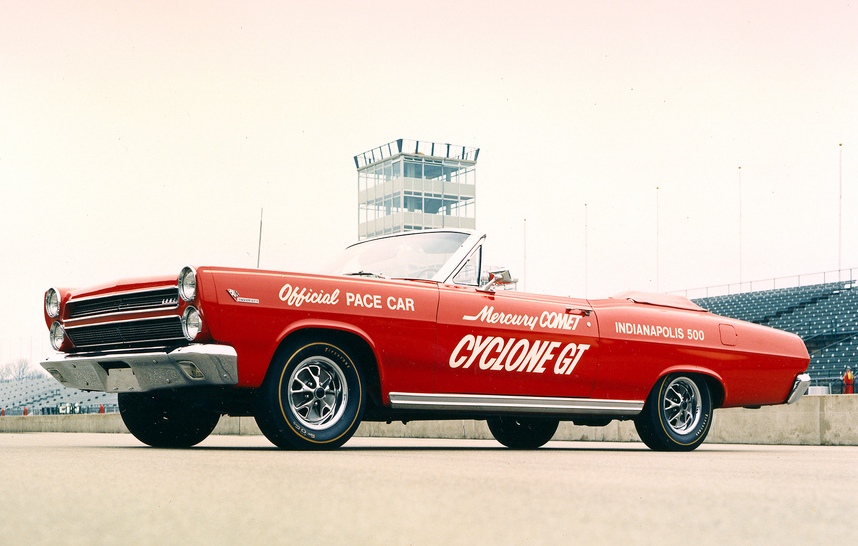 The 1966 Mercury Comet Cyclone GT Pace Car
· 1966 Mercury Comet Cyclone GT, driven by Benson Ford. Three 427 cu.in. powered track cars, 100 festival cars with 390 cu. in. 335 hp V8s with the sturdy C-6 automatic transmission and 3:25 differential were made for the race. All were cardinal red with parchment-toned interior. Only 33 were commissioned to be "parade cars" and were specially equipped with rear frame-mounted flag holders.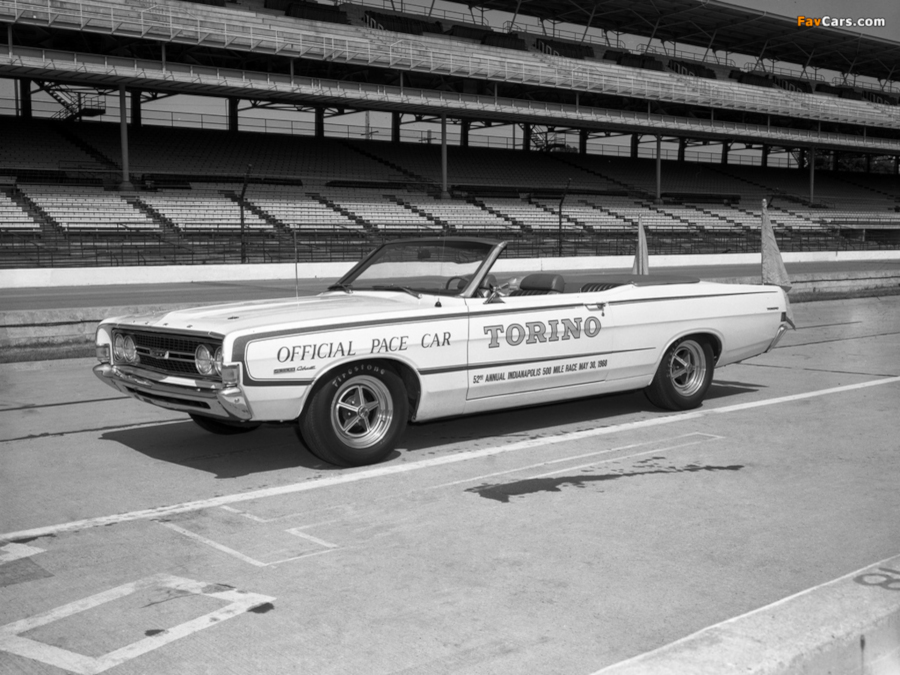 The 1968 Ford Torino GT Pace Car in Wimbleton white
· 1968 Ford Torino GT, driven by Benson Ford. Two track cars with 428 cu.in. V8 engines and C-6 automatic transmissions, and 157 Wimbledon white Indy PC editions were made and, of those, 12 were built with the 390 V8. The others were equipped with the Ford 5.0L V8 engine.
The 1979 Ford Mustang Pace Car
· 1979 Ford Mustang driven prior to the race by Jackie Stewart and Jim Rathmann during the race. Three track cars were made and 10,478 replicas were produced. The track cars had a modified 302 cu.in. OHV V8 and a C-4 select shift automatic transmission. The major body modification was the installation of a special T-roof.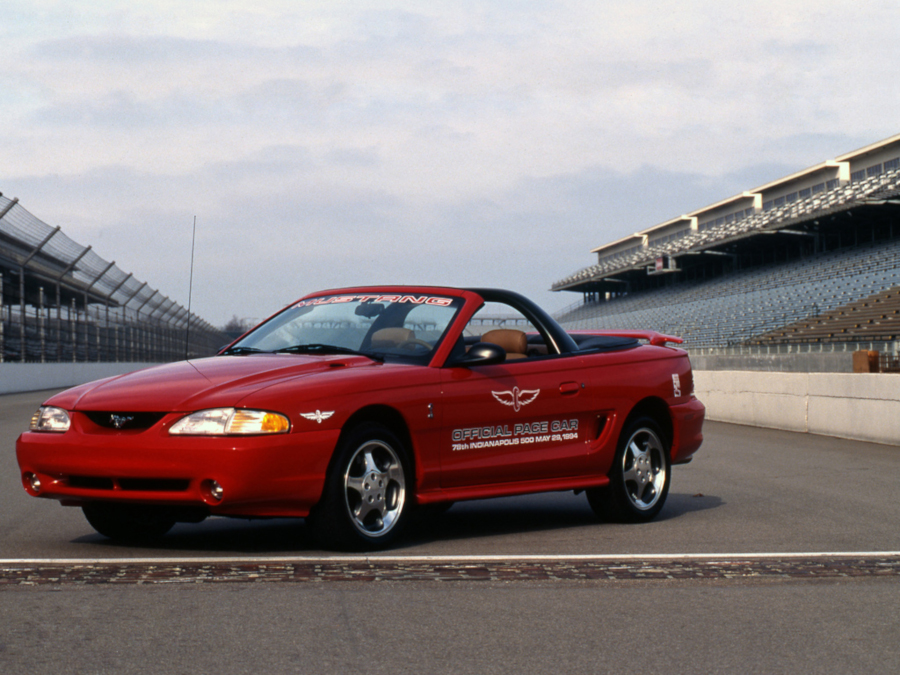 The 1994 Ford Mustang Cobra Pace Car
· 1994 Ford Mustang Cobra driven prior to the race by Parnelli Jones and Don Bailey during the race. This was the third Mustang to pace the Indy 500 and was powered by Ford's SVO 5.0L V8 engine that produced 240 horsepower. 1,000 replicas of the Rio red-and-tan leather convertibles were produced.
Starting in the mid-1950s, other manufacturers who provided the official pace car started selling replica pace cars to the public. These special edition Indy replicas would carry the original pace car color as well as the official "Indy 500" decals. A performance package upgrade may have been included as well.