By Robert Tate, Automotive Historian and Researcher
Images Courtesy of the Ford Motor Company Archives, GM Media Archives, and Chrysler Archives
Published 11.3.2021
1900s Mack Truck (Mack Truck Archives)
For more than 100 years, the American auto industry has produced a variety of trucks. During the early days, bad roads and severe weather conditions created serious challenges for drivers, however, American trucks have always provided great service.
Jack and Gus Mack founded the Mack Brothers Company in 1900 in Brooklyn, New York. They manufactured their first truck model in 1907. The company's branding with its signature bulldog went on to become iconic over the years, and Mack trucks are still made today under the ownership of the Volvo Group.
1918 Ford Model TT one ton stake bed truck (Ford Motor Company Archives)
The Ford Motor Company introduced its first truck model on July 27, 1917, featuring a one-ton chassis. On a historical note, Ford built a total of 5,745 military ambulances for the U. S. Army Medical Corps during World War I utilizing the popular Model T chassis. The early Ford trucks also used the foul weather apron at the cowl for weather protection. The truck pictured is a 1918 Ford Model TT with a stake body for the company's internal use. The model sold for $600 and a total of 41,725 units were manufactured. By the 1920s, Ford trucks became safer and more powerful as new technology was introduced.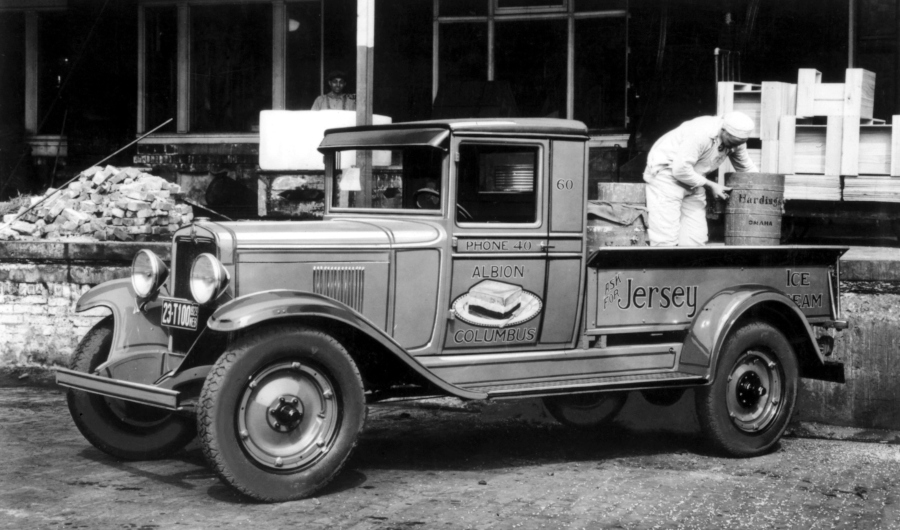 1929 Chevrolet Truck (GM Media Archives)
The 1929 Chevrolet half-light delivery model was a great looking truck. It came with an all-steel body and a six cylinder engine that many drivers admired. Besides just adding pistons, Chevrolet designed a new and much stronger crankshaft. In 1929, Chevrolet also worked with the Geneva Body Co. of New York to develop a line of great looking panel bodies for the AC and LQ truck series, which offered load space of 98 inches long and was great for many merchants. These trucks were purchased by many flower shops, stores and other business owners.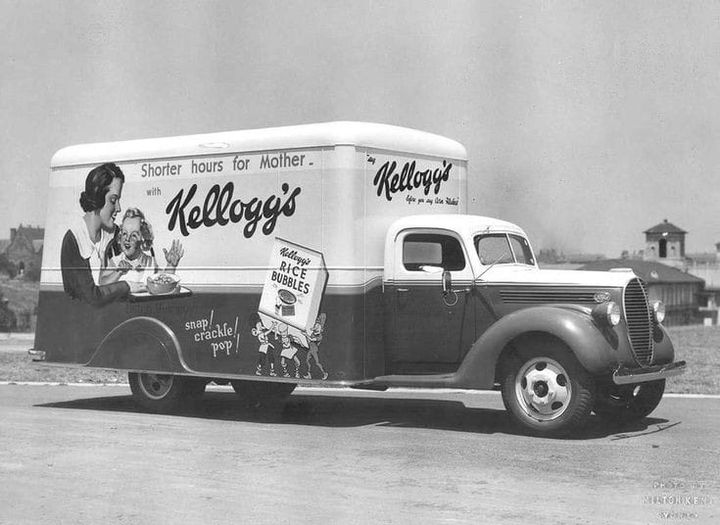 1939 Ford Truck with Kellogg's image (Ford Motor Company Archives)
In 1939, Ford made news by using hydraulic brakes on their truck models. As the Great Depression neared its end, Ford trucks were still very popular, and companies like Kellogg's used Ford trucks for their fleets delivering products around the country.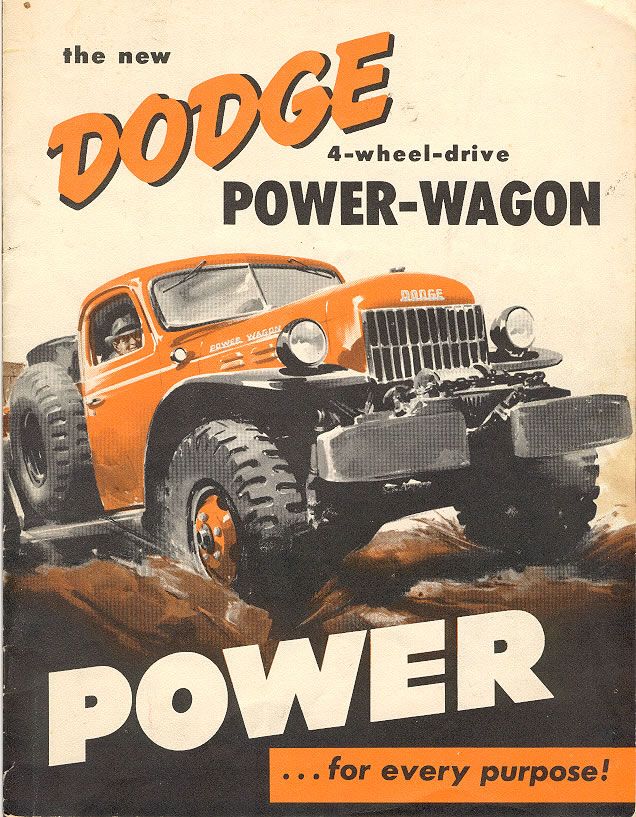 1947 Dodge Power Wagon ad (Chrysler Archives)
The Dodge Power Wagon was a four-wheel medium duty drive truck model that still has a strong following even today. The first models rolled off the assembly line in 1945 and were first used with the war effort. Thomas A. McPherson, who wrote "The Dodge Story," said this about the Dodge Power trucks: "The great dependability and durability of the military light version of the Dodge truck was revived for civilian use in the form of the all-new Dodge Power Wagons. First offered with the 1946 models, the new Power Wagon featured four-wheel drive with eight forward and two reverse speeds."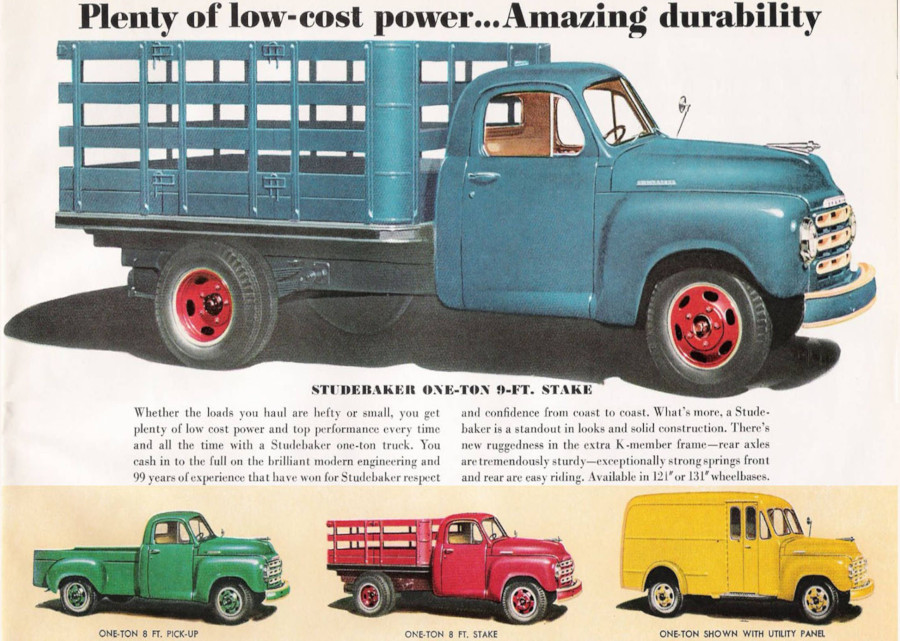 1950s Studebaker truck ad (Studebaker Archives)
The Studebaker Company always had a great reputation for selling great and dependable trucks. The 1950s brought many changes in design and engineering after the war. Studebaker introduced a truck called the M, which was the company's first attempt at a light duty truck which became popular with the buying public. Among the best-looking Studebaker trucks of the 1950s were the 2R models, which were introduced for the 1949 model year. This program was developed by the company's chief truck engineer Russell Mackenzie. Studebaker merged with Packard in 1954.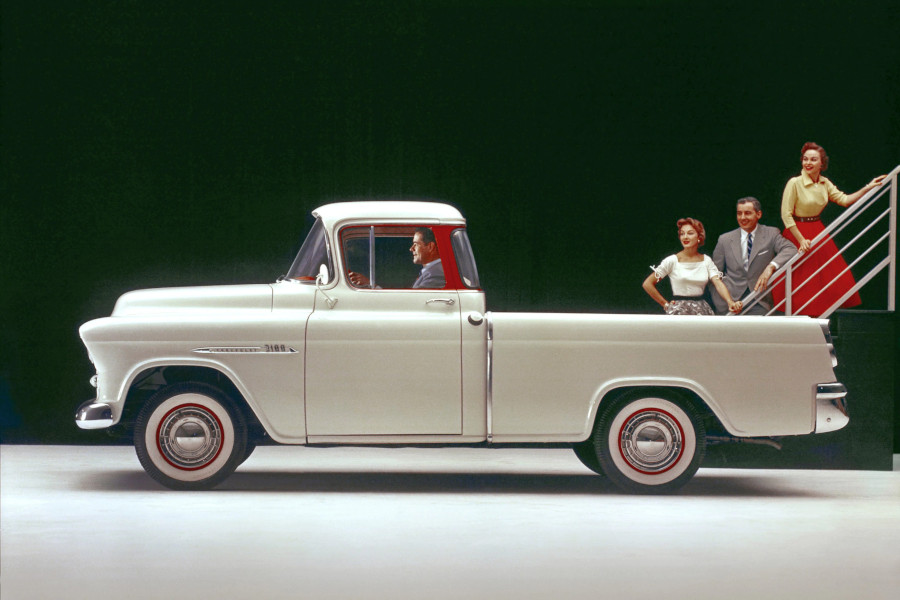 1955 Chevrolet Cameo carrier (GM Media Archives)
General Motors in 1955 offered the public one of the greatest designed truck models of all time, the 1955 Chevrolet Cameo Carrier, the brainchild of Chuck Jordan of GM's design staff. The model was a ½ ton pickup with a full-width body, featuring chrome bumpers, Chevy Bel Air hubcaps and a popular wrap-around rear window. The 1955 Cameo Carrier was a great looking light duty truck designed with the flair of a passenger car. The model's manufacturing production was 10,321 units that year.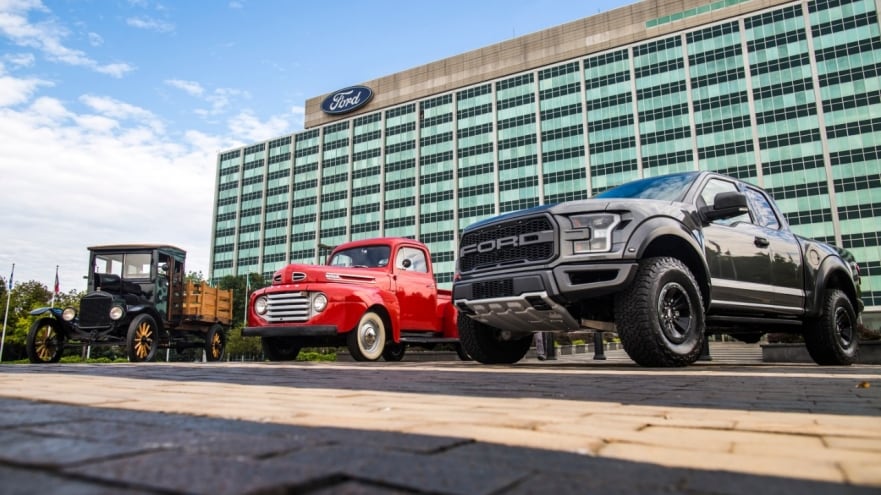 2017 Ford Truck Celebration (Ford Motor Company Archives)
Finally, Ford celebrated 100 years of leadership, innovation and durability for its iconic trucks in 2017. From the Ford Model TT that began their rich history to the new Ford F series lineup, the display pictured took place on July 27, 2017.
Bibliography
Burness, Tad. "Ultimate Truck & Van Spotter's Guide 1925-1990." Krause Publication, 2001.
Dammann, George H. "Sixty Years of Chevrolet." Crestline Publishing, 1972.
McPherson, Thomas A. "The Dodge Story." Crestline Publishing, 1975.
Wagner, Jim. "Ford Trucks Since 1906." Crestline Publishing, 1978.
Hall, Asa E., and Langworth, Richard M. "The Studebaker Century: A National Heritage."
Dammann, George H. "Sixty Years of Chevrolet." Crestline Publishing, 1972.