by A. Wayne Ferens
Photos Courtesy of the Wayne Ferens Collection, GM Media Archives and Ford Motor Company
Published 8.25.2021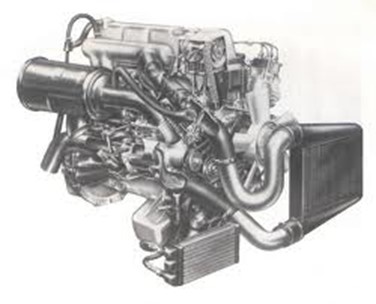 1938 Saurer turbo diesel engine (Wayne Ferens Collection)
The internal combustion engine has been the primary source of power for the automobile since the Benz Motorwagon was first shown to the public in November 1886. Key concerns for all engineers involved in the development of the internal combustion engine have always been displacement, efficiency, fuel economy and performance. One such talent was Swiss engineer Alfred Buchi, who in 1905 was granted a patent for a device that uses a radial turbine and axial compressor on a common shaft to force air into an engine's cylinders using pressure from the exhaust. The Turbo-Supercharger or "turbocharger" was first used on an airplane engine after World War I -- then in marine applications on large engines producing over 2000 horsepower. In 1938, the first automotive use of the turbocharger was by Swiss manufacturer Saurer on a diesel truck engine.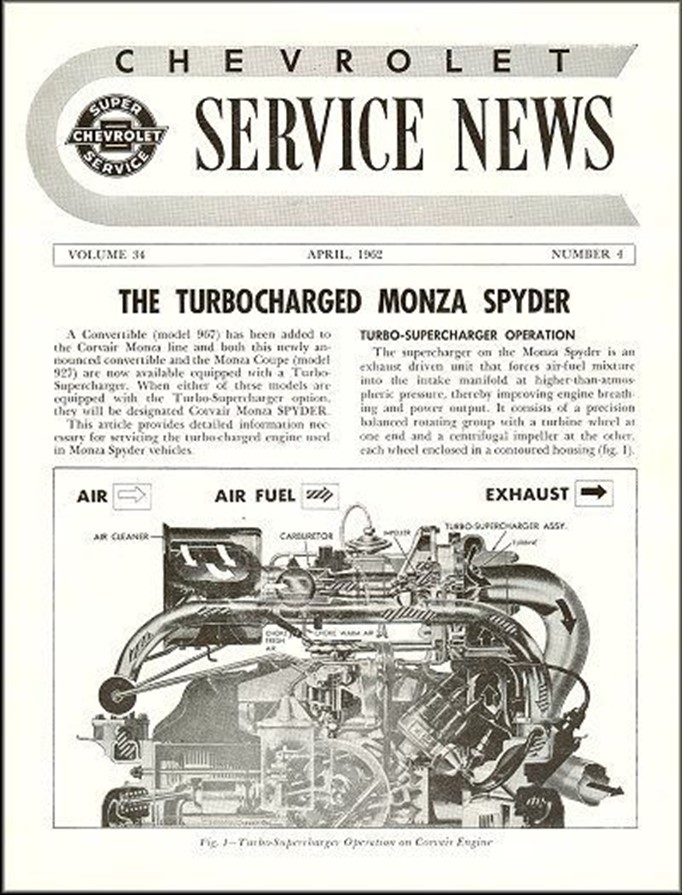 Monza Spyder article (General Motors Archives)
During World War II, turbos were used extensively on military aircraft to maintain power at high altitudes, but weren't used by the American automobile industry until 1962. When General Motors introduced the Chevrolet Corvair Monza Spyder and the Oldsmobile F85 Jetfire that year, small turbochargers were used. The development of the Monza Spyder air cooled 145 cu.in., horizontally opposed 6-cylinder turbo engine was done by project engineers James Brafford and Bob Thoreson. The engine consisted of a cast aluminum case mounting cast iron cylinders, capped by aluminum heads. A significant number of components were upgraded from the standard engine and the turbocharger itself was mounted above the engine, pulling through a single Carter side-draft carburetor. TRW supplied the turbo that had a 3-inch turbine impeller capable of withstanding 70,000 RPM providing a maximum boost of 10 PSI pushing the Monza's power output to 150 horsepower. That was a 47 percent increase over the 102 hp normally aspirated engine that was standard. Torque was also increased by 58 percent to 210 lb-ft. Many early turbocharged vehicles suffered from "turbo lag," feeling sluggish at lower RPM and the Corvair was no exception. Thanks to advances in turbocharging technology, these driveability issues have been improved or eliminated. The turbo option was available on the Corvair through 1969.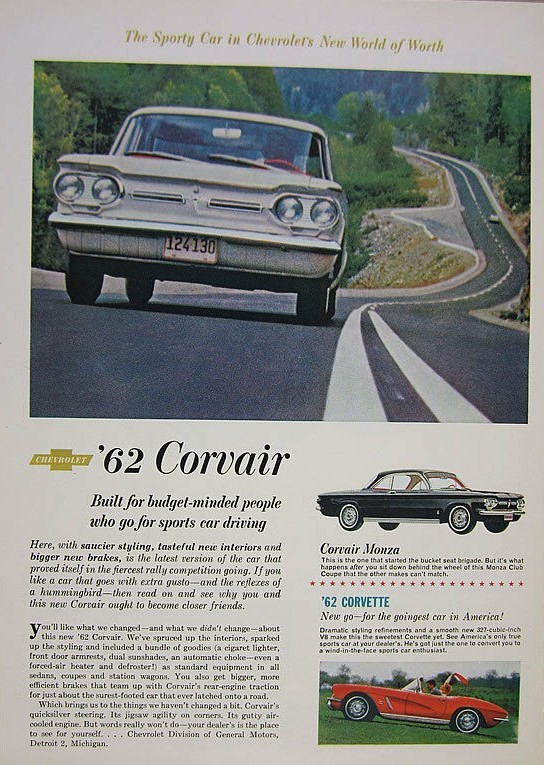 1962 Corvair magazine ad (GM Media Archives)
It became apparent that soon Ford was to offer a compact lightweight 260 cu.in. 164 hp V8 in its popular Falcon automobile. On April 20, 1962, GM introduced the Oldsmobile F85 Jetfire with its all-aluminum, turbocharged V8 at the New York Auto Show. The project was headed by veteran Olds engineer Gib Butler, who settled on the exhaust driven turbo supercharger supplied by Garrett AiResearch, a company with considerable experience with turbos in diesel truck applications.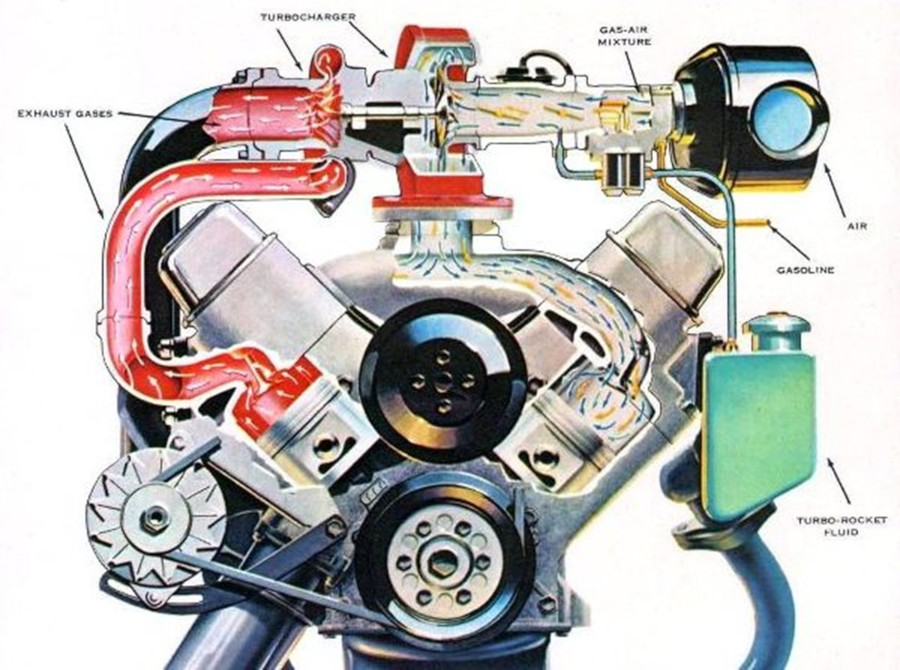 Cutaway of a turbo engine (GM Oldsmobile Division)
This cutaway illustration shows the basic layout of the Olds Jetfire turbo installation. The AiResearch T5 turbocharger is centered over the intake manifold, fed by a specially designed Rochester one-barrel side draft carburetor with a remote throttle body. Included in its maintenance regimen was ensuring there was "Turbo Rocket Fluid" in its reservoir used to cool the internal cylinder temperatures and quell pre-ignition and detonation. While both the Corvair and the Jetfire turbo systems were developed within GM about the same time, they had little in common.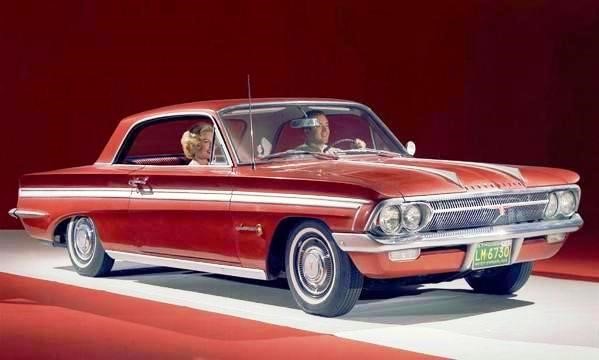 1962 Oldsmobile Jetfire turbo coupe (GM Media Archives)
Unlike the turbo option on the Corvair Monza Spyder, the Oldsmobile Jetfire was a standalone model in the compact F85 lineup. The Jetfire with its brushed aluminum side trim and pillarless hardtop was fairly expensive at $3,045, around $350 more than the V8-powered Cutlass coupe. The 1962 Jetfire sold only 3,765 units and 5,842 in 1963. Although a good performer with 0 to 60 mph times around eight seconds, the car was replaced in 1964, put on a new platform, and its turbo engine replaced with a normally aspirated 330 CID V8 producing 210 horsepower.
It wasn't until 1978 that GM offered a turbocharged engine again. This time, it was the Buick Regal that could be equipped with the 3.8L turbocharged V6 engine with automatic transmission, and was known as a Regal Sport Coupe. The only other turbocharged cars offered in the U.S. market at the time were imports. That would soon change with Ford offering turbo engines on the 1980 Mustang II Cobra and Fairmont.
1980 Mustang II Cobra (Ford Motor Company)
In 1989, Dodge offered its first turbo diesel pickup and the Daytona Shelby Turbo in 1990. Over recent decades, significant improvement has been made in turbocharging the internal combustion engine, such as electronic controls, variable nozzle turbos, twin-scroll turbos, two stage turbo systems and ceramic bearings to name a few. In 2010, Ford launched its EcoBoost line of engines. Today, the Ford F-150 with its V6 twin-turbo engine is a high-volume winner. The first electrically driven turbocharger was made available only a few years ago and is now available on several import and domestic cars. There is no doubt the turbocharger developed over a century ago is one of the most transformative devices ever bolted on an internal combustion engine. Today, the turbocharger is available on just about every make and model car and truck sold around the world.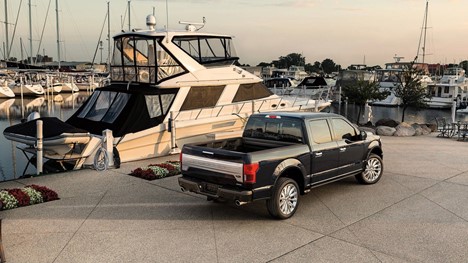 The Ford F 150 pickup (Ford Motor Company)
The Ford F-150 pickup truck is the No.1 selling vehicle in the United States. Several engine options are available including a high-output 3.5-litre V6 EcoBoost Twin Turbocharged engine that offers a horsepower rating of 450 and a torque rating of 440 pound-feet. Promo photo from Ford Motor Co.
Bibliography
"Detroit's Big Switch to Turbo Power." Popular Science, April 1984.
"Turbocharging Turns 100." Honeywell, 2005.
Hartman, Jeff. "Turbocharging Handbook." 2007
Sales and Tech literature – General Motors, Ford Motor Company, Chrysler Corporation