By Robert Tate, Automotive Historian and Researcher
Images Courtesy of BriggsCunningham.com
Published 9.8.2021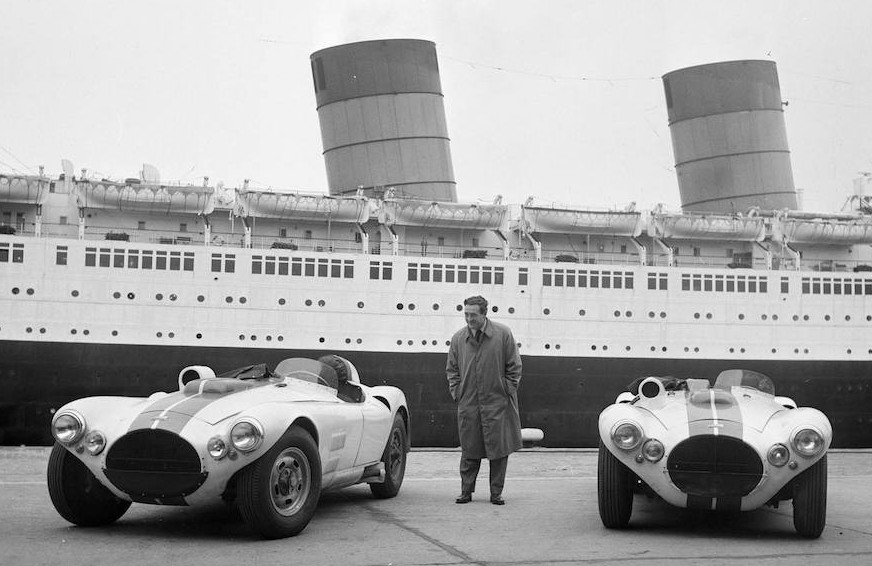 Cunningham standing between two sports cars (Briggs Cunningham Collection)
Automotive historians have said that the most successful run of American sports cars in competition took place between 1951 and 1955 by Briggs Cunningham. His 1952 C-4R finished fourth at Le Mans, and its 1953 successor, the C-5R, finished third behind two popular European sports cars.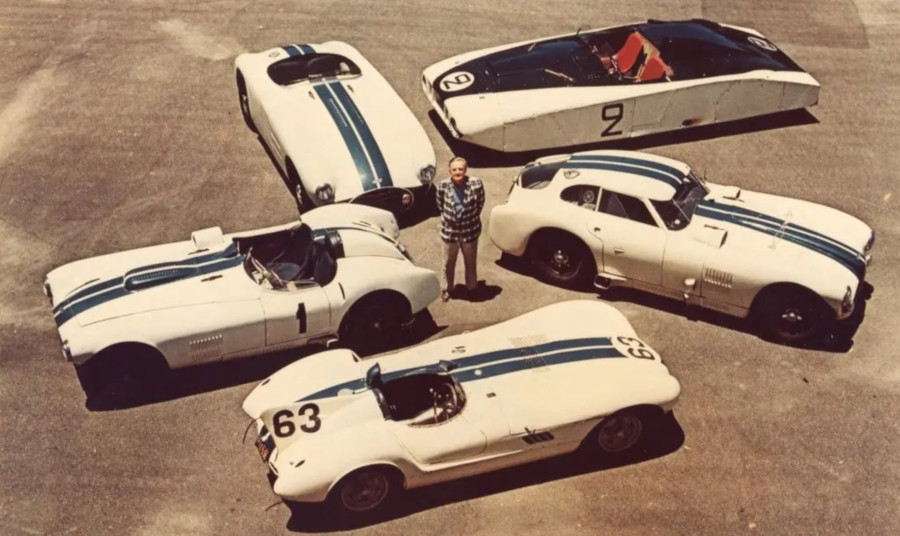 Cunningham standing amidst four sports cars (Briggs Cunningham Collection)
By 1952, Americans were becoming familiar with the idea of "American sports car." For many years, name plates like MG, the Jaguar XK120 and other imported sports cars became very popular among American automotive enthusiasts. General Motors deserves a lot of credit for introducing the Corvette in 1953, which subsequently became America's greatest looking sports car and later became very popular.
Other popular sports cars were the Briggs Cunningham models, which found an audience with automotive enthusiasts starting with the 1951 edition. The Cunningham sports car was the first post-war All-American sports vehicle.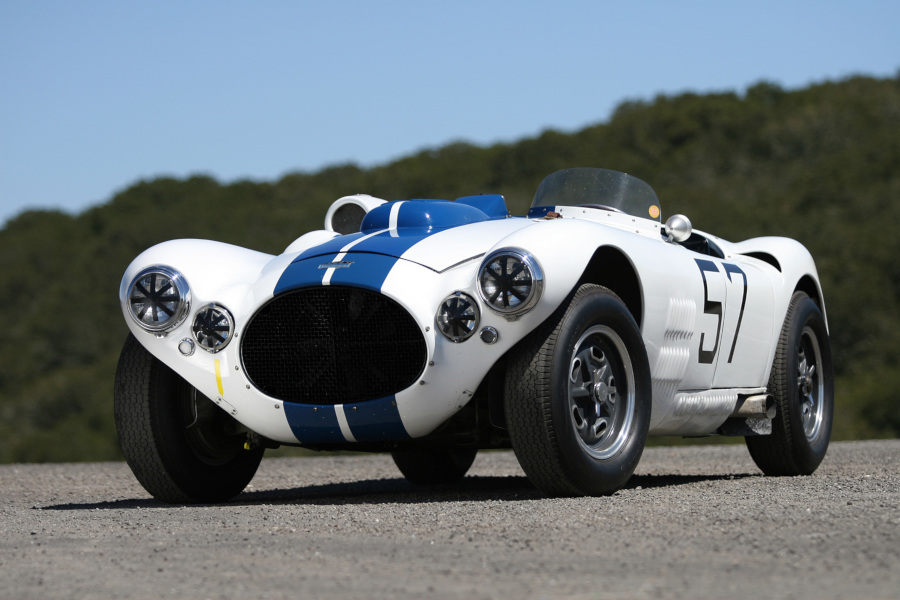 A 1953 Cunningham C-4R race car (Briggs Cunningham Collection)
Briggs Cunningham (1907-2003) was introduced to sports car racing by brothers Sam and Miles Collier during the early days of auto racing in America. Later, racing would become Cunningham's greatest passion, along with yachting. Cunningham helped found the Automobile Racing Club of America (ARCA) in 1933 and later became very enthused by the auto body designs that were part of the racing circuit.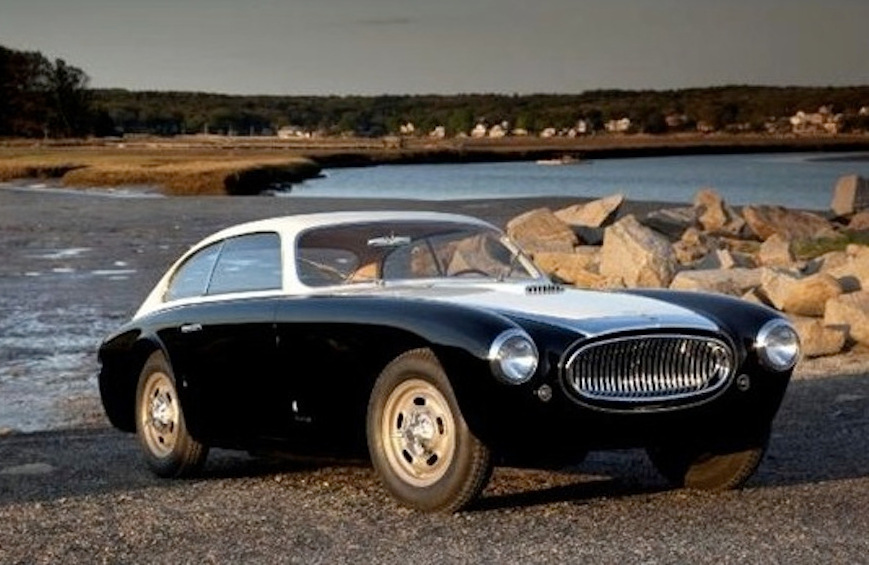 A 1953 Cunningham C-3
One of Cunningham's first race cars -- and his only sprint car -- was the Number 5 Special built by R.T. Jackson of Dayton, Ohio and driven by Ed Coffey. Cunningham's passion was to win the 24 hours of Le Mans race in France with an American sports car with an American driver at the wheel. His Cunningham racing cars featured the popular Chrysler Hemi-powered engines.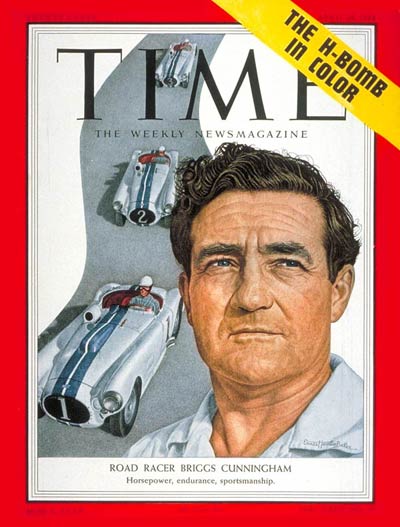 Cunningham on the cover of Time in 1954
In December 1950, Cunningham raced a popular Aston Martin DB2 model in the six-hour race for a Sam Collier memorial event at the Sebring Airport track. He also raced other modified cars as well, including a 1950 Cadillac series 61, which required minimal changes to its engine, as well as the popular Ferrari sports cars.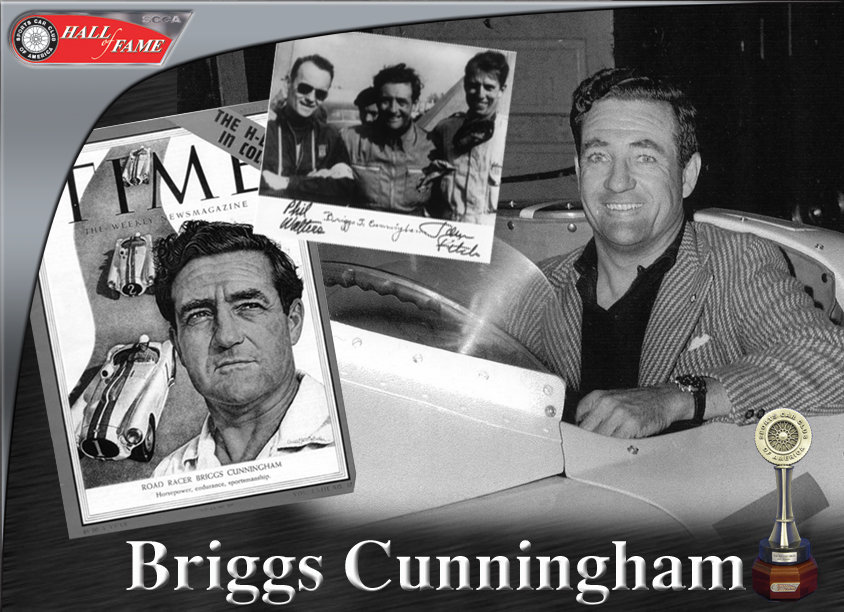 Briggs Cunningham inducted into the Sports Car Club of America Hall of Fame
Cunningham did win many races at courses like Sebring, Bridgehampton and Elkhart Lake, and employed many talented drivers like Dan Gurney, brothers Sam and Miles Collier, Sherwood Johnston, Phil Waters and John Fitch. From 1951 through 1955, Cunningham entered his C-2R, C-24, C-4R, C-SR, and C-6R models in races around the country and around the world. 1955 was the final year that he raced cars, since the Internal Revenue Service only allowed five years before classifying such a business as a non-deductible hobby. His Palm Beach, Florida factory closed its doors at the of the year.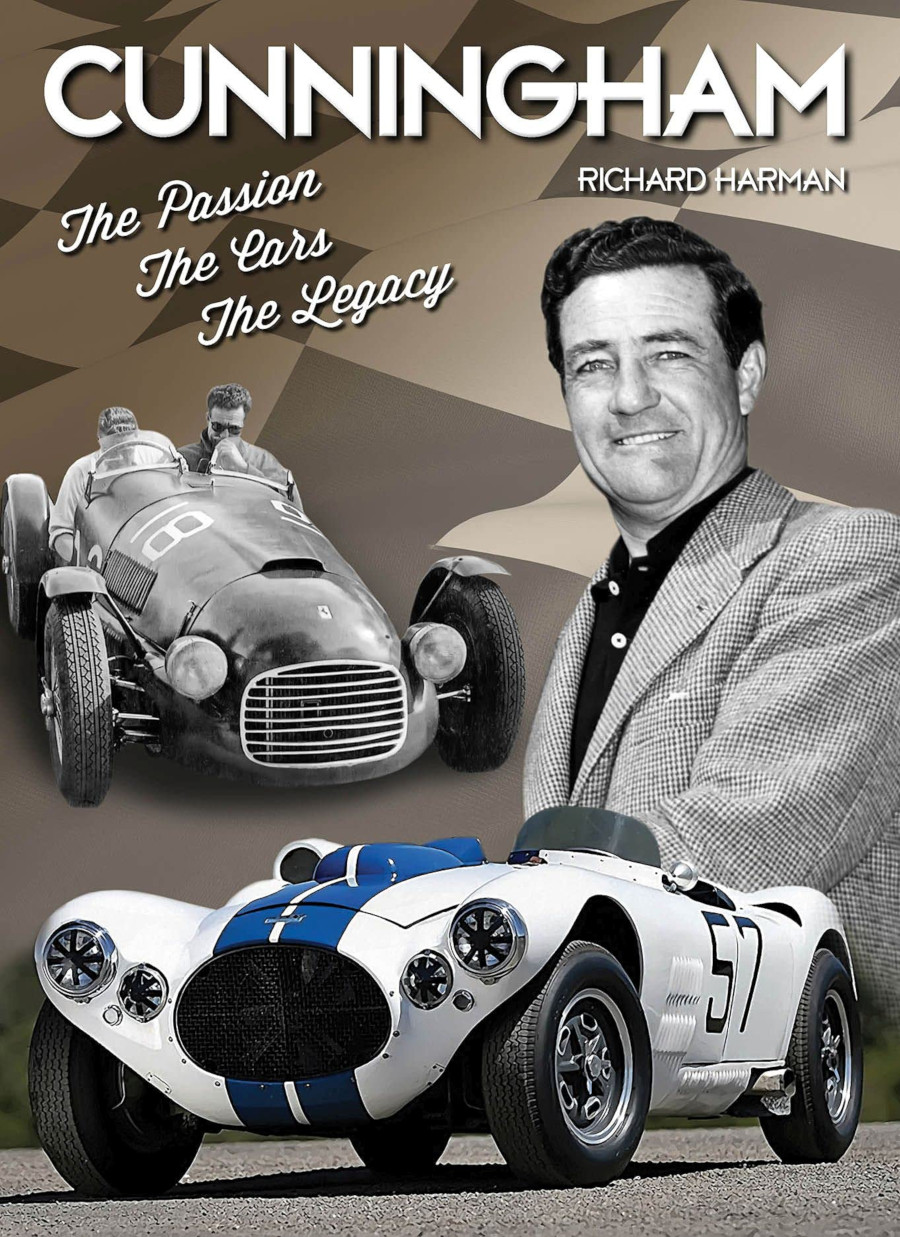 Cover of Briggs Cunningham book by Richard Harman
After Le Mans in 1963, Cunningham made fewer appearances at races. The Sports Car Club of America (SCCA) had established a professional series known as the United States Road Racing Championships that ran from 1963 to 1968.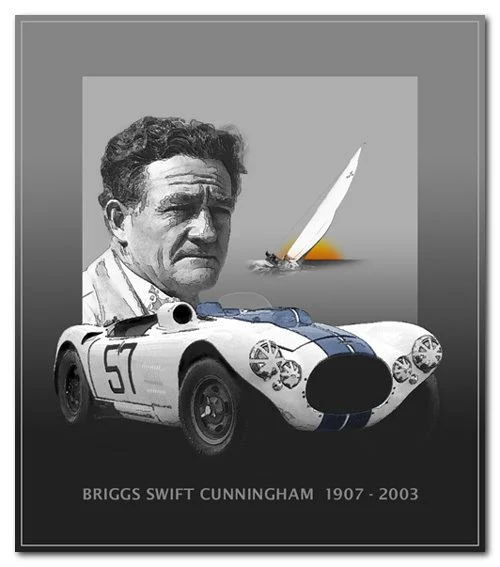 A Briggs Cunningham tribute
In conclusion, Cunningham had an exciting career in auto racing. John Fitch, a long-time friend, said this about him: "Briggs was considerate first of his people but also of his cars, as though he felt a stewardship responsibility for them during his tenure as owner." Cunningham left a legacy in both automotive and racing history that will be appreciated by enthusiasts for many generations to come.
Bibliography
Fitch, John. "Remembering Briggs Cunningham." July 9, 2003.
Allen, Phil. "Briggs Cunningham Biography." VIR History.
Conwill, David. "Briggs Cunningham, the Man who tried to build an American Ferrari." Hemmings Feature, April 2020.