By Robert Tate, Automotive Historian and Researcher
Images from Various Web Sources
Originally Published 6.12.2019
In honor of Vicki Wood, who passed away on June 5, 2020 at the age of 101, we are presenting this encore of the following Story of the Week from June of 2019.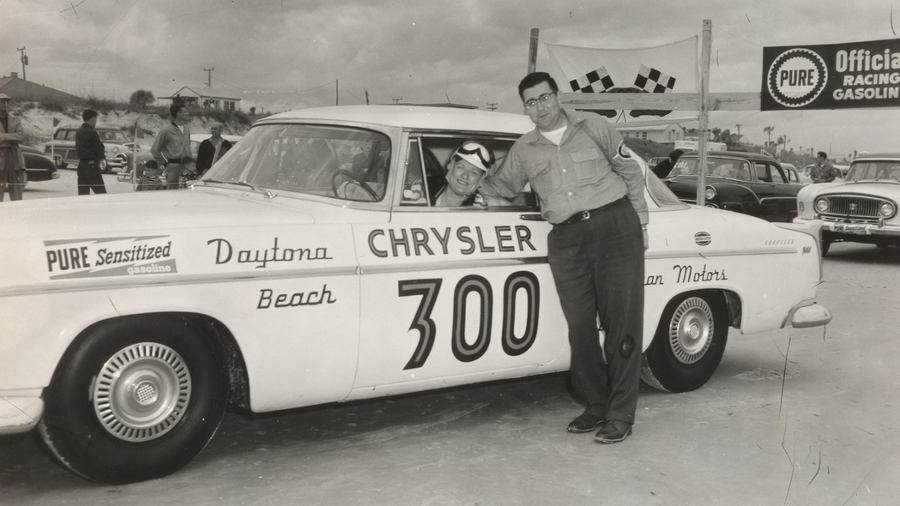 Vicki Wood behind the wheel of a 1955 Chrysler 300 at Daytona Beach (AutoWeek)
When you look back at the history of auto racing, there is one trailblazer I'm sure very few of you have ever heard of. Vicki Wood, who turned 100 years old in March, was a driver who loved racing and the speedway. She grew up in Detroit Michigan and is regarded today as a pioneer for being one of the first female race car drivers.
Vicki Wood (Jalopy Journal)
Wood was the first female to ever to drive for NASCAR. She spoke about her experience as "racing with the boys." Her husband Clarence, better known as "Skeeter," arranged her first race, where she finished ninth out of ten. In 1960, Wood became known as "the fastest woman on the beach" for blazing down a straight line course at Daytona Beach at a record speed of 150.375 mph. During a ten-year career between 1953 and 1963, she demonstrated her hard work and dedication, creating a big fan base in the racing world.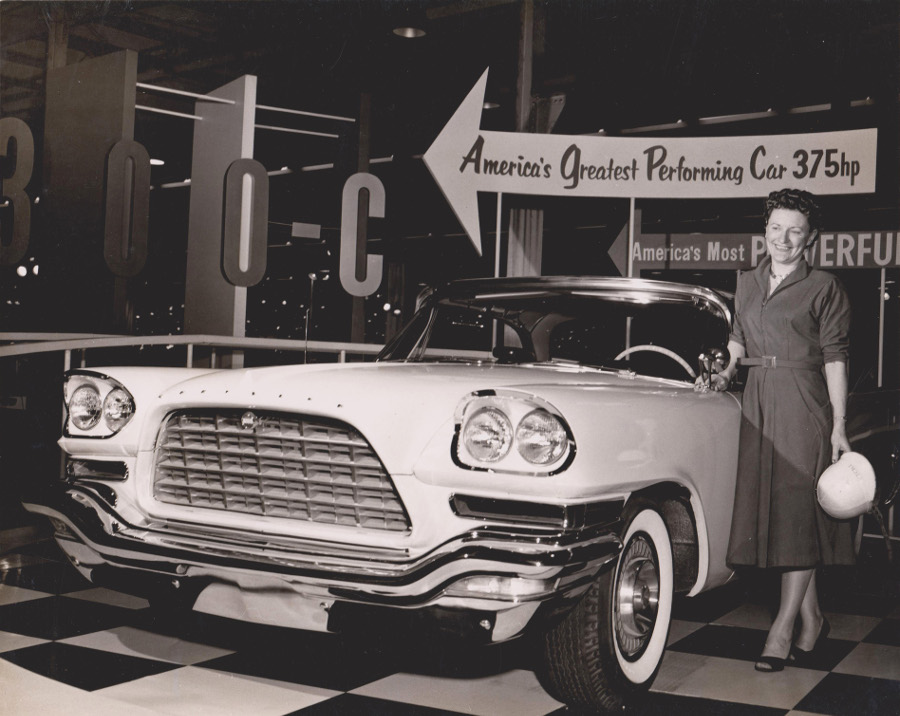 Vicki Wood standing with a 1957 Chrysler 300 (Jalopy Journal)
As Wood's career continued, her husband spoke to Chrysler's Public Relations personnel about her racing skills, prompting Chrysler to give her a 1955 Chrysler 300 for that year's Speedweeks in Daytona Beach. The 1950s, were the best of times for Chrysler because of their great styling that offered the "Forward Look." During her first experience on the beaches of Daytona, Wood said to herself, "How in the world can you drive on sand?" At the time, there were 100 automobiles on the beach preparing for the big racing trials. Wood shared her car with fellow driver Brewster Shaw. He finished first, and Wood came in second. Later, she would also drive Fords and Pontiacs competitively.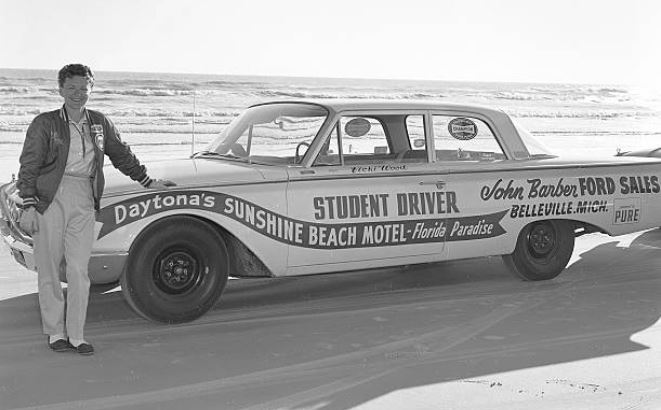 Vicki Wood stading with a 1960 Ford sedan (Getty Images)
Earlier this year, Wood spoke with Mike Pryson of Auto Week about her first experience at the new Daytona International Speedway in 1959. "When the big track opened up, I had a '59 Pontiac," Wood said. "Skeeter talked to Bill France and got him to OK me so that I could set a record there. When I got to the track, I got stopped by someone who said women weren't allowed in the pit area. Bill France comes up and says, 'Vicki Wood is not a woman. She's a driver, and she's allowed in the pits.'"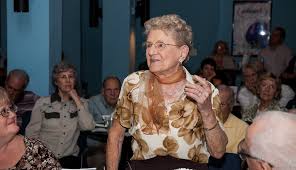 Vicki Wood (Daytona State in Motion)
During the inaugural time trails for the Daytona 500, Wood did a lap at 130.3 mph, the woman's record. She set another record on the 1.5-mile Atlanta International Speedway in 1961, driving a Ray Fox stock car at 121 mph over the 1.5-mile oval. She earned many titles in racing and was very good at handling a car, whether it was on the road, beach or track. Wood always said, "Speed is for the track, not the highway."
In 1963, Vicki Wood retired from the world of NASCAR racing. Although Wood never raced in the Daytona 500 (although she qualified in 1959), she still made NASCAR history by becoming their first female driver.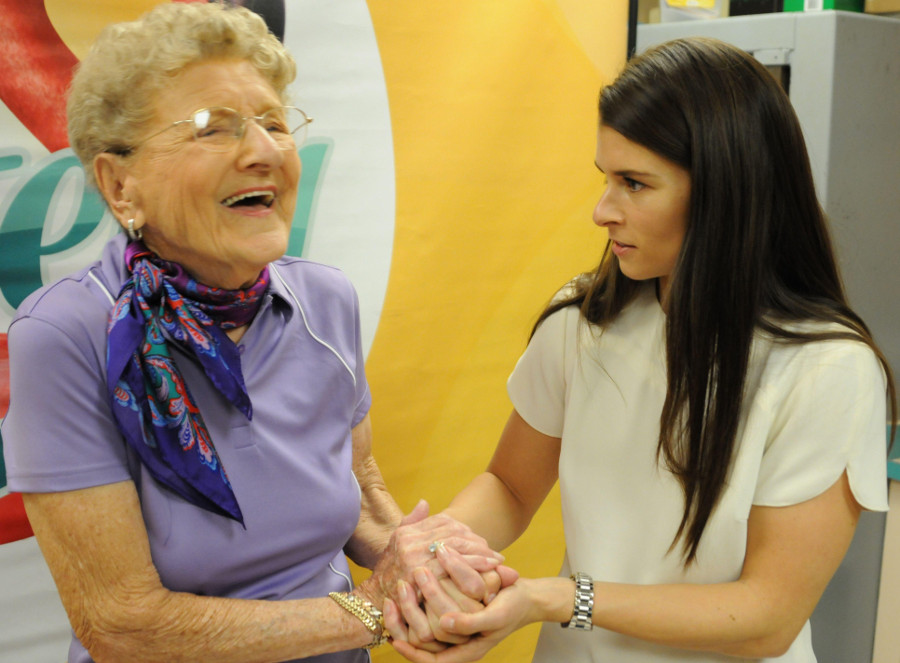 Vicki Wood with Danica Patrick (Daytona Beach News Journal)
In 2019, Vicki Wood was inducted into the "Villages Motor Racing Fan Club" in Villages, Florida. On February 19, NASCAR driver Danica Patrick was in Holly Hill Florida. Many fans attended the event, including Vicki Wood, who once was known as the "Fastest Woman on the Beach." She met with Danica Patrick for a great conversation, discussing how they competed and were two great pioneers in a sport dominated by men.
In conclusion, Vicki Wood was a racing pioneer and national record holder from 1953 to 1963. Her story needs to be remembered in our history books as one of the first female race drivers.
Bibliography
Pryson, Mike. "Racing Pioneer Vicki Wood Turns 100: Fastest Woman on the Sand of Daytona Beach." Auto Week, May 10, 2019.
Pryson, Mike. "Blazing A Trail." Auto Week, May 20, 1019.
Wagner, Joyce. "History, Racing Legends and NASCAR." In Motion, March 5, 2014.