By Robert Tate, Automotive Historian and Researcher
Images Courtesy of the Chrysler Archives, Heacock Classic and Motor Trend
Published 7.29.2020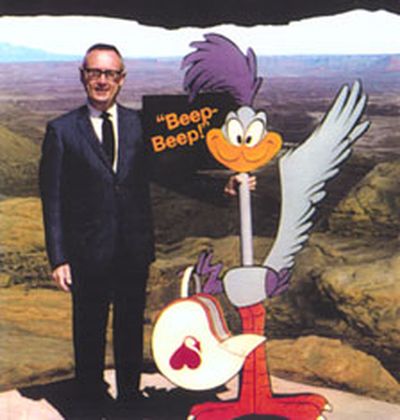 Jack Smith standing next to Warner Brothers' Road Runner character (Chrysler Archives)
When you look at the history of the Road Runner Superbird model and the Dodge Daytona for 1969 and 1970, they looked like they were designed for racing. The models offered great styling with hidden headlamps, along with a good looking front nose design which was admired by most consumers.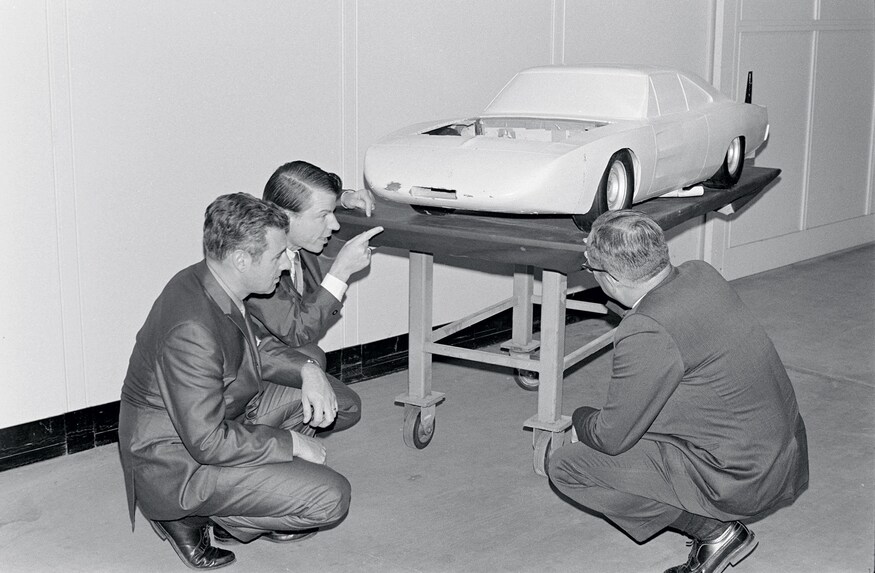 Chrysler engineers and designers working with a scale model of the Superbird (Chrysler Archives)
1969 and 1970 were great years for racing fans. For example, 1970 was a good year for NASCAR, and the Plymouth Road Runner Superbird models created a lot of interest and performance on race tracks. For 1970, Plymouth manufactured 1,920 units of the Road Runner Superbird model, which attracted many racing fans including Richard Petty, who was a big Plymouth fan. The Superbird model offered a 440 engine or the popular 426 Hemi.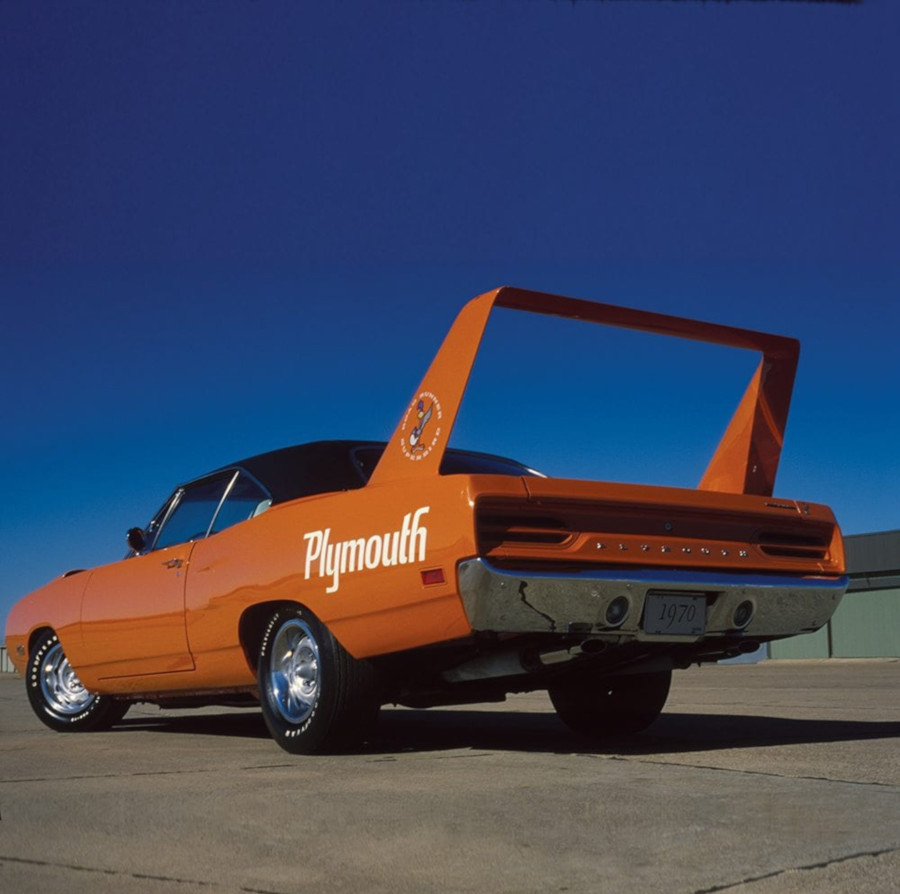 1970 Plymouth Road Runner Superbird with rear wing (Heacock Classic)
The Road Runner was a high-performance car named for the famed Warner Brothers animated cartoon bird, which was also used on the Superbird models as well. On a historical note, a Chrysler engineer named Jack Smith was instrumental in making the Road Runner a success. His story was featured in a MotorCities Story of the Week from July of last year (7.7.19 – "Jack Smith, the Man Behind the Plymouth Road Runner").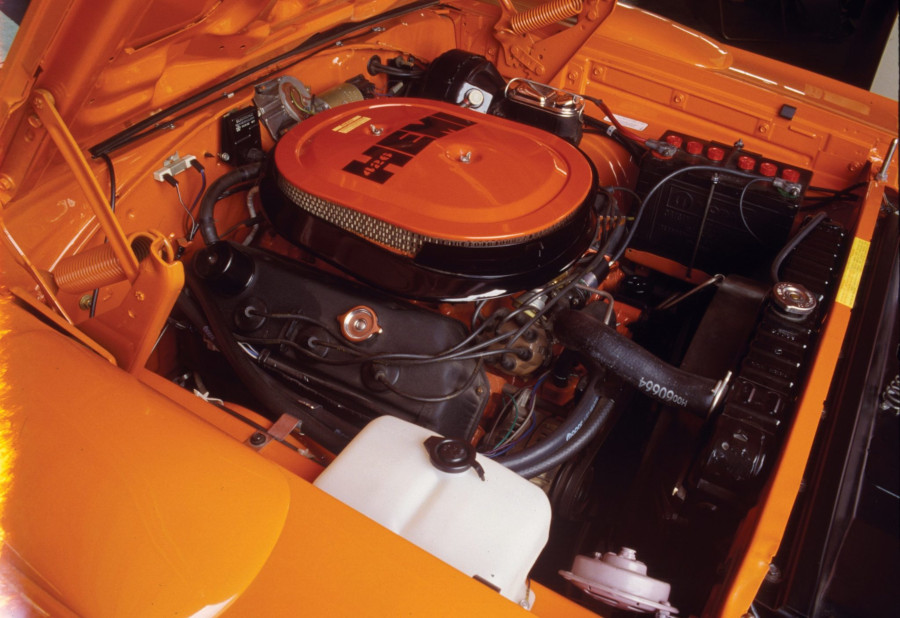 1970 Plymouth Superbird 426 Hemi V8 engine (Heacock Classic)
The 1970 Superbird model was manufactured in a hardtop series only with a great looking vinyl roof design. The body design was developed with an aerodynamic look that Chrysler engineers wanted both for the consumer market and racing as well. Seven body colors were available, along with great looking bucket seats. Automotive historians have said that the 1970 Superbird was factory-built with a custom-like process that was given special detailing during the time of manufacturing. The sticker price for a 1970 Superbird was $4,298, and one of the main attractions was the popular rear end winged design with the popular cartoon Road Runner graphics. Some automotive historians said that the 1970 Plymouth Superbird and 1969 Dodge Daytona models were two of the first muscle cars to factor in great looking aerodynamic bodies.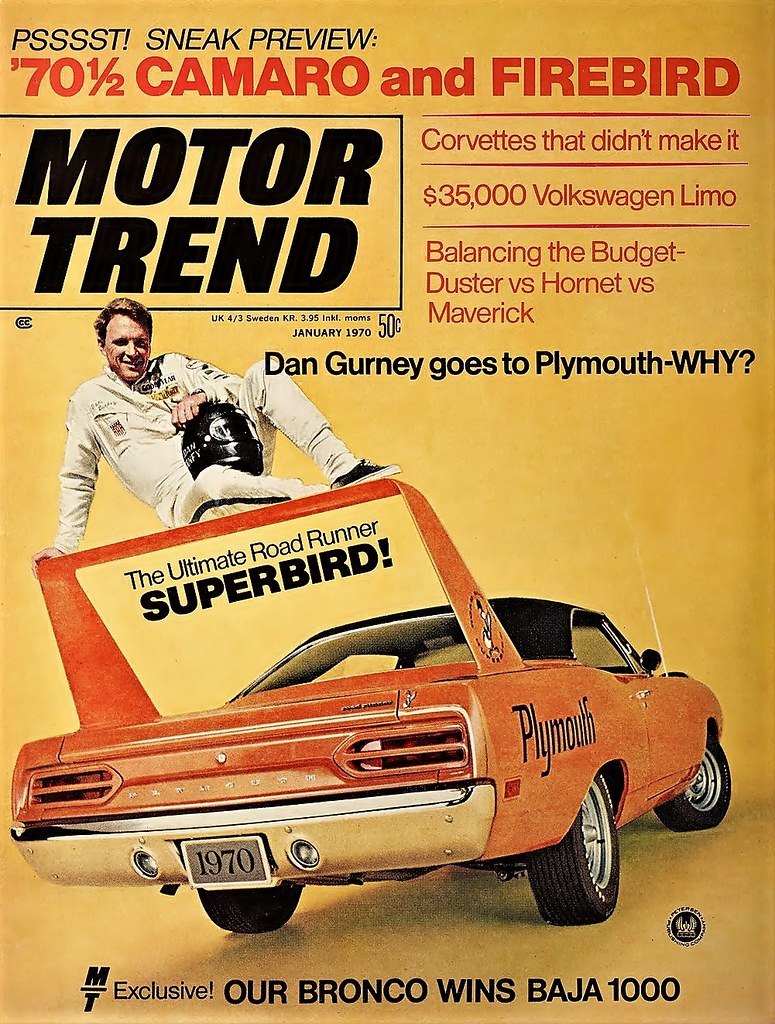 1970 Plymouth Road Runner Superbird on cover of Motor Trend (Motor Trend)
The 1969 Dodge Charger Daytona model was a great looking vehicle and became extremely popular on racetracks across America. It was based on the design of the Charger R/T, which was another popular model. It offered aerodynamic styling features and featured a four-barrel 440 Magnum rated at 375 horsepower. It was a huge sales success for Dodge.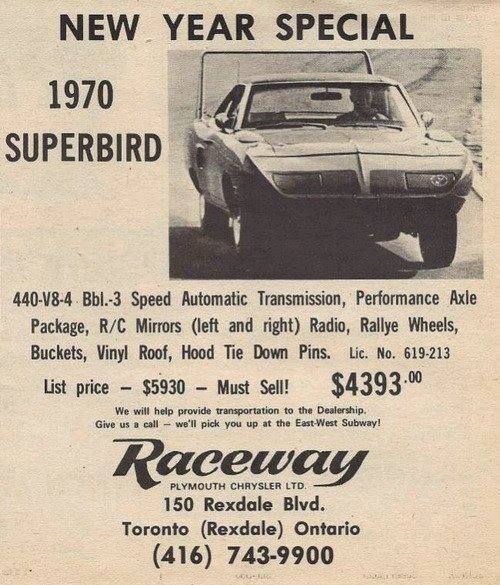 Advertising flier for 1970 Plymouth Superbird
Automotive historians have said the 1969 Dodge Charger Daytona model was built especially for the Daytona 500. It offered hidden headlamps, a front spoiler and a bullet-shaped nose; its rear end winged design excited race fans. The Dodge Daytona model changed everything when it came to racing with its 20% higher aerodynamic efficiency. Historians said that the Daytona was one of the fastest cars on the track in 1969 with its 440 engine, and the 23-inch stabilizer wing on the rear deck became extremely popular with Dodge fans.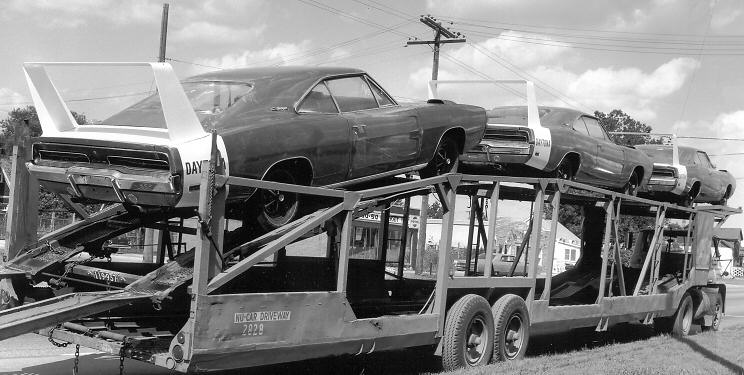 1969 Dodge Daytonas being shipped to dealers (Chrysler Archives)
In conclusion, when the 1969 Dodge Charger Daytona and 1970 Plymouth Road Runner SuperBird models were introduced, the public considered them very unappealing. Both models unfortunately sat on Dodge and Plymouth dealer lots for many months and were sold only after significant discounts were offered. Today, these models are worth a fortune, if you can find one. They will probably be most remembered for their great success on the race track.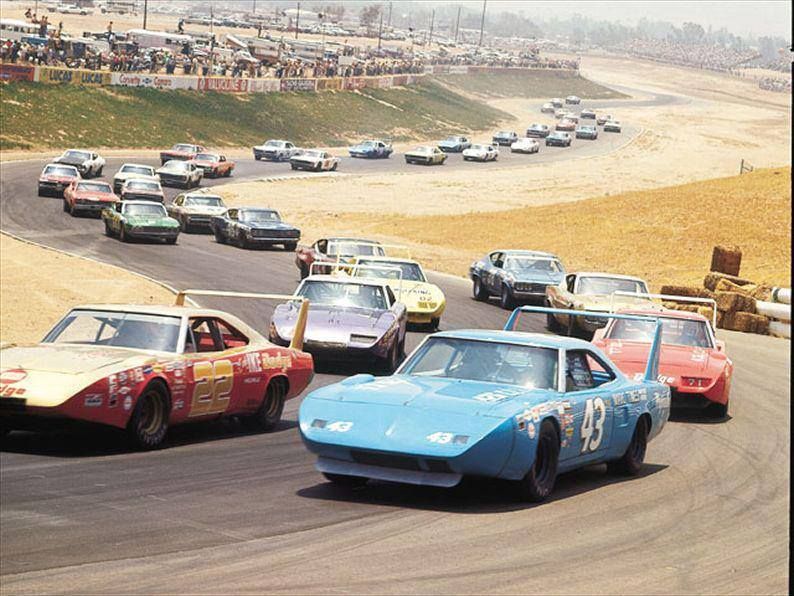 1969 and 1970 Chrysler winged cars leading a race
Bibliography
Butler, Don. "The Plymouth and DeSoto Story." Crestline Publishing, 1978.
McPherson, Thomas A. "The Dodge Story." Crestline Publishing, 1975.
Young, Anthony. "Chrysler, Dodge & Plymouth Muscle." MBI Publishing Company, 1999.
NSM Insurance/Heacock Classic. "1970 Plymouth SuperBird - The Ultimate Winged Warrior." Friday, September 30, 2016. Car Collector Magazine. NSM Insurance Group.