By Robert Tate, Automotive Historian and Researcher
Images Courtesy of the Davis Family/Car Life magazine
Published 4.22.2020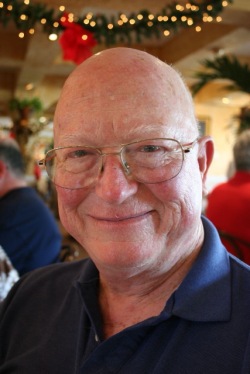 Michael W.R. Davis
As I prepare this story, I find myself shedding tears as I have fond memories of my good friend Mike Davis, who died due to complications from the coronavirus on April 11, 2020. I had the pleasure of knowing Davis for the past 25 years as a member of the National Automotive History Collection board of trustees.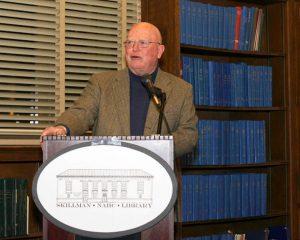 Davis speaking at the Detroit Public Library's Skillman branch, home of the National Automotive History Collection
Davis was a great supporter of MotorCities' Story of the Week program and automotive history. He would always call me to talk about the story that had just come out and the subject matter I had highlighted. Many times, he would speak to me about vehicles that he could relate to because of his involvement with Ford Motor Company Public Relations during the 1960s and 1970s.
Davis was a true automotive historian, writer and creative journalist. He received his bachelor's degree in history from Yale and a master's degree from Eastern Michigan. He could develop all kinds of flowing lines and creative words that would turn a regular automotive story into a collection of great storytelling paragraphs for readers' enjoyment.
He was born on May 10, 1931 in Buffalo New York. His family later moved to Louisville, Kentucky, where Davis graduated from high school.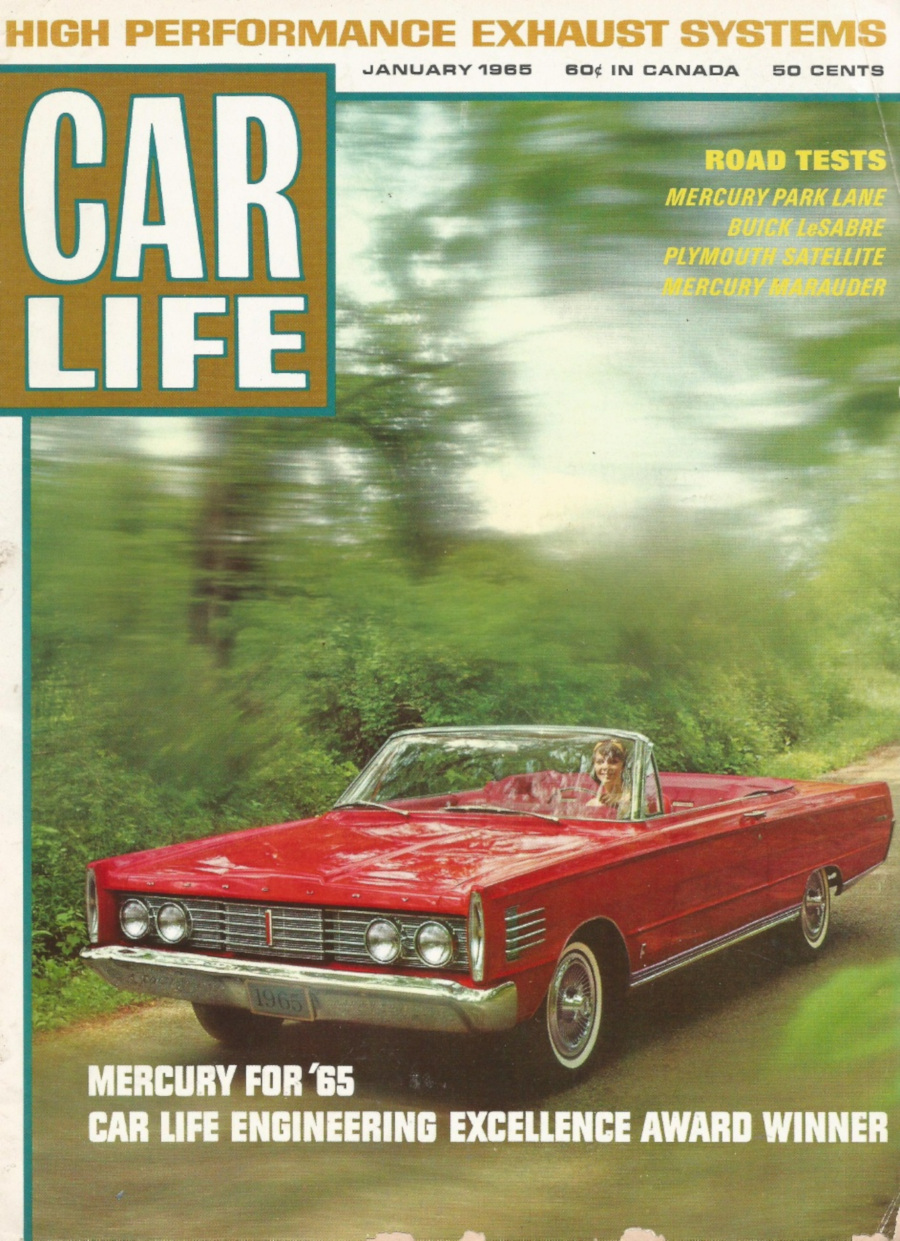 Car Life magazine, January 1965
Davis arrived in Detroit in 1957 as an assistant editor for Business Week magazine. Three years later, he was hired at Ford Motor Company. From the introduction of the 1960 Mercury Comet to the popular 1967 Mercury Cougar, Davis was involved with the automotive press on vehicle announcement days. He told me many great stories about the Mercury models in 1965 when he and "Car Life" magazine worked on several great projects. He talked about the "Miss Teenage America" project and how it help generate sales for Ford during the 1960s.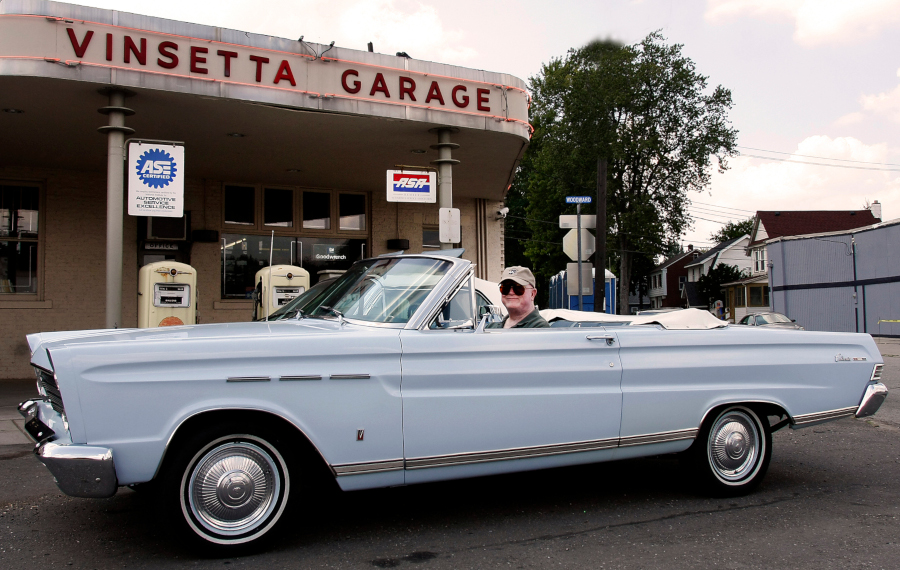 Davis at the wheel in front of the Vinsetta Garage
Davis left Ford in 1985 to become communications director for The Detroit News. He then served as executive director of the Detroit Historical Society from 1987 to 1992.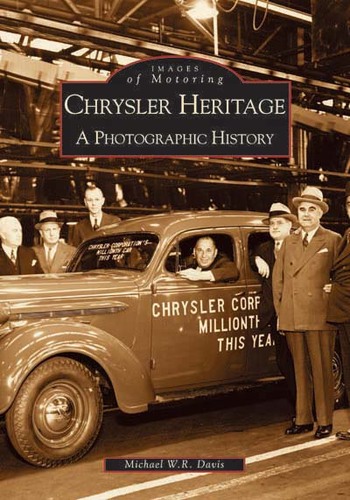 Davis' book about the Chrysler Corporation
Davis was a walking encyclopedia when it came to automotive history, and he enjoyed his involvement with the National Automotive History Collection, part of the Detroit Public Library. Mark Patrick, the library's former coordinator for special collections, said Davis was "a renaissance person with a journalist's pen." He was also involved with The Henry Ford assisting with the acquisition of some of their collection of presidential limousines now on display at the Henry Ford Museum of American Innovation.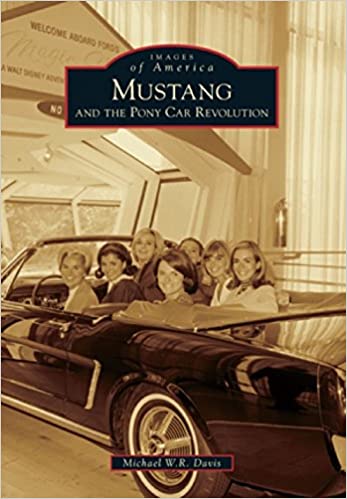 Davis' Mustang book from Arcadia Publishing
Davis also has written several popular automotive books, including Detroit's Wartime Industry: Arsenal of Democracy, Willow Run, A Photographic History of General Motors, Chevrolet, Chrysler Heritage: A Photographic History, and Mustang and the Pony Car Revolution from Arcadia Publishing. I was very excited when Mike approached me to become involved with his Mustang book; it was quite an honor. The book is about the introduction of the "pony car" at the New York World's Fair in April 1964 and includes great history on how the Mustang was designed and created behind its great success.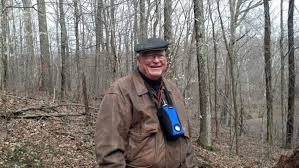 Davis relaxing in the woods
In conclusion, the automotive world lost a good friend in Michael W.R. Davis. He not only had a special feel for automobiles, but also for the people who loved cars as well. People say that the good ones always leave too soon, but within my heart Mike has left me something forever. Rest in peace, my good friend!
Bibliography
Eisenstein, Paul A. "Survivor of One Epidemic, Author and Historian Mike Davis Felled by the Coronavirus Pandemic." The Detroit Bureau, the Voice of the Automotive World Publication. April 14, 2020.
A Special Thank You to Mike Skinner, along with Gina Tecos.