By Robert Tate, Automotive Historian and Researcher
Images Courtesy of General Motors Archives
Published 6.3.2020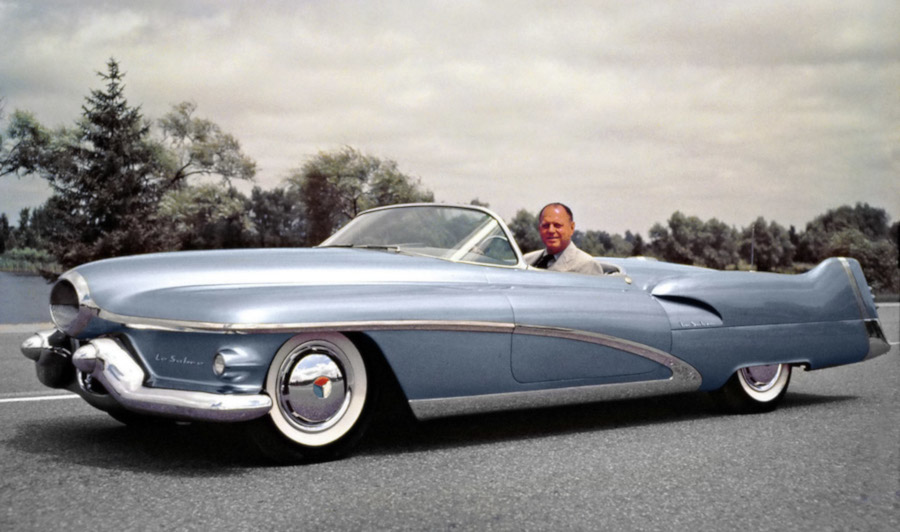 Harley Earl behind the wheel of the 1951 Buick LeSabre show car (GM Archives)
During the 1950s, one of the American automotive companies that led the way in automotive styling was General Motors. When you look back at all the show cars that GM designed and introduced, it was that jet age Buck Rogers styling of chrome that made many popular show cars stand out.
Many GM popular show cars that were admired by automotive enthusiasts and consumers alike were designed under the great leadership and direction of Harley Earl. From the La Salle in 1927 to the Buick Y job in 1938, Earl began to write a great chapter in the automotive styling history book, creating a great legacy and culture for many years to come.
During the 1950s, Earl's GM team was competing with Chrysler's Virgil Exner and George Walker from Ford. These talented men brought to the public a great taste for automotive styling changes.
This story is about some of the popular GM show cars from the 1950s that made an impact on automotive styling. For example, the Buick LeSabre show car for 1951 was a very impressive model. It was the first model to introduce the panoramic wraparound windshield design, an airplane nozzle front end design, and other great features. Some called it Harley Earl's personal automobile. One of the most talented GM designers involved with the LeSabre concept was Edward Glowacki. The body used magnesium panels and was heavily influenced by aircraft design.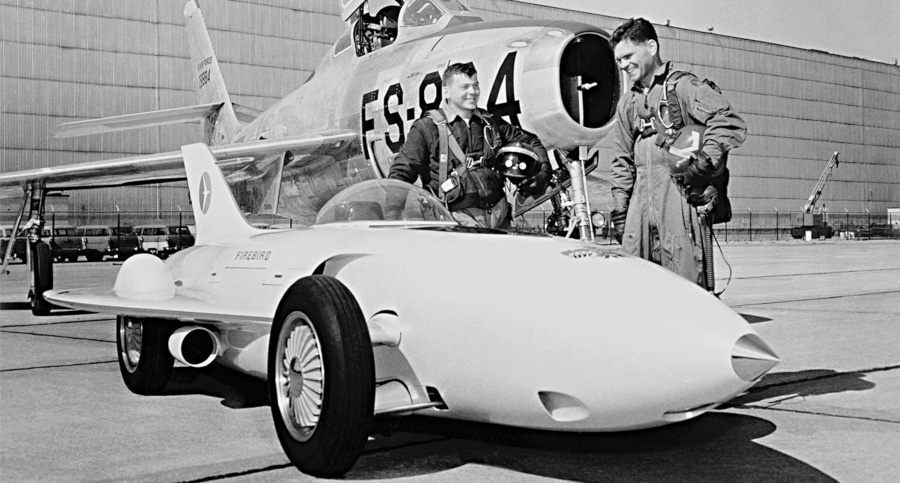 1954 Firebird I XP 21 concept (GM Archives)
Another design concept influended by aircraft styling was the 1953-54 Firebird I design. The model had a gas turbine engine and was used for engineering and styling exercises only. It was developed and engineered under the direction of Charles L. McCuen, GM's manager of the Research Laboratories Division, and offered a missile type of styling.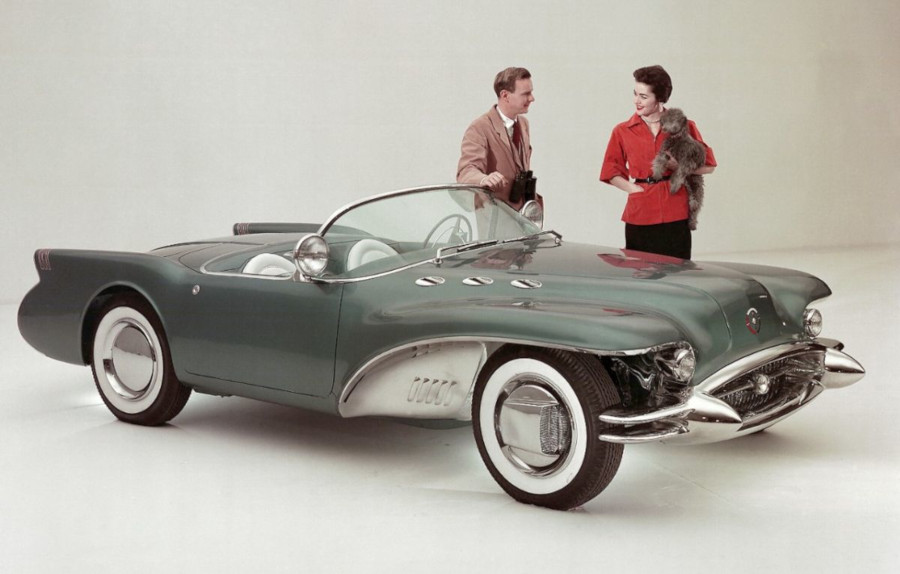 1954 Buick Wildcat II show car (GM Archives)
In 1954, Buick introduced one of its latest show cars at the annual GM Motorama -- the Wildcat II. The image in this story features an earlier version, but the model was later changed. It offered a fiberglass body design, along with a flying wing fender design and venti post, which was a Buick production car signature. The model was runnable and very much liked by GM President Harlow Curtice.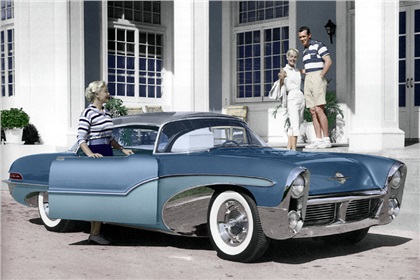 1955 Oldsmobile Delta concept (GM Archives)
The 1955 Oldsmobile Delta 88 was introduced at the 1955 GM Motorama show and offered a two-tone blue body design with a blue brushed aluminum roof, along with a great looking blue tinted gloss design. A four-passenger coupe, GM called it "a prediction of things to come."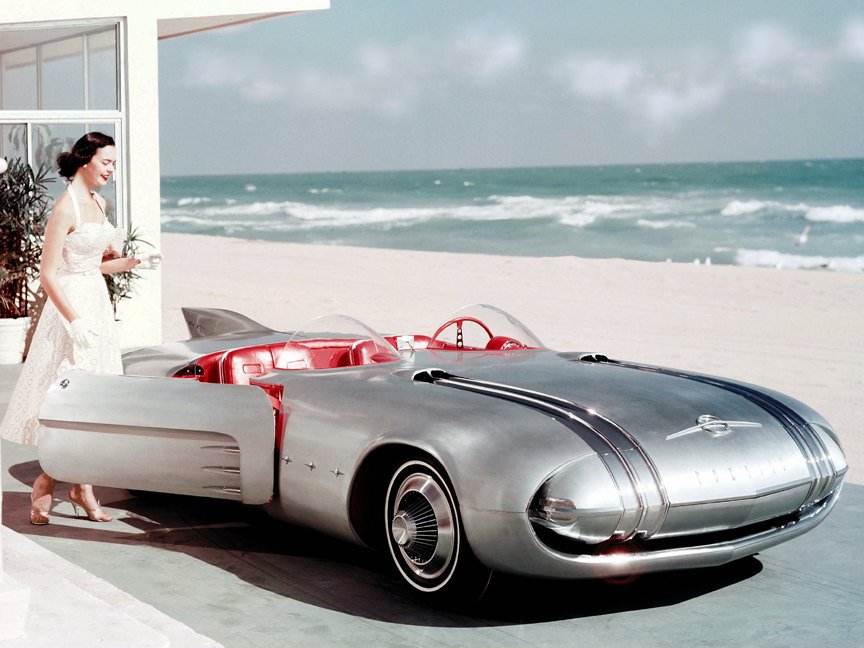 1956 Pontiac Club de Mer show car (GM Archives)
The 1956 Pontiac Club de Mer was introduced at the 1956 Motorama Show and attracted attention from many attendees. It offered a brushed aluminum body design with a new innovative look. GM Design called it an "experimental laboratory on wheels." The model also featured an exceptionally low-profile design and was available for two passengers only.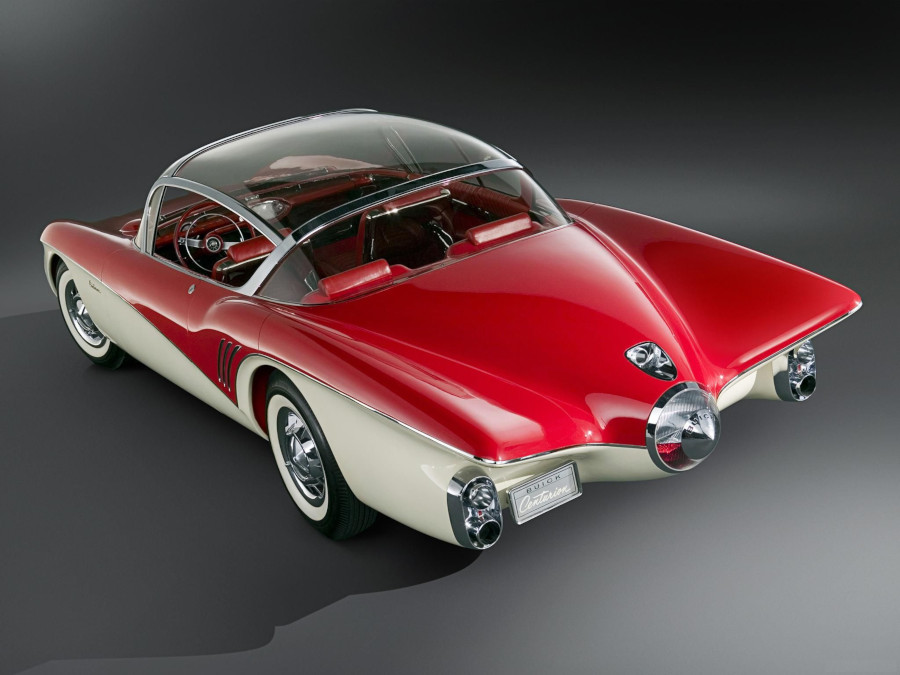 1956 Buick Centurion show car rear view (GM Archives)
The 1956 Centurion was under the Buick name plate, offering impeccable styling and introducing many great looking styling features. It had a fiberglass body and was powered by a 325 horsepower engine. One great added feature was the rear decorative bullet which had a TV camera that sent closed circuit pictures to a screen on the dash inside the car in place of rear view mirrors. The model also offered a beautiful red/white color combination which I admired. The Centurion was designed by GM designer Chuck Jordan.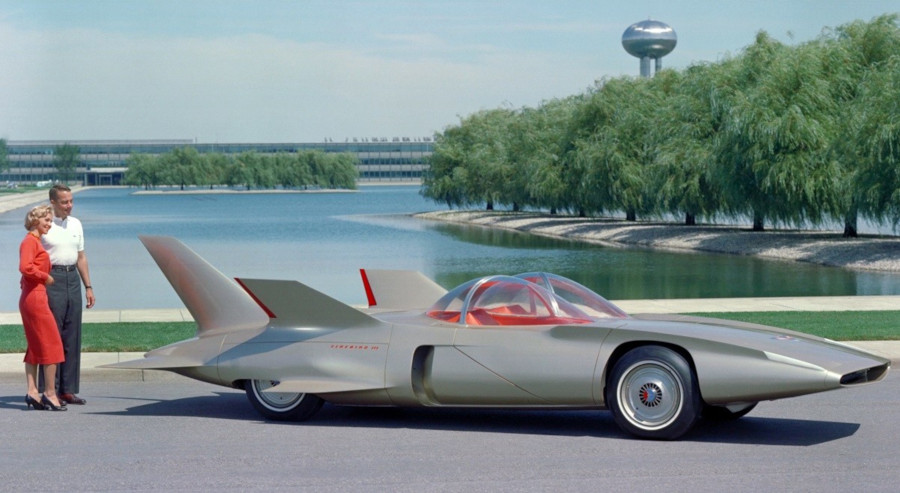 1958 Firebird III concept at the GM Tech Center (GM Archives)
The 1958 Firebird III was a laboratory on wheels design. It was the most intriguing and significant show car introduced in the 1950s under Harley Earl's direction. It had a huge impact on many GM products in later years. The model had extraordinarily little chrome, no parallel lines and put the ultimate twist on tailfins.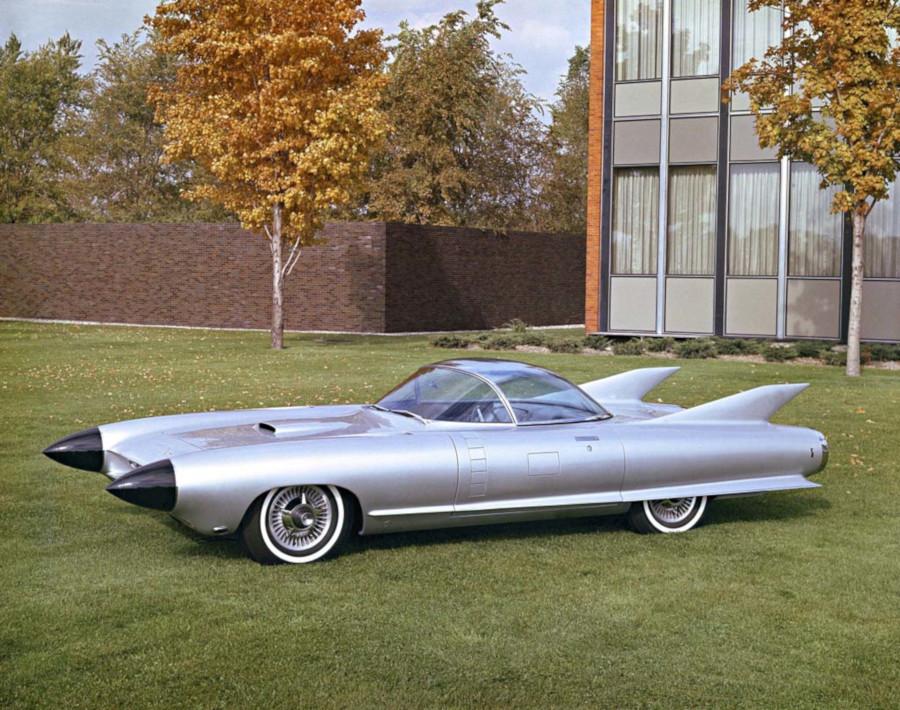 1959 Cadillac Cyclone XP 74 concept (GM Archives)
The last GM concept I wanted to feature is the great looking 1959 XP-74 Cadillac Cyclone. Former GM design chief Ed Welburn said, "I saw that car, and that took me from being crazy about cars to this is it, this is what I want to do." Welburn later wrote to GM with every intention of becoming an automotive designer.
The Cyclone concept was a great inspiration for many individuals. Walter M.P. McCall, author of "80 Years of Cadillac La Salle," said "the Cadillac Cyclone was right out of a science fiction movie." The model offered a great looking feature. a bubble canopy top that could raise for entry and exit. It also offered an audible signal that could warn the driver of an imminent impact when driving. Personally, I always thought the round taillights and fins gave the model that added futuristic look.
In conclusion, many of the GM show cars introduced at the Motorama shows during the 1950s were huge successes. Today, the legacy of Harley Earl and his great looking GM models will always be a part of our automotive heritage. For more information on 1950s GM show cars, contact the General Motors Photostore at https://gmphotostore.com
Bibliography
Dammann, George H. "Seventy Years of Buick." Crestline Publishing, 1973.
Bayley, Stephen. "Harley Earl and the Dream Machine." 1983.
GM Heritage Center Collection.
McCall, Walter M.P. "80 Years of Cadillac La Salle." Crestline Publishing, 1982.
Powell, Tracy. "General Motors Styling 1927-1958." 2007.