By Robert Tate, Automotive Historian/Researcher
Images Courtesy of the Ford Motor Company Archives and the Gale Halderman Museum
Published 5.13.2020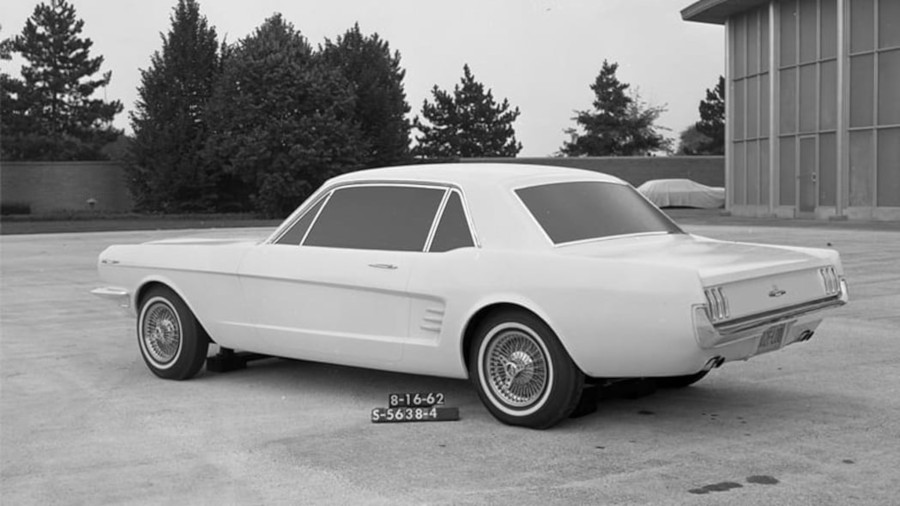 A Ford Mustang prototype in development, 1962 (Ford Motor Company Archives)
One of the biggest news events in automotive history was when the 1964½ Ford Mustang made its debut at the New York World's Fair on April 17, 1964. With its long hood design and sporty look, the Mustang became a huge sales success during the 1960s.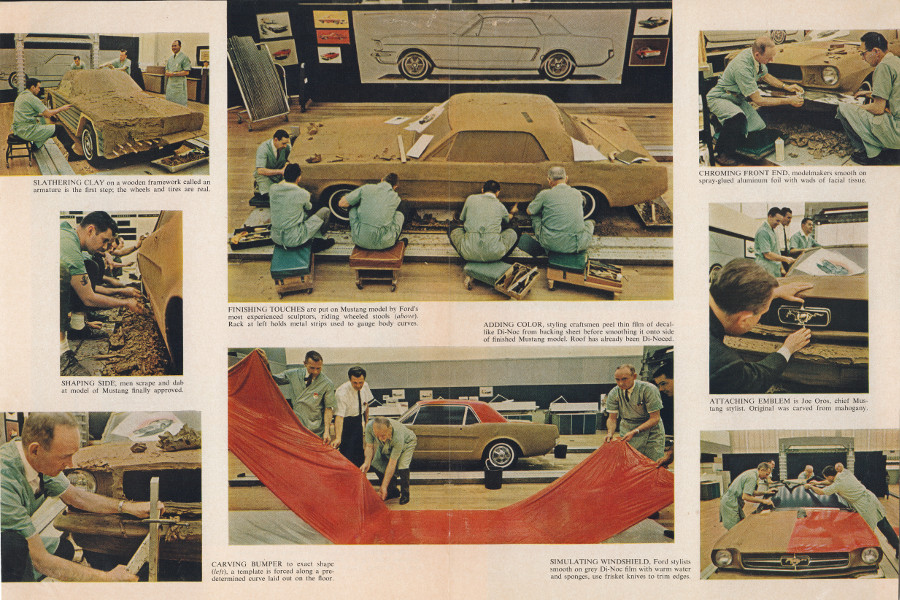 The Ford Mustang Design Studio in Time Magazine photos, 1964 (Ford Motor Company Archives)
As an automotive historian, I have heard so many great stories about the introduction of the Ford Mustang in 1964. The styling was interesting compared to other automotive designs that were on the road at the time. The Mustang made other models at the time look old and outdated. I remember so many of my family members talking about the vehicle, and several later purchased Mustangs at Detroit area Ford dealerships. I still have my original sales brochure from when I was a kid.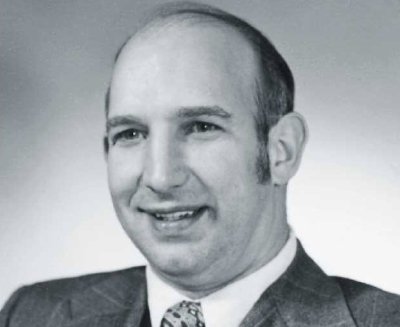 Gale Halderman (Ford Motor Company Archives)
A key figure in the story of the Ford Mustang was a skilled designer named Gale Halderman, who died April 29 of liver cancer at age 87. Halderman was born in Tipp City, Ohio. He was one of the best automotive designers at Ford Motor Company for many years.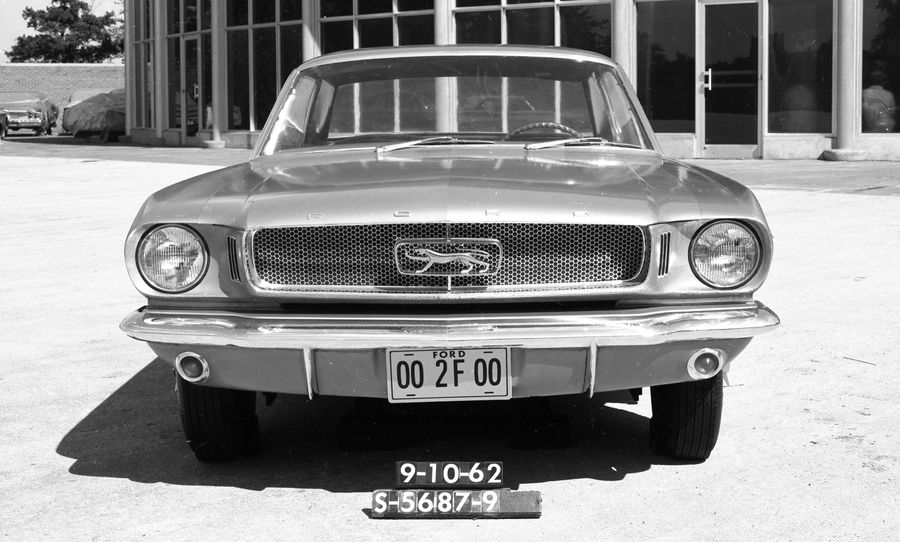 Ford Mustang front end photo (Ford Motor Company Archives)
Halderman's work on the Mustang project started in 1962, when he was working on future Ford product designs for 1965. It started with an amazingly simple sketch Halderman drew on his porch. Little did he realize that this sketch would create an automotive icon that many Americans and automotive enthusiasts would admire and greatly appreciate for years to come.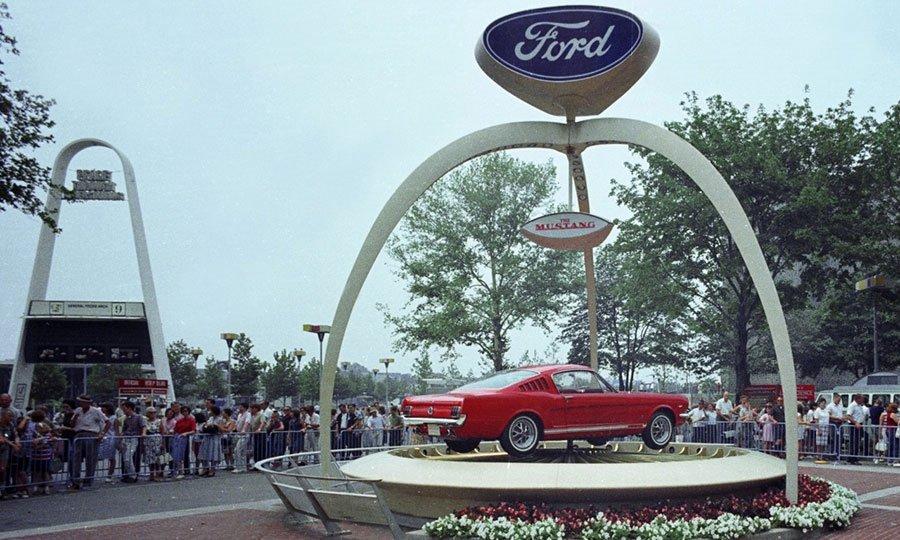 Ford Mustang at the 1964 World's Fair (Ford Motor Company Archives)
Michael Lamm and Dave Holls, who wrote "A Century of Automotive Style: 100 years of American Car Design," said "Gale Halderman made some sketches at home; he hadn't had time to do them at work because of the deadline for the 1965 big Ford. Oros liked one of Haldeman's sketches and handed it to Charlie Phaneuf in the Ford pre-production studio. Phaneuf combined Haldeman's ideas with the silhouette of the 1956 Continental Mark II, a car Phaneuf had also worked on. Phaneuf scaled the whole thing down to fit the Falcon platform." Halderman said, "Lee Iacocca gave us 10 days to come up with a great design; we worked day and night."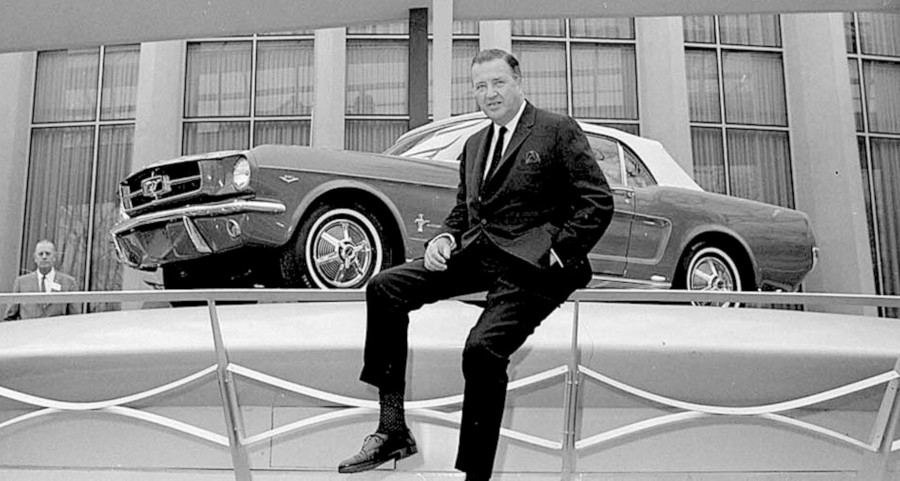 Henry Ford II sitting with the new Ford Mustang (Ford Motor Company Archives)
The Dayton Daily News said this about Gale Halderman: "The most striking thing about the 40-year Ford employee was Haldeman's humility. For many years, Halderman did not receive much attention for being the Mustang's original designer, preferring to let others take the credit." In addition to Halderman and Lee Iacocca, who was directly involved in spearheading the Mustang project, other designers involved included Joe Oros, who had given the car its popular fastback design look. Oros was the director of all of Ford's design studios at the time. Other designers included Bob Maguire, Don DeLaRossa, Charlie Phaneuf, Damon Woods and John Najjar, and many other talented engineers as well.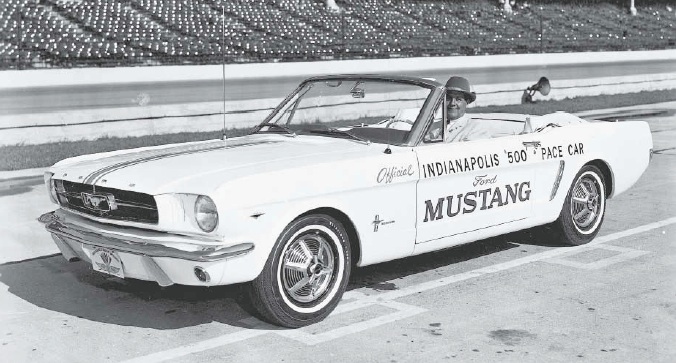 1964 Ford Mustang Indianapolis 500 Pace Car (Ford Motor Company Archives)
Once introduced, the Ford Mustang became one of the most successful vehicles since World War II. The hardtop version sold for $2,455, and Ford dealerships could not keep them in stock. Ford sold over 400,000 Mustangs in that first year. A Mustang was also used as the pace car for the 1964 Indianapolis 500.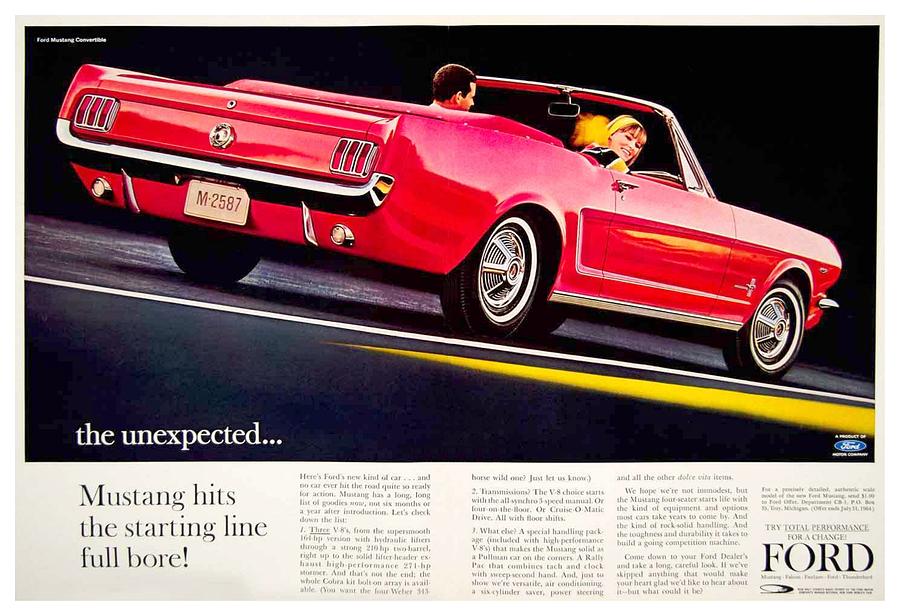 Ford Mustang convertible 1964 print advertisement (Ford Motor Company Archives)
Halderman was hired by the Ford Design Center in 1957. Later, he would lead the Mustang design studio from 1971-1973 and worked on many other great Ford design projects as well. McKinley Thompson, the first African American Ford automotive designer, said when I interviewed him: "Gale Halderman was a great person to work with and a very talented designer."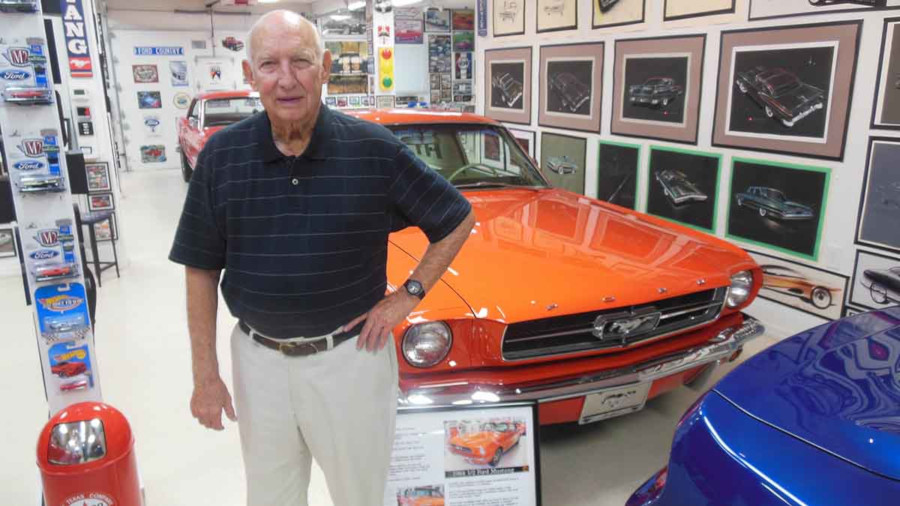 Gale Halderman standing inside his Ohio museum
After his retirement from Ford in 1994, the incredibly talented Halderman decided to invest his time creating and developing a Mustang museum highlighting the history of the popular vehicle. The 1,500 square foot museum had once belonged to his grandparents and is located in Tipp City, Ohio. The Gale Halderman Museum is open by appointment only. For more information, please visit the Halderman Museum website at https://haldermanmustang.com/ and submit your request.
Gale Halderman will surely be missed.
Bibliography
Dammann, George H. "Illustrated History of Ford." Crestline Publishing, 1970.
Lamm, Michael & Holls, Dave. "A Century of Automotive Style: 100 Years of American Car Design." Lamm-Morada Publishing Company, 1996-97.
Wall Howard, Phoebe. "Original Ford Mustang Designer Dies, the Last Link to a Celebrated Era in Car History." Detroit Free Press, May 1, 2020.
Maven, Sam. "Original Ford Mustang Designer Gale Halderman Has Passed Away at 87." Motorious, April 30, 2020.
Rollins, Amy. "Legendary Tipp City Designer of Iconic Ford Mustang Dies." Dayton Daily News, April 29, 2020.