By Robert Tate, Automotive Historian and Researcher
Images courtesy of the Ford Motor Company Archives
Published 5.27.2020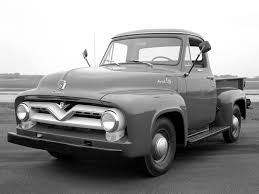 1953 Ford pickup truck (Ford Motor Company Archives)
Among the biggest Ford Motor Company made in 1953 was the introduction of their newly designed truck models. 1953 also happened to be the company's 50th anniversary as well.
It had been 20 years since Ford had made a significant design change to its line of trucks. The program cost Ford $30 million to redesign and engineer all the new truck models for 1953, but the market responded with great excitement and enormous sales, especially consumers who worked in the farming industry. Ford also continued its economy line of trucks and significantly changed its lines for commercial industry usage.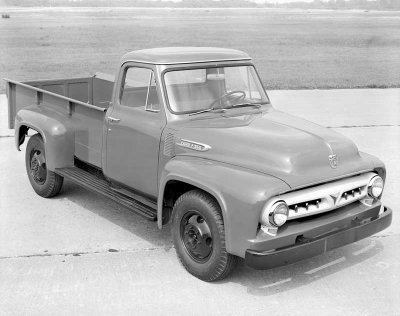 1953 Ford pickup 9 foot express model (Ford Motor Company Archives)
The 1953 Ford pickups offered a new front-end appearance, with a new grille and a wider nested hood design. The models also introduced the F-100 hubcaps and a more rigid tail gate design with embossed "F-O-R-D" block lettering rather than the previous traditional script. The popular F-100 models offered more room and wider space for the driver and passenger. The new truck design gave the ½ ton pickup a heavy appearance look and was priced at $1,330. The anniversary F-100 pickup truck also came with a special anniversary horn button, which was also installed in other 1953 Ford pickups.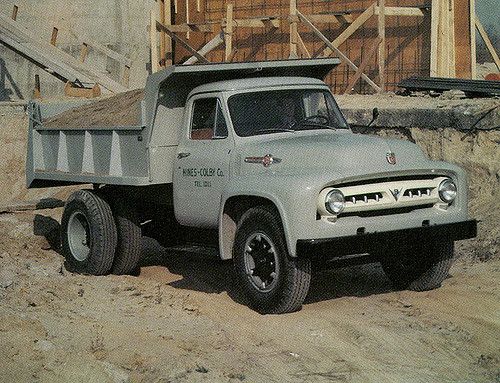 1953 Ford dump truck (Ford Motor Company Archives)
The 8-foot Ford panel truck was also an all-new design for 1953, featuring stronger rear doors with double latches and larger windows which many consumers thoroughly enjoyed. They also offered bodyside protective panels, a rectangular dome lighting system, separately mounted running boards and 16-inch wheels.
The new 1953 Ford F-250 stake trucks were also popular, offering a standard cab with a six-cylinder engine and a 7 1/2-foot stake area for loading or hauling farm produce, hay or lumber.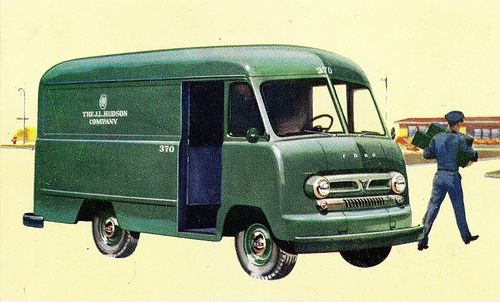 Ford advertising image of parcel delivery truck (Ford Motor Company Archives)
For 1953, a 9-foot express model was added to the line of Ford trucks. They measured 108 inches lengthwise and 54 inches wide and were used for heavy duty hauling. These models offered front and dual rear tires and a hydraulic dump system with six wheels.
The F-800 trucks were large size truck models used mostly by the construction industry. They offered a 132-inch chassis with a deluxe cab that was also the basis for the popular dump truck models. The models also featured a synchromesh transmission, a 10 ½ x 3 inch hand brake and a weight of 7,000 to 48,000 pounds.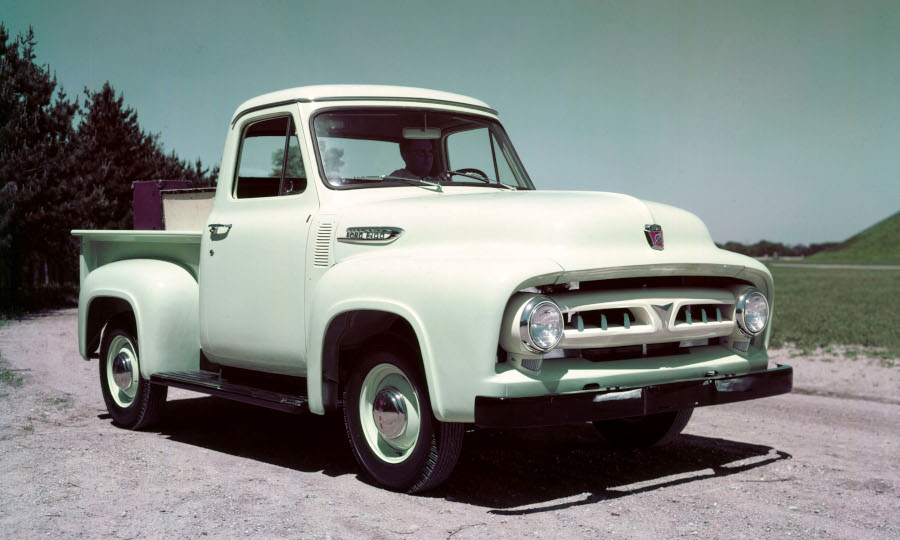 Color image of 1953 Ford pickup truck (Ford Motor Company Archives)
The line of F-600 truck cabs were used as a base for a wide variety of special truck bodies. The cab-forward truck models were extremely popular with the bottling industry. Ford offered the new C-500 and C-600 for commercial use with a modified conventional cab equipped with a unique floor plan and doors which were recessed to clear the special curved fenders. Many beverage companies like Coca Cola and Pepsi used the trucks for distributing products to stores around the country. The P-600 models were also used in the bottling industry as well.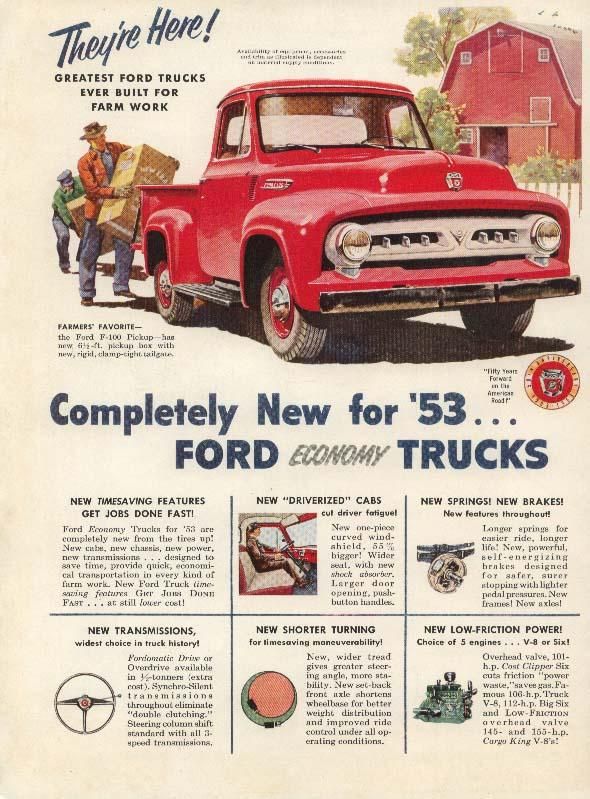 Print ad for 1953 Ford economy trucks (Ford Motor Company Archives)
Finally, the 1953 P-350 F-3 parcel delivery models were high on the list when it came to commercial usage. Many companies in the United States used the trucks for special deliveries, including Detroit's largest department stores. Hudson's operated a large fleet of P-Series Ford delivery trucks from the 1940s to the 1960s. The models offered a new split grille and a choice of wheelbases: 104 or 122 inches.
In conclusion, the 1953 Ford trucks were the most easily recognized designs in the industry. They were great sellers, and many 1953 Ford pickups are still on the road as customized trucks.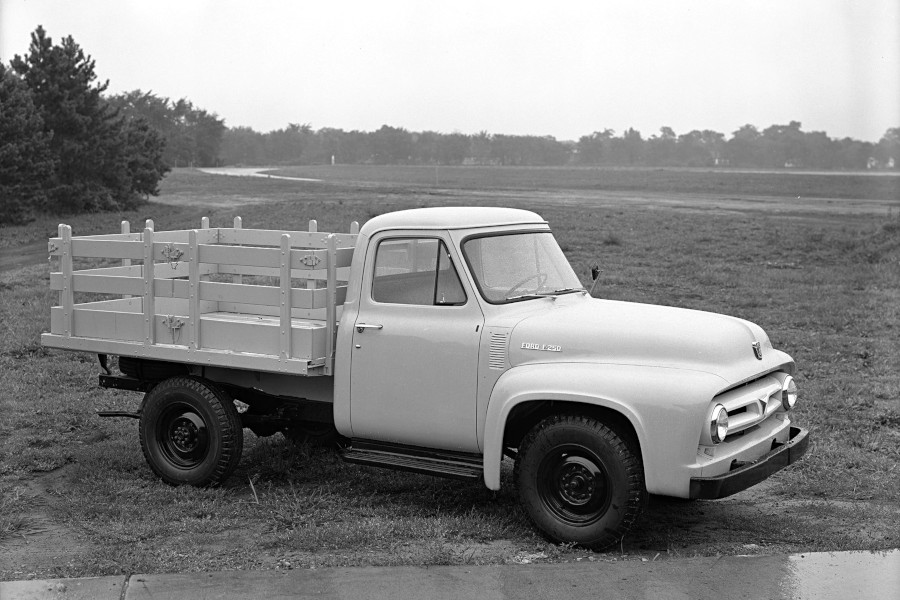 1953 Ford stake truck (Ford Motor Company Archives)
Bibliography
Wagner, James K. "Ford Trucks Since 1905." Crestline Publishing, 1978.
Burness, Tad. "Ultimate Truck & Van Spotters Guide 1925-1990." Krause Publications, 2001.