by A. Wayne Ferens
Photos courtesy of the Ferens Collection
Published 12.25.2019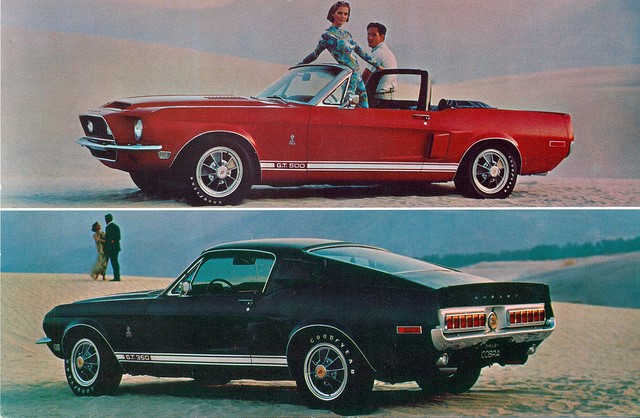 Shelby Cobra GT 500 (Ferens Collection)
If you're an early Mustang fan, then without a doubt, the Shelbys are on the top of your list. A 1967 Mustang convertible VIN 7R03S133xxx with Shelby serial number 67413C9A00139 indicates that it is an early production model. It was the only 1967 Mustang convertible sent to Shelby American from Ford Motor Company for the intended use as a styling prototype for the upcoming 1968 Shelby Mustang convertible. It arrived at Shelby American in late November 1966.
After converting K-code Mustang Fastbacks to Shelby GT 350s during the 1965-66 model run at the Shelby American Los Angeles facility, Carroll Shelby planned to expand 1967 production to include six Shelby GT models, including a convertible. It was also decided that the Ford FE 428 V-8 big block engine + air conditioning would be included among those options, and would be designated as the Shelby Cobra GT 500. Serial # 0139 was the third 428-equipped Mustang built at Ford's San Jose assembly plant, and the only convertible to be converted by Shelby to a GT 500 in 1967. The Shelby livery included a one-piece front-end, one-piece grill, fiberglass hood, inboard high-beam lights, chrome exhaust tips, emblems and stripes. Mustang #0139 was completed by Shelby American on December 7, 1966 using only 1967 Shelby upgrades. It was assigned to Carroll Shelby as his personal driver, and was designated a "company car."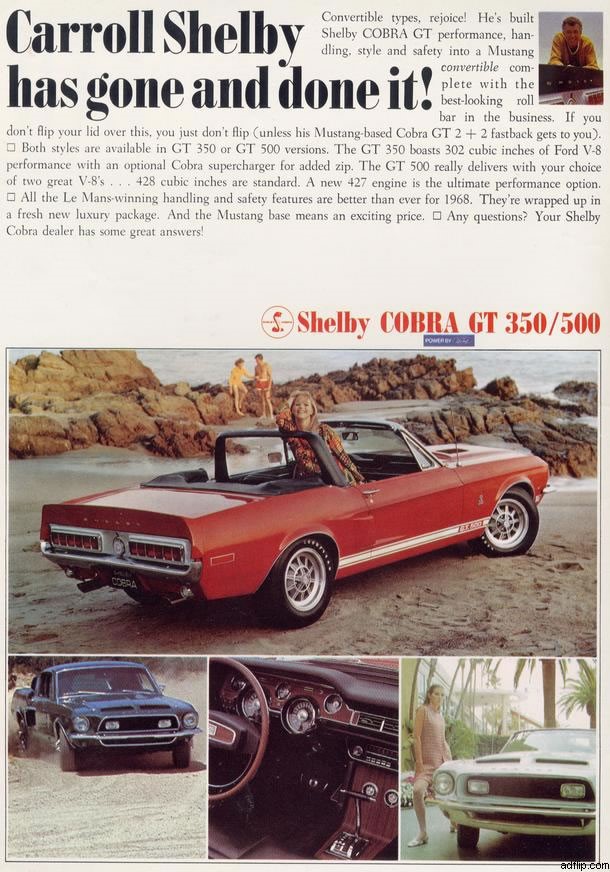 Shelby Cobra GT magazine ad (Ferens Collection)
From the start, quality issues plagued the new Shelbys, due to the hastily designed fiberglass upgrades. Ford intervened, and in April had the plastics division of A. O. Smith in Ionia, Michigan send two newly fabricated and redesigned hoods, front ends, taillight panels and center consoles to Shelby American. Two cars were selected to have these new 1968 upgrades installed. One was an Acapulco blue fastback and the other was the red #0139 car. These two "promo" cars would be used for marketing and public relations events. They were photographed around Southern California and made their way to printed materials, and by October 1967 magazine ads, dealer literature, press kits, post cards, and new car brochures were used for the promotion of the upcoming 1968 Mustang Shelby Cobra GTs. The Mustang convertible went through several changes as a promo car, including being painted white as seen in the ad below. Regular production of 1968 model year Shelby vehicles began in November 1967.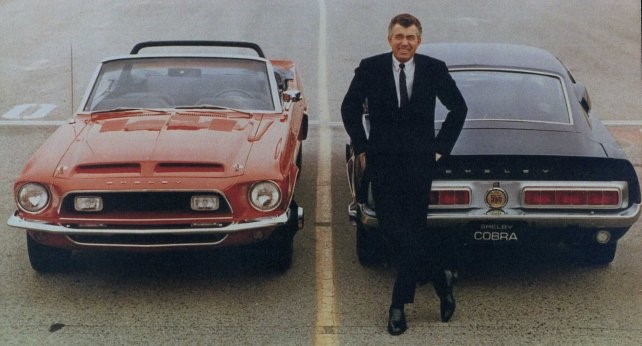 Carroll Shelby (Ferens Collection)
Back in May 1967, Ford made the decision to terminate Shelby's operation at the end of the model run. The main reasons being quality and production issues and financial problems. With the additional models added to the Shelby line, it proved to be too much for the small production facility that was originally set up for the single GT 350 model two years earlier. In August 1967, all Ford assets were shipped back to Dearborn including #0139. Ford sold the convertible from its resale lot sometime in 1968, had several owners over the years, and eventually was restored in 2014 to the highest Concours standards after extensive research by Jason Billops Classic Cars to its original 1967 Shelby conversion.
Here's what makes this 1967 Shelby Mustang #0139 so special and "The Rarest Shelby Mustang":
• It was the first Mustang Convertible to receive the 428 cu.in., V-8 dual-quad engine with air conditioning from the factory.
• It was the third Mustang (all body styles) to receive the 428 engine.
• It was the first Ford to be equipped with the upgraded "PCG-R" C-6 Automatic Transmission #000001.
• The only 1967, and the only GT 500 convertible to be ordered, serialized, and built by Shelby American.
• One of two 1967 models to be upgraded with 1968 styled fiberglass.
• It Is the most photographed and publicized Shelby GT Mustang car ever built.
• It is a 1 of 1 fully documented and very valuable 1967 Shelby GT 500 convertible.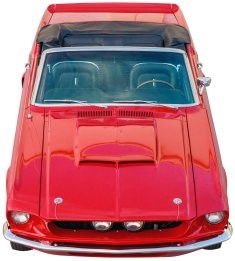 Shelby Cobra (Ferens Collection)
1967 Shelby American Production Numbers (units)
• GT 350 FB: 1,175
• GT 500 FB: 2,048
• GT 500 Coupe Prototype #0131: 1
• GT 500 Convertible Prototype #0139: 1
• Total 1967 Shelby Mustangs produced: 3,225
1968 Shelby Mustang production began at A.O. Smith in Ionia, Michigan in November 1967.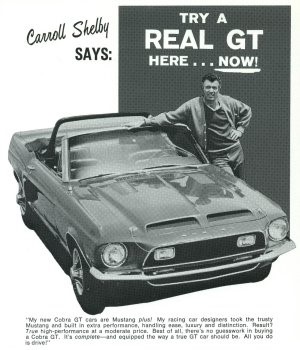 Carroll Shelby Cobra GT ad (Ferens Collection)