By Robert Tate, Automotive Historian and Researcher
Images Courtesy of the Ford Motor Company/Robert Tate Collection
Published 9.4.2019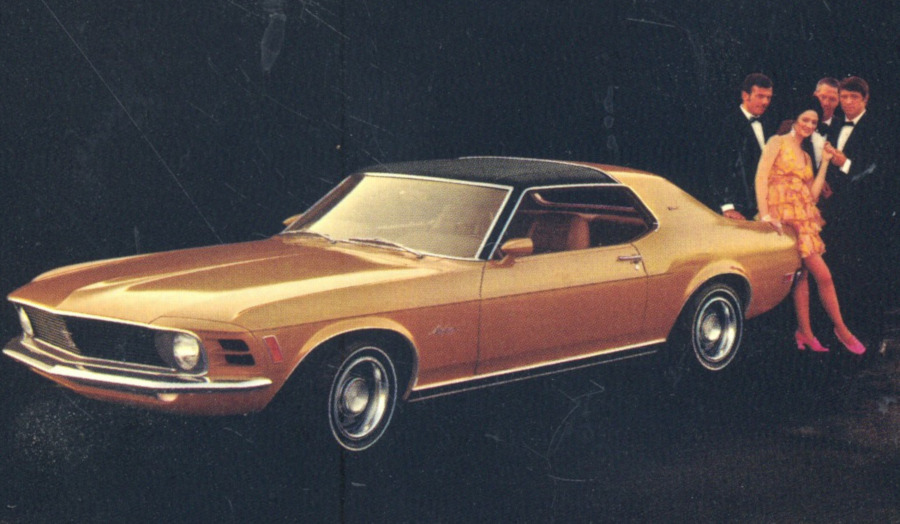 1970 Ford Mustang Grande (Ford Motor Co./Robert Tate Collection)
In 1970, John Naughton, a Ford Motor Company vice president and general manager of the Ford Division, said, "With a more powerful nine-engine lineup, additional muscle-car options and the new colors, the 1970 Mustang comes on stronger and sportier than ever before."
It was the best of times when American automakers were producing their famous muscle cars for the buying public. Muscle cars were popular in 1970, along with the full line of other Mustang models that Ford introduced on September 3, 1969.
The 1970 Mustang models introduced a hotter engine with bright "Grabber" colors and an interior design with that upbeat 70s look. The 1970 Mustangs included the hardtop, convertible, fastback designed Sports roof, Grande hardtop, Mach I, Boss 302 and the limited production Boss 429.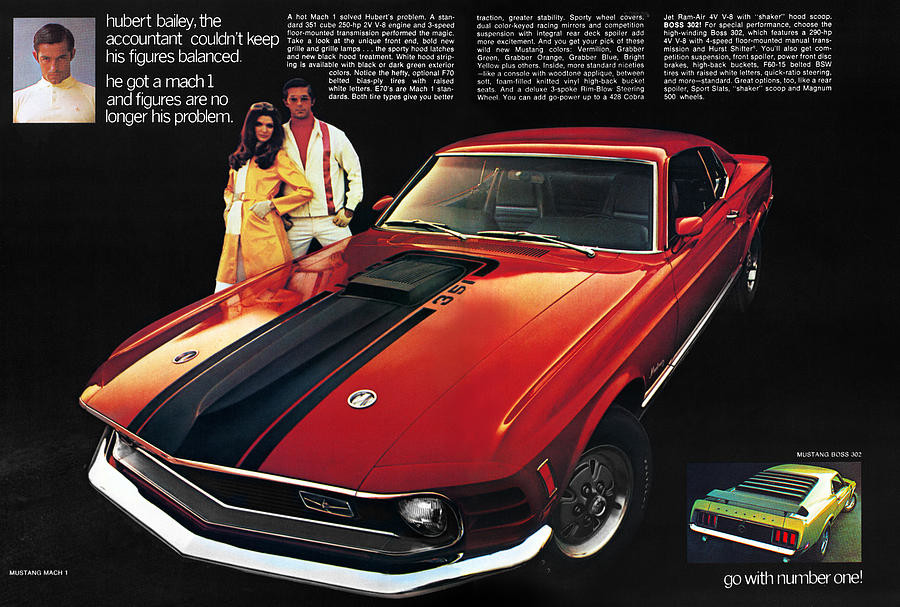 1970 Ford Mustang Mach 1 (Ford Motor Co./Robert Tate Collection)
The Mustang Mach I, introduced in 1969, was popular again in 1970. This model was available with a drag pack and rear window louvers, which I thought was very trendy for the younger generation at the time.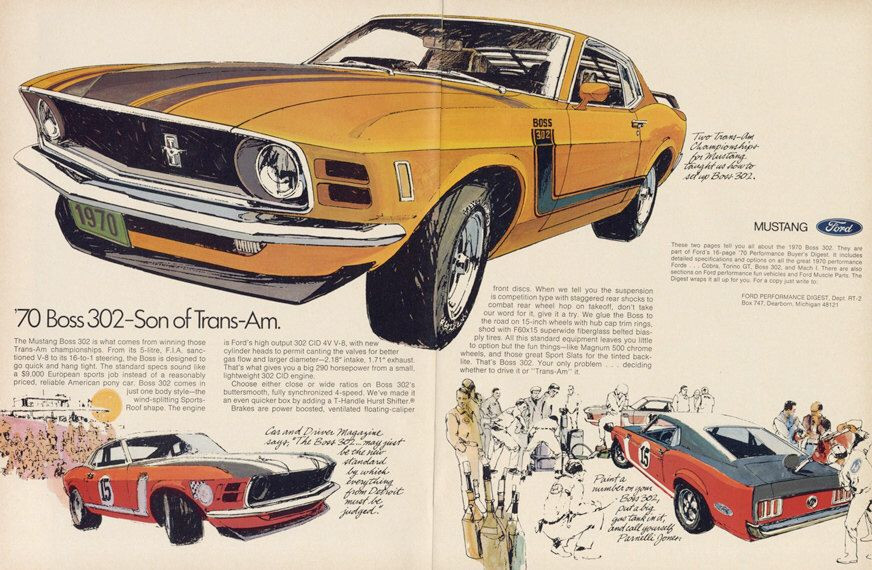 1970 Ford Mustang Boss 302 advertising (Ford Motor Co./Robert Tate Collection)
Another popular model was the Mustang Boss, available either as the Boss 302 or as the popular Boss 429. These models featured a popular front and rear spoiler with a rear window louver and a distinctive striping look which attracted many younger drivers. The Boss 302 introduced a package with a new exterior identification and an improved competition suspension system that included a rear stabilizer bar. The exterior design changes included a new grille and front-end design. The models also introduced revised rear panels with recessed taillamps, new vinyl roof colors and patterns including a sporty hounds tooth, and a new ornamentation look. The Mustang designs also featured a single headlamp design mounted in the fender extensions with simulated air scoops outboard of the headlamps. The new grille's horizontal bar theme had enhanced the lower, wider look.
The 1970 Mustang models came with a new standard two-spoke steering wheel or optional deluxe two-spoke or three-spoke versions as well. These semi-oval design steering wheels allowed for easier driver entry and exit.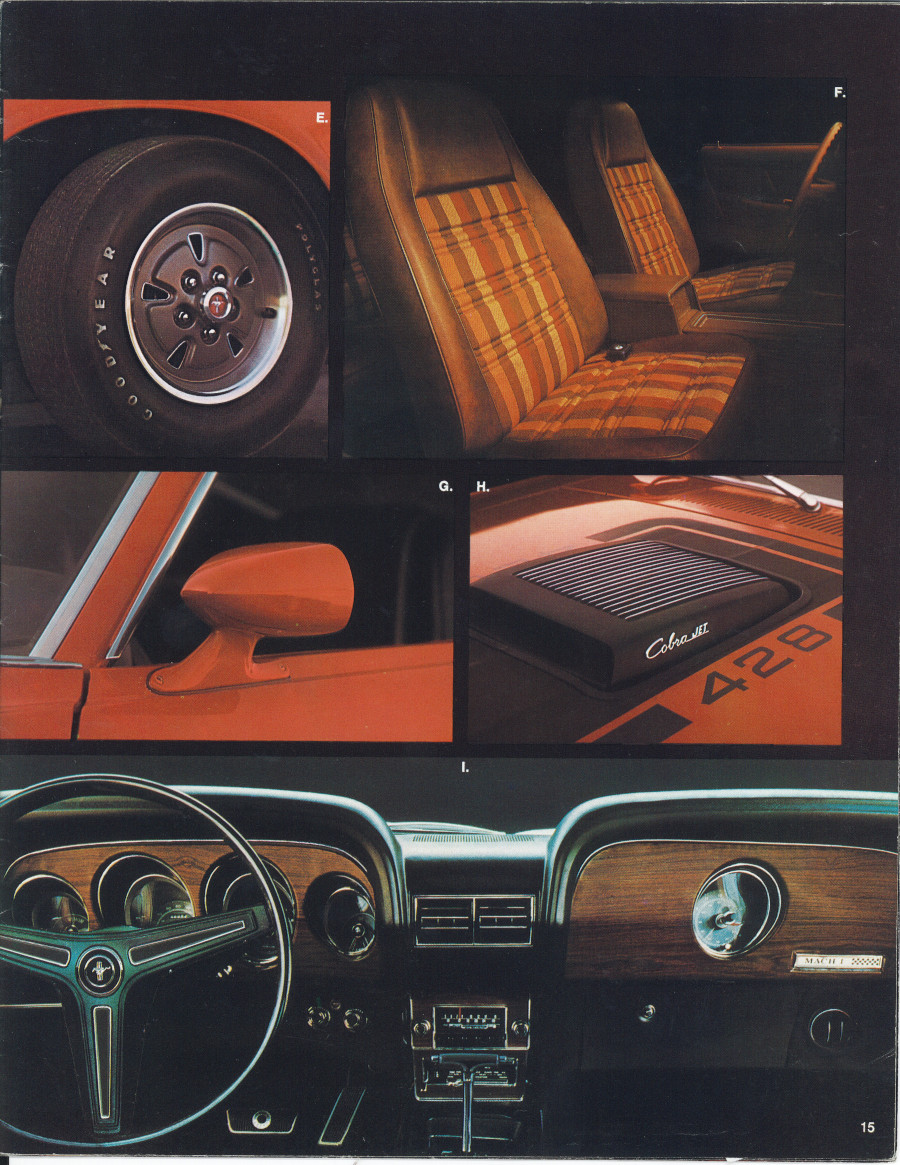 Images from a 1970 Ford Mustang brochure (Ford Motor Company)
For the consumer who wanted more performance, an optional four-speed manual transmission was introduced with a popular Hurst Shifter, which was known for fast, smooth shifting. The interior design also included a bold spectrum blazer stripe look that offered two color schemes, vermilion or ginger, which were very popular among Mustang fans.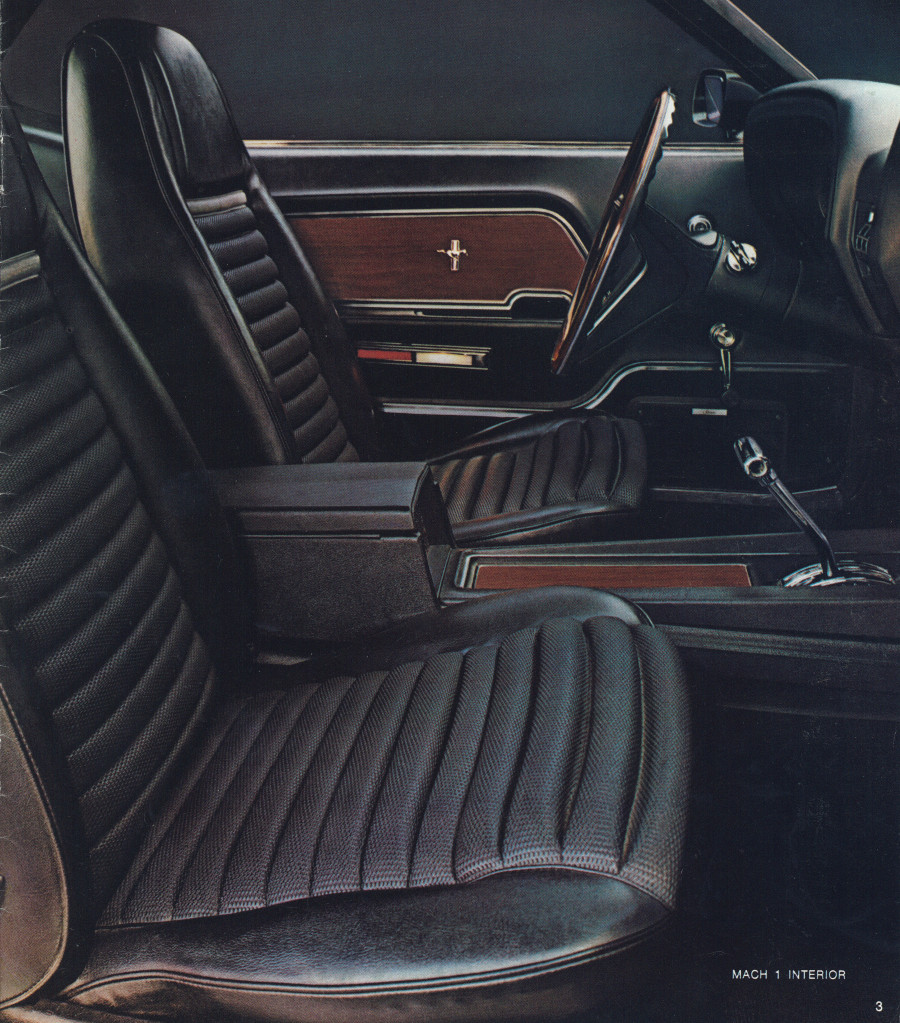 1970 Ford Mustang Mach 1 interior (Ford Motor Company)
The Mustang Grande models offered five sporty hounds tooth design patterns that were popular in 1970. Another new option package featured automatic seat-back release, parking brake warning lights, remote-controlled outside mirror and lights for the trunk, glove box and instrument panel.
Other 1970 Mustang features included molded louvers that protected rear seat passengers from direct sunlight. They were painted a racing black color and hinged upward for easy access to the back window. A win-type rear deck air spoiler was also available, along with tinted glass. The shaker hood scoop allowed cool air from the outside directly into the carburetor for great performance.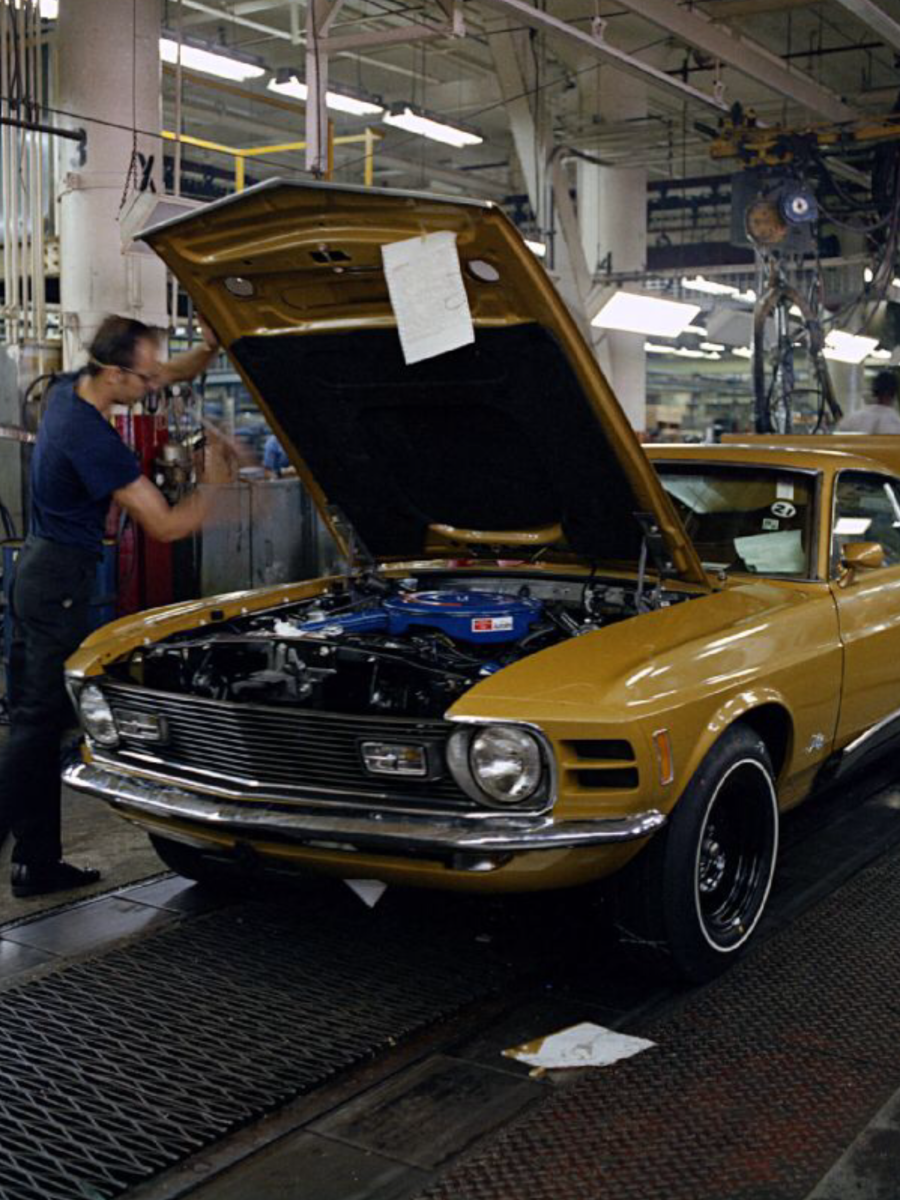 A 1970 Ford Mustang on the assembly line (Ford Motor Company)
Today, the Mustang Boss 302 or 429 models command very high prices for auto collectors. Each of the 1970 Mustang models will have a unique place in our automotive history.
Bibliography
Dammann, George H. "Illustrated History of Ford." Crestline Publishing, 1971.
"Hey look! We tracked down a Boss 302 Mustang." Car Life Magazine, September 1969, pg. 57-59.