By Robert Tate, Automotive Historian and Researcher
Images Courtesy of Robert Tate Collection/General Motors Archives
Published 6.26.2019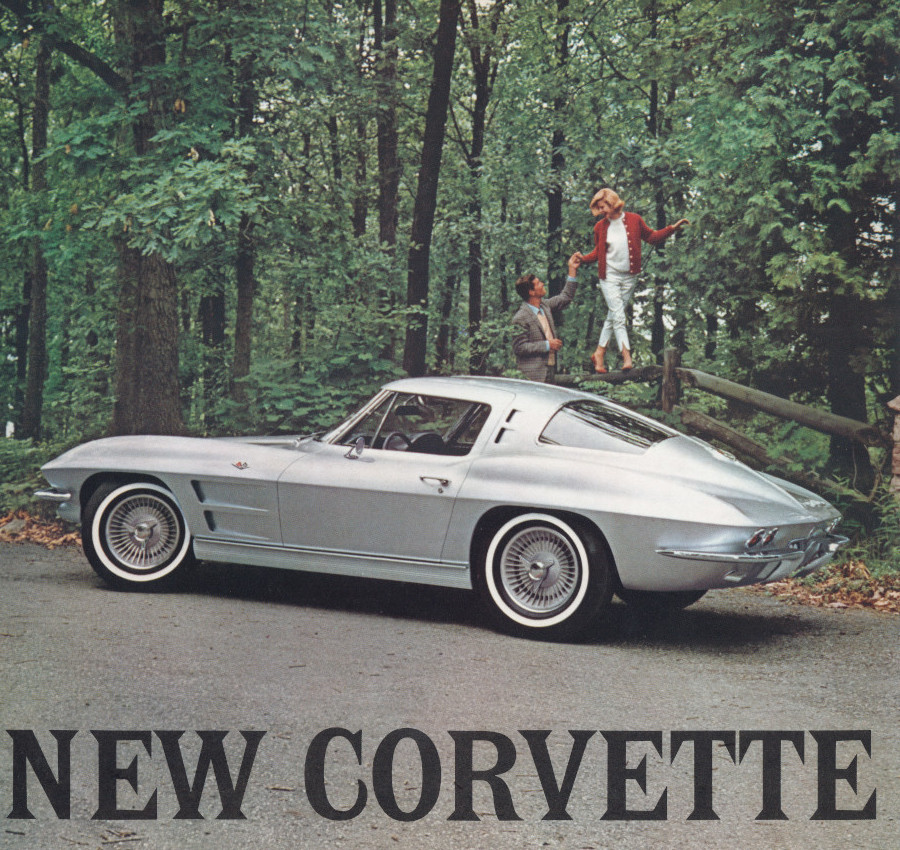 1963 Corvette brochure cover (Tate Collection)
The 1963 Chevrolet Corvette models were introduced to the public in dealerships on Friday, September 28, 1962. The models were well-received by the public because of their new styling features. The 1963 Corvette was designed under the direction of Bill Mitchell, but credit must also be given to Larry Shinoda, Zora Arkus Duntov and many others who worked on making this car a true icon in America's auto history.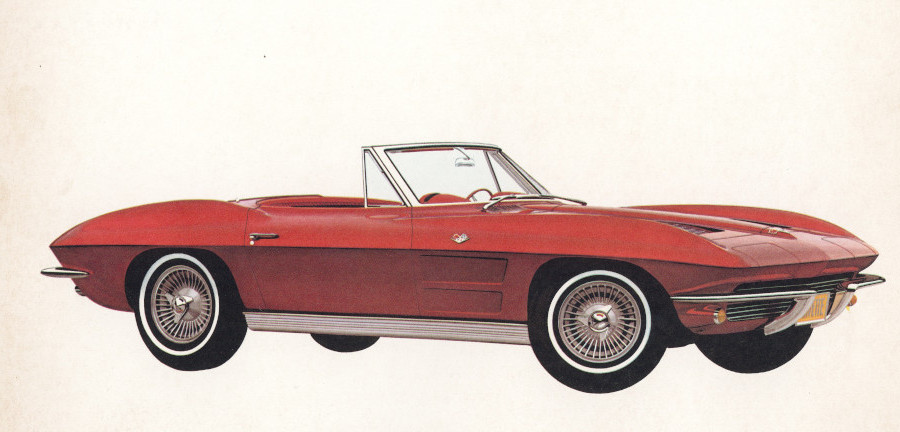 1963 Corvette convertible in Riverside Red (Tate Collection)
For the first time since Chevrolet had introduced the Corvette in 1953, both the body and chassis of America's only production sports car were completely redesigned and reengineered. In addition to offering a popular sports coupe, a Corvette convertible was also available to the public. The 1963 Corvette models were also manufactured with an optional hardtop attachment. Both models also offered identical front-end styling which most consumers admired.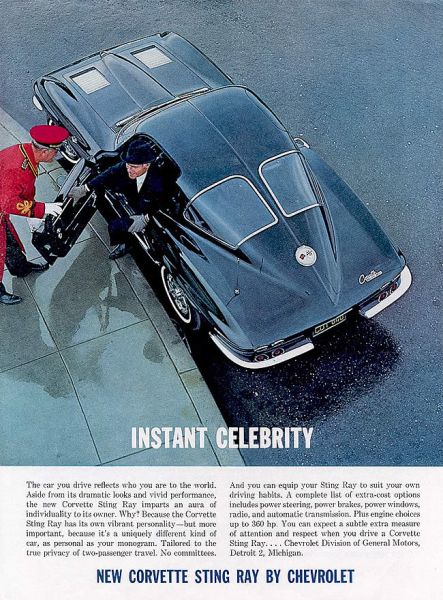 1963 Corvette ad (Tate Collection)
The 1963 Corvette models were called the "Sting Ray," a name introduced earlier in a Mitchell-designed Corvette experimental model. The Corvettes were manufactured with fiberglass bodies and tested in wind tunnels for aerodynamics. The 1963 Corvettes offered a completely new chassis, four-wheel independent suspension, self-adjusting brakes and improved steering. The steering wheel could also be moved up and down based on the driver's preference. New power brakes and air-conditioning were also introduced in 1963. A new feature that many automotive enthusiasts admired was the retractable headlamps, which were invisible until the driver pressed a switch. The 1963 Corvettes were two inches lower and four inches wider in wheelbase compared to the 1962 models. The front end on the Corvette models featured a deeply recessed front grille and a low, tapered hood design which most sports car enthusiast thoroughly enjoyed. The new fast-back sport coupe design offered a tapering roof line which had blended into the rear deck styling theme in one continuous sweep. The wrap over door design was also a great styling feature that added to the car's appearance. The most eye catching element of all was the dual rear window, a signature design that so many people recognize.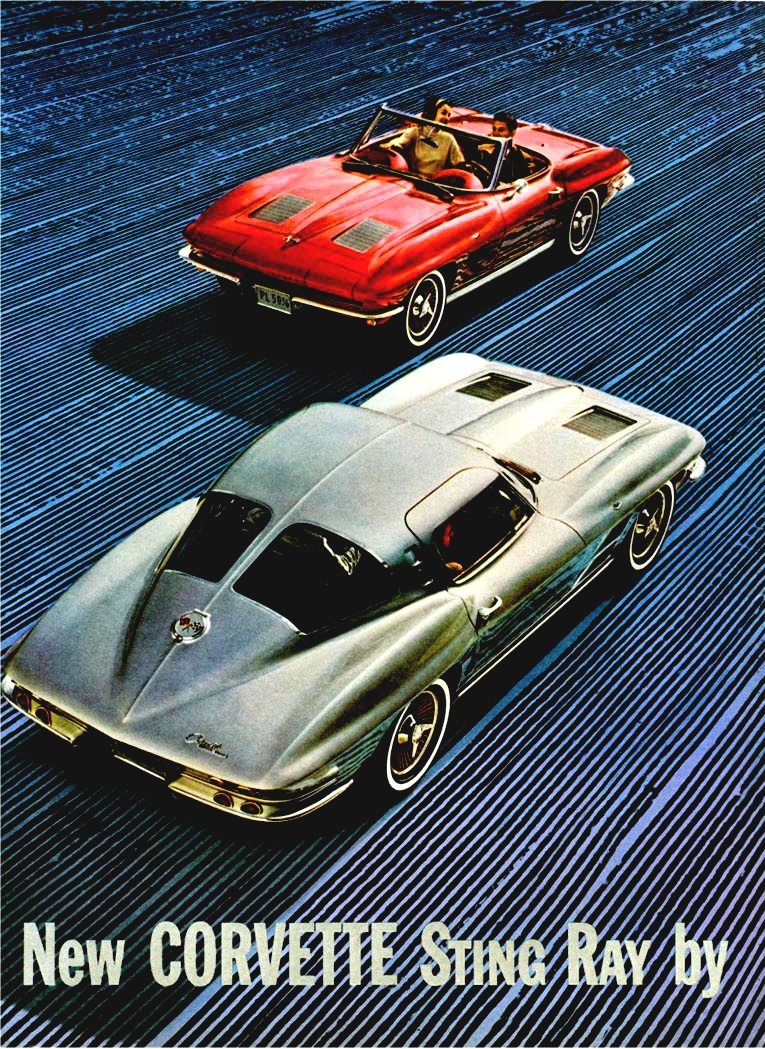 1963 Corvette ad (Tate Collection)
Some automotive historians have called the 1963 Corvette models "A model that was the very embodiment of muscle and beauty -- an inspiring combination of futuristic design and classic power." A wide variety of Corvette engines were also available ranging from 250-360 horsepower. There was also a new fuel injection system on the 360 hp Ram jet V8 three-speed engine. A three-speed, a four speed and a powerglide transmission with floor mounted controls were also available.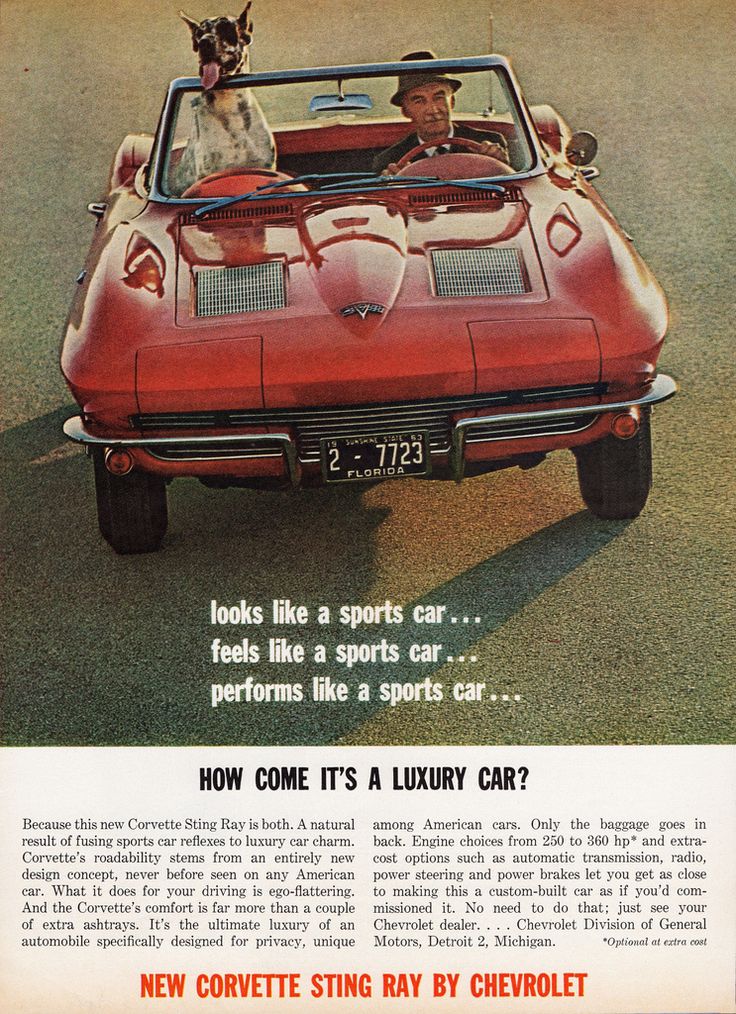 1963 Corvette Sting Ray ad (Tate Collection)
The 1963 Corvette interior combined luxury with functionality. The model offered an all-vinyl trim package in four colors that was genuine leather with upholstered bucket seats for the driver and passengers. On the convertible models, there were three colors of folding convertible top options. The models also came with white wall tires, aluminum wheels with knock off hubcaps. A new integrated heating and ventilation system was now available, and the new fiberglass bodies also featured torsional rigidity and beam strength steel.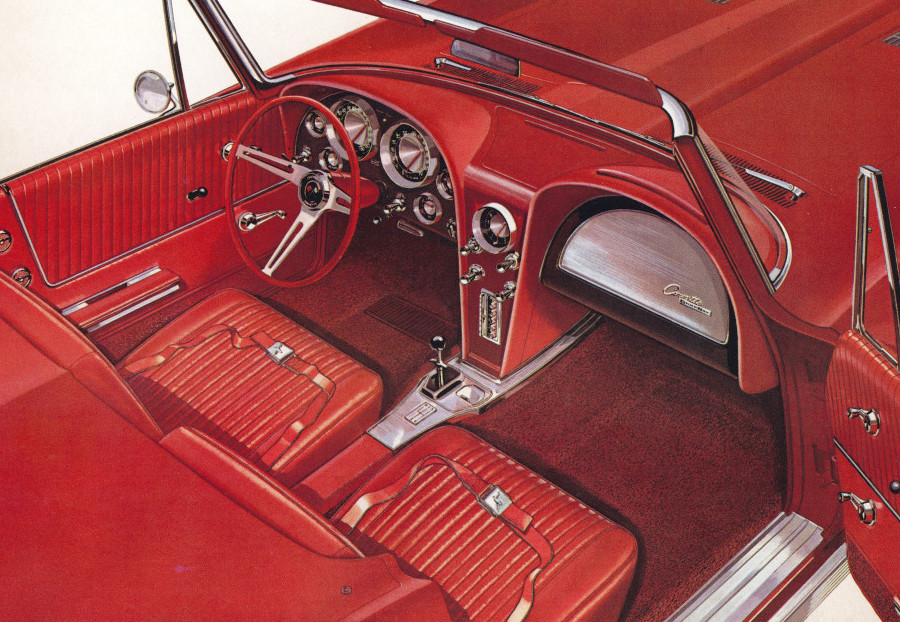 1963 Corvette interior (Tate Collection)
In conclusion, the 1963 Corvette models were manufactured in seven great colors, which were Tuxedo Black, Ermine White, Riverside Red, Silver Blue, Daytona Blue, Saddle Tan, and Sebring Silver. Today, the 1963 Corvette models are still very popular with automotive enthusiasts from all over the world.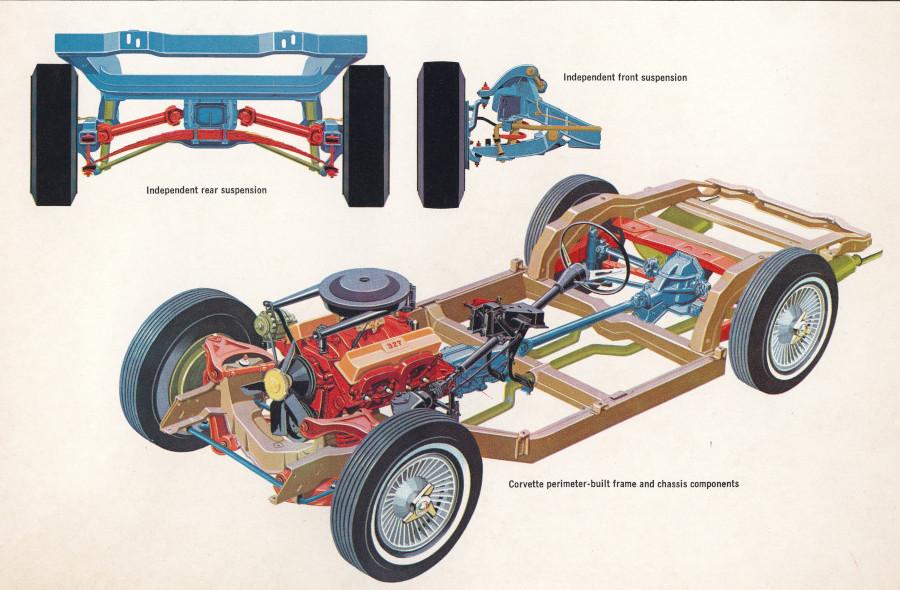 1963 Convertible chassis (Tate Collection)
Bibliography
Ludvigsen, Karl. "Corvette, America's Star-Spangled Sports Car: The Complete History." Automobile Quarterly, 1973-1974.
Watts, Ralph R. "Tells of Survival of Sports Corvette." Detroit News, October 9, 1962.
McNally. "Test the Chevrolet Corvette Sting Ray." Auto Sport magazine, March 1, 1963, Pg. 284.