By Robert Tate, Automotive Historian and Researcher
Images Courtesy of General Motors
Published 05.22.2019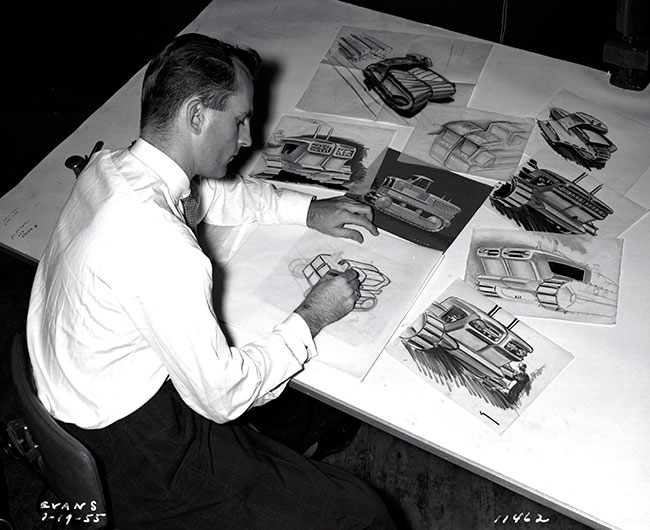 Chuck Jordan designing the GM Euclid Tractor in 1955 (GM Archives)
Many people have asked me over the years about who were the greatest automotive designers in history. One designer who stood out because of his great talent and creative ideas was Chuck Jordan (1927-2010).
Jordan's journey started with a model car contest that brought him and his talent to the attention of designers at General Motors in 1947. He won the annual Fisher Body Craftsman Guild competition when he was a sophomore at MIT studying engineering. Two years later, having received his bachelor's degree in mechanical engineering, Jordan joined GM as a junior designer. While his career was beginning to take off, Jordan spent some time in the U.S. Air Force at Cape Canaveral during the Korean War. Upon his return to GM, he was named chief designer of the company's Special Projects Studio in 1953.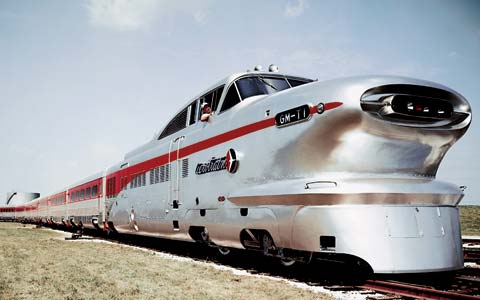 Chuck Jordan's 1950s Aero Train design (GM Archives)
One of the first assignments Jordan was involved in was the design of the twin-engine Euclid TC-12 tractor crawler model. Later, he would design the Electro-Motive Aerotrain concept and the popular 1955 Chevrolet Cameo, great designs that many consumers liked and admired.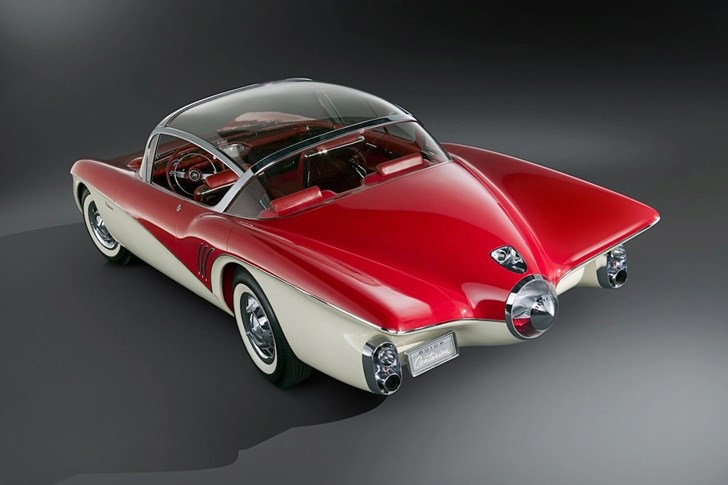 1956 Motorama Buick Centurion concept car by Chuck Jordan (GM Archives)
Jordan was a fast rising star who became lead designer of five major GM products before the age of 30. He also designed great concept models like the 1956 Motorama Buick Centurion, and his passion was admired by many people around the world.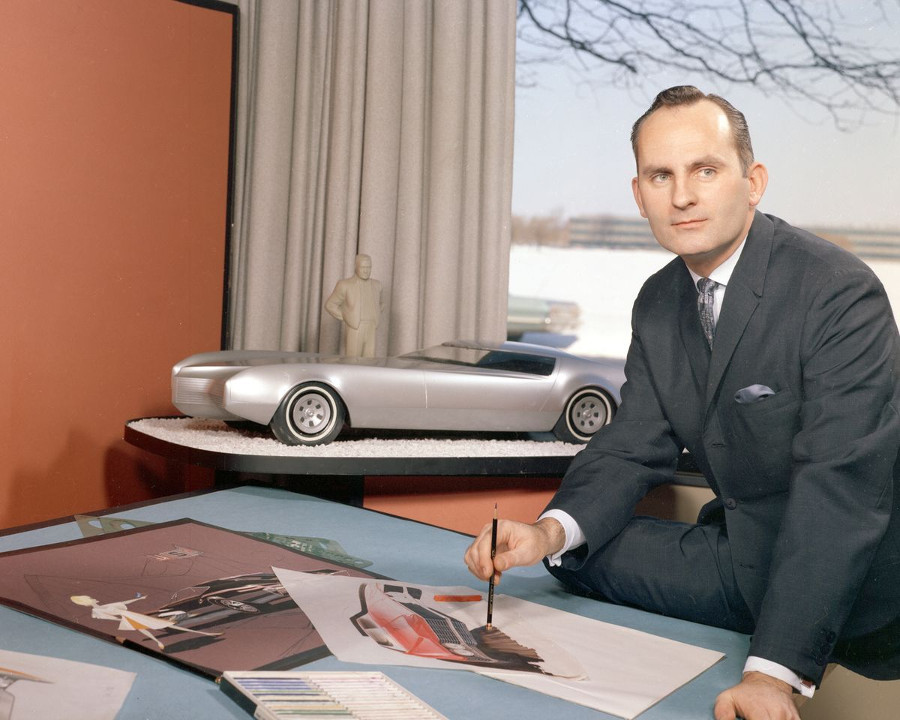 Chuck Jordan inside the GM Design Studio, 1960s (GM Archives)
The 1950s was the decade of fins and chrome, and Jordan became chief designer of the Cadillac studio between 1957 and 1962. If you look at Cadillac design during the early 1950s-1960s, it was just pure great styling and still very popular today. Jordan was also involved in designing the popular 1958 Corvette and the 1967 Cadillac Eldorado.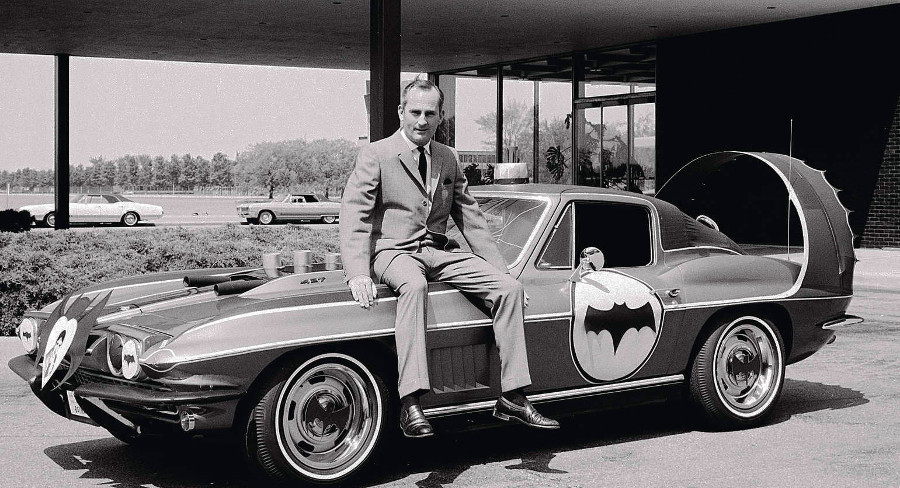 Chuck Jordan having fun with a Corvette and Batmobile design theme, 1960s (GM Archives)
In 1962, Jordan was named in Life Magazine's list of the 100 most important young men and women in the United States. Five years later, he became director of design for GM's German subsidiary, Opel, and produced the 1968 Opel GT.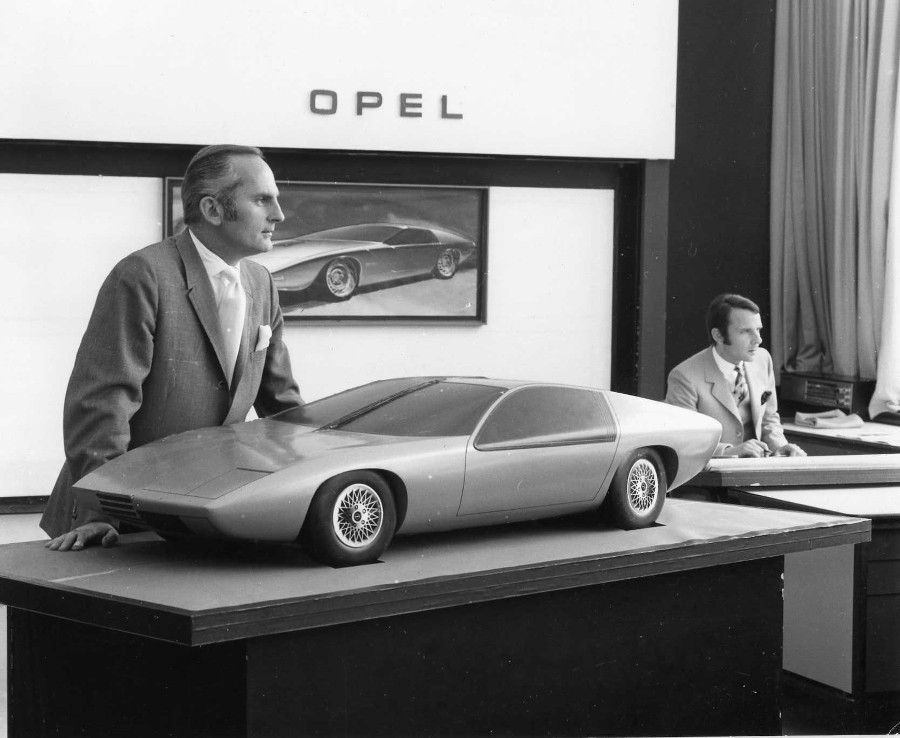 Chuck Jordan working at Opel in Germany (GM Archives)
In 1977, Jordan was named director of design for GM, and in 1986, he became only the fourth man in the company's history to be named vice president of design. During this era, some of his popular designs included the 1992 Cadillac Seville STS and the Chevy Corvette concept Indy model.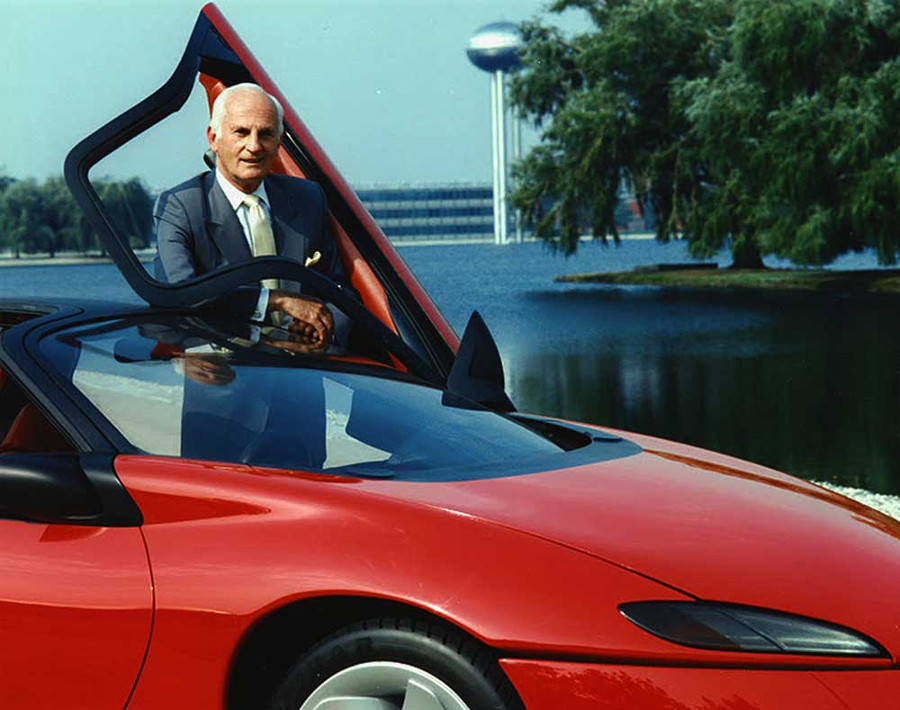 Chuck Jordan with the 1989 ACC IROC Chevy Camaro concept model (GM Archives)
Jordan once said, "On a personal note, as most of you know, I love cars. I've always considered myself fortunate to be able to do what I loved. It's never quite seemed like work to me. It's been fun and exciting than my last six years as vice president."
In conclusion, Jordan was a professional, he loved automobiles and most importantly, he was passionate about his work. In 1990, Jordan was inducted into the Automotive Hall of Fame, and two years later, he retired from General Motors. Finally, on a personal note, Chuck, who died in 2010, was a good friend to me and many others who miss him very much.
Bibliography
General Motors Corporation News Release. Appointment of Charles M. Jordan, Tuesday, July 17, 1962.
"A pre-retirement chat with GM chief designer Chuck Jordan." Collectible Automobile, December 1992.
"Chuck Jordan: Passions, 1927-2010."