By Robert Tate, Automotive Historian and Researcher
Images Courtesy of the Robert Tate Collection
Published 12.18.2019
Let me first take this time to wish everyone a wonderful Merry Christmas and a Happy New Year!
This story is about early automotive advertising and greeting cards that were used to promote specific makes and models. To celebrate the holiday season, automobile companies sometimes used Santa Claus with vehicles to sell them. Automotive historians have noted that the holiday season and the end of the year are often strong for car sales. Despite the number of treasures and gifts under the tree, many gifts and cards are sometimes automotive-related for that special person.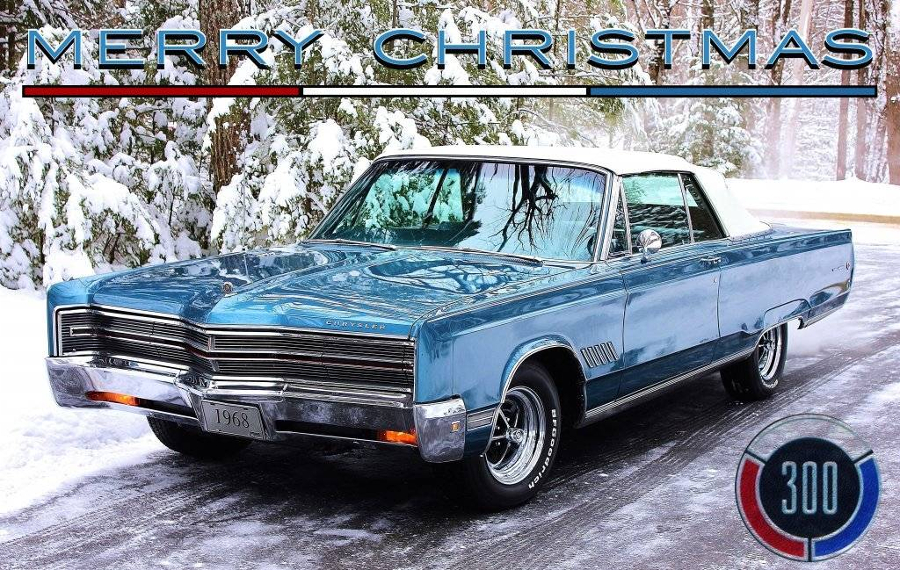 1968 Chrysler 300 Christmas ad Robert Tate Collection
Automotive-themed Christmas cards were sent out in the early days in large numbers because this was a convenient way for the public to receive information highlighting new vehicles. For example, Ford introduced its 1941 Lincoln models with a magazine ad saying "Give them a magic carpet for Christmas," featuring an image of Santa Claus with a 1941 Zephyr.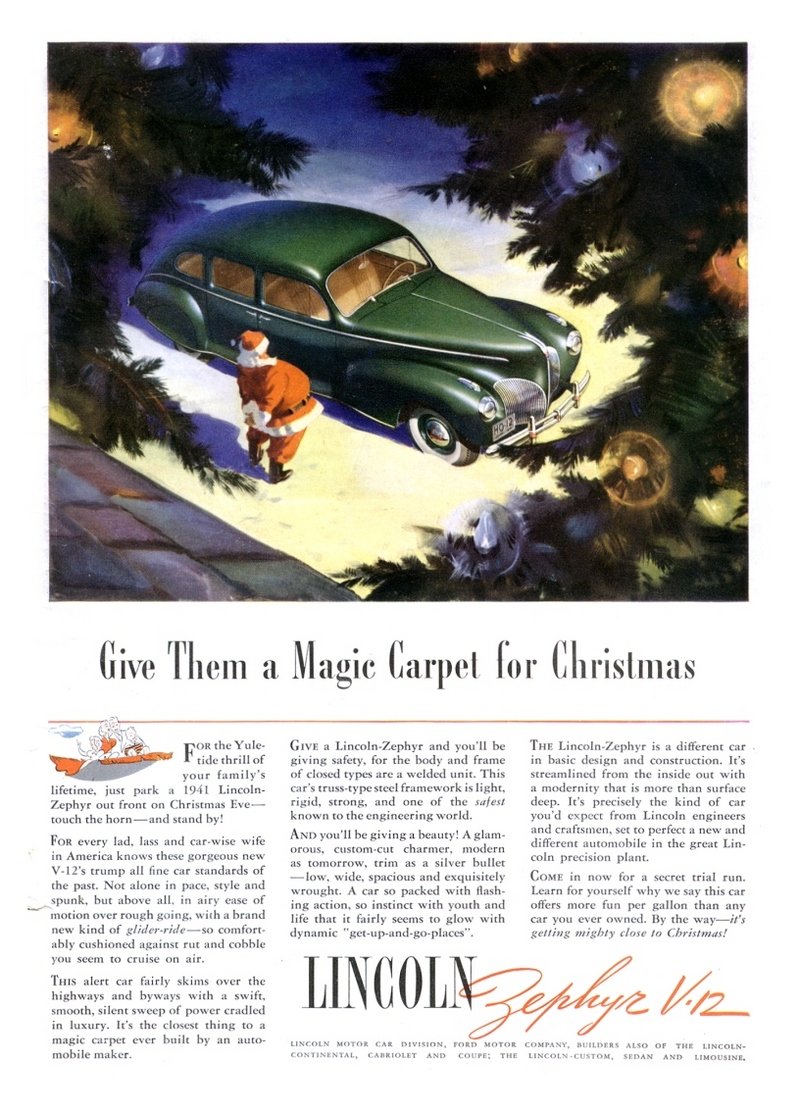 1941 Lincoln Zephyr ad Robert Tate Collection
A classic Chrysler ad featured a new Plymouth model driving up to grandmother's house for a holiday visit. Another of my all-time favorite holiday ads was for Plymouth in 1948. The illustration featured a young boy visiting Santa, saying "My daddy's been a good boy, too --and he wants a new Plymouth." After World War II, automotive historians noted that Plymouth ran a series of these holiday ads with the theme that their product could make all your impossible dreams come true.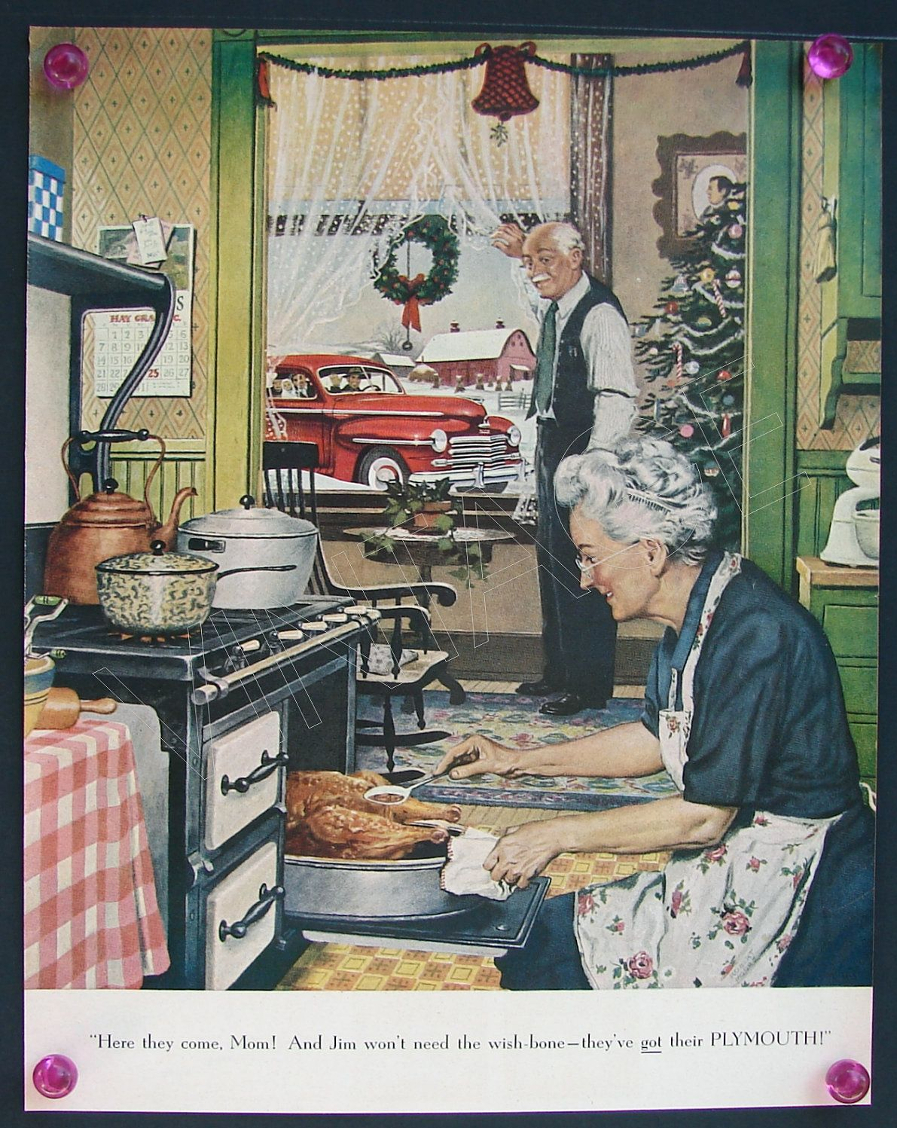 Plymouth Christmas ad Robert Tate Collection
Cadillac also featured many great and colorful holiday season ads, including one featuring a young married couple with the tagline "The Christmas they'll never forget." Another 1956 classic highlighted a young lady receiving the keys to her new Cadillac instead of a diamond ring.
When you look back, Christmas cards sent by companies and families throughout the 20th century were also a profitable business for many stationery companies.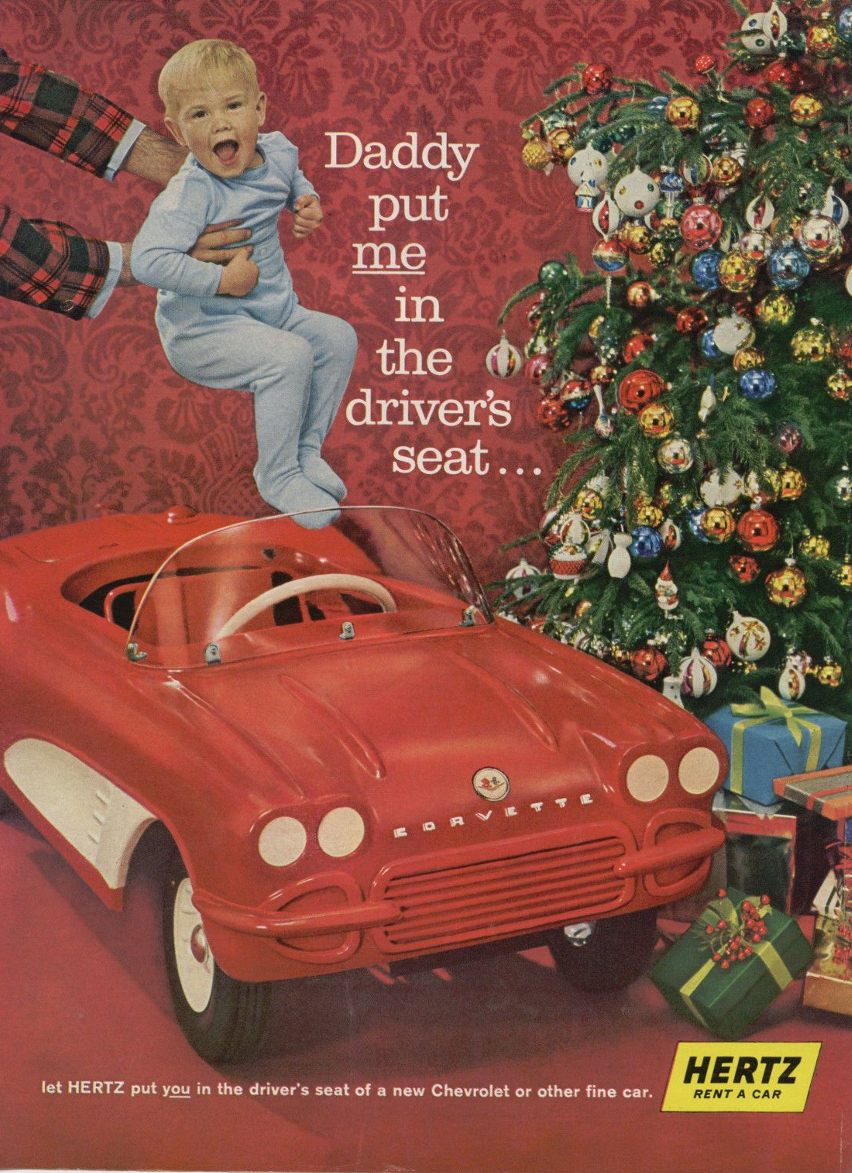 Hertz 1961 ad Robert Tate Collection
Many automotive historians have said the 1950s were glory days of holiday automotive advertising, and automotive marketing is not like it used to be. Today, vehicle photography on social media is widely used by automakers, along with huge-budget TV commercials to reach millions of consumers.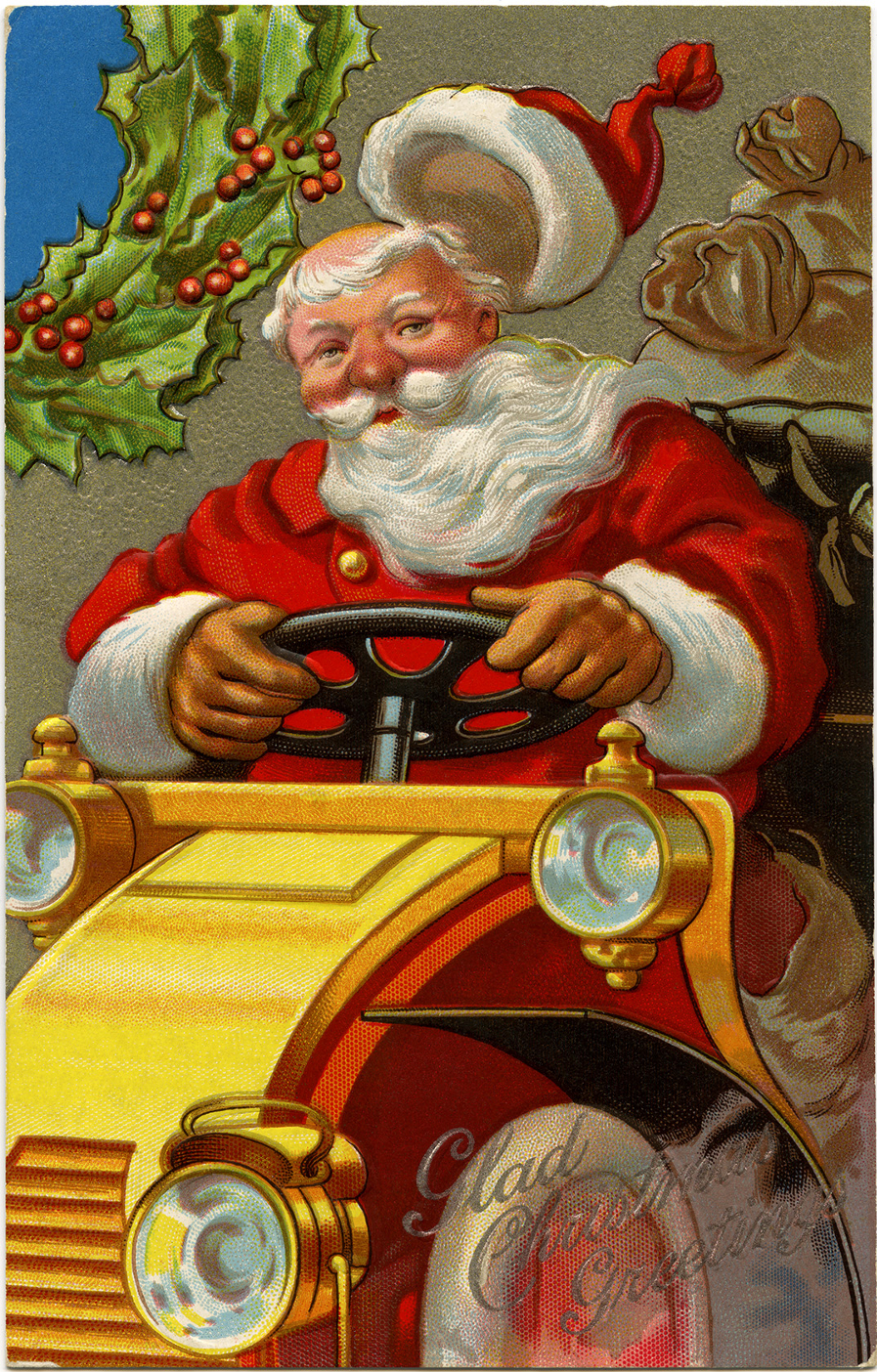 Santa driving an antique automobile Christmas card Robert Tate Collection
Automotive holiday season advertising reflected an American art form which the public enjoyed and appreciated. After World War II, television changed the way Americans looked at Christmas automotive advertising. For example, national television primetime variety shows in the 1950s featuring stars like Dinah Shore and Pat Boone highlighting new 1957 and 1958 Chevrolets from General Motors during the holiday season.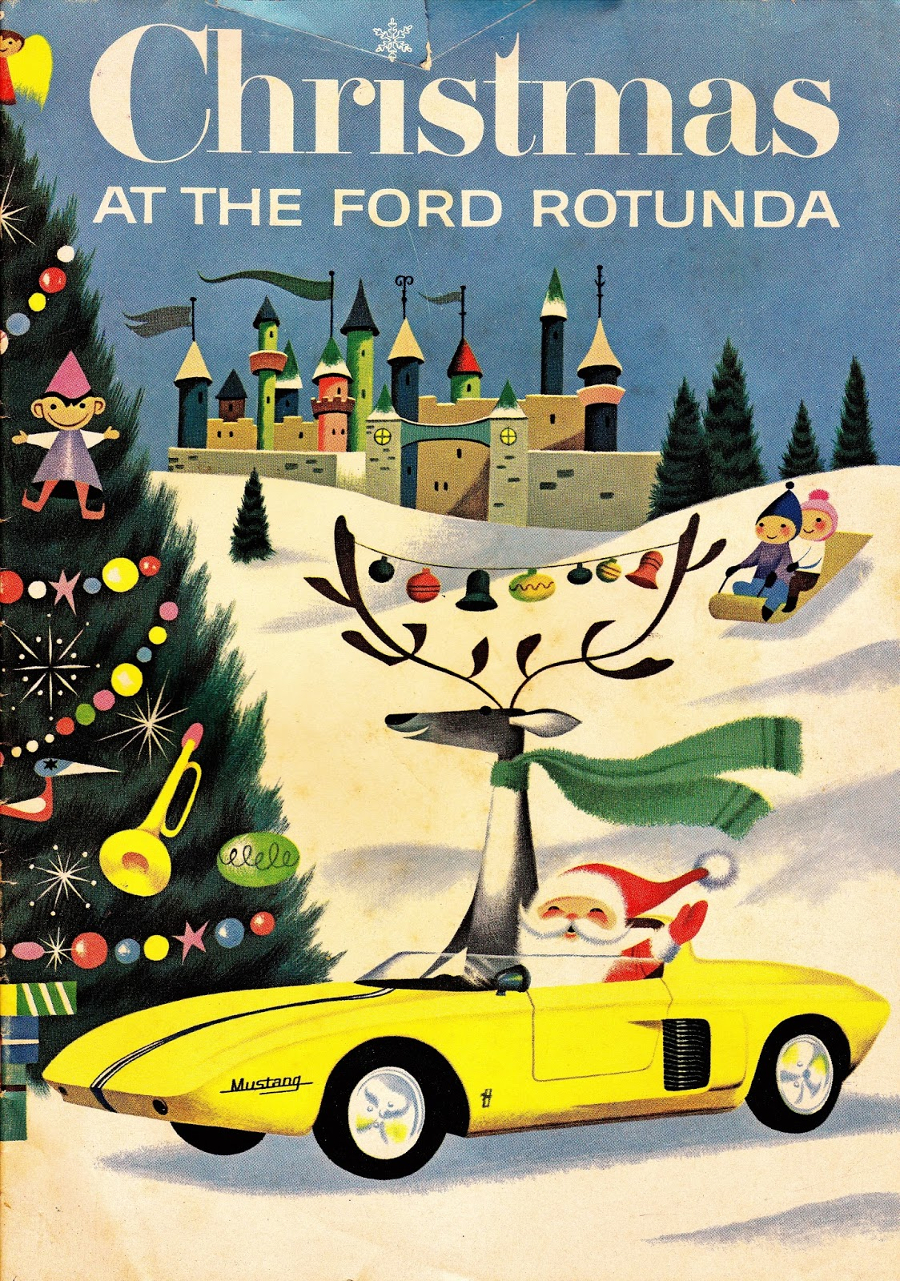 Christmas at the Ford Rotunda early 1960s Robert Tate Collection
In conclusion, probably the most well-known and popular holiday automotive advertising featured Santa Claus driving or looking at the new vehicles. For many consumers who enjoy historic advertising, past holiday seasons were known for great automotive illustrations that became instilled in American culture and will be remembered for many generations to come.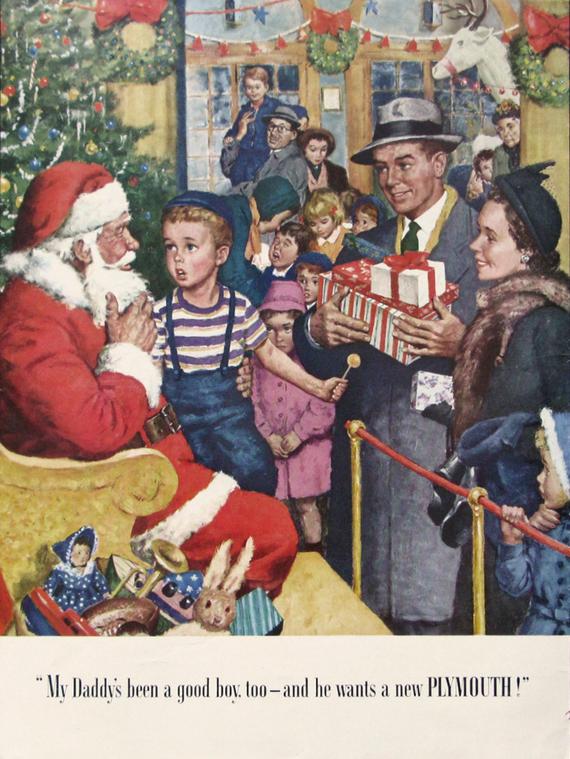 Plymouth Christmas ad Robert Tate Collection
Bibliography
Stern, Jane & Michael. "Auto Ads." Random House, New York, 1978.