By Robert Tate, Automotive Historian and Researcher
Images are public domain and from National Geographic
Published 9.11.2019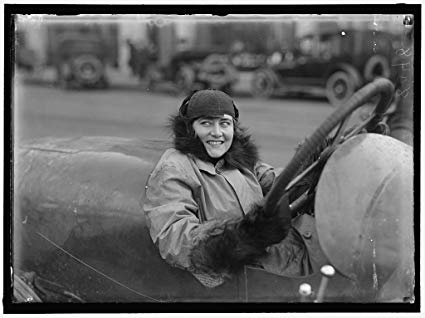 Eleanor Blevins behind the wheel, 1916
During the 20th Century, many Americans believed that driving an automobile created a new lifestyle and appreciated the benefits of a motorized life. In the beginning, engineers, mechanics and male drivers assumed that automobiles were machines manufactured for and used by men only. However, during the early days of motoring, many women began to travel in automobiles by themselves on transcontinental journeys or sometimes became involved in the sport of auto racing.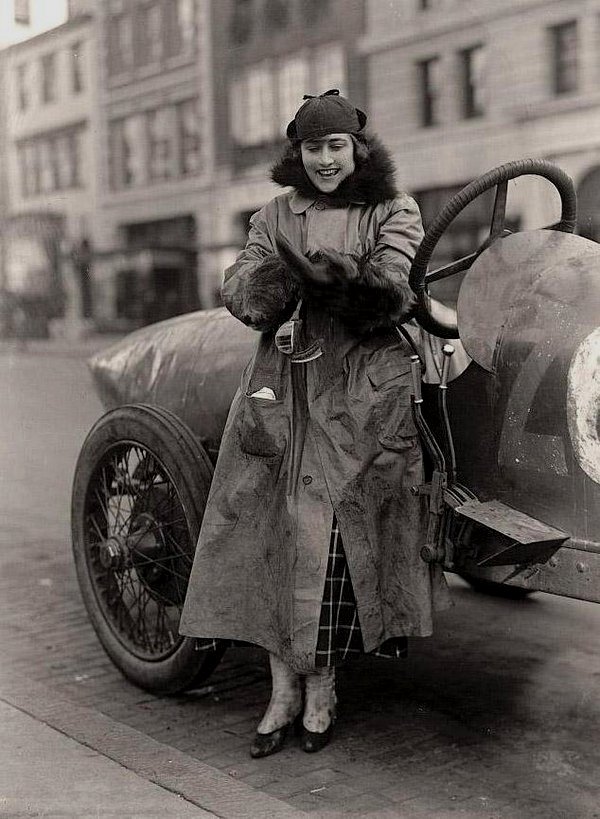 Eleanor Blevins in New York City, 1916
One woman who made history during those early days was Eleanor Blevins (1892-1972) of Lincoln, Nebraska. Blevins was also an actress and made more than 24 films between 1913 and 1916. She also was one of the first women who enjoyed auto racing, driving many times around the Benning Racetrack near Washington, DC in 1916.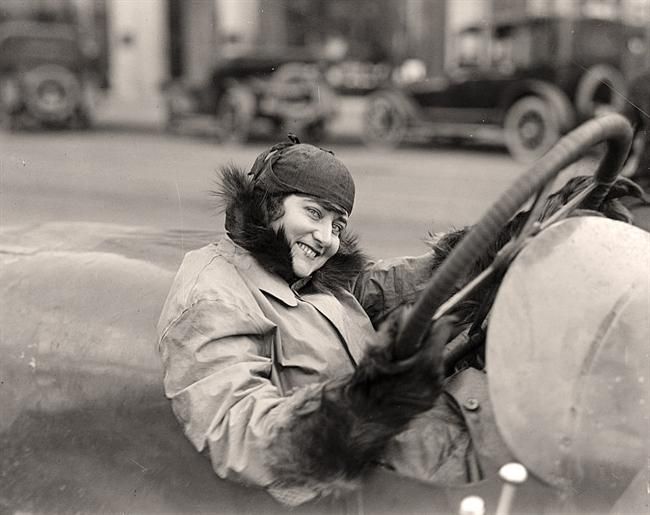 Eleanor Blevins, 1916
There were other women as well who were early auto racing or cross country driving pioneers. For example, Alice Ramsey was the first woman to drive a car across the United States on May 16, 1910, and Joan Newton Cuneo became one of the first female race drivers in 1905, at the Dutchess County Fair in Poughkeepsie, New York. Mrs. Olive Schultz became the first female driver for a public taxicab business and was a licensed chauffeur.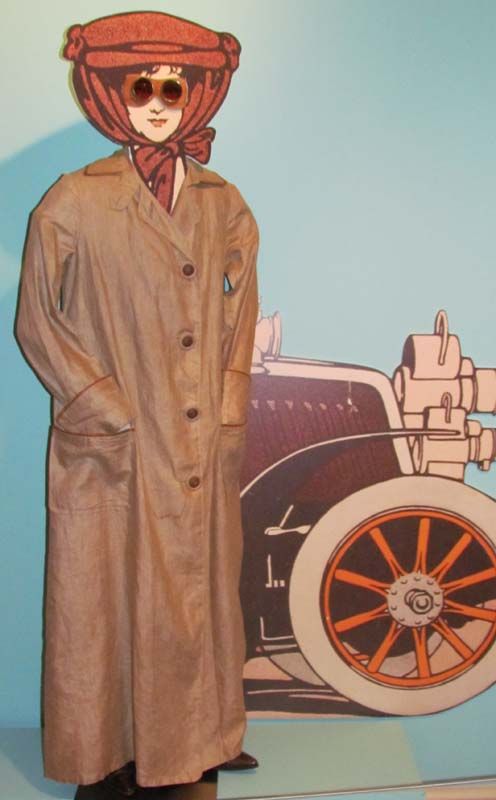 Early driving apparel for women, circa 1900s
During the early days of racing, it should be noted that women motorists wore protective gear, as they were driving open vehicles. Many women wore hats and hoods, along with goggles, coats, dusters, gloves, leggings and foot protectors that would give them that extra security when driving.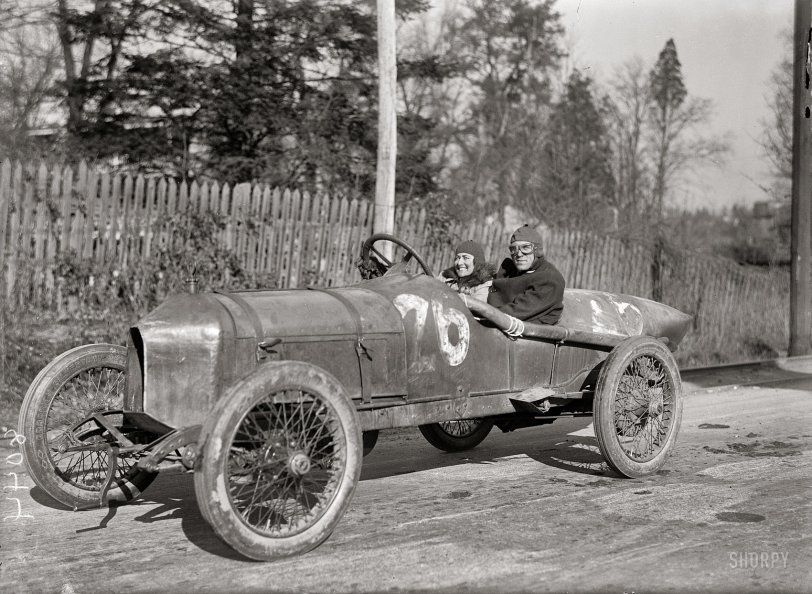 Eleanor Blevins driving with D. Braily Gish
The car that Blevins drove throughout her racing career was called the Stutz Weightman Special, produced by William "Wild Bill "Weightman. It was equipped for high speeds and featured a special aerodynamic modification with a boat tail design. The vehicle was a right-hand drive model and prepared for land speed races as well. In the photograph above, you can see Blevins driving on a dirt road with D. Braily Gish, who was a popular auto dealer salesman at the time in the Washington D.C. area. Motorized road traveling had become an integral part of American society in the early 20th century, and women were becoming more involved with the automobile.

A Racing Poster from 1908 (National Geographic)
In conclusion, Eleanor Blevins became a part of automotive history when she drove her Stutz Weightman race car in 1916. Sue Macy, author of the recent National Geographic book "Motor Girls," said this about the early days of women motoring: "At the turn of the 20th century, the rise of the automobile changed more than the streets it traversed. The automobile opened the world to eager travelers allowing drivers to roam faster and further than ever before. But it also opened the door to revolutions in women's place in society, ultimately impacting how they lived and worked, and overturning widely held notions about modesty, propriety, and independence."
Bibliography
Macy, Sue. "Motor Girls: How Women Took the wheel and drove boldly into the twentieth Century." National Geographic Washington, D.C., 2017.
Kimes, Beverly Rae & Clark Jr., Henry Austin. "Standard Catalog of American Cars 1805-1942." October, 1988.