By Robert Tate, Automotive Historian and Researcher
Images courtesy of Robert Tate's Collection
Posted: 04.04.2018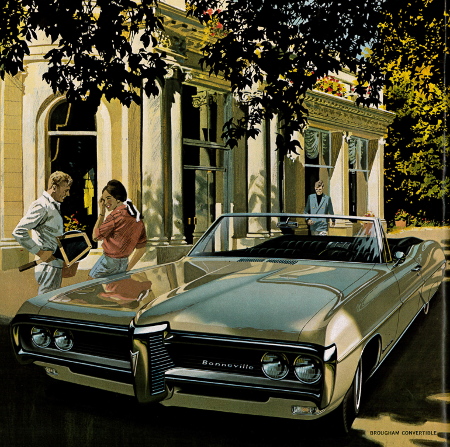 1968 Pontiac Bonneville Brougham Convertible
Some of the most memorable automobile designs from the 1960s would include the 1968 Pontiac line from General Motors. In that year, Pontiac introduced several great looking vehicles that consumers really embraced. In fact, Pontiac set a sales record in 1968, with 910,977 Pontiacs rolling down the assembly line. The division also won their fourth Motor Trend "Car of the Year" Award, which General Motors greatly appreciated.

The 1968 Pontiacs had received a mild face-lift. The tail lights were newly designed, and more safety features were added, including an energy-absorbing steering column.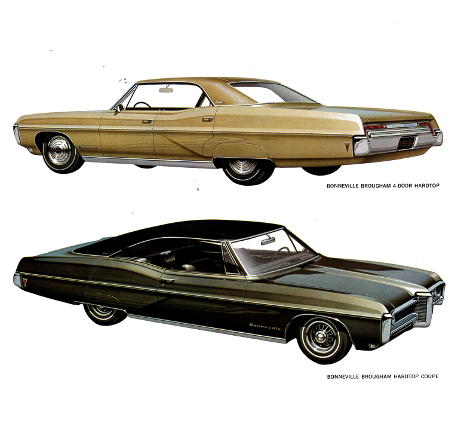 1968 Pontiac Bonneville Brougham
The 1968 Pontiac Brougham Bonneville models were great looking cars and featured a new 340-hp V8 engine along with exceptional riding comfort. The Bonneville Brougham 4-door hardtop and Bonneville Brougham hardtop models proved to be very popular.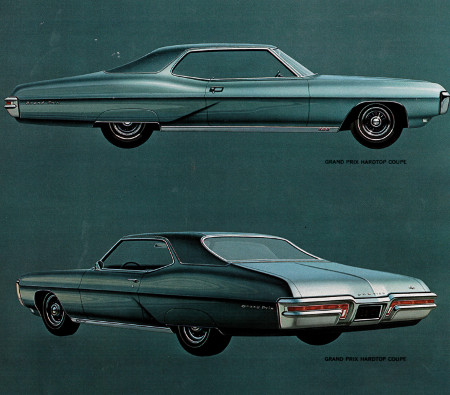 1968 Pontiac Grand Prix
Another great looking design was the 1968 Pontiac Grand Prix, which offered consumers the heart of luxury in a two-door coupe. The models reminded me of something out of a Syd Mead design chapter and were thoroughly enjoyed by automotive enthusiasts. However, some consumers did not like the styling of the Grand Prix models. The interior offered a great looking Morrokide stately cloth available in seven colors and hidden head lights, a popular feature on many automobiles at the time.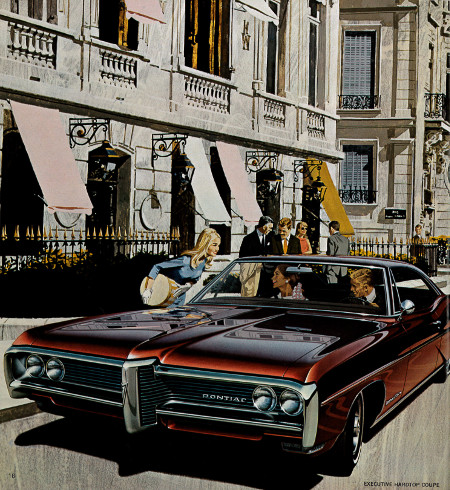 1968 Pontiac Executive
Other 1968 Pontiacs included the popular Bonneville, Executive, Ventura and Catalina models. They were produced under the design direction of the late Bill Mitchell. It should also be noted that designer Bill Porter developed Pontiac's twin nostril Endura grille as its identity symbol for 1968. Also, designer and engineer Warren Fitzgerald developed the Endura bumper that was used on the 1968 Pontiac GTO models. Some automotive historians have said the Endura bumper was one of the great styling innovations of all time because it permitted designers to blend the bumper into their frontal styling look.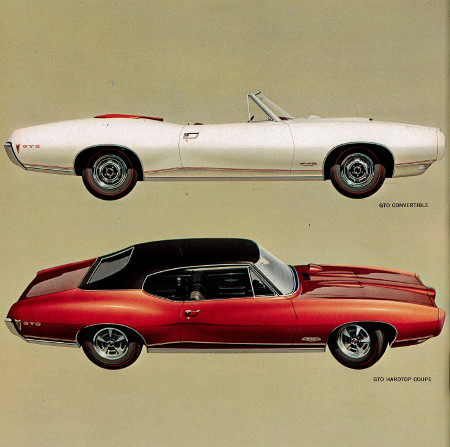 1968 Pontiac GTO
Younger drivers really enjoyed the great styling of the 1968 Pontiac GTO models. Pontiac advertising called the GTO the "The Great One." A consumer could order a 4-speed stick 360-hp Ram Air engine that included functional hood scoops and many other options as well. The GTO models were part of the Tempest line for 1968. The GTO models had been very popular since their introduction in 1964. Some automotive enthusiasts have said that the GTO had looks to match its speed.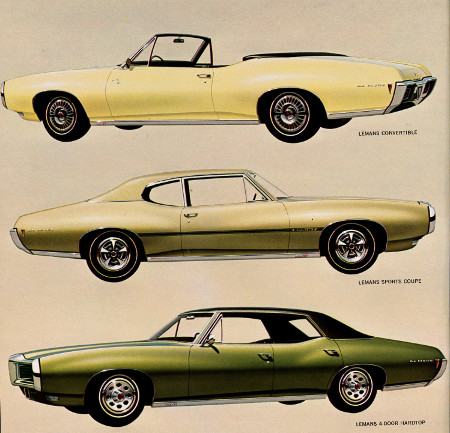 1968 Pontiac LeMansFinally, Pontiac's advertising was illustrated by the late Art Fitzpatrick and Van Kaufman. They were the two talented artists that illustrated Pontiac advertising during the 1960s. The 1968 Pontiac catalogs, brochures and magazine advertisements were great works of art admired to this day by many enthusiasts around the world.

Bibliography
Lamm, Michael & Holls, Dave. "A Century of Automotive Style: 100 Years of American Car Design." 1996-1997.
Kowalke, Ron. "Standard Guide to American Muscle Cars: A Super-Car Source Book 1960-1995."
---