By Robert Tate, Automotive Historian and Researcher
Images courtesy of Robert Tate's Collection
Posted: 05.09.2018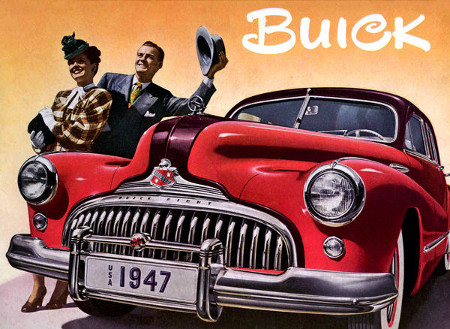 After World War II ended, automotive manufacturers introduced new and great looking products for the civilian market. General Motors Chairman and CEO Alfred P. Sloan had announced a $500 million program conversion from military to civilian production, and from 1946 through 1949, GM offered many great new Buick models, which many consumers thoroughly enjoyed.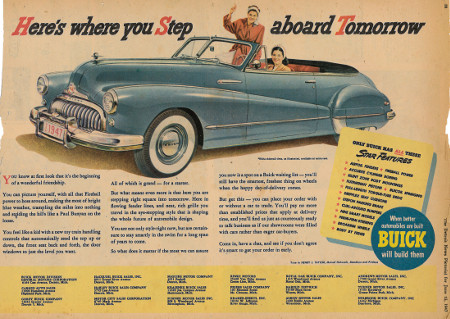 1947 Buick Convertible ad
In 1947, Buick production increased to 267,830 units, moving Buick past Dodge for fourth place among domestic auto brands. While sales were great, the new 1947 Buicks were slightly warmed over versions of the 1942 models made before the war. However, one of Buick's most attractive design features was the "bomb-sight" hood ornament, which prompted special interest among Buick owners. The 1947 Buicks were attractively styled automobiles designed under the direction of GM's Harley Earl, head of the Art and Colour Section. The 1947 Buicks also led the way in the number of convertibles manufactured for the consumer market. With the exception of a new wing top front grille, Buick made very little change in styling for 1947. It should also be noted that American consumers interested in purchasing a new vehicle had to go on a waiting list due to strong postwar demand. In addition, Buick offered special driving controls without charge to disabled World War II veterans.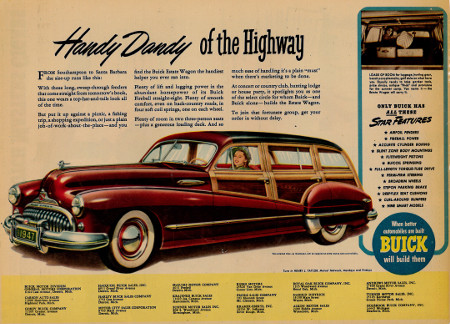 1947 Buick Estate Wagon ad
Buick offered a great looking 1947 Roadmaster estate wagon priced at $3,249, and only 300 models were built and manufactured. Buick's other wagon was the Super estate model with body furnished by Ionia. For 1947, Buick offered three series in all body styles along with its popular "Fireball" engines. Design changes for the 1946-48 Buick models were minimal because GM had planned to introduce its first all-new postwar cars for 1949.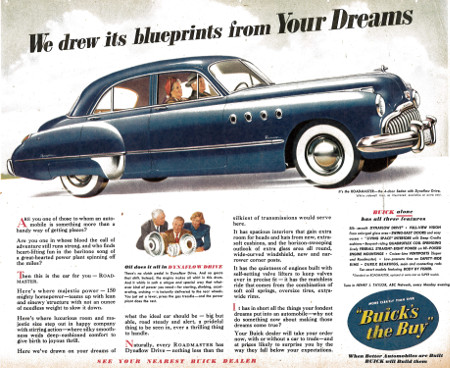 1949 Buick Roadmaster ad
The long-awaited styling design changes of Buick's 1949 models helped production surge to 324,276 units, which made GM a very happy company. One of the most popular models for Buick in 1949 was the Fastback RoadMaster; consumers really enjoyed its great styling features. Buick's new look for 1949 also included a Super Sedanette, and most importantly, a Roadmaster Riviera hardtop which is not shown.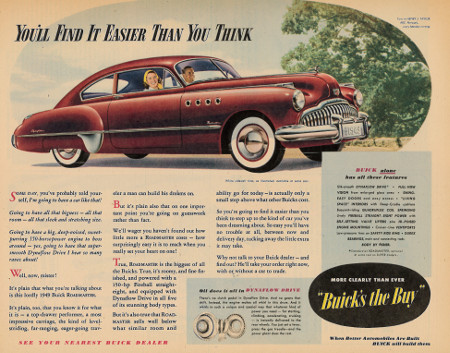 1949 Buick Roadmaster ad
The 1949 Buick models were great looking vehicles, and once again, the buying public thoroughly enjoyed their styling. The portholes introduced in 1949 became a popular design feature. The idea came from Ned Nickles, who was in charge of Buick styling. Nickles had personalized his 1948 Roadmaster convertible with cut holes in the side. When Harlow Curtice, an executive vice president for GM, saw this design feature, he was intrigued so much that he ordered the porthole design to be used on the new 1949 Buicks. Buick dubbed the chrome-ringed portholes "VentiPorts," with a sleek and nautical sweep. Some automotive historians have said that this was an example of Curtice's flair for showmanship.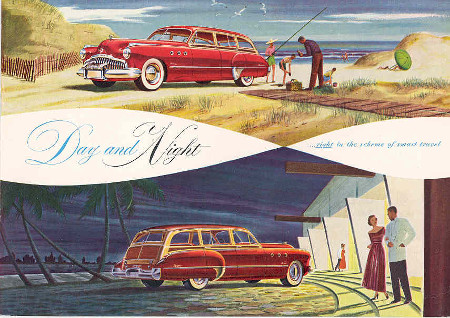 1949 Buick Estate Wagon ad
In conclusion, the 1940s Buicks will always have their place in automotive history, remembered as classic automobiles with great styling.

Bibliography
Narus, Donald J. "Great American Woodies & Wagons." Crestline Publishing, 1977.
Dammann, George H. "Seventy Years of Buick." Crestline Auto-Books, 1973.
Dunham, Terry B. & Gustin, Lawrence R. "The Buick: A Complete History." Automobile Quarterly Publications, 2002.