By Robert Tate, Automotive Historian and Researcher
Images Courtesy of the Robert Tate Collection
Published 10.17.2018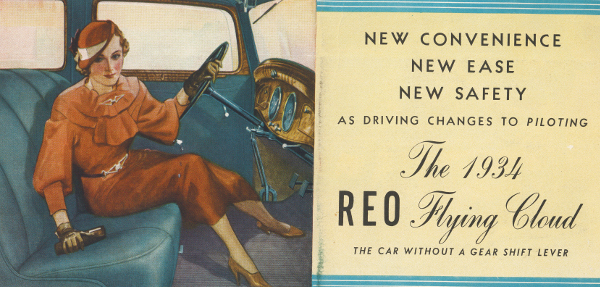 1934 REO Flying Cloud brochure cover (Robert Tate Collection)

When you take a look back at the REO Motor Car Company, you'll find that it was a company with a rich history in Lansing, Michigan. The REO company got its name from its founder, Ransom E. Olds, who launched the venture after retiring from his original Olds Motor Works (Oldsmobile) in 1904.
The first REO automobile was manufactured on October 15th 1904. This story is about the stylish REO automobiles offered to the public in 1934, the company's 31st year of production. The 1934 REO models were manufactured with 14 different body styles ranging from $795 for the 65 Coupe four-passenger model to the Royal Custom Coupe for five passengers at $2,445.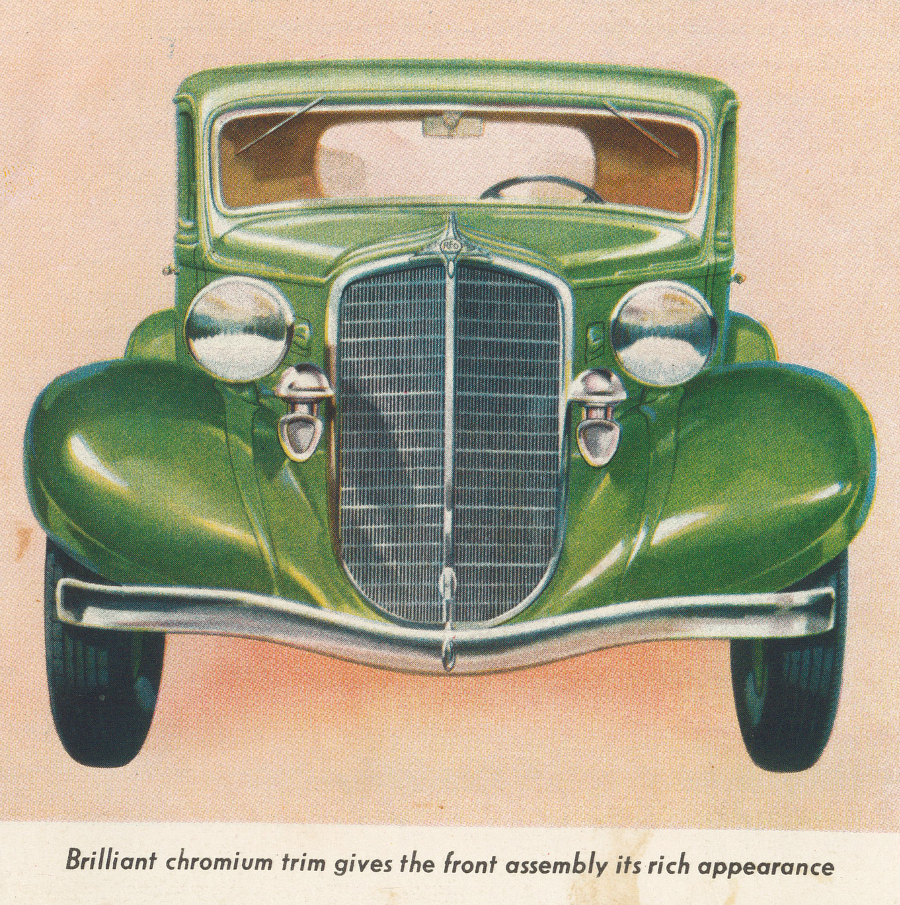 1934 REO Flying Cloud front view image from brochure (Robert Tate Collection)
The 1934 REO models were introduced to the public in July and September of 1933. Due to the Great Depression, REO sales had been declining, and the future of the company was in doubt.
One of the biggest developments for the 1934 REO models was the "Self Shifting" transmission. This new device got noticed at many car shows around the country highlighting the company's new engineering designs and features. In 1934, REO sold 3,358 cars over the calendar year, placing them 19th among US automakers.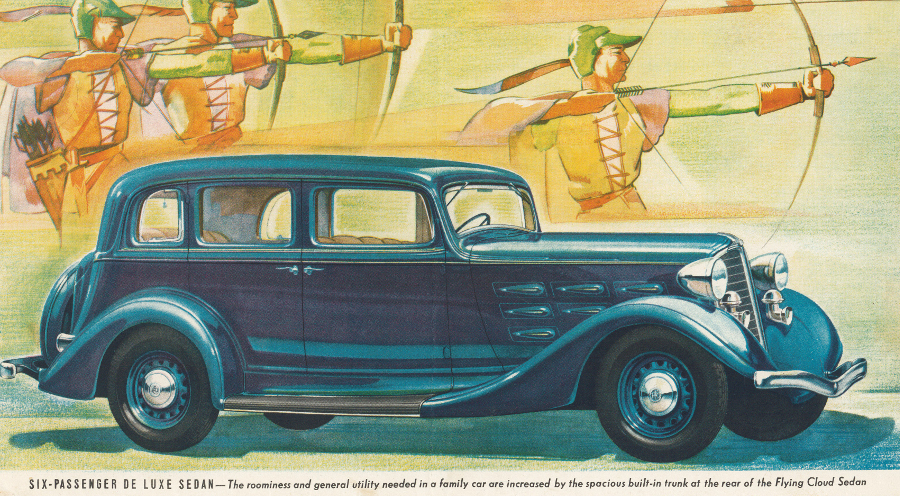 1934 REO Flying Cloud 6-passenger sedan brochure image (Robert Tate Collection)
REO's lowest priced car was the 1934 Flying Cloud three-passenger coupe, which cost $795 and offered the self-shifter automatic transmission which many consumers really enjoyed. The company's advertising called it "the car without a gear shift level."
The Sport Coupe was another great looking model, offering great styling with artillery-pressed steel wheels as standard equipment and a price of $845. The Flying Cloud six-passenger Deluxe sedan sold for $795 with features including a built-in trunk, twin horns, and a safety glass windshield. The 1934 REO interiors offered room for three passengers in the front and a choice of the finest quality Bedford cord and mohair seats for the driver and passengers.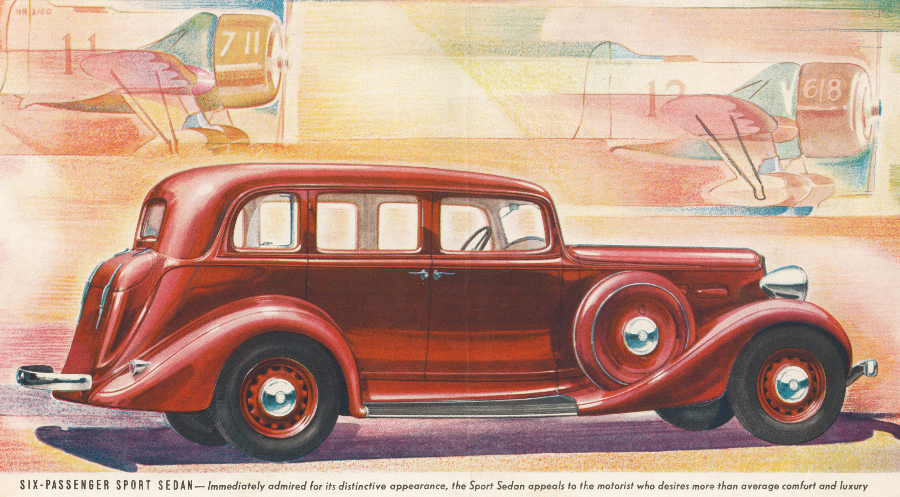 1934 REO Flying Cloud 6-passenger Sport Sedan brochure image (Robert Tate Collection)
REO's initial concept, according to a retired employee named George Svede, came from Fabio Segardi, designer of the earlier Flying Cloud series. However, it was discovered that most of the design work was created by Amos E. Northup, who had a great design history with other automotive manufacturers like Willys-Overland.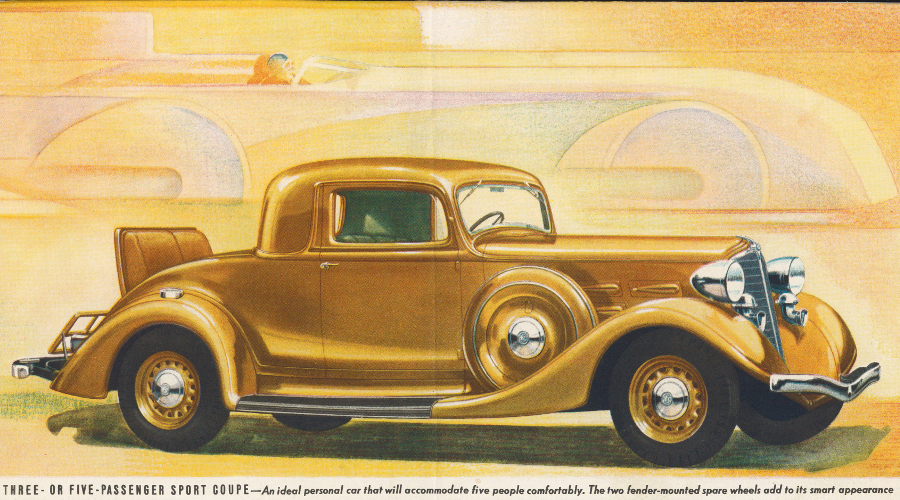 1934 REO Flying Cloud brochure image (Robert Tate Collection)
In conclusion, the REO automobiles made history and came from Lansing. In 1936, REO stopped making automobiles, with the final year 1936 models completed and manufactured by the Hayes Body Company of Grand Rapids. REO would continue with a line of truck products offering new innovations and designs that would bring much success and sales for many more years.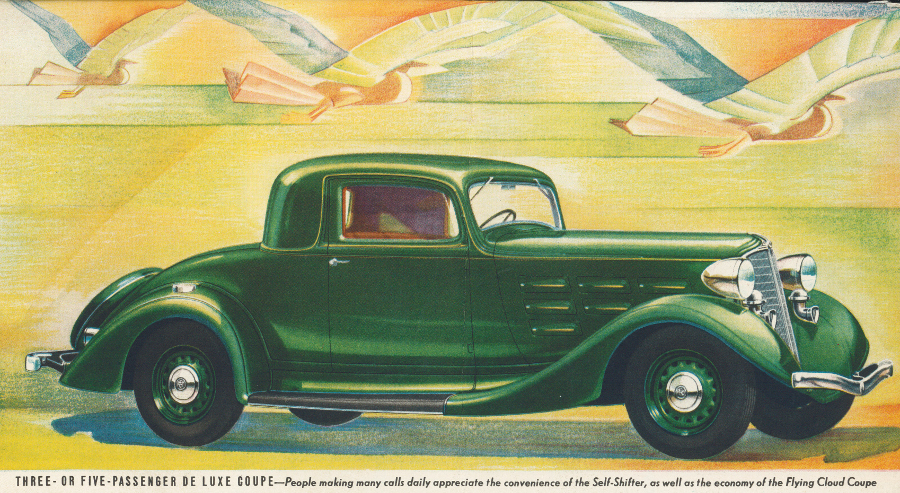 1934 REO Flying Cloud Deluxe Couple brochure image (Robert Tate Collection)
For more information on the history of the REO automobile, contact the REO Club of America" at https://reoclub.org/.
Bibliography
Langworth, Richard M. "Encyclopedia of American Cars 1930-1980." Beekman House, New York, 1984.
Lamm, Michael & Holls, Dave. "A Century of Automotive Style 100 years of American car design."