By Robert Tate, Automotive Historian and Researcher
Images Courtesy of the National Automotive History Collection and Robert Tate's collection
Posted: 7.4.2018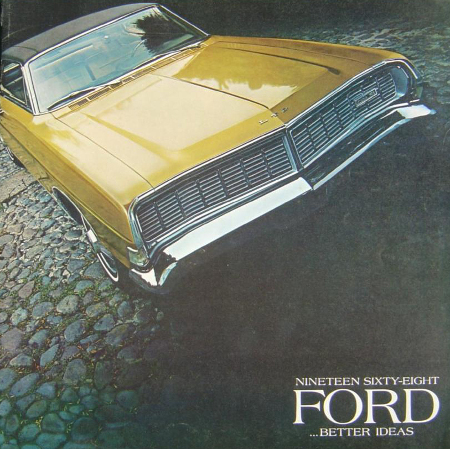 1968 Ford Catalog (Robert Tate Collection)
As a young kid, I remember the year 1968, like it was yesterday. I still to this day have very fond memories of my parents' next door neighbor Mr. Meriwether driving up in his brand new 1968 Ford Galaxie Country Squire wagon. This was a time in our American culture when neighbors would gather around when a family had just purchased a new automobile.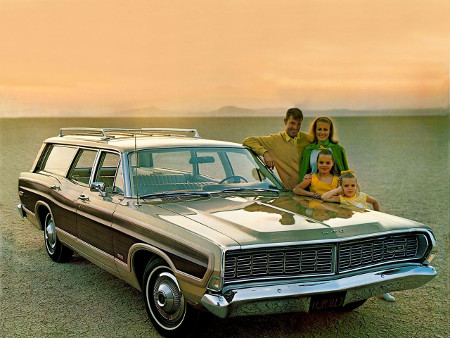 1968 Ford Station Wagon (Robert Tate Collection)
This story is about the 1968 Ford full-size car line and the great designs that Ford manufactured that year. In his book Illustrated History of Ford, author George H. Dammann said, "This was not an impressive year insofar as number of new changes went. It was a year of good, solid cars offered in a variety that would match any new car pocketbook."
In 1968, Ford Motor Company also celebrated a milestone, as the two millionth Mustang rolled off the assembly line. The 1968 Ford models offered the consumer a highly distinctive grill on the top-of-the-line series of automobiles.
One of my favorite Ford models that year was the 1968 Ford Galaxie 500 Convertible, which was a great looking car. The Galaxie 500 Convertible sold for $3,215 and the top-of-the-line Galaxie 500 XL series sold for $3,325. The 1968 models had new sheet-metal below the belt-line and concealed headlights on the XL and LTD models. The 1968 Ford Galaxie was also offered in a Fastback series that became very popular with consumers and sold for $2,965.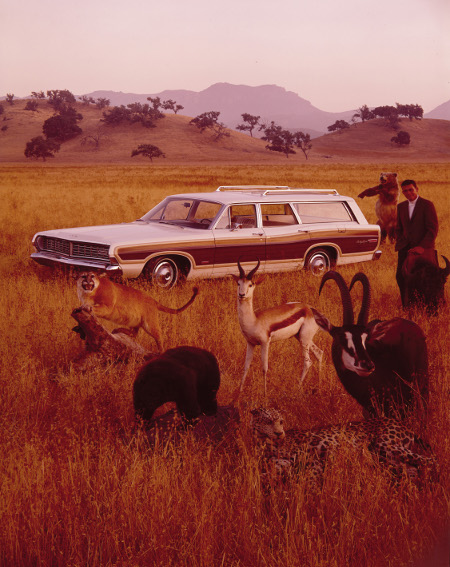 1968 Ford Country Squire (National Automotive History Collection)
The 1968 Ford Galaxie Country Squire wagon models cost the consumer $3,600. The models attracted many new buyers because of its great styling and features. Some automotive historians said that the 1968 Ford Country Squire wagon was one of the most beautiful wagons to come along in years. The 1968 Ford models offered the consumer an all-new look with its restyled hood, fenders, grille and bumpers.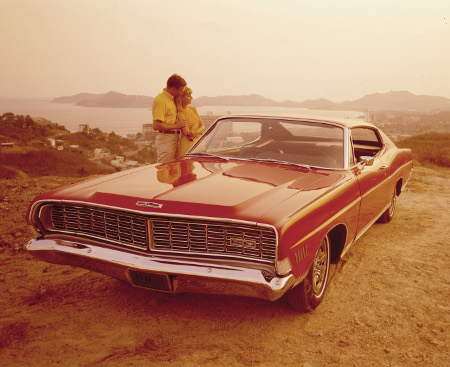 1968 Ford Galaxie (National Automotive Heritage Collection)
One of the best looking Ford models of the year was the LTD two-door hardtop with its hidden headlights and vinyl roof which sold for $3,130. The Galaxie 500 was also available in a choice of two all-new two-door hardtop styles, one shared with the XL and the other with the LTD models. For 1968, the Ford full line of vehicles also sported a great looking interior with a modified instrument panel that included many safety features for the driver. The door panels, along with the great looking patterns found on the seat upholstery, were also redesigned for the new 1968 Fords. The taxi and fleet car favorite was the Custom four-door sedan priced at $2,725.
Ford's advertising campaign for 1968 was a great one for the buying public. The inscription "Better Ideas" at the bottom of the 1968 full-size Ford catalog marked one of the first uses of a slogan that would serve Ford well for many years, especially when combined with the image of a glowing light-bulb. The advertising featured the slogan, "For '68, Ford has a better idea." The "Better Idea" campaign was one of the most enduring in Ford's history and used well into the 1970s -- and still remembered to this day.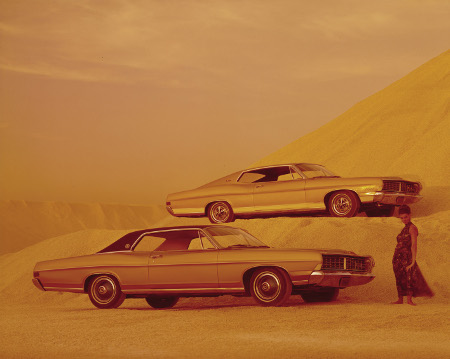 1968 Ford line (National Automotive History Collection)
In conclusion, the production for full-sized Ford models totaled 867,292 units in 1968. Many consumers enjoyed their hidden headlights and vinyl roof designs. Today, the 1968 Ford models are very collectible, especially the convertibles. The 1968 Ford models were a pleasure to look at and a pleasure to drive. That is why the MotorCities National Heritage Area is excited to be raffling one off in conjunction with our 20th Anniversary.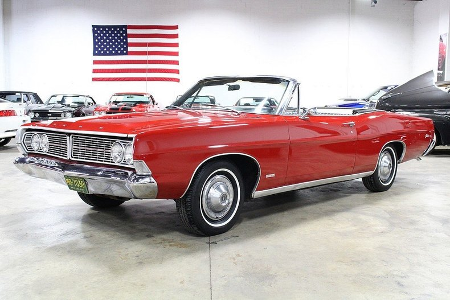 A 1968 Ford Galaxie 500 Convertible (pictured above) was donated to the organization by Karen Tafralian of Southfield. If you're inspired this article and want to purchase raffle tickets, contact our office or purchase them from one of our representatives at the following summer car events:
* All American Cruise along Wayne Road in Westland on Saturday, July 14;
* Cruisin' with STEP (Services To Enhance Potential) on Venoy in Westland on Thursday, July 19;
* Cruisin' Garden City Park & Business Expo at Cherry Hill and Merriman on Monday, July 30;
* Music in the Park at Garden City Park (Cherry Hill & Merriman) on Thursday, August 16;
* Brews, Bumpers & Burlesque at the Token Lounge in Westland on Thursday, August 23;
* Cruisin' Hines in Hines Park on Sunday, August 26
Tickets are $10 each and the drawing will be held on Saturday, September 15, 2018 at the Westland Historic Village at 1 p.m. All proceeds from the raffle go to help promote and preserve our unique, automotive heritage. Good luck!
Bibliography
Dammann, George H. "Illustrated History of Ford." Crestline Publishing, 1971.
Mc Laughlin, Paul G. "1967-70 Ford Period of Adjustment," pg. 46. Collectible Automobile, June 2006.