by A. Wayne Ferens
Photos courtesy of General Motors and the Wayne Ferens Collection
Published 12.26.2018
It has been over six decades since America's horsepower race began between the big three United States auto manufacturers, and it really 'accelerated' with the introduction of the Chevrolet Corvette in 1953 and the Ford Thunderbird in 1955. The new Corvette struggled the first several years with only 300 produced in 1953; 3,460 units sold in 1954 could not be sustained; and only 700 were sold in 1955. Corvettes sat on dealer lots for months at a time, and the first-year Thunderbird with its OHV V8 engine sold 16,155 units -- adding insult to injury for GM. The Corvette was a major disappointment to GM and the buying public, who were wildly enthused over Harley Earl's fiberglass concept car introduced at the 1953 Motorama. Corvette engineer, Zora Arkus-Duntov had been pushing Chevrolet management to replace the "Blue Flame" inline six-cylinder 150 horsepower engine and two-speed Powerglide Automatic Transmission with a more powerful one with standard transmission.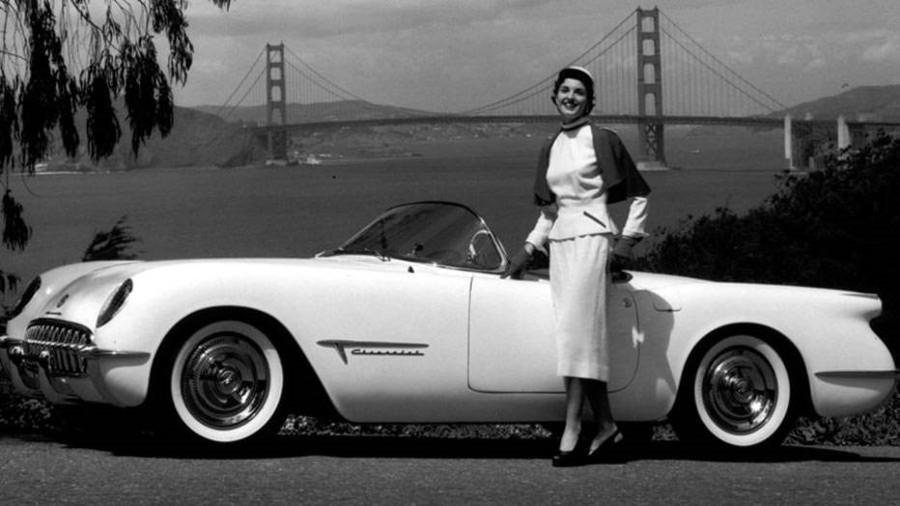 1953 Chevrolet Corvette promotional photo (General Motors)
GM engineer Ed Cole was part of a team that developed the Cadillac 331 cubic-inch overhead valve V8 engine and became chief engineer at Chevrolet Division in May 1952. His priority was to introduce a low-cost, light-weight V8 engine into the Chevrolet lineup, including the Corvette. With a clean sheet of paper on the drawing board, confidence and plenty of experience from the 331 Cadillac project, Cole and his team knew from the start exactly what features they wanted in their new V8 engine design. They used a certain bore/stroke relationship that was the most compact for their skirtless engine block. They knew they wanted five main bearings, overhead valves, increased compression,12-volt electrical system, rear-mounted distributor and a pressurized/filtered oiling system -- all in a package that required low maintenance. They released their engine for tooling direct from the drawing boards. Now that's confidence!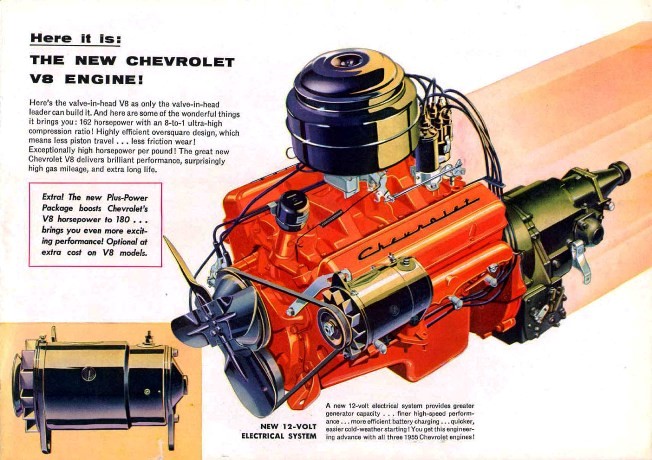 1955 GM sales brochure image (General Motors)
The new Chevrolet 265 cubic-inch V8 engine went into production for the '55 models, and by mid-year Ed Cole had been promoted to General Manager of Chevrolet. Cole and Duntov felt that the Corvette could be made a viable sports car by showing that it could successfully be raced in production car classes. Early in 1956, Duntov took a preproduction car to Pikes Peak and set a stock car record with the new V8. Later at Daytona Beach he established a new record of 150 mph on the flying mile, driving a modified '56 Corvette. At the 1956 Sebring 12-hour endurance race, Chevrolet backed the private team Raceway Enterprises of Dundee, Illinois, who entered four 1956 Corvettes in the race. The No.1 Corvette, driven by John Fitch and Walt Hangson, finished 9th overall in the Sports 8000 class, and the Number 6 Corvette finished the race 15th overall.0 For 1956, Corvette sales rebounded to 3,467 units. Cole and Duntov both felt strongly that much of the cars' renewed interest was due to the redesign and performance options that included a 225-bhp dual four-barrel carburetor equipped engine with 3-speed transmission that was standard -- and its track exposure. They were determined to make the Corvette a strong performing sports car that Chevrolet and its dealers could be proud of -- and would sell.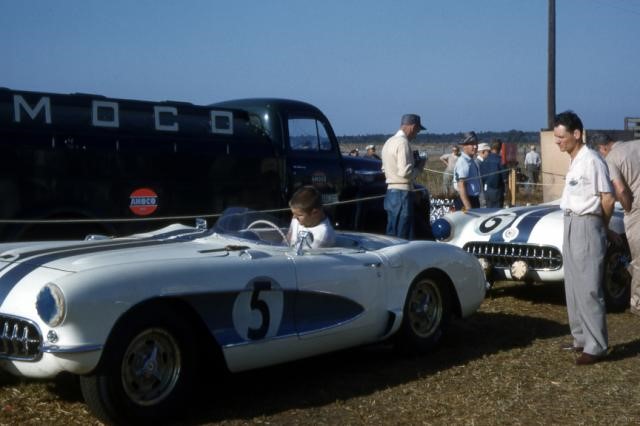 1956 Chevy Corvettes at Sebring 12 hour endurance race (Wayne Ferens Collection)
It was demonstrated on the race track that fuel injection systems, as run in Mercedes competition cars, had a significant advantage. Chevrolet, working with GM's Rochester Carburetor Division, developed a mechanical fuel injection system that was offered as an option (Code 579B) on the new 283 cubic-inch engine upgraded for 1957. This is considered the first time in history that a mass-produced American automobile hit the one-horsepower-per-cubic-inch of displacement level -- 283hp/283ci. It was an expensive option RPO#579B at $484.20. Only 713 were made with this Ramjet option of the 6,339 Corvettes sold during the 1957 model year. A four-speed manual transmission RPO#685, Positraction Rear Axle and Heavy Duty Racing Suspension RPO#684 was also available.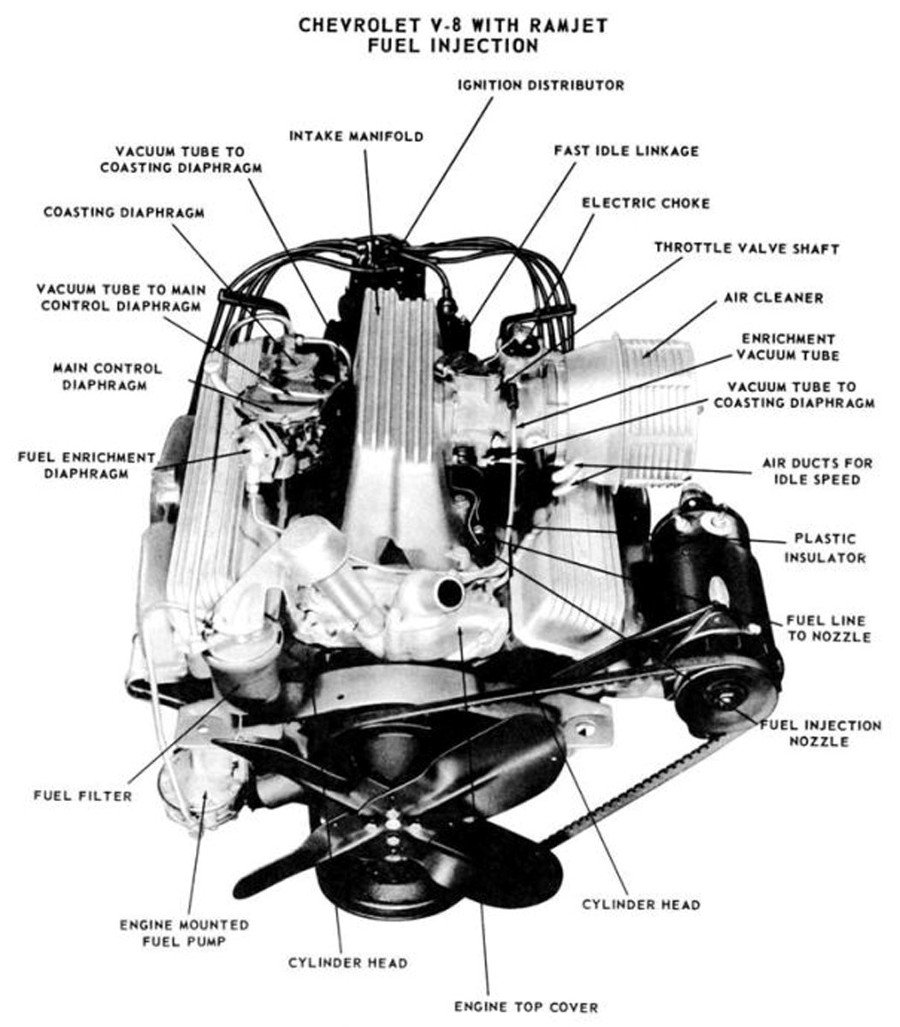 1957 Corvette engine photo (GM Chevrolet Division)
In just a few short years, the Corvette went from the threat of possible extinction to beginning to be taken seriously as a sports car. The '57 Corvette with optional 283/283 V8 and four-speed transmission was an amazing car in its day with 0-60 mph times in under six seconds. It proved to be a winner on the street and in a factory-sponsored racing competition. It was this car that set the stage for the Corvette's continued production over six decades.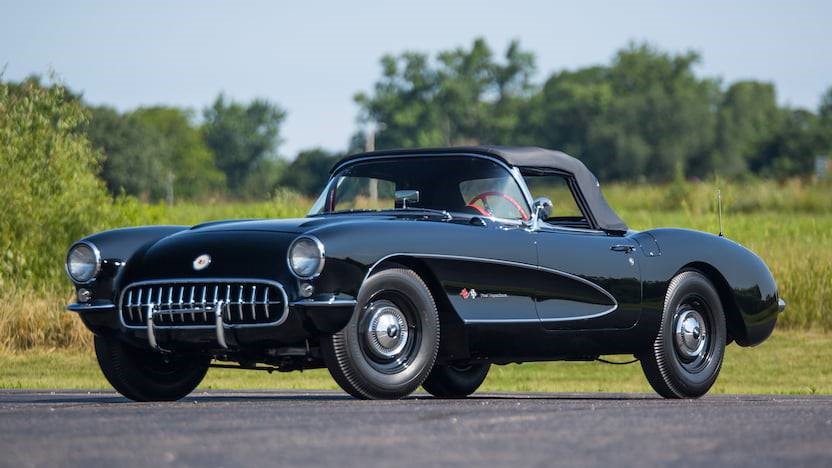 1957 Corvette with RPO 579B Fuel Injection and 10.5 to 1 compression ratio (Wayne Ferens Collection)
Bibliography
Mueller, Mike. "The Complete Book of Corvette." St Paul, Minn: Motorbooks, 2012.
1957 Chevrolet Corvette Dealer Catalog & Brochure