By Robert Tate, Automotive Historian and Researcher
Images from the web and Robert Tate's Collection
Published 08.29.2018
An OK Used Cars Lot
For many of us who grew up during the 1960s, we have fond memories of the automotive advertising symbol "OK Used Cars." This symbol became a great American icon that many enjoyed for years.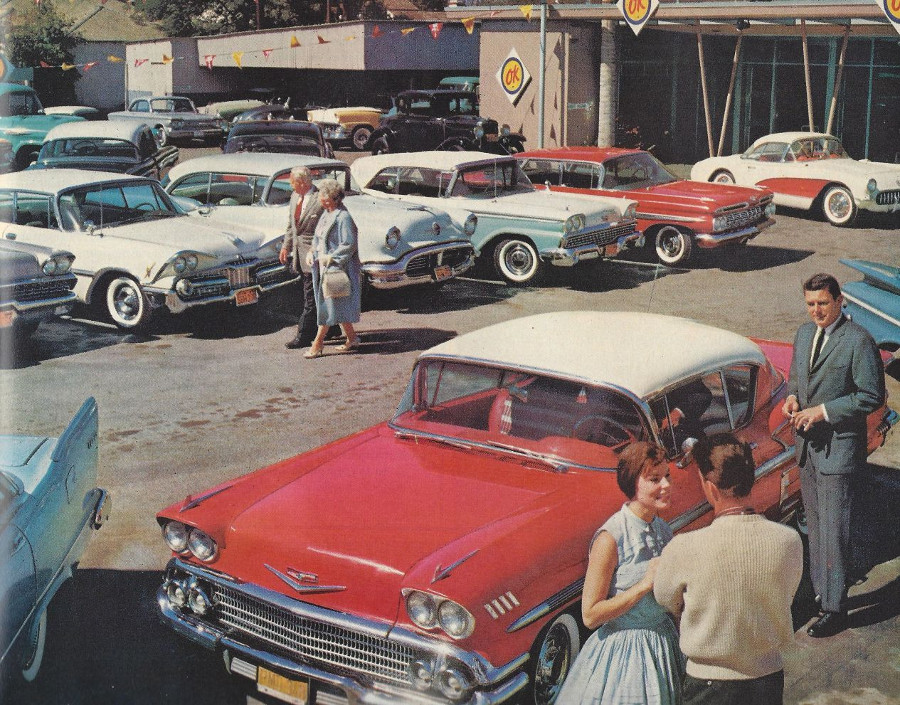 OK Used Cars ad illustration (Robert Tate Collection)
During the 1960s, Livernois Avenue in Detroit was the most popular place to go when purchasing a new or used car in Michigan. Consumers even traveled from around the world to Detroit to purchase an automobile on Livernois. Automotive historians often said that the Chevrolet "OK" sign has always been a great landmark for someone looking for a quality used Chevrolet car or truck.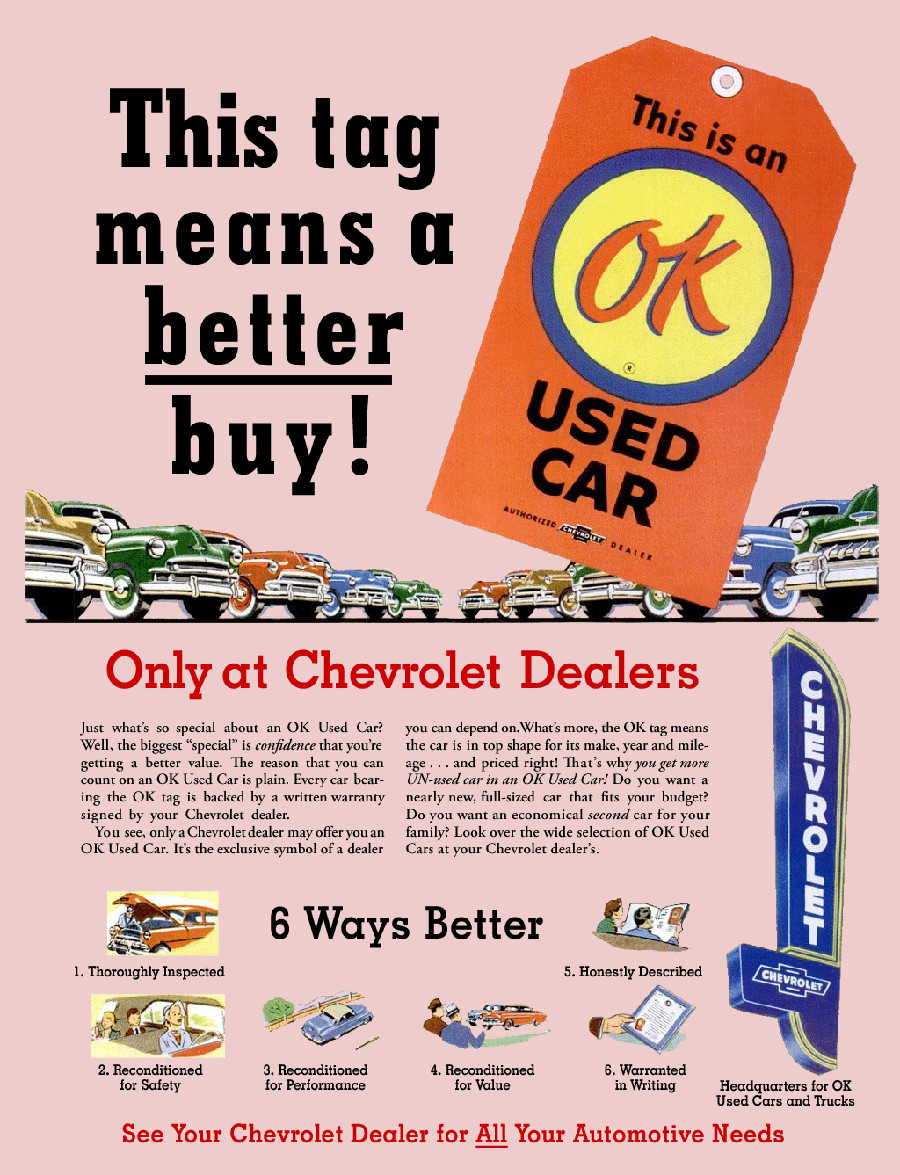 1953 OK Used Cars magazine ad (Robert Tate Collection)
During the 1950s and 1960s, used-car lots were filled with attractive automobiles featuring nameplates consumers had thoroughly enjoyed. The Chevrolet "OK" used car logo became almost as recognizable as the Chevrolet Bow Tie brand mark. The "OK" concept started during the 1920s as a quality check program, and eventually grew into a guarantee plan that attracted customers for many years.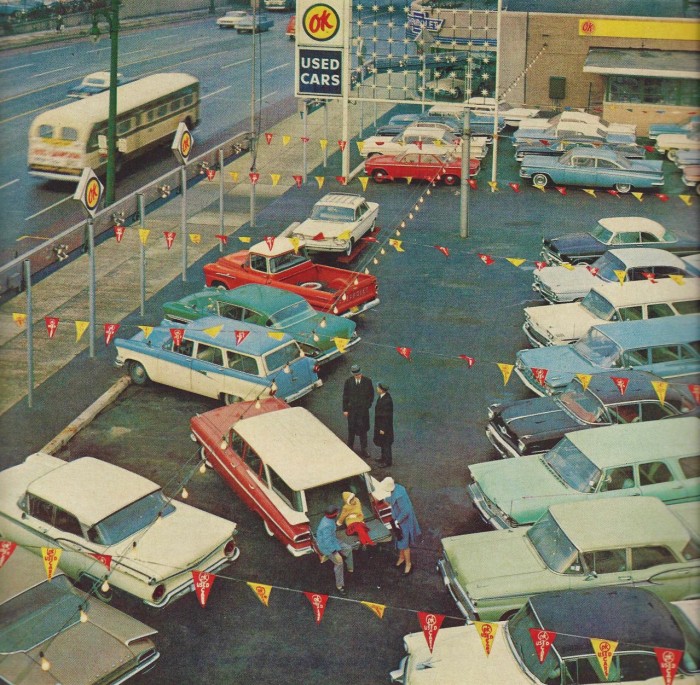 OK Used Cars ad illustration (Robert Tate Collection)
In 1928, a local newspaper advertisement called "OK" a check that showed the sales person what parts of the vehicle had been checked and reconditioned prior to placing the car out on the sales lot. General Motors said this about "OK" used cars: "So when you're thinking of buying a good used car or a serviceable truck, remember your Chevrolet dealer's 'OK' sign. It must stand for a lot ... Chevrolet Division of General Motors, Detroit, Michigan."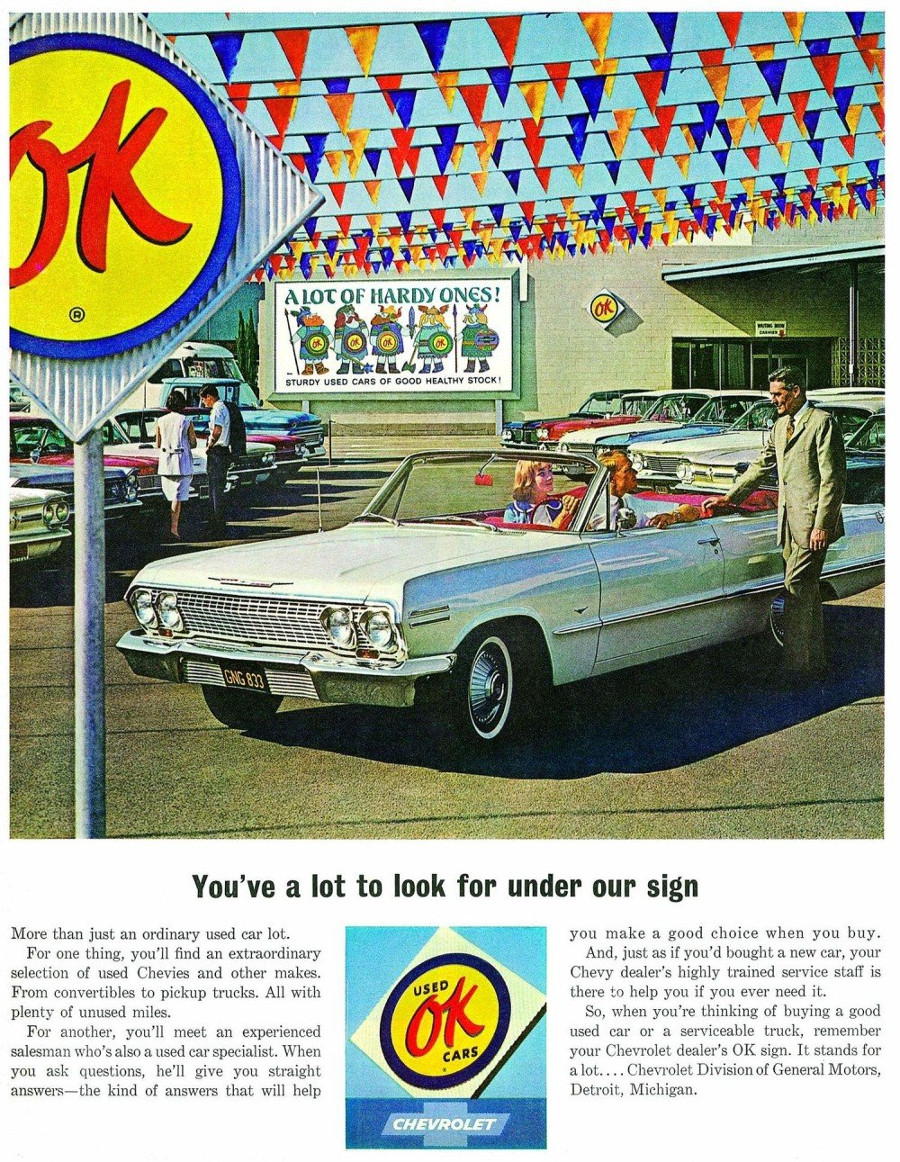 OK Used Cars magazine ad (Robert Tate Collection)
When selling used cars, one of the most important things a salesman could do was to prospect and look for good customers. Jeff Koch, in a story for a Hemmings publication, said: "Chevrolet's own used-car division, OK, aimed to make used-car buying respectable. Seeing Fords pop up in advertising produced and paid for by General Motors seems surprising on its face. Why would GM, with all of its strength, want to advertise the other guy's cars? Well likely because those owners were wise enough to trade in their Fords for a Chevy at the "OK" used cars section of the local Chevy dealer."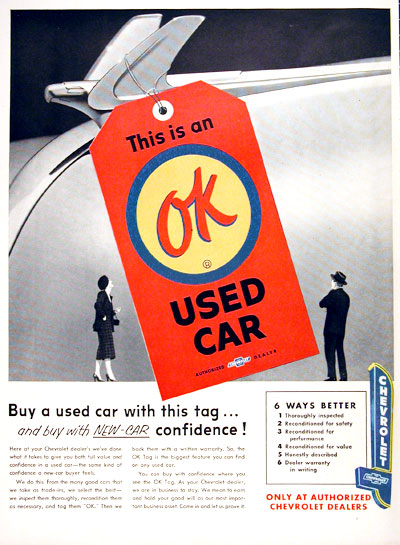 OK Used Cars magazine ad (Robert Tate Collection)
During the early years, GM had found many ways to promote their products and sell new and used cars. The colorful "OK" signs were a great way to offer big promotions to bring in large crowds of potential buyers. For many customers, purchasing a used car was the way to go. Used cars were great bargains, and the vehicles were usually reliable. The buyer could get the most value for their money.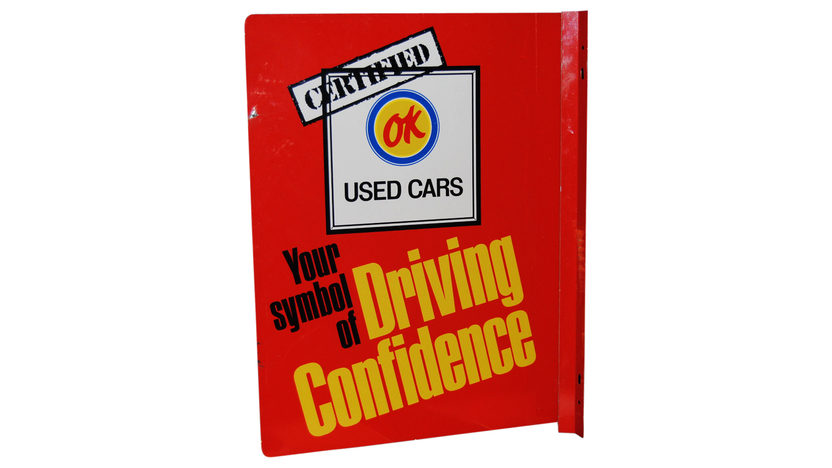 OK Used Cars sign
Some automotive historians have said that Chevrolet new car sales were so good in the early and mid-1960s that they had placed full-page color advertising in major magazines for their used cars. Chevrolet cars traditionally held their resale value. Many of the "OK" ads that are part of this story came from original magazine ads popular during the 1950s and 1960s.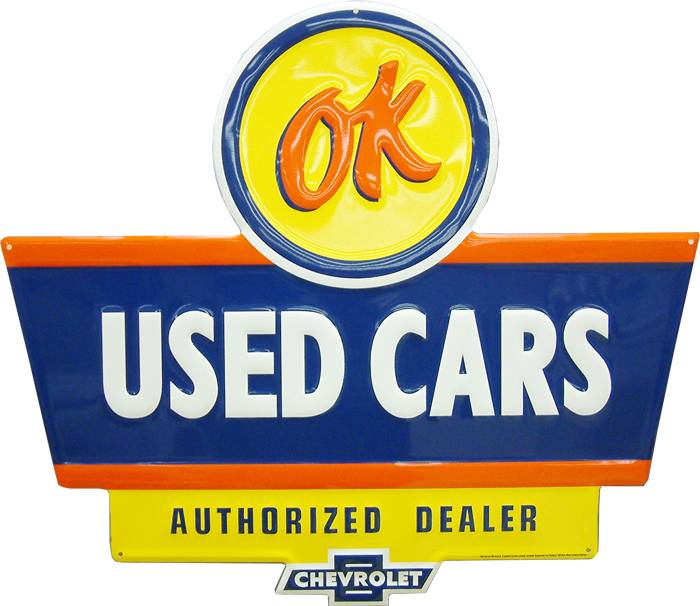 OK Used Cars sign
During the early days, buying a car presented a number of serious problems. The prospective buyer was faced with many choices, in addition to the prospect of considerable expense in owning and operating a used car. In contrast, "OK" Used Cars had completed a series of tests before being sold to the public, including a safety inspection, drain and flush of the cooling system, complete lubrication and tire rotation.
Today, the Chevrolet "OK" symbol has become an icon of our American automotive heritage that many will remember for years to come.
Bibliography
Genat, Robert. "The American Car Dealership." Motor Books International, 2004.
Koch, Jeff. "Chevrolet's Own Used-Car Division, OK, Aimed to Make Used-Car Buying Respectable." OK Used Cars from Hemmings Classic Car.