By Robert Tate, Automotive Historian and Researcher
Images courtesy of Robert Tate's Collection /General Motors, Chrysler and Ford
Published 12.05.2018
I remember the late 1960s and early 1970s like it was yesterday. I have fond memories of many local car dealerships in the Detroit and Royal Oak, Michigan area, introducing the new cars every model year.
The late 1960s and early 1970s were very important to many auto enthusiasts because of the muscle car era. Some automotive historians dubbed it the "American Performance Generation." Looking back, the 1960s and 1970s represented a totally new generation of vehicles that most people thoroughly enjoyed.
It was about high performance and fast cars with bright colors. For example, "Vitamin C Orange" for Plymouth in 1969 or "Rally Red" for Chevrolet's line for 1968 were special colors.
1970 AMC Javelin models ad (Chrysler Corporation/Robert Tate Collection)
Two of the hottest vehicles introduced for the years 1968-1970 were the AMX and Javelin models by American Motors (AMC). They were great looking vehicles and represented the 1960s and 1970s very well. During this era, American car companies realized that the country's culture was changing, and drivers wanted more high performance models to be offered for the consumer market. AMC had left their conservative styling behind with the AMX and Javelin, and the person who should be credited for that would be designer Richard (Dick) Teague. It was Teague who shortened a Javelin to create the design for the AMX 2-seater model. The AMX, the Javelin and the popular SC/Rambler models were all popular designs by AMC and are still very popular today among collectors. AMC was now becoming more competitive and no longer just manufacturing cars for senior citizens.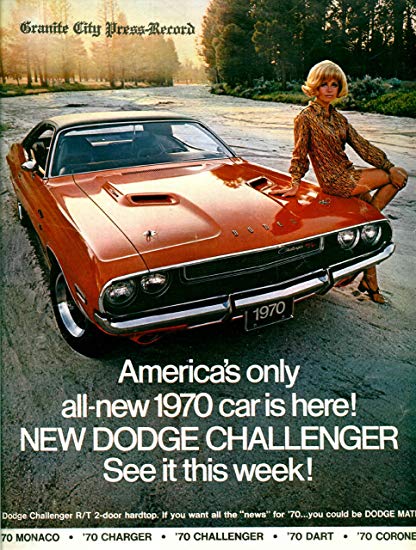 1970 Dodge Challenger ad (Chrysler Corporation/Robert Tate Collection)
Another popular and great looking model at the time was the "Rebel Machine." In 1970, Dodge introduced the Challenger, which had great appeal for young people. It was an all-new high performance model that was very popular both then and now. Dodge was also very popular in NASCAR and USAC racing, which added to their young fan base. The Dodge Chargers for 1968-1970 were also outstanding looking models with a huge following today.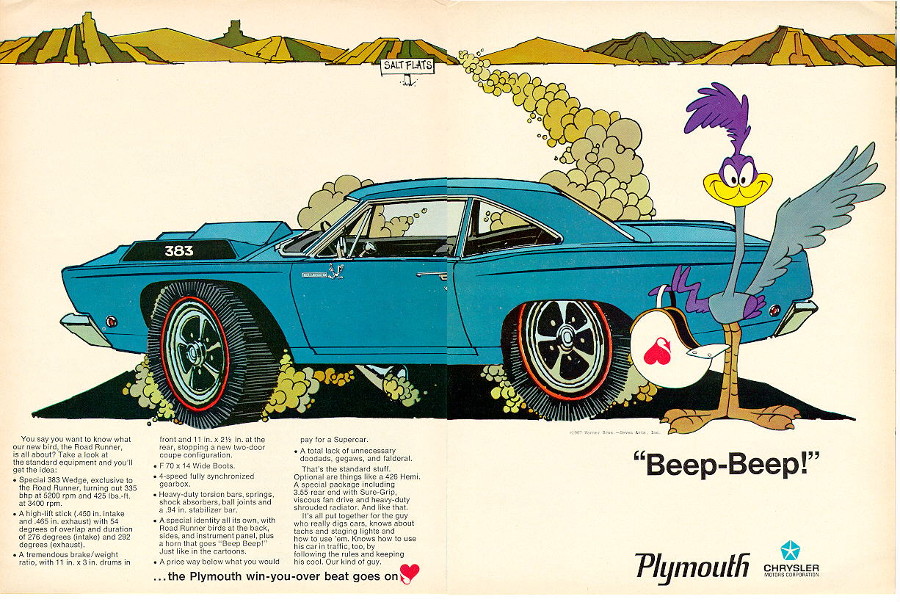 1968 Plymouth Roadrunner ad (Chrysler Corporation/Robert Tate Collection)
On the Plymouth side, the Road Runner models were designed with a great sales and marketing campaign created by Jack Smith featured the animated bird character from Warner Bros. It was a great idea and brought Chrysler great success in the muscle car market, and the 1969 Plymouth Road Runner also became Motor Trend's Car of the Year.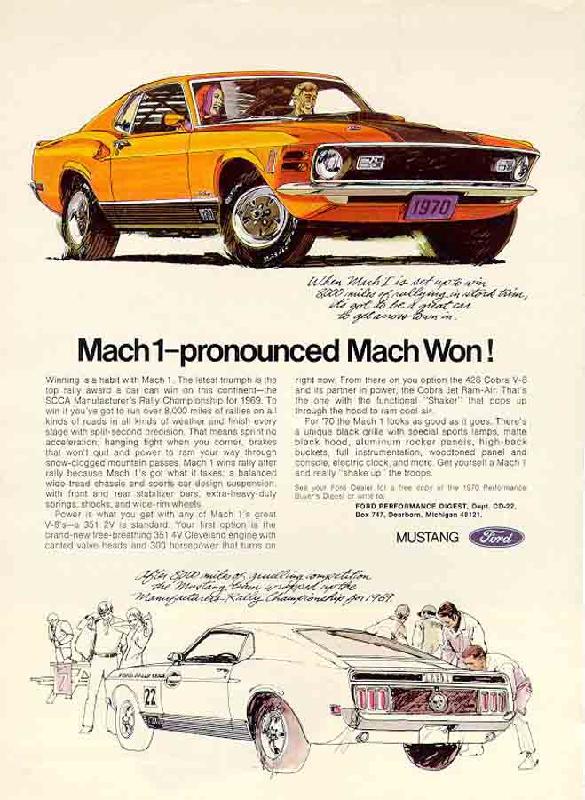 Ford Mustang Mach One ad (Ford Motor Company/Robert Tate Collection)
At Ford, the 1970 Mustang Mach I featured a very popular design. This was a great time for Ford and its muscle car sales. Some collectors still favor the 1969 Mustang Boss 302 or perhaps the Shelby Cobra with its 428 horse power engine. The late 1960s and early 1970s created a perfect win for Mustang.
Some automotive historians have stated that the first true "muscle car" introduced was the Pontiac GTO by General Motors. The Pontiac Tempest in 1964 was also a huge sales success for GM with its floor-mounted three-speed and hood scoops. It was Jim Wangers who saw the model as a great sales leader in the performance mid-sized category.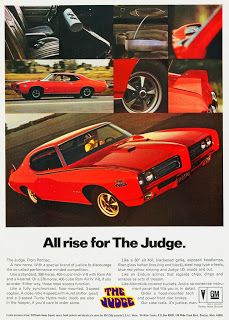 The Judge from Pontiac ad (General Motors/Robert Tate Collection)
Another popular Pontiac muscle car that was very popular in the late 1960s was the Judge. The Judge models offered a 366-horse power engine. The model became a huge success for Pontiac and its dealers. The Judge featured ostentatious blue, red, yellow striping with decals and a 60-inch rear deck design with the Judge emblem on the upper surface. The car was painted in a bright red-orange color that proved very ppopular. The Judge today has become a great collector's car.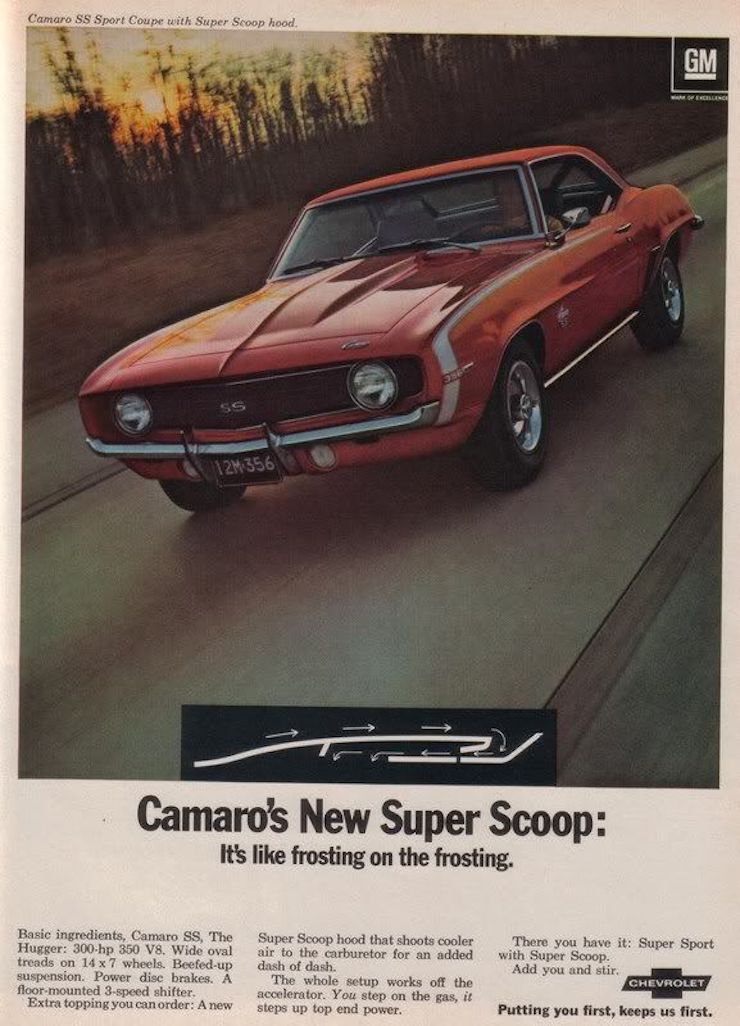 1969 Chevy Camaro SS ad (General Motors/Robert Tate Collection)
Finally, we wrap up with the great looking 1969 Chevrolet Camaro SS and Chevelle SS 396 models. Michael Lamm, in his book "The Great Camaro," said: "A lot happened to the Camaro in 1969. It was still basically the same car as in 1967-68, but it looked considerably different and had quite a few changes in power-trans and options." The Chevelle for 1969 was also a great looking car offered with a special performance package that year.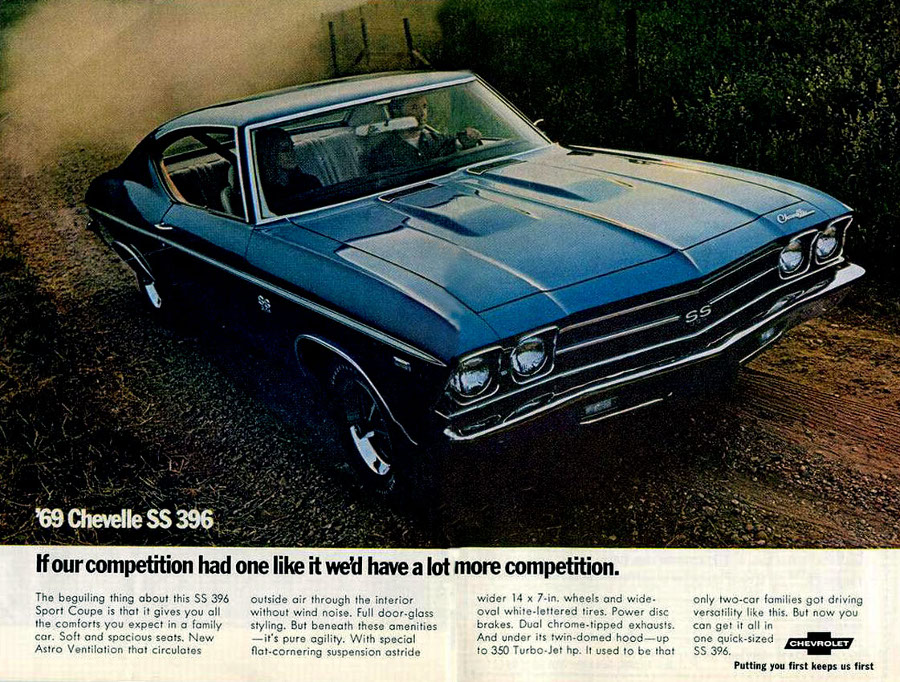 1969 Chevy Chevelle SS 396 ad (General Motors/Robert Tate Collection)
I love this era of automotive design because it was the art of selling horsepower.
Bibliography
Bonsall, Thomas E. "Pontiac: The Complete History 1926-1986." Bookman Publishing, 1985.
Butler, Don. "The Plymouth and DeSoto Story." Crestline Publishing, 1978.
Dammann, George H. "Illustrated History of Ford." Crestline Publishing, 1971.
Lamm, Michael. "The Great Camaro." 1979.
McPherson, Thomas A. "The Dodge Story." Crestline Publishing, 1975.